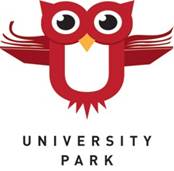 2300 S. St. Paul St., Denver, CO 80210
720-424-3410
Principal
Art Night
We hope to see you at
Art Night tonight, Thursday, January 23rd from 5:30-7:00!
There will be a wide variety of

art

activities for families in the gym, including a collaborative mural, string art, watercolors, origami, hieroglyphics, photo booths, and much more! Snacks and beverages will also be provided.
We still need more volunteers for this fun
night
. If you are planning to attend and would be willing to help at an art station for 45 minutes, please
click HERE to sign up! No artistic skills required.
The evening will also include a mini-art show in the hall outside the gym
. Come take a look at some amazing artwork from our talented students at UPark!
Please join us for UPark Restaurant Night! This time we're grabbing burgers at Five Guys (2023 S Colorado Blvd) from 2pm to 9pm on Tuesday, January 28th. They will be donating 15% back from UPark friends and family, so don't forget to mention you're there for UPark!
Special Education
Our Special Education Team works hard to stay up to date with technologies that help promote our inclusion model. One new piece of technology is the C-Pen. This device is designed to promote independent learning and is a major technological breakthrough for any student suffering from reading difficulties. It reads text aloud, has an embedded dictionary and also a voice memo function. The C-Pen allows our higher grade students to access grade level text in their general education classrooms. We currently have three C-Pens being used in our 4th and 5th grade classrooms. Another tool is Snaptype. This is an app that allows the teacher to turn any document/worksheet into a form filling document. This enables students who have difficulties with handwriting to be able to demonstrate their learning!
Coming next week: 4th Grade!
No Student Drop-Off or Pick-Up in the Alley or Near Intersections and Crosswalks
It has come to our attention that the alley way behind UPark is being used for student drop-off and pick-up. We ask that you please do not utilize the alley to drop off or pick-up your student. This is very disruptive to our neighbors and is not safe for our students.
Please also avoid dropping off or picking up students in or near intersections and crosswalks. These areas are not safe places to let students in and out of cars due to the amount of traffic we see daily. Please use the Kiss and Go drop off lane on the eastbound side of Saint Paul street or park your car in a legal parking spot to safely drop your student off at school.
If you have extenuating circumstances and need support during drop-off or pick-up, please contact the main office and we are happy to help. Thank you for your cooperation and understanding!
The Choice Window is Now Open!
January 15th - February 18th
The SchoolChoice enrollment application window for the 2020-21 school year begins at 8:30 a.m. on January 15, 2020 and ends at 4:00 p.m. on February 18, 2020. If you have friends and neighbors looking for a great school for the 2020-21 school year, tell them to apply now! All interested new families are encouraged to join one of our upcoming school tours here to learn more about our great school and community!
For all student that will be new to UPark for the 2020-2021 school year, please complete the online Choice Process. This includes siblings of current UPark students that will be new to the school next year.
If UPark is your boundary school you are guaranteed a spot, but we still ask you to complete the Choice Process for your new student. By doing this, you are helping us manage our classes and plan for next year. If your child currently attends University Park and you are not enrolling a new sibling, you do not need to complete this process.
If you have questions about SchoolChoice, contact the SchoolChoice Hotline at 720-423-3493; email schoolchoice@dpsk12.org; or visit schoolchoice.dpsk12.org.
You are also welcome to contact the UPark office at 720-424-3410 with questions.
Health Screenings
Please note that all students in grades Kindergarten, 1st, 2nd, 3rd and 5th will be participating in health screenings January 24-29. Please click
HERE
for more information. These screenings are state mandated. If you choose to opt your student out, you must notify our school nurse before the screenings start. Click on the above link for more information.
Looking for Auction Sponsors! Help Needed!
Families, do you work for a company that would like maximum exposure at our live auction event? Do you have contacts for local businesses that might be interested in getting their name out? We are currently looking for event sponsors.
Sponsorship provides great exposure in the community with your logo on the print and marketing materials, and feature spots at the event. We have a full sponsorship packet with options available at varying price points.
Sponsorship

commitments must be
received
by Feb. 14 to allow lead time for print materials.
Our next meeting will be February 6 at 7pm. Save the date and come hear more about how you can still help out.
UPark TerraCycle
Wrapper Monster Launch
UPark is implementing a new system at school for all staff, students and volunteers to "Do More, Use Less" in 2020 by collecting specific items to recycle. We will be using TerraCycle, a company that recycles materials that most city recycling cannot: w
rappers for candy, chips, bars and other snack wrappers.
Please help us collect these items to put in the Wrapper Monster boxes when you are visiting the school.
The following items CANNOT be put in the class or hall "Wrapper Monster" collection boxes: food, pouches (like applesauce), paper or plastic Ziploc or grocery type bags.
Students will
collect snack wrappers and bring them to the decorated "Wrapper Monsters" in the hall boxes on the 1st floor by rooms 114 and 102 and on the 2nd floor by rooms 213 and 202.
Learn more about TerraCycle and our new recycling program HERE.
Discovery Link Spring Camp Registration
UPark's Discovery Link Spring Camp (March 30th, April 1st, 2nd, 3rd, and 6th) registration will open February 14th. Please stay tuned for details!
Discovery Link Summer Camp Registration
Discovery Link Summer Camp registration is open. Click here for camp details and click here for registration information and instructions.
Discovery Link is Hiring!
Discovery Link at University Park is hiring for a Program Leader and Staff Aide. If you enjoy working with kids and are looking for a fun, part-time job opportunity then you should join the UPark Discovery Link team! We offer a flexible schedule, perfect for college students and parents. Click HERE for more information and instructions on applying. Please contact Ms. Julia Lamberton for more information.
University Park Elementary Calendar
Click on the calendar icon to the right, look below, or visit the
University Park Website
to access calendar information!
UPark Owl Ticket Students
Congratulations to last week's Owl Ticket students! They were recognized by their teachers for above and beyond positive behavior.
Owl Tickets are given to students for going above and beyond in one of our five core values: caring, cooperation, responsibility, respect and joy. Owl Tickets focus on the school's trait of the month, give students a chance to participate in the weekly "Owl Tickets" photo and will be posted on the "UPARK" letters in our main hallway.
*At the end of each month we will be donating all clothing in the lost and found and anything left in the halls.