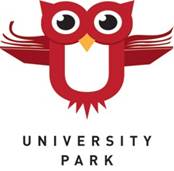 2300 S. St. Paul St., Denver, CO 80210
720-424-3410
Principal
Please join us for the
Second Annual UPark Health, Wellness, & Art Fair Wednesday, March 21st from 3:45-5:15 behind the school on the blacktop (or gym in poor weather). Click here for more information!
*Don't forget to download the UPark App
HERE
!
PTA News
This year each grade will sponsor a themed basket to auction off at the 2018 Auction. However, to make these baskets possible, we need cash donations and/or specific items purchased from our Amazon Smile Wish Lists.
The themes of the class baskets, as well as the links to the Amazon Smile Wish Lists, are listed below.
If you would like to purchase a specific item from our Amazon Smile Wish Lists, please click on the link(s) above and follow the prompts to complete your order. The item will be shipped directly to the school.
If you are able to make a cash contribution, please place cash or a check (made payable to University Park Elementary PTA) in an envelope, and send it in your child's Thursday folder or drop it off at the front office. Please write
"Class Baskets
" and your child's grade on the front of the envelope.
University Park's 5th grade Destination Imagination team, the Hot Cross Puns, took 3rd place at the district competition on Saturday! They qualified for the state competition in April and will represent University Park with pride. Congratulations to:
Spring Book Fair
Just in time for spring break! The University Park 2018 Spring Book Fair will be held March 12 through March 15 in the school library. Book Fair hours will be as follows:
Monday, March 12 through Wednesday, March 14:
Thursday, March 15:
If you prefer to shop online please click here to access the online UPark Book Fair through March 18th.
We are still looking for parent volunteers to work with us during the book fair ringing up sales and helping kids and parents! It's easy and fun! ! If you are interested please click here to sign up.
Spirit Week is coming!
Spirit Week is just around the corner from Monday, March 19th-Friday, March 23rd.
Monday: Crazy Hair/Hat/Sock Day- Show off your craziest and wackiest hairstyle, hat, and/or socks
Tuesday: Western Day-Wear your best western gear (denim, boots, hats, etc...)
Wednesday: Kids Dress Up/Teachers Dress Down Day- kids come to school in nice clothes and staff comes to school in casual clothes
Thursday: Colorado Day- Wear any Colorado gear or red, blue, and yellow clothing
Friday: UPark Spirit Day- Wear your UPark spirit gear
Remember your child does NOT have to participate if they don't want to, it is optional, but we hope they will. Thank you!
From,
The UPark Student Council
Restaurant Night - Four Friends Kitchen and Esther's Neighborhood Pub
Enjoy breakfast or lunch at the new Four Friends Kitchen (2070 S. University Blvd.) on Friday, March 16 or Saturday, March 17, and a portion of sales will come back to the UPark PTA to pay for band scholarships!
Please be sure to mention UPark!
Skip the kitchen and eat at Esther's Neighborhood Pub (
1950 South Holly St.
) on Monday, March 19th from 5:00 - 9:00pm and they'll donate 20% of all food sales to UPark. Please be sure to mention UPark to ensure donation!
2nd Grade Service Learning Project
As part of our community study and service learning, second graders are planning to work with the Child Rescue Foundation and the Teddy Bear Project.
You can be a part of this 2nd grade project by:
Collecting new or "slightly loved" stuffed animals of all kinds, not just teddy bears.

Collect fabric ribbon or yarn to tie the tags onto the stuffed animals.

Bring the animals and/or ribbon to a second grade classroom (Rm #113, 114 or 119) anytime during the month of March.

With adult supervision, ask neighbors, friends and family to donate stuffed animals and/or ribbon.
These stuffed animals will be given to children in the Denver Community. Some organizations benefiting are Children's Hospital, Denver Rescue Mission, Tennyson Children's Home, Denver County Court Day Care and more. Our classes will hold a tagging event where we will tie a red heart "tag" to the animals with a special student created message such as "we care about you."
Click here to learn more about the Child Rescue Foundation.
Staff Updates
Kindergarten
Lisa Alley will not be returning to UPark next school year. She is moving with her family to Texas this summer. Ms. Alley will be missed greatly!
1st Grade
Alexis Morof, 1st grade paraprofessional, is taking a teaching job that starts after spring break this school year. We wish her luck in her new endeavor. We are currently in the process of interviewing for this position.
Rich McRae, 1st grade paraprofessional, will retire at the end of this school year. Congratulations Rich!
We hope to have all open positions filled as soon as possible. We will update the community as people are hired.
Second Annual UPark Health, Wellness, & Art Fair
When: Wednesday, March 21st from 3:45pm - 5:15pm
Where: Behind the school on the blacktop (Gym for poor weather)
Digital Flyer: Click here!
2018 UPark Spring Enrichments:
-Spring Enrichment Runs 2/26 - 5/18
-Please click here for all things enrichment.
-If your student(s) attend before school enrichments, you MUST walk them in the building and sign them in with their enrichment Instructor.
-For after school enrichment, please do not come inside the building to sign out your student(s). All classes will be dismissed to the blacktop behind the school (door 9, door 15, or Gym door)
-If your student is going to be absent from an enrichment class, please contact Jesse.
Spring Break Camp at UPark:
-To register please click here
April 2nd Dismissal Day Camp at UPark
-To register please click here
Summer 2018 Camps:
The Ultimate Summer Enrichment Camp at C3
Do you love after school Enrichments!? Take a look at our single subject a la carte Enrichment Camp. Sign up for one to four blocks, featuring your favorite enrichment providers!
Week 1: 6/4 - 6/8, Week 2: 6/11 - 6/15, Week 3: 6/18 - 6/22, Week 4: 6/25 - 6/29
Daily Camp Hours: 8:15am - 4:15pm
To access the Online Course Catalog please click here.
To register please click here.
For Discovery Link Summer Camp information please click here.
Questions? Please contact Jesse.
University Park Elementary Calendar
Click on the calendar icon to the right, look below, or visit the
University Park Website
to access calendar information!
5 Star Wizard Hat Students
Congratulations to last week's 5 Star Wizard Hat students! They were recognized by their teachers for positive behavior.
Last week's students include: Olivia Stevens, Tyson Wands, David Bough, Noor Malik, Bailey Hodas, Hudsyn Hargis, Soleil Simpson, Sophia Cho, Autumn Trujillo, Jackson Rinner, Malcolm Schleicher, Sullivan LeClaire, Kole Roberts, Sadie Austin, Harmony Mora, Connor Newcomb, Carter Faulkerson, James Merkle.

Wizard Hats are given throughout UPark to celebrate students' good choices and positive behavior. We use a common vocabulary and teach Critical Thinking skills using the BrainWise curriculum. Each week there is a random drawing of 2 students done by classroom teachers. These children are photographed and receive a token of our appreciation.
*At the end of each month we will be donating all clothing in the lost and found and anything left in the halls (all clothing will go into our little red school house in our parking lot).