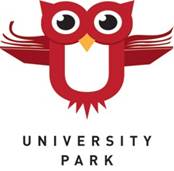 2300 S. St. Paul St., Denver, CO 80210
720-424-3410
Principal
Spirit Week is Monday, March 19th-Friday, March 23rd.
Monday: Crazy Hair/Hat/Sock Day- Show off your craziest and wackiest hairstyle, hat, and/or socks
Tuesday: Western Day-Wear your best western gear (denim, boots, hats, etc...)
Wednesday: Kids Dress Up/Teachers Dress Down Day- kids come to school in nice clothes and staff comes to school in casual clothes
Thursday: Colorado Day- Wear any Colorado gear or red, blue, and yellow clothing
Friday: UPark Spirit Day- Wear your UPark spirit gear
Remember your child does NOT have to participate if they don't want to, it is optional, but we hope they will. Thank you!
Thank you,
*Don't forget to download the UPark App
HERE
!
PTA News
As part of Spirit Week, students are encouraged to come dressed in their bandanas, blue jeans, boots, and cowboy hats on Tuesday, March 20, 2018 for Western Day. Western Day is a fun way for the students to participate in the 2018 Auction. A professional photographer will be at the school to take photographs of the students in their Western clothes to include in a slideshow for the 2018 Auction. The 2018 Auction will be your only opportunity to view the slideshow, so don't forget to purchase your tickets.
To purchase tickets online, please go to
upark.ptapal.com
. Tickets are $45 per person and include dinner and live bluegrass music performed by Scott Slay and the Rail. The last day to purchase tickets online is Sunday, April 15, 2018. To purchase tickets at the door, the price will increase to $60 per person.
New PTA Board for 2018-19
Congratulations to our newly elected PTA Board for the 2018-19 school year:
Candace Kristensson, President
Angela Rathbun, Vice President
Svenja Henze, Treasurer
Rachelle Montanaro, Secretary
Thank you for volunteering to serve the students, staff and families of UPark!
2018-2019 Classes
As we begin to prepare for the 2018-2019 school year, we would like to give you the opportunity to tell us about your child and their learning needs. You can learn more about the class placement process and fill out the Student Information Sheet
HERE
. Please turn the form in to the main office or email it to
Grant Varveris
by the end of March.
Spring Book Fair
The UPark Spring Book Fair closed this morning, but you can continue shopping online through March 18th. Click
here
to access the online UPark Book Fair!
Restaurant Night - Four Friends Kitchen and Ester's Neighborhood Pub
Enjoy breakfast or lunch at the new Four Friends Kitchen (2070 S. University Blvd.) on Friday, March 16 or Saturday, March 17, and a portion of sales will come back to the UPark PTA to pay for band scholarships!
Please be sure to mention UPark!
Skip the kitchen and eat at Ester's Neighborhood Pub (
1950 South Holly St.
) on Monday, March 19th from 5:00 - 9:00pm and they'll donate 20% of all food sales to UPark. Please be sure to mention UPark to ensure donation!
2nd Grade Service Learning Project
As part of our community study and service learning, second graders are planning to work with the Child Rescue Foundation and the Teddy Bear Project.
You can be a part of this 2nd grade project by:
Collecting new or "slightly loved" stuffed animals of all kinds, not just teddy bears.

Collect fabric ribbon or yarn to tie the tags onto the stuffed animals.

Bring the animals and/or ribbon to a second grade classroom (Rm #113, 114 or 119) anytime during the month of March.

With adult supervision, ask neighbors, friends and family to donate stuffed animals and/or ribbon.
These stuffed animals will be given to children in the Denver Community. Some organizations benefiting are Children's Hospital, Denver Rescue Mission, Tennyson Children's Home, Denver County Court Day Care and more. Our classes will hold a tagging event where we will tie a red heart "tag" to the animals with a special student created message such as "we care about you."
Click here to learn more about the Child Rescue Foundation.
Semantics Team News
We have a state winner! Former UPark student and Semantics team member and now current Denver School of the Arts 6th grader Angelina Holm finished FIRST in the Colorado State Spelling Bee on Saturday, March 10th! Angelina competed with 280 students from around the state of Colorado and will be representing Colorado in the Scripps National Spelling Bee in Washington, DC in May! Congratulations, Angelina - your hard work and determination are inspiring to all of us! Good luck in DC!
For more information on the Colorado State Spelling Bee, please visit the Denver Post link
here
.
Mrs. Wise - Semantics Team Coach
Ms. Kaplan and Mrs. Ostrom/Wise's classrooms participated in a school buddy field trip. Students worked together to play various games and complete team building challenges!
UPark Core Values-March
In March, UPark is celebrating our core value of RESPECT!
All classes are discussing ways to show respect to students, staff, in school, and in our community.
We will be doing "read-alouds" on the topic of respect as well as participate in planned activities. You'll also see posters and reminders around the school on what respect looks like in different parts of the building.
Yearbook Photos
Got Photos? We are always in need of great photos for the University Park yearbook. Please upload photos through the University Park App. It is simple to do: Go to the app, click menu, click on submit a yearbook photo, then upload your photo. Or you can email images directly to
breevialpando@hotmail.com
. Thank you!
Staff Updates
Kindergarten
Lisa Alley will not be returning to UPark next school year. She is moving with her family to Texas this summer. Ms. Alley will be missed greatly!
1st Grade
Alexis Morof, 1st grade paraprofessional, is taking a teaching job that starts after spring break this school year. We wish her luck in her new endeavor. We are currently in the process of interviewing for this position.
Rich McRae, 1st grade paraprofessional, will retire at the end of this school year. Congratulations Rich!
We hope to have all open positions filled as soon as possible. We will update the community as people are hired.
2nd Annual UPark Health, Wellness, & Art Fair
When: Wednesday, March 21st from 3:45pm - 5:15pm
Where: Behind the school on the blacktop (Gym for poor weather)
Digital Flyer: Click here!
3rd-5th Grade Art Exhibition Flyer: Click
here
!
3rd Annual UPark Golf Tournament
When: Saturday, May 12th starting at 8am
Where: Wellshire Golf Course
Digital Flyer: Click here
!
Spring Break Camp at UPark:
-To register please click here
For Discovery Link Summer Camp information please click here.
Questions? Please contact Jesse.
University Park Elementary Calendar
Click on the calendar icon to the right, look below, or visit the
University Park Website
to access calendar information!
5 Star Wizard Hat Students
Congratulations to last week's 5 Star Wizard Hat students! They were recognized by their teachers for positive behavior.
Last week's students include: Jayden McClinton, Abby Heider, Liam Nugent, Henry Ford, Dempsey Ruehrdanz, Whitney Stone, Leona Hesse, Jada Shuler, Mallory Gibson, Izze Fielder, Lincoln Gallagher, Alex Fabela, Jude Zec, Railey Leathers, Kai Stutz, Larkin Fitz-Gerald, Sadie Austin, Sydney Goude, Dylan Boal, Alejandro Adame, Oliver Waldo, Hannah Pramita, Shterna-Sarah Mehrenberg, Aspen Chaidez.
Wizard Hats are given throughout UPark to celebrate students' good choices and positive behavior. We use a common vocabulary and teach Critical Thinking skills using the BrainWise curriculum. Each week there is a random drawing of 2 students done by classroom teachers. These children are photographed and receive a token of our appreciation.
*At the end of each month we will be donating all clothing in the lost and found and anything left in the halls (all clothing will go into our little red school house in our parking lot).