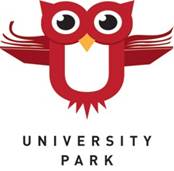 2300 S. St. Paul St., Denver, CO 80210
720-424-3410
Principal
Thank you to parents and staff for helping us celebrate Cooperation at our third Wise Owl Assembly of the year! It was so wonderful to hear teachers talking about students who exemplify Cooperation at UPark. It was also great to see students' faces as they received their awards and hugs from family members and staff. We see cooperation in the classroom, on the playground and throughout the school as students work in teams and problem solve. As our vision states "we seek to work together to impact our families, our community and our world." Cooperation exemplifies what it means to be a UPark student.
PTA
Save the Date-Spring Classroom Clean-Up!
Please mark your calendars for our annual UPark PTA sponsored classroom cleanup day, which is Saturday, March 14th from 8:30am-12:30pm. A good spring cleaning will help make every learning space more inviting, so please bring your rubber gloves, some rags, and some energy! Our custodial staff does a great job, but we will be addressing specific requests from the teachers and smaller items that our kids touch every day.
Thank you for helping to keep UPark a great learning environment!
UPark Auction-Save the Date!
If you haven't already, save the date for
FRIDAY (!!!!!) April 24, 2020
. This y
ear's auction will be held at Space Gallery from 7pm-11pm. We will have both a live and silent auction, dinner, open bar and Dj, Tickets will go on sale the last week in March.
Also we are behind on collecting bottles of
wine or spirits
for our live event. Please help us to make our new PLINKO game a success by donating. We need 60 additional bottles, valued at $20 or above. Bottles can be dropped off in the main office or contact Audrey DeHarty at
audreydeharty@gmail.com
to arrange to drop off.
1st Grade
Hello from first grade! We are continuing to learn so much in first grade. In Literacy, first graders are starting Unit 8, Observing the Sky, in the Benchmark curriculum. In this unit, students are reading and comparing both informational and literature selections about the sky. Our essential question asks, "why do the sun and moon capture our imagination?" Students will learn about the differences they see in the sky depending on the time and season. We will read and listen to stories as well as practice retelling key details. In writing, students will write a key event from the texts read while building language with the use of pronouns.
In Math we are working on unit 6, Figure the Facts with Penguins, in the Bridges curriculum. Currently, we are working on Module 2, Combinations and Story Problems. In this module the first graders are focusing on addition and subtraction story problems and fact strategies to 20. We are learning how to make double flap dot cards and picture cards to help us write fact family equations and story problems to match. We are also learning how to model and solve addition combinations on our number racks as well as identify strategies to help us solve more challenging combinations. We will end this module by learning a new game called Pick Two to Make Twenty, which reinforces addition combinations to 20 in an appealing and challenging context.
Coming next week: Kindergarten!
Summer Academy 2020 Updates
Summer Academy 2020 invitation letters will be sent to all eligible students February - March. Here are a few highlights to look forward to:
The
UPark Intermediate
Band
is playing with the
DU
pep
band
alongside students from Cory and Slavens schools for the final
DU
Men's Basketball game of the season on
Saturday February 29th at 1pm
! We invite the UPark community to come support our students at the game.
CMAS Testing Dates
Please take a moment to mark your calendars with our CMAS testing dates for grades 3-5. Our schedule this year will reflect our focus on condensing the testing timeframe to lessen the impact on daily instruction. As you will see we will be testing over the course of 6 days instead of our previous schedule which had students testing over 9 days.
Please work to schedule appointments and vacations around these dates. If you know your student will be absent on one of these dates, please let your child's teacher know as soon as possible.
We need your photos to make the UPark Yearbook a wonderful keepsake for all of our kids!
Please submit photos to
photo@uparkelementary.org.
Winter Enrichments Ending
Tuesday-Friday Winter enrichment classes will end February 25th-28th (based on the day of week). Monday enrichments will end on March 2nd.
Spring Enrichment Registration
Spring enrichment registration opens Tuesday, February 18th at 8:00am
and closes Monday, March 2nd at 6:00pm. Click
here
to see the spring class offerings and for information on registering.
Scholarships are available for Spring Enrichment!
To apply for a full or half scholarship please fill out
THIS
form and email it to
Julia Lamberton
no later than Monday, March 2nd.
New Family Managed Calendars-Discovery Link
In regards to the new Family Managed Calendars for this upcoming school year, we would like to provide you as much support as possible as we try to navigate this change. This
video
on the Discovery Link website can provide more information about the process or email
Discovery_link@dpsk12.org with questions
. While we cannot guarantee that there will be a spot for your student each requested day, we are currently operating well under capacity. We will do the best we can to address your questions, concerns, and communicate further developments.
Discovery Link Spring Camp Registration
Discovery Link Summer Camp Registration
Discovery Link Summer Camp registration is open. Click here for camp details and click here for registration information and instructions.
Discovery Link has a new team member!
We are also welcoming a new staff member, Corey Kidder to the Discovery Link After School Program.
Take a look at her bio
HERE
.
University Park Elementary Calendar
Click on the calendar icon to the right, look below, or visit the
University Park Website
to access calendar information!
UPark Owl Ticket Students
Congratulations to last week's Owl Ticket students! They were recognized by their teachers for above and beyond positive behavior.
Owl Tickets are given to students for going above and beyond in one of our five core values: caring, cooperation, responsibility, respect and joy. Owl Tickets focus on the school's trait of the month, give students a chance to participate in the weekly "Owl Tickets" photo and will be posted on the "UPARK" letters in our main hallway.
*At the end of each month we will be donating all clothing in the lost and found and anything left in the halls.