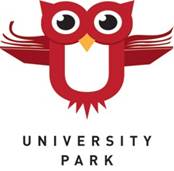 2300 S. St. Paul St., Denver, CO 80210
720-424-3410
Principal
Dear University Park Community:
As we all know, UPark is one of the most extraordinary communities around. I truly treasure our school and everything about the students, staff, parents and community members. The support of the families, the dedication of the students and the incredible staff help define our school on a daily basis. I have always felt privileged to serve here. Recently, I was approached about applying to the principalship at Skinner Middle School beginning in 2018-2019. I have always been intrigued by middle school and opportunities to serve a traditional middle school do not happen very often.
Considering a change has been difficult for me, but I believe it is important for me to pursue this opportunity so I may continue to grow as a leader. After a few initial interviews, an instructional walk and a community forum for Skinner I have been selected as one of two finalists. I will continue to keep you updated on the process and let you know the next steps for me. I will also continue to be mindful of how to best support UPark.
I am humbled to have this opportunity, but I am also very happy serving UPark. While I truly believe this might be a good stepping stone in my leadership journey, I know I can also continue growing as a leader right here at University Park. It is a pretty great position to be in. I am grateful for all the support of the staff and community I have received over the past 4 years. I know I will continue to receive this support. While exploring this opportunity is exciting, it is also bitter-sweet. I want to be as transparent as possible through this process. Thank you all. I am forever changed because of my experiences here at University Park. Please feel free to reach out to me with questions or comments.
Finalists meet with Tom Boasberg(DPS Superintendent) - 3/22/18
Tom makes final decision - estimated 4/2/18
*Once Tom makes a final decision both school communities would be notified asap
PTA News
Have you secured your babysitter for the 2018 Auction yet? Don't miss out on this fun way to support our school while connecting with parents, faculty, and the UPark community. The 2018 Auction will be held on Saturday, April 21, 2018 from 6:30 PM - 10:30 PM at the University of Denver. The evening will include BBQ, live bluegrass music, games, and a live and silent auction. To purchase tickets, please click
HERE
. The cost is $45 per person. The last day to purchase tickets at this price is Sunday, April 15, 2018. After that, the price will increase to $60 per person at the door.
If you would like to volunteer at the 2018 Auction to help with the Photo Booth and/or Wine Pull, please email Katie Fitz-Gerald and/or Becky MacDonald at
auction@uparkelementary.org
.
King Soopers Gift
Cards
Please remember to use and reload your UPark King Soopers cards. This is our easiest fundraiser of the year since King Soopers donates 5% back to the UPark PTA on every dollar you add to your gift card for use on groceries and gasoline at all King Soopers, City Market and Loaf and Jug locations. If you need a new card, you can request one
HERE
. Help us make our goal of $11,000 in King Soopers donations to UPark!
John Irwin School of Excellence
University Park received the 2017 John Iriwn School of Excellence award. The John Irwin awards are given to schools that demonstrate exceptional academic achievement over time. These schools received an Exceeds Expectations rating on the Academic Achievement indicator of the School Performance Framework, reflecting exceptional performance in Math, English Language Arts, and Science. The Excellence Awards are named for a true friend and visionary of education, former Colorado State Representative, John J. Irwin.
2018-2019 Classes
As we begin to prepare for the 2018-2019 school year, we would like to give you the opportunity to tell us about your child and their learning needs. You can learn more about the class placement process and fill out the Student Information Sheet
HERE
. Please turn the form in to the main office or email it to
Grant Varveris
by the end of March.
Join the Collaborative School Committee!
Get involved -- gain deeper knowledge into UPark and contribute to our school's success!
Ever wonder how the school district achievement scores really work? What makes up the school budget? How Principal Varveris makes key decisions and evaluates success? Join the Collaborative School Committee and participate with other parents, Principal Varveris and
UPark teachers
in better understanding and impacting UPark.
The primary functions of the CSC include assisting Principal Varveris with the school's mission & vision, providing guidance on an annual balanced budget/UIP, and obtaining community involvement to help achieve school and district goals (when appropriate).
UPark has 3 open positions on the committee (one immediate and

two

next fall)

Meetings are typically 1.5 hours, once a month

If you have interest, please

complete and submit the nomination form to the main office by the end of April for consideration.
This is my 2nd year as a CSC member and I have found the experience to be valuable and rewarding. I have gained deeper insights into how UPark is run and have the ability to contribute to its ongoing success. I would encourage fellow parents to participate.
-Julie Tschida Brown - UPark parent (Khloe - 4th and Lucas - graduated 6th)
Restaurant Night - The Garlic Knot (Dine in or Take-out)
Skip the kitchen and eat at Garlic Knot (
2553 S. Colorado Blvd.
) on Tuesday, April 3rd from 4pm - close and they'll donate 20% of all food sales to UPark. Please be sure to mention UPark to ensure donation! Click here for information.
Class Pictures
Class picture day is Friday, April 6th, the week after spring break. Order envelopes will be coming home in Thursday folders today. Please return them to your classroom teacher no later than picture day (April 6).
UPark Core Values-March
In March, UPark is celebrating our core value of RESPECT!
All classes are discussing ways to show respect to students, staff, in school, and in our community.
We will be doing "read-alouds" on the topic of respect as well as participate in planned activities. You'll also see posters and reminders around the school on what respect looks like in different parts of the building.
March Safety Update
The Denver Police Department is partnering with Denver Public Schools to provide outreach to communities. Denver Police officers will be visiting all DPS schools approximately once a month at recess.
Officers recently spent time with our students on the playground playing four square, answering questions and handing out stickers. DPD
will also have a more frequent presence at school arrival and dismissal.
UPark also completed a fire drill this month and successfully carried out our first evacuation drill of the year this week. Please contact the main office with questions.
Yearbook Photos
Got Photos? We are always in need of great photos for the University Park yearbook. Please upload photos through the University Park App. It is simple to do: Go to the app, click menu, click on submit a yearbook photo, then upload your photo. Or you can email images directly to
breevialpando@hotmail.com
. Thank you!
Summer Band Camp
The Big as Life Music (BALM) Summer Band Camps are week-long camps (9 a.m.-3 p.m.). Whether your child plays an instrument or would like to learn how, camp will be sure to inspire them on their musical journey. Beginning, Intermediate and Advanced students are welcome.
Camps are taught by Christmas Gainsbrugh, DPS Band Director at UPark! Incoming 4th-8th graders can join us for Summer Band Camp to learn how to play the flute, clarinet, trumpet, french horn, saxophone, trombone, tuba or drums.
3rd Annual UPark Golf Tournament
When: Saturday, May 12th starting at 8am
Where: Wellshire Golf Course
Digital Flyer: Click here
!
Interested in a 4 class Movement, Pilates, & Dance workshop for the month of April? Click here for more information (registration link is in the flyer).
For Discovery Link Summer Camp information please click here.
Registration for 2018-2019 Discovery Link
University Park Elementary Calendar
Click on the calendar icon to the right, look below, or visit the
University Park Website
to access calendar information!
5 Star Wizard Hat Students
Congratulations to last week's 5 Star Wizard Hat students! They were recognized by their teachers for positive behavior.
Last week's students include: Haoxuan (Joe) Zhao, Reily Doi-Jared, McKain Shirey, Abdullah Saleh, Bryan Wills, Sadie Woglom, Denis Zlatanov, Miles Noble, Giovanna Golan, Luke Vialpando, Laylah Martinez, Harrison Marino, Joey Roedel, Vidalia Dobbins, Luciana Salgado, Xitong (Karen) Liu, Grayson Johnson, Claire Robinson, Callie Dorsett, Ibrahim AlJuboori, Attia Abdelgawad, Augie Reichert, Whitney Stone, Jesus Martinez-Casillas, Malcolm Schleicher, Ivy DeLaCruz Ramirez.
Wizard Hats are given throughout UPark to celebrate students' good choices and positive behavior. We use a common vocabulary and teach Critical Thinking skills using the BrainWise curriculum. Each week there is a random drawing of 2 students done by classroom teachers. These children are photographed and receive a token of our appreciation.
*At the end of each month we will be donating all clothing in the lost and found and anything left in the halls (all clothing will go into our little red school house in our parking lot).