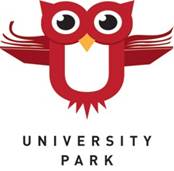 2300 S. St. Paul St., Denver, CO 80210
720-424-3410
Principal
Dear Families and Colleagues:
As we close down another great year, I wanted to be sure to thank everyone for a wonderful four years at University Park. I have truly enjoyed getting to know all of you. Being a part of this supportive and hard-working community has helped me to grow as a person and leader. I will miss University Park, but look forward to sharing what I have learned here with the larger DPS community.
With the warm temperatures upon us and spring in full effect we all begin to think about the end of the school year. Please know that I am grateful for all of your well wishes, but will humbly decline gifts from faculty and families. I began this tradition in 2007, in Chicago, by respectfully requesting that folks refrain from buying gifts for me as I feel truly fortunate for all that I already have. The kind gestures are sincerely appreciated so those of you filled with the spirit of giving can purchase gifts for those much less fortunate than I am.
I appreciate all that you do for our University Park School community. Thank you!
Sincerely,
*Don't forget to download the UPark App
HERE
!
PTA News
Our UPark King Soopers gift cards make great end of the year teacher gifts! Just request a new card from the PTA HERE
and then load it in whatever amount you want to give to your teachers.

King Soopers donates 5% back to the UPark PTA whenever you load your card. Also, don't forget to reload your own gift card throughout the summer as the PTA continues to earn money from King Soopers and we use the money in our budget for the upcoming school year!
Restaurant Night Tonight!
Marg's Taco Bistro (Cherry Creek location)
The sun is shining and the patio's open! Bring the whole family or turn it into a parents-night-out at Marg's on Thursday, May 10th from 5:00 - 10:00pm. Marg's will generously donate 20% of all food sales back to UPark. Thank you to the Brutsch family for making this happen! See you all there!
Click here for more information on Marg's Taco Bistro.
Fall Fun Run and Carnival
Interested in being part of the planning committee for the school's Fall Fun Run and Carnival? If so, please join us for our first meeting on Friday, May 11th at 2:30pm at the picnic tables on the school playground. Parents of all grades, especially K-3, are highly encouraged to come.
The week of May 7th will be the last week of library check-out. This will allow your kids to have a full two weeks to enjoy their books before they must be returned.
Borrowed books must be returned NO LATER THAN MAY 25, 2018. Overdue and lost slips will be created and sent home the week of May 21. Books that are returned prior to the end of the school year will not incur fines or replacement costs regardless of when they were checked out.
2017-18 UPark Yearbooks
Yearbook order forms went home with students last week! If you plan to order please make sure to have the form filled out and returned no later than Friday, May 18th. Orders should be accompanied by cash (exact change), check (payable to University Park PTA) or money order.
The New and Improved Parent Portal is Almost Here!
DPS is redesigning the existing Parent and Student Portal to provide a better user experience for parents and families! The good news - the new portal will be available as early as May 15 for a sneak peek before summer break. This is only a sneak peek! Please stay tuned for more updates from the Parent Portal team throughout the summer. To create a Parent Portal account, please visit myportal.dpsk12.org and click Getting Started. If you do not remember your username or password, contact the portal hotline at 720-423-3163 or email
dps_portalteam@dpsk12.org
.
Please join us for Field day on Friday, May 25th. There will be no rain date this year due to schedule conflicts. Field day will be held on our school grounds. Session one is 9:30-11:00 and session two is 1:30-3:00. Student lunches will be at the normally scheduled times and families are welcome to stay and eat with their children. Look for more information here.
If you are interested in helping with field day, please sign up here.
Crayola ColorCycle
All around University Park Elementary students and teachers are collecting used markers that are ready to be discarded for the Crayola ColorCycle program. The markers will be sent to a facility where they will be converted into clean fuel. This fuel can be used to power vehicles, heat homes, cook meals and more!
Please continue to help support our efforts by sending your kids in with any used markers you may have around the house - even non-Crayola brands. Drop-off boxes are located around the school for your child to deposit the markers.
Thank you in advance for participating! With the help of parents like you across the country, the Crayola ColorCycle program can keep tons of plastic out of landfills each year.
Update: UPark has recycled 3,001 used markers so far this school year. This is the equivalent of almost 10 gallons of fuel. Right now Mrs. Cardenas' class is in the lead having recycled 310 markers.
Keep up the great work UPark students! We will be collecting markers through the end of the school year.
Remember, don't throw out that used marker-ColorCycle it!
Sincerely,
Luke Combs Karamia Castanon
Nona Slevin
Devin Vest-Moore
Mateo Gochmam Moreno
Ali Yassin
Chase Cestra
DPS Library Services
Did you know that your child has 24/7 access to THOUSANDS of FREE eBooks and audiobooks this summer? The DPS OverDrive eBook and audiobook collection has titles for every type of reader, and is the perfect resource for preventing summer learning loss!
Students who read as few as 10 self-selected books during the summer
continue their reading progress. Please check out our amazing collection
here
!
Click here for more information on OverDrive as well as information on Denver Public Library's Summer Learning Program Partnership.
Spring Enrichment Classes that end early:
| | |
| --- | --- |
| Spring Enrichment: | Date of last class: |
| Rock Climbing | 4/26 |
| Yoga (R) | 4/26 |
| Pottery | 4/30 |
| Yoga (M) | 4/30 |
| Yoga (T) | 5/1 |
| Move! Dance! Pilates! | 5/4 |
| After School Art | 5/4 |
| KidStage | 5/4 |
| Leap N' Learn | 5/11 |
4/27 Enrichment Make-Up Dates:
| | |
| --- | --- |
| Class | Make-Up Date |
| | |
For Discovery Link Summer Camp information please click here.
Registration for 2018-2019 Discovery Link
Registration for current families went live online on Monday, April 16th
Registration for new families went live online on Monday, May 7th
For more information and how to register, please click here.
Questions? Please contact
Jesse
.
University Park Elementary Calendar
Click on the calendar icon to the right, look below, or visit the
University Park Website
to access calendar information!
5 Star Wizard Hat Students
Congratulations to last week's 5 Star Wizard Hat students! They were recognized by their teachers for positive behavior.
Last week's students include: Ben Mendez, Cooper Morton, Ford Kanafani, Grayson Johnson, Charlotte Hayes, Jack Carmichael, Abigail Jones, Leora Starks, Anna Muilenburg, Grace Kittelson, Liam Kovac, Shreyas Rao, Jayden McClinton, Aria Burrows, Lyla Quinn, Annika Morton, Elaf AlSaaid, Hailey Monden, Layla Hurd, Lara Olsthoorn, Carl Kristensson, Zyrik Pena, Justin Criswell, Jillian Samaras, Seamus Slevin, Angi Cairns, Trevor Welch, Karis Boroughs, Evan Davis, Olivia Stevens, Yiran (Anna) Shi, Amelia Babbitt, Jude Zec.
Wizard Hats are given throughout UPark to celebrate students' good choices and positive behavior. We use a common vocabulary and teach Critical Thinking skills using the BrainWise curriculum. Each week there is a random drawing of 2 students done by classroom teachers. These children are photographed and receive a token of our appreciation.
*At the end of each month we will be donating all clothing in the lost and found and anything left in the halls (all clothing will go into our little red school house in our parking lot).