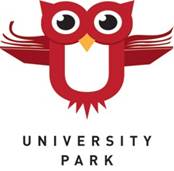 2300 S. St. Paul St., Denver, CO 80210
720-424-3410
From Your New Principal
Hello UPark Families, Staff, and Friends,
I am so excited to be University Park's next principal. My journey to becoming your principal has taken me through several schools, in two different states over 18 years. I'd like to take a few moments to share with you a little about myself and how I got here.
My wife Lisa and I are the proud parents of two little ones. Sophie is our red headed four-year old, who loves ponies, princesses, and Johnny Cash. Hunter is our two-year old who can break into any cabinet in the house and has developed very strong opinions about just about everything at a very young age. I absolutely love being a dad! There's a lot of laughing, singing, and playing at our house.
As for me, I was born and raised in the small town of Douglas, Arizona on the Arizona - Mexico border. I lived there until the age of 15, when my family moved to Phoenix. From there, I attended college at Northern Arizona University (NAU) earning a bachelor's degree in broadcast journalism in 1997. After volunteering in my mom's classroom on my days off from my first journalism job, I realized that teaching was my true calling. So, I went back to school.
My first year of teaching was spent trying my best to educate 20 kindergartners. They kept me on my toes to say the least. The next nine years, I truly found my home in fifth grade with a couple of years teaching sixth grade sprinkled in to keep things interesting. I graduated with my master's degree in educational leadership from NAU in 2010. I took my first assistant principal job in 2012.
We moved to Colorado in 2015, deciding to set up our own family roots right between my hometown of Phoenix and Lisa's hometown of St. Louis. Amazingly, Denver is a twelve-and-a-half-hour drive from both cities. Our road trips to see family in either direction are always fun, but the drive home is even better. We absolutely love Colorado!
I've been the assistant principal at Swansea Elementary School for the past three years, learning and growing alongside some truly amazing DPS teachers and leaders. During my time at Swansea I led to empower students to become leaders and to develop self-agency in their learning. I plan to continue that work as UPark's next principal, leading to engage and empower our community of mighty thinkers and doers.
I am looking forward to meeting all of our wonderful UPark students, staff, and families in the coming weeks and months. Feel free to email me anytime if you have any questions or would just like to say hello. I am excited to begin our work together!
Sincerely,
Eric Atonna
Principal
University Park
From Your Current Principal
Dear Families and Colleagues,
As we close down another great year, I wanted to be sure to thank everyone for a wonderful four years at University Park. I have truly enjoyed getting to know all of you. Being a part of this supportive and hard-working community has helped me to grow as a person and leader. I will miss University Park, but look forward to sharing what I have learned here with the larger DPS community.
With the warm temperatures upon us and spring in full effect we all begin to think about the end of the school year. Please know that I am grateful for all of your well wishes, but will humbly decline gifts from faculty and families. I began this tradition in 2007, in Chicago, by respectfully requesting that folks refrain from buying gifts for me as I feel truly fortunate for all that I already have. The kind gestures are sincerely appreciated so those of you filled with the spirit of giving can purchase gifts for those much less fortunate than I am.
I appreciate all that you do for our University Park School community. Thank you!
Sincerely,
*Don't forget to download the UPark App
HERE
!
PTA News
Our UPark King Soopers gift cards make great end of the year teacher gifts! Just request a new card from the PTA HERE
and then load it in whatever amount you want to give to your teachers.

King Soopers donates 5% back to the UPark PTA whenever you load your card. Also, don't forget to reload your own gift card throughout the summer as the PTA continues to earn money from King Soopers and we use the money in our budget for the upcoming school year!
2017-18 UPark Yearbooks
Yearbook order forms went home with students last week! If you plan to order please make sure to have the form filled out and returned no later than this Friday, May 18th. Orders should be accompanied by cash (exact change), check (payable to University Park PTA) or money order.
Let's get running! The before school running at UPark will start on Monday, May
21st

and finish on Friday, May

25th (Field Day!). Please volunteer for a morning before school to help. Meet us at the school track right behind the garden near the baseball fence. We'll be passing out charms for the younger runners and hole punching for the older runners. Younger grades (K-2) will earn charms for each lap completed and older grades (3-5) will run laps to earn prizes. Lots of fun! Click here to sign up to help.
Please join us for Field day on Friday, May 25th. There will be no rain date this year due to schedule conflicts. Field day will be held on our school grounds. Session one is 9:30-11:00 and session two is 1:30-3:00. Student lunches will be at the normally scheduled times and families are welcome to stay and eat with their children. Look for more information here.
If you are interested in helping with field day, please sign up here.
All library books are due back to the library no later than May 25th. The library currently has 434 books checked out that are due between May 17 and May 25. Of those 434 checked out books, 113 or 26% are overdue and have late/lost charges assigned to them for a total of $1662 in lost inventory. Overdue/lost book slips will be sent home early next week with instructions on how to reimburse UPark if the books are lost. If you have any questions please feel free contact Kathleen Von Stein, UPark Library Para.
2nd Annual UPark Kindergarten Camp
June 19-21,
8:30am-3:00pm
Is your student eager to start Kindergarten?
Are they full of questions? Anxious or excited? We have a special camp for your soon-to-be UPark Owl!
Over the course of 3 full days, June 19-21 from 8:30am-3:00pm, students will have the opportunity to preview and practice classroom rituals and routines, build confidence, and develop friendships all within their new school setting. Lessons will enhance Kindergarten readiness skills and reduce any butterflies that may be a part of starting the new school year.
Owl-themed daily activities will be creative, early-childhood friendly, educational, student centered, and FUN, all while getting to know
OWL
about ourselves, our friends, and our school.
Please see THIS brochure for further details and to sign-up before spots are filled!
Important 2018-19 School Year To Dos
Students Not Returning
If your student WILL NOT return to University Park next school year please fill out
THIS
form and return it to the main office.
Parent Portal-

Create Your Account Now!
If you do not have a Parent Portal account please make sure to create one. You will need a Parent Portal account to participate in our Annual Family Update (the new name for Online Verification/Registration) this summer.
You will need your student's DPS ID/Lunch Number to create the account. Contact the main office at 720-424-3410 if you do not know this number. Click HERE for instructions on creating your Parent Portal account.
In addition to registering for school (Annual Family Update), Parent Portal is a secured website where parents/guardians and students can access information about student progress such as: Report Cards, Attendance & Behavior and District & State test results.
If you have additional Parent Portal questions please contact the DPS Parent Portal team at 720-423-3163 or
dps_portalteam@dpsk12.org
.
Congratulations to these talented 4th/5th grade students who represented University Park Elementary at the Denver Public Schools Citywide Honor Choir on Thursday, May 10th.
The students were selected as some of the top vocalists across the district. It was a beautiful evening of song and our students were shining stars.
Jace Gustafson,
Jules Cohn,
Bennett Ruchaber,
Kyle Kojima,
Everett White,
Juliette Rusin,
Logan Shirey,
Olivia Jones
Math Olympiad Team Results!
30 UPark 4th and 5th graders participated in this year's Math Olympiad team! Students on our Math Olympiad team honed their math creative problem solving skills once a week throughout the school year in individual, partner and group work as well as in five written tests. Over 150,000 students from across the U.S. participated and our team did better than ever this year...congratulate our Top 5 as well as all of our team members below!
1st Place/Top 10% in nation - 5th grader Isobel E-S
2nd Place/Top 10% in nation - 5th grader Sterling S
3rd Place/Top 20% in nation - 5th grader Max H
4th Place (tie)/Top 20% in nation - 4th grader Jaymes K and 5th grader Claire R
4th graders:
Zach A, Olivia B, Eilee B, Addison B, Khloe B, Jack B, Dylan B, Saoirse C, Ruby D, Preslie H, Kyle K, Ken K, Ryan L, Augie R, Brady W
5th graders:
Ben B, Owen B, Waker B, Jacob C-C, John Paul M, Landon M, Juliette R, Marley S, Logan S, Ryder W
Here's an example of one of their test problems this year...can you solve it?
3 brothers have the same birthday but were born in different years. 4 years ago, the oldest brother's age was 5 times the age of the youngest brother at that time and the age of the middle brother was 3 times the age of the youngest brother at that time. Today' the middle brother's age is twice the age of the youngest brother. Today, how old is the oldest brother?
Congratulations and happy summer!
Fall Fun Run and Carnival
Interested in being part of the planning committee for the school's Fall Fun Run and Carnival? If so, please contact Joanna Shear at joanna_shear@yahoo.com. Parents of all grades, especially K-3, highly encouraged to come.
DPS Library Services
Did you know that your child has 24/7 access to THOUSANDS of FREE eBooks and audiobooks this summer? The DPS OverDrive eBook and audiobook collection has titles for every type of reader, and is the perfect resource for preventing summer learning loss!
Students who read as few as 10 self-selected books during the summer
continue their reading progress. Please check out our amazing collection
here
!
Click here for more information on OverDrive as well as information on Denver Public Library's Summer Learning Program Partnership.
Summer Band Camp
The Big as Life Music (BALM) Summer Band Camps are week-long camps (9 a.m.-3 p.m.). Whether your child plays an instrument or would like to learn how, camp will be sure to inspire them on their musical journey. Beginning, Intermediate and Advanced students are welcome. Camps are taught by Christmas Gainsbrugh, DPS Band Director at UPark! Incoming 4th-8th graders can join us for Summer Band Camp to learn how to play the flute, clarinet, trumpet, french horn, saxophone, trombone, tuba or drums.
Glass Fusing Workshop
When: Friday, May 18th 3:45pm - 5pm
Where: Art Room
For Discovery Link Summer Camp information please click here.
3rd Annual UPark Golf Tournament
Thank you to all who supported this year's golf tournament!
Above: The 2018 UPark Golf Tournament Champions, their 3rd in a row! Pictured left to right: Justin Gold, Ben Blackwood, John Rogala, and Brian Frenkel.
University Park Elementary Calendar
Click on the calendar icon to the right, look below, or visit the
University Park Website
to access calendar information!
5 Star Wizard Hat Students
Congratulations to last week's 5 Star Wizard Hat students! They were recognized by their teachers for positive behavior.
Last week's students include: Luciana Salgado, David Bough, Joey Roedel, Dawensley Hornak, Whitney Stone, Rowan Mitchell, Michael Sutton, Lily Baker, Noah Hayes, Alex Fabela, Sadie Woglom, Callie Dorsett, Delaney Muilenburg, Lucas Lipke, Sydney Goude, Autumn Trujillo, Matthew Long, Leona Hesse, Sophia Inghilterra, Maria Elgadi, Trevor Welch, Harrison Marino, Iris White.
Wizard Hats are given throughout UPark to celebrate students' good choices and positive behavior. We use a common vocabulary and teach Critical Thinking skills using the BrainWise curriculum. Each week there is a random drawing of 2 students done by classroom teachers. These children are photographed and receive a token of our appreciation.
*At the end of each month we will be donating all clothing in the lost and found and anything left in the halls (all clothing will go into our little red school house in our parking lot).