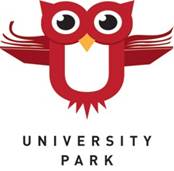 2300 S. St. Paul St., Denver, CO 80210
720-424-3410
REMINDER: There is NO SCHOOL November 25th-29th and NO SCHOOL December 2nd for a UPark specific planning day. Please click
HERE
for the UPark/DPS calendar.
Principal
We appreciate all the work that went into making our snowy halloween such a wonderful day! Thank you to all of our parent volunteers who made sure we had a healthy Halloween and provided healthy party treats and fun, festive activities!
PTA
Please join us for our next PTA meeting on Tuesday, November 12th at 6 pm.


Pizza and babysitting (for preschool and school age children) will be provided. Please

RSVP, including the number of children, so we can plan accordingly!

If you haven't joined the PTA yet, membership is only $10 and you can pay your dues

here.
5th Grade
We surveyed all students and collected a sample of their responses below. Enjoy!
1. What's the best thing about 5
th
grade? Why?
My favorite thing about 5th grade is that we are the role models of the school. It is my favorite thing because all the kids in the smaller grades look up to us and it makes me feel good.

The best thing about 5th grade is probably all the group projects. I love working in groups because you can always speak your ideas.

My favorite thing about 5th grade is my friends and how I feel so much older. I also like the amazing opportunities we get to do in 5th grade.

The best thing about fifth grade is the million dollar project because I have never done a math project like it. Another reason this is my favorite thing about being in fifth grade is the organization skills taught to you in the million dollar project.

The best thing about 5th grade is genius hour. No other grade does genius hour and it is an awesome experience. All the fifth grade classes come together and we work in groups or independently to learn about a topic that we are interested in and passionate about.
2. What's been your favorite thing you've learned this year?
My favorite thing we have learned this year is

learning how to multiply 2, 3, and 4 digit numbers with decimals.

My favorite thing I've learned this year is how to write better essays because it's always been something I've had trouble with.

My favorite thing I've learned is the candy corn experiment because it was so fun to watch the candy corn melt and talk with my group about it.

My favorite thing I have learned this year is how to analyze a book. We all learned ways to find the theme, plot, etc. It will help us when we read more complex books.
3. What are you looking forward to in 5
th
grade?
I am looking forward to all of the field trips (like Young Ameritowne, Balarat, and APEX).

I've been really looking forward to getting a better vocabulary and learning more advanced words.

I am looking forward to Young Ameritowne because I like having a job and getting it done and I also like to practice real life skills for the future.

The thing I am most looking forward to in 5th grade is Apex. I am so excited to go because our class gets to swim together (not something classes would do every day) and go in the lazy river which is so much fun.

The thing I am looking forward to doing this year is to make board games that the 4th graders will play!
Coming next week: Specials!
Wine Tasting Event to Support UPark
.
..It's Like Restaurant Night, But Just For the Adults
LAST CHANCE TO PURCHASE! Pearl Wine Company is giving 100% of the ticket sale proceeds for their upcoming 4th Anniversary Wine Tasting event on Nov. 9th to neighborhood schools, including UPark. Attendees will have the opportunity to taste over 200 wines and receive event only discounts on orders. Tickets can be purchased from the UPark PTA for $45 (or $65 for a VIP ticket that gets you in an hour early at 5:30).
Purchase via cash or check made out to "UPark PTA," or online HERE

(online transaction fee applies).

Email

uparkpta@gmail.com

to purchase a ticket with cash or check, or talk to PTA President Angela Rathbun on the playground at pickup or drop off.
Pearl Wine 4th Anniversary Wine Tasting
November 9, 2019 from 6:30-9 pm
JW Marriott Cherry Creek
*Please purchase your tickets from UPark to ensure we receive the full donation amount. Tickets purchased directly from Pearl Wine will divide the donation among multiple schools.
Pearl Wine has also secured a special $209 room rate at the JW Marriott (a $50 savings) if you parents / teachers want to make a night of it. Use booking code: Pearl Wine Anniversary.
Join us for

Multicultural Night next Thursday, November 14th from 5:30 - 7 pm

in the gym. We will gather to taste food from around the world, learn about and share our different cultures, watch a rhythm performance, and enjoy Indian dancing.
Bring an appetizer or dessert you love from your heritage to share with others!
For the first time this year, Multicultural Night will include performances from two amazing Denver area groups:
First, we will enjoy an interactive percussion duo -

Rhythm: A Multicultural Music Experience

- which explores rhythm and percussion as it evolved out of Africa through the Caribbean, Brazil, and up through the Americas. Students will hear dun duns, djembes, talking drums, and congas, and will have an opportunity to play percussion instruments with the performers.
Then, we'll see a dance performance from

Mudra Dance Studio

that will include classical, contemporary, and folk dances from different regions of India.
World Record Speed Stacking Day
University Park is attempting to help break the Guinness World Record for the most people sport stacking at multiple locations in one day. We will be stacking during Physical Education on
Thursday, November 14
th
. If your student does not have PE that day and would still like to participate, they can stack before school in the gym from 8:30-8:55! Please email Tracy Hartin if you are planning to attend.
Picture Retake Day
Picture orders from our original picture day will be coming home in Thursday folders today. If we did not see your student on picture day or you would like a new image, our picture retake day will be held on
Friday, November 15th
. If your student did not have their picture taken on picture day pre-orders for picture packages may be placed online now at
https://ios.mydorian.com
using UPark's retake access key:
FYV3PDBS
. Online orders using the school's access key are available up to 4 days after retake day. Order envelopes can be picked up in the main office if you choose not to order online. All picture orders placed after the 15th will need to be placed online. If you were not happy with the original pictures please return the picture package on retake day to exchange for the same package with a new picture. Click here for additional information.
Annual Thanksgiving Lunch
University Park welcomes students and families to celebrate the Thanksgiving holiday with a turkey lunch in the school cafeteria on Wednesday, November 20th. The lunch will be held at your student's regularly scheduled lunch time.
Guests, please visit the school cafeteria to purchase your meal tickets no later than Friday, November 15th.
Cafeteria staff will be available each morning until 11:00am. Current UPark students will purchase a meal using their student ID at the same price as a regular cafeteria meal. Contact the main office at 720-424-3410 with questions.
Child (Non-Student) $3.00
Click here to view the Thanksgiving lunch menu.
Restaurant Night
Wahoo's (1233 S. Colorado Blvd.)
Skip the kitchen and check out Whaoo's on
Tuesday, November 19th
from 4:00pm-close! 50% of all purchases (dine-in, take-out, etc...) will be donated to UPark. Bring the whole family! Click
here
for more details.
2nd Grade Service Learning Project
As part of our community study and service learning, second graders are planning to work with the Child Rescue Foundation and the Teddy Bear Project.
You can be a part of this 2nd grade project by:
Collecting new or "slightly loved" stuffed animals of all kinds, not just teddy bears.

Bring the animals to a second grade classroom during the month of November.
These stuffed animals will be given to children in the Denver Community as well as around the world. Some organizations benefiting are Children's Hospital, Denver Rescue Mission, Denver County Court Day Care and more.
Click HERE to learn more about the Child Rescue Foundation.
Easy Ways to Support UPark as you Prepare for the
Holidays
ORDER HOLIDAY CARDS FROM MINTED:
This
November and December
, save money and support UPark when you order your holiday cards and
gifts from Minted. Use code FUNDRAISEUPESDENVER to save
20% OFF
of your Minted order, and Minted will also give 15% back to our school. Visit minted.com/holiday to start shopping.
BUY YOUR HOLIDAY GROCERIES AT KING SOOPERS:
Once you've connected your rewards card to UPark, King Soopers will automatically donate a portion of your purchase back to UPark each time you swipe your SooperCard or enter your phone number. If you haven't already connected you rewards card, follow these simple instructions.
SHOP FOR HOLIDAY GIFTS ON AMAZON:
AmazonSmile is a simple and automatic way to support UPark at no cost to you! Simply register at smile.amazon.com, choose "University Park Elementary PTA," and Amazon will donate 0.5% of your eligible purchases. Just be sure to start your shopping via the AmazonSmile homepage.
Please share these easy give back opportunities with grandparents and other family members that would like to support UPark this holiday season!
Calling all UPark Owls: Wanting to show off your UPark Spirit? Need some new gear before spirit week? You can now order owl shirts, hats, water bottles and more! Click HERE to get started.
Fall Enrichment Courses Ending
All enrichments with the exception of Monday classes will end next week (November 11th-15th). Monday enrichments will have their last class on Monday, November 18th.
Winter Enrichment Course Offerings
Click HERE to view the course catalogue for all class descriptions, fees and instructions to register.
*Catalogue edited to include changed KidStage performance as well as to adjust Monday program dates due to no School on Monday, December 2nd.
Please welcome Julia Lamberton to the UPark Neighborhood Center team! Click here to read Julia's bio.
University Park Elementary Calendar
Click on the calendar icon to the right, look below, or visit the
University Park Website
to access calendar information!
UPark Owl Ticket Students
Congratulations to last week's Owl Ticket students! They were recognized by their teachers for above and beyond positive behavior.
Owl Tickets are given to students for going above and beyond in one of our five core values: caring, cooperation, responsibility, respect and joy. Owl Tickets focus on the school's trait of the month, give students a chance to participate in the weekly "Owl Tickets" photo and will be posted on the "UPARK" letters in our main hallway.
*At the end of each month we will be donating all clothing in the lost and found and anything left in the halls.