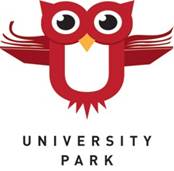 2300 S. St. Paul St., Denver, CO 80210
720-424-3410
Reminder:

NO SCHOOL Monday, November 19-Monday, November 26. Students return to school on Tuesday, November 27th. Happy Thanksgiving!
Principal
"The beauty of the world lies in the diversity of its people." - Unknown
Join us for UPark's annual Multicultural Night tonight, November 15 from 5:30-7:00 in the gym. We will celebrate the many different cultures that make UPark such a special place to learn. See the Multicultural Night box in the newsletter below for additional details.
OUR APPLE ALL-STAR WINNER IS....
.....It's a TIE!!!
Both Kindergarten and 1st grade came in with 41% overall participation! This is wonderful. We didn't expect a tie and have decided to buy more goodies and celebrate both grades with a popcorn party.

Look for details from your teacher after Thanksgiving break.
Parents and Kids - we really appreciate your effort in this fun campaign. The Apple Campaign chairs couldn't do this without all of your generosity. Thank you!
*If you forgot to donate, feel free to keep sending them in here.
Multicultural Night Tonight
The University Park Multicultural Feast is today, Thursday, November 15th from 5:30-7:00! Feasting is a way of honoring a community. It is a celebration of gratitude for our children, their families, and our school community. It is a celebration of our diversity and our shared beliefs and values. Over 20 different nations are represented in our student body as well as many diverse cultures.
Join us November 15th to feast, celebrate and share. Each family is asked to contribute a dish that represents their cultural or religious roots or just a family favorite! Main dishes, vegetables, salads, breads, and desserts are all welcome - choose your favorite dish to share. If your life is so busy that you can't cook, a store-bought dish is fine too. Water, drinking cups, paper plates, dinnerware, and napkins will be provided by the PTA.
There are other ways to share as well. You can wear traditional clothing, display art or objects that represent your roots. What is central and critical to our feast is sharing -- sharing the organizing and planning, sharing the work and expenses, sharing the preparation, sharing the food, and sharing the clean-up. It really is not about food; it is about sharing and community!
Please email Anita Murano at
anita_murano@dpsk12.org
to let us know what you can share with the group.
UPark Core Values
Update on Wizard Hats/Owl Tickets:
In an effort to update the UPark Wizard Hats, we are renaming them "Owl Tickets". This better aligns to both our school mascot and our focus on our five core values- Caring, Cooperation, Responsibility, Respect and Joy. Owl Tickets will:
Focus on the school's trait of the month
Be given for going above and beyond in one of the five core values
Give students a chance to participate in the weekly "Owl Tickets" photo shared in the parent newsletter
Be posted on the new "UPARK" letters in our main hallway
UPark is celebrating our core value of "Caring" for the months of November and December:
Definition: Showing kindness and concern for others
This month, classrooms will be discussing the definition of caring, and participating in a read aloud on this topic.
Each classroom will also be participating in an activity on "World Kindness Day" held on Tuesday, November 13th.
2nd Grade Service Learning Project
As part of our community study and service learning, second graders are planning to work with the Child Rescue Foundation and the Teddy Bear Project.
You can be a part of this 2nd grade project by:
Collecting new or "slightly loved" stuffed animals of all kinds, not just teddy bears.

Bring the animals to a second grade classroom during the month of November.
These stuffed animals will be given to children in the Denver Community as well as around the world. Some organizations benefiting are Children's Hospital, Denver Rescue Mission, Denver County Court Day Care and more.
Click
here
to learn more about the Child Rescue Foundation.
Current, completed immunization records are due Tuesday, November 27th. All families that need to bring in updated records will receive a notice from Antoinette, our school nurse. Please contact

Antoinette

with questions or for immunization clinic information.
We are excited to announce the continuation of the UPark Holiday Adopt-A-Family program!
In our UPark community, we have a number of families who benefit from the generous donations provided through this program. Many of our UPark families are struggling with the challenges of poor health, the loss of a loved one, or homelessness.
If you would like to participate in the Adopt a Family program, we ask that you do so by purchasing a gift card, in any amount you choose, to either Walmart or Target. We started this tradition last year, and we received a lot of support. Our families receiving these gifts appreciated the opportunity to shop for their children, and it was easy for donors to participate!
Anytime between now and Friday, December 7th,
you can drop off your gift cards to the main office with either Ms. Alexis or Ms. Rusin.
Thank you in advance for giving what you can. Your generosity will make this season brighter, and bring joy to others in our UPark community!
May you and your loved ones share a warm and wonderful holiday season!
Plastic Bag Recycling Tubes on UPark playground!
White pvc tubes are being hung on the playground by Green Team students for recycling plastic baggies! When children have snack in baggies, please empty the food out (eat it or put it in the trash) and place them in the tubes. Students from the Green Team will take the baggies to recycling boxes at nearby grocery stores. To help UPark stay green p
lease try to
use fewer baggies,
less plastic and reuse
snack containers.
Red Apple Recycling (Little Red School House)

Red Apple Recycling will be removing the little red school house near the staff parking lot to provide us with an updated donation box. The new box will be installed this January. We will begin accepting donations again once we receive the new box. Please contact the main office with questions.
GOT PHOTOS? We would love to include them in this year's yearbook! You can email them to
UPark Faculty Kitchen Lovin'
Thank you to the UPark Community for the Faculty Kitchen Lovin'!
Thank you to all that helped stock the faculty kitchen. All of the listed material have been stocked and your generosity is appreciated!
Update: one of the staff's microwaves broke last week. If you have an extra microwave that you are looking to get rid of, UPark will take it off your hands!
Dana O'Connor, parent volunteer
Enrichment:
Registration for enrichment is open until 6 pm next Monday, November 19. There are still plenty of spots remaining and we have an abundance of offerings. Check out our catalog here and sign up today! You will be notified of any class cancellations by Tuesday, November 20th if there are any that do not meet their minimums. Classes start the week of November 27th.

Discovery Link: UPark Discovery Link will be closed 11/19 - 11/23 and all Discovery Link sites will be closed 11/21 - 11/23. Camp Day options are available at neighboring schools on 11/19 & 11/20. Click here to sign up.
November 26 UPark Dismissal Day Camp: On 11/26, a camp day will be held at U-Park. Please click here for more information on how to sign up.
Have a great Thanksgiving!
University Park Elementary Calendar
Click on the calendar icon to the right, look below, or visit the
University Park Website
to access calendar information!
UPark Owl Ticket Students
Trait of the Month (November/December): Caring
Congratulations to last week's Owl Ticket students! They were recognized by their teachers for above and beyond positive behavior.
Owl Tickets are given to students for going above and beyond in one of our five core values: caring, cooperation, responsibility, respect and joy. Owl Tickets f
ocus on the school's trait of the month, g
ive students a chance to participate in the weekly "Owl Tickets" photo and will be
posted on the new "UPARK" letters in our main hallway.
*At the end of each month we will be donating all clothing in the lost and found and anything left in the halls (all clothing will go into our little red school house in our parking lot).