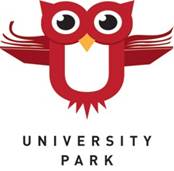 2300 S. St. Paul St., Denver, CO 80210
720-424-3410
REMINDER: There is NO SCHOOL November 25th-29th and NO SCHOOL December 2nd for a UPark specific planning day. Please click
HERE
for the UPark/DPS calendar.
Principal
Hello UPark Families,
As we head into
the
week of Thanksgiving, I'd like to give a huge thank you to
everyone who participated in one of our recent UPark events.
Thank you to all of our hard working cafeteria staff and wonderful parents for making our Thanksgiving lunch a
success. Thank you to all of the families who spent last Saturday and Sunday building our Gaga Ball pit. I'd also like to send a huge
thank you to our English Language Acquisition staff, PTA, teachers, and all of the families who showed up for our annual Multi-Cultural Night. We had fantastic food, an amazing multicultural drumming experience and a
wonderful
dance performance by Mudra Dance Studio. Check out some of the fun photos below. I am so thankful for the opportunity to lead a school with brilliant students, amazing teachers, and the best families in Denver. Thanks for all you do to ensure that UPark continues to be an amazing
school! Have a great Thanksgiving break!
All About the New GaGa Ball Pit
Last school year, three UPark students wrote a letter to Principal Atonna recommending the addition of a GaGa Ball Pit to the UPark playground, and they subsequently attended a PTA meeting to further advocate for, and seek funding for, their request.
The students explained that GaGa Ball would be a great addition to the UPark playground because it allows many students to play at the same time, and because "students of all sizes, ages, and athletic abilities can play and have a chance to win."
With help from our facilities staff, we were able to find an ideal location on our school grounds, and this fall the PTA approved funding for the project.This past weekend, a group of parent and student volunteers worked very hard to clear away the grass in the designated location, spread gravel to create a play surface, and assembled the new GaGa Ball Pit.
On Monday morning, 5th grader Jackson Trinen, one of the three students who made the initial proposal for this playground addition, had the honor of cutting a red ribbon to officially open the GaGa Ball Pit for play.
The joy and excitement of all of the students was an amazing sight!

Many parents have been asking what exactly this game is and how it's played. GaGa Ball, played inside of a low-walled octagon, is often described as a safer and more fun version of dodge ball and is played with a lightweight inflatable ball. As the students explained in their letter, "the purpose of the game is to be the last one standing after all the other players have been hit below the knees with the ball. GaGa Ball includes dodging, hitting the ball, running, jumping, and catching."
Help Keep UPark Class Sizes Small!
Apple Campaign
Congratulations to our KINDERGARTEN class who had an impressive 48% participation in the Apple Campaign! They will win a popcorn party to celebrate! Thank you VERY MUCH to everyone who donated!
We did not meet our fundraising goal - we are still $11,000 short.
If we do not raise this money, class sizes could be

affected for next year, or we may not be able to fund other resources that benefit all students at UPark.
Overall, approximately 30% of UPark families have donated to the Apple Campaign.
If every family who has not yet donated made a donation of just $40 per student, we would raise the additional $11,000 needed.
Of course, we realize and respect that not every family is in a position to make a donation, but contribute in other important ways. However, if you are in a position to contribute more, that will help us reach our goal and allow us to maintain UPark's great student/teacher ratios.
1st Grade
We are learning so much in first grade! In literacy, we are learning about how authors create stories. We are focusing on the elements of stories such as identifying characters, narrator, setting and plot. We have been looking closely at texts to explore how authors describe characters with adjectives. We also look closely at texts to find words that appeal to the senses. These words make stories much more interesting to read!
In math, we are working on exploring equations. To do this we use Unifix cubes to demonstrate the many different ways to represent a number. For example, ten can be represented with a train of 3 red Unifix cubes + 7 green Unifix cubes; or 2 red Unifix cubes + 3 green + 5 yellow Unifix cubes. Students have had many opportunities to write expressions to match the Unifix trains and compare equations.
In social studies we learning about schools long ago and comparing life long ago to life today. We are so excited for our upcoming field trip to the Denver Center of performing arts on December 4th to see a presentation of Good Night Moon. Also, first graders are very busy learning the songs for our presentation of A Bear-y Merry Holiday on Dec 12th.
Coming next week: Kindergarten!
UPark Auction
SAVE THE DATE!!! The
2020 Auction
will be held on
Friday, April 24th, 2020
at
Space Gallery
(400 Santa Fe Dr.)
. This event, and the Apple Campaign, are University Park's most important fundraisers, and are the key to our continued success and growth. All of the proceeds will go towards additional homeroom teachers and keeping our classroom sizes small. Our fundraising goal this year is $77,000, a big task but we're up for the challenge! More information and how to donate to this event will be communicated in the coming weeks.
If you would like to help out with any aspect of the auction large or small -

please join us for our first meeting Thursday December 5th at 7pm where we will discuss procurement process, assign committees and talk THEMES! RSVP to auction@uparkelementary.org and we will send you the address for the meeting.
Thursday January 9th at 7pm
Thursday February 6th at 7pm
UPark Spirit Week
Spirit Week is just around the corner from Monday, December 9th
- Friday, December 13th
!
Monday:
PJ Day: Come to school in your pajamas. Pajamas must follow the school dress code and no slippers allowed.
Tuesday:
Twin Tuesday: Plan to dress similar to another student/group of students. Not sure who to twin with? Wear a black shirt and jeans and see who you twin with!
Wednesday:
When I Grow Up Wednesday: Wear an outfit that shows what you want to be when you grow up!
Thursday:
Throwback Thursday: Dress up in clothing from a different decade.
Friday:
Wise Owl Friday: Show off all of your UPark gear- Spirit wear, Fun Run t-shirts or anything red!
Remember your child does NOT have to participate if they don't want to, it is optional, but we hope they will. Thank you!
The Green Team ornament challenge is back! December 13-20 UPark students and families are invited to create an ornament with the theme of UPark Owls or "Use Less/Do More". Ornaments should be made by reusing or repurposing recyclable or compostable materials. Prizes will be awarded for best repurposing, creativity with materials and using the above themes. Ornaments need a name, grade and room number when they are brought to the main hallway.
Grades Available in Parent Portal
First trimester grades are now available to view in Parent Portal. Click
here
to sign in or create a new account. Please notify the office if you need a paper copy of grades.
Yearbook Photos
GOT PHOTOS? We would love to include them in this year's yearbook! Please email them to
photo@uparkelementary.org
. Thank you!
Have you followed UParkOwls on Instagram yet? We have 93 followers currently, and hope to be to 100 by month's end with your help and support! We will be selecting followers at random to pick up a prize from the front office... you could be next!
Easy Ways to Support UPark as you Prepare for the
Holidays
ORDER HOLIDAY CARDS FROM MINTED:
This
November and December
, save money and support UPark when you order your holiday cards and
gifts from Minted. Use code FUNDRAISEUPESDENVER to save
20% OFF
of your Minted order, and Minted will also give 15% back to our school. Visit minted.com/holiday to start shopping.
BUY YOUR HOLIDAY GROCERIES AT KING SOOPERS:
Once you've connected your rewards card to UPark, King Soopers will automatically donate a portion of your purchase back to UPark each time you swipe your SooperCard or enter your phone number. If you haven't already connected you rewards card, follow these simple instructions.
SHOP FOR HOLIDAY GIFTS ON AMAZON:
AmazonSmile is a simple and automatic way to support UPark at no cost to you! Simply register at smile.amazon.com, choose "University Park Elementary PTA," and Amazon will donate 0.5% of your eligible purchases. Just be sure to start your shopping via the AmazonSmile homepage.
Please share these easy give back opportunities with grandparents and other family members that would like to support UPark this holiday season!
Reopening Registration For Winter Enrichment
UPark winter enrichment registration will be reopened this Thursday (11/21) and Friday (11/22). Here is a list of some of the classes that are still available at this time.
Mandarin Chinese

Fencing

Club Amigos

Little Coders

Chess
If you are a current family who registered during fall semester use THIS link to register.
If you are a new family registering for enrichments for the first time use THIS link

to create an account.
Discovery Link Camp Days
Friendly reminder to everyone signed up for November 25th and 26th Camp Days to please bring a lunch and let us know at your earliest convenience if there are any changes to your students medical, allergy, or accommodation needs. There will not be camp on our December 2nd no school day.
Discovery Link is Hiring!
Discovery Link at University Park is hiring for a Program Leader and Staff Aide. If you enjoy working with kids and are looking for a fun, part-time job opportunity then you should join the UPark Discovery Link team! We offer a flexible schedule, perfect for college students and parents. Click HERE for more information and instructions on applying. Please contact Ms. Julia Lamberton for more information.
University Park Elementary Calendar
Click on the calendar icon to the right, look below, or visit the
University Park Website
to access calendar information!
UPark Owl Ticket Students
Congratulations to last week's Owl Ticket students! They were recognized by their teachers for above and beyond positive behavior.
Owl Tickets are given to students for going above and beyond in one of our five core values: caring, cooperation, responsibility, respect and joy. Owl Tickets focus on the school's trait of the month, give students a chance to participate in the weekly "Owl Tickets" photo and will be posted on the "UPARK" letters in our main hallway.
*At the end of each month we will be donating all clothing in the lost and found and anything left in the halls.