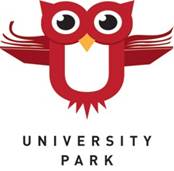 2300 S. St. Paul St., Denver, CO 80210
720-424-3410
Principal
Thank you to everyone that is participating in our Halloween celebrations today. Feel free to post your festive photos to our UPark Instagram page.
Please follow "UParkOwls" and tag us in photos of you, your owl, your family, and your adventures. Have a fun and safe Halloween night!
Please note that our
Winter Enrichment course catalogue is now available!
Enrichment registration will open this coming Tuesday, November 5th at 8:00am and close Friday, November 15th at 6:00pm. Please take a minute to review the course catalogue that can be found below in the Neighborhood Center section of this newsletter or on the UPark website. Many classes fill quickly so register early. The winter session courses will begin the week of December 2nd.
PTA
EASY WAYS TO SUPPORT UPARK AS YOU PREPARE FOR THE HOLIDAYS
ORDER HOLIDAY CARDS FROM MINTED:
This November, save money and support UPark when you order your holiday cards and gifts from Minted. Use code FUNDRAISEUPESDENVER to save 15% OFF of your Minted order, and Minted will also give 15% back to our school. Visit
minted.com/holiday
to start shopping.
BUY YOUR HOLIDAY GROCERIES AT KING SOOPERS:
Once you've connected your rewards card to UPark, King Soopers will automatically donate a portion of your purchase back to UPark each time you swipe your SooperCard or enter your phone number. If you haven't already connected you rewards card, follow
these simple instructions
.
SHOP FOR HOLIDAY GIFTS ON AMAZON:
AmazonSmile is a simple and automatic way to support UPark at no cost to you! Simply register at
smile.amazon.com
, choose "University Park Elementary PTA," and Amazon will donate 0.5% of your eligible purchases. Just be sure to start your shopping via the AmazonSmile homepage.
Please share these easy give back opportunities with grandparents and other family members that would like to support UPark this holiday season!
Intervention
In an effort to incorporate Habits of Discussion into our daily reading and writing...here is a thought from Great Habits, Great Readers (p.52)....Change the way students talk about reading and you'll change the way they think about it.
In intervention, we continue to build on practices of the classroom that allow students to talk about their thinking and cite evidence from the text.
tell me more,

why do you think that?

why is that important in your life?

I agree with that because...
Great reading and writing starts with being able to express your ideas clearly!
Coming next week: 5th Grade!
Special Spotlight on UPark
A Glimpse into UPark's Custodial History
Custodians have been around for decades cleaning and maintaining different buildings. Back in the early 1800's custodians even lived inside of the building they were taking care of. University Park was probably one of those buildings! Custodians lived in the buildings for a couple different reasons; to make sure the building was heated continuously throughout the winter, even on weekends. Back in the late 30's University Park used to have a coal fed furnace. This meant that in order to heat the building someone would have to feed the furnace coal all throughout the day and night. It was not electrical and automatic like it is now. Another reason they lived in the building was to ensure that the building was taken care of 24/7, fixing issues as soon as they arose. During that time custodians were responsible for repairing and replacing almost everything in the building including things like glass windows, plumbing, all painting, patching, flooring and fuses. In 2019 we contract most of that out. This building gives some clues to its historic past. For instance, down in the back of the custodian office there is an old trash incinerator. In short, the trash was not thrown away into dumpsters, or recycled into different cans, but instead all the trash was burned. There is also a room that was used as a coal shoot for the furnace. There is a sink back in that office, and even a little room that suggests it could have been sleeping quarters. Come visit Ms. Dominique sometime and she can show you the historic attributes that are hidden in the depths of UPark!
Apple Campaign
We are 2 weeks away from our November 15th goal of reaching $70,000. While we've had tremendous support from our UPark community,
we are currently $25,000 short of our goal!
We have raised an impressive $45,000 but still are hoping to raise a significant amount more in the next few weeks. If you have already donated, THANK YOU very much. If you have not, please consider donating to help fund additional teachers for next year.
Donate
HERE
today to support our school!
The grade with the highest participation by November 15th will win a popcorn party!
Wine Tasting Event to Support UPark
.
..It's Like Restaurant Night, But Just For the Adults
Pearl Wine Company is giving 100% of the ticket sale proceeds for their upcoming 4th Anniversary Wine Tasting event on Nov. 9th to neighborhood schools, including UPark. Attendees will have the opportunity to taste over 200 wines and receive event only discounts on orders. Tickets can be purchased from the UPark PTA for $45 (or $65 for a VIP ticket that gets you in an hour early at 5:30).
Purchase via cash or check made out to "UPark PTA," or online HERE

(online transaction fee applies).

Email

uparkpta@gmail.com

to purchase a ticket with cash or check, or talk to PTA President Angela Rathbun on the playground at pickup or drop off.
Pearl Wine 4th Anniversary Wine Tasting
November 9, 2019 from 6:30-9 pm
JW Marriott Cherry Creek
*Please purchase your tickets from UPark to ensure we receive the full donation amount. Tickets purchased directly from Pearl Wine will divide the donation among multiple schools.
Pearl Wine has also secured a special $209 room rate at the JW Marriott (a $50 savings) if you parents / teachers want to make a night of it. Use booking code: Pearl Wine Anniversary.
Did you know that UPark has been hosting a Multi-Cultural Night for about 15 years?! Yup. That's right, we have been filling bellies with delicious foods and introducing our community to new art and stories for longer than any of our current fifth graders have even been alive! And guess what! It is that time of the year again... It is time to get out the old family recipes and experience some art and culture.
Bring an appetizer or dessert you love from your heritage Thursday, November 14th from 5:30-7:00pm. We will gather in the gym to eat and listen to music and stories from all over the world. Please save the date! More information will be forthcoming. Email Anita Murano if you have any questions.
For the first time this year, we're excited to bring a interactive percussion duo to UPark to provide both entertainment and education during Multicultural Night.
Rhythm: A Multicultural Music Experience
explores rhythm and percussion as it evolved out of Africa through the Caribbean, Brazil, and up through the Americas. Students will hear dun duns, djembes, talking drums, and congas, and will have an opportunity to play percussion instruments with the performers.
2nd Grade Service Learning Project
As part of our community study and service learning, second graders are planning to work with the Child Rescue Foundation and the Teddy Bear Project.
You can be a part of this 2nd grade project by:
Collecting new or "slightly loved" stuffed animals of all kinds, not just teddy bears.

Bring the animals to a second grade classroom during the month of November.
These stuffed animals will be given to children in the Denver Community as well as around the world. Some organizations benefiting are Children's Hospital, Denver Rescue Mission, Denver County Court Day Care and more.
Click HERE to learn more about the Child Rescue Foundation.
Your child's attendance can have a large impact on their learning. Missing just one day of instruction can cause students to miss out on learning important concepts in all subject areas, which can lead to falling behind peers and scoring lower on state assessments

(Ginsburg, Jordan, & Chang, 2014).

To help ensure your child has the best attendance possible, please review the list of things you can do to improve your child's attendance, as recommended by attendanceworks.org.
Set a regular bed time and morning routine.

Lay out clothes and pack backpacks the night before.

Don't let your child stay home unless she is truly sick (a fever of 101 or higher). Keep in mind complaints of a stomach ache or headache can be a sign of anxiety and not a reason to stay home.

If your child seems anxious about going to school, talk to teachers, school counselors, or other parents for advice on how to make her feel comfortable and excited about learning.

Develop back-up plans for getting to school if something comes up. Call on a family member, a neighbor, or another parent.

Avoid medical appointments and extended trips when school is in session.

Keep a chart recording your child's attendance at home. At the end of the week, talk with your child about what you see.
Calling all UPark Owls: Wanting to show off your UPark Spirit? Need some new gear before spirit week? You can now order owl shirts, hats, water bottles and more! Click HERE to get started.
Winter Enrichment Course Offerings
Click HERE to view the course catalogue for all class descriptions, fees and instructions to register.
University Park Elementary Calendar
Click on the calendar icon to the right, look below, or visit the
University Park Website
to access calendar information!
UPark Owl Ticket Students
Congratulations to last week's Owl Ticket students! They were recognized by their teachers for above and beyond positive behavior.
Owl Tickets are given to students for going above and beyond in one of our five core values: caring, cooperation, responsibility, respect and joy. Owl Tickets focus on the school's trait of the month, give students a chance to participate in the weekly "Owl Tickets" photo and will be posted on the "UPARK" letters in our main hallway.
*At the end of each month we will be donating all clothing in the lost and found and anything left in the halls.