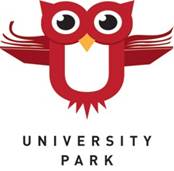 2300 S. St. Paul St., Denver, CO 80210
720-424-3410
Principal
Coffee With the Principal Tomorrow!
I would like to invite you to join me for the first "Coffee with the Principal" tomorrow, Friday, November 2nd. This informal meet and greet event will be a time for me to chat with families to gain more insight into your hopes for this school year and beyond. Parent feedback is very valuable to me as a leader and helps us grow as a school. We'll be meeting at the picnic tables on the playground from 8:40-9:15 and drinking coffee provided by our amazing PTA. I hope to see you there!
Eric Atonna
Happy Halloween from the UPark staff!
Apple wants to say thank you to all who have donated to the Campaign thus far. We have received about $40,000 in donations and are over 1/2 way there. We do desperately need to get to $70,000. Become an Apple All-Star and win a party for your grade by donating any amount. Drop off a check in the office or make it easy and donate here.

This is a close Apple All-Star Race!
Restaurant Giveback Night Tonight
Potbelly (Colorado & Yale location)
No time to cook? Running fast between soccer, lacrosse and dance? Join us for the next Restaurant Giveback night tonight, November 1st, at Potbelly! Potbelly is committed to supporting the UPark neighborhood so is generously donating 25% of all purchases between the hours of 5-8pm. Just mention UPark (and tell your friends) and you'll be dining with a purpose!
Wine Tasting Event to Support UPark...
It's Like Restaurant Night, But Just For the Adults
Pearl Wine Company is giving 100% of the ticket sale proceeds for their upcoming 3rd Anniversary Wine Tasting event on November 3rd to neighborhood schools, including UPark. Attendees will have the opportunity to taste over 150 wines and receive event only discounts on orders (just in time to order wine for Thanksgiving and Holiday parties). Tickets can be purchased from the UPark PTA for $40 via cash or check made out to "UPark PTA," or online HERE
(a small online transaction fee applies).
Email vp@uparkelementary.org
to purchase a ticket with cash or check, or talk to PTA VP Angela Rathbun on the playground at pickup or drop off.
Pearl Wine 3rd Anniversary Wine Tasting
November 3, 2018 from 6-9 pm
Halcyon Hotel, Cherry Creek, 245 Columbine Street Denver 80206
(*note this location change, previously advertised as the Space Gallery)
The University Park 2018 Fall Book Fair will be held November 5th - November 8th in the school library. The hours will be as follows:
Monday, November 5 through Wednesday, November 7:
Thursday, November 8:
8:00 a.m. - 9 a.m. (morning hours only)
We are looking for Book Fair volunteers to do everything from help set up displays and prep the library for the fair to working at the fair helping kids choose and buy books. Please click HERE to sign up and select a time and task you would like to volunteer for.
Online Sales will be from October 28th through November 12th.
Click HERE for the interactive flyer and to purchase books through the online store.
Sport Stacking Guinness World Record
University Park is attempting to help break the Guinness World Record for the most people sport stacking at multiple locations in one day. We will be stacking during Physical Education on
Thursday, November 8th
. If your student does not have PE that day and would still like to participate, they can stack before school in the gym from 8:30-8:55! Please email
Tracy Hartin
if you are planning to attend.
Picture Retake Day
Picture day orders will be coming home in Thursday folders today. If we did not see your student on picture day or you would like a new image, our picture retake day will be held on
Tuesday, November 13th
. If your student did not have their picture taken on picture day pre-orders for picture packages may be placed online now at
https://ios.mydorian.com
using UPark's access key provided here VA8ZESKL. Online pre-orders using the school's access key are available up to 4 days after retake day. Order envelopes can be picked up in the main office if you choose not to order online. If you were not happy with the original pictures return the picture package on retake day to exchange for a new picture.
Annual Thanksgiving Lunch
University Park welcomes students and families to celebrate the Thanksgiving holiday with a turkey lunch in the school cafeteria on Wednesday, November 14th. The lunch will be held at your student's regularly scheduled lunch time.
Child (Non-Student) $3.00
Guests, please visit the school cafeteria to purchase your meal tickets no later than Wednesday, November 7th. Cafeteria staff will be available each morning until 11:00am. Current UPark students will purchase a meal using their student ID at the same price as a regular cafeteria meal. Contact the main office at 720-424-3410 with questions.
Click here
to view the Thanksgiving lunch menu.
The University Park Multicultural Feast is on Thursday, November 15th from 5:30-7:00! Feasting is a way of honoring a community. It is a celebration of gratitude for our children, their families, and our school community. It is a celebration of our diversity and our shared beliefs and values. Over 20 different nations are represented in our student body as well as many diverse cultures.
Join us November 15th to feast, celebrate and share. Each family is asked to contribute a dish that represents their cultural or religious roots or just a family favorite! Main dishes, vegetables, salads, breads, and desserts are all welcome - choose your favorite dish to share. If your life is so busy that you can't cook, a store-bought dish is fine too. Water, drinking cups, paper plates, dinnerware, and napkins will be provided by the PTA.
There are other ways to share as well. You can wear traditional clothing, display art or objects that represent your roots. What is central and critical to our feast is sharing -- sharing the organizing and planning, sharing the work and expenses, sharing the preparation, sharing the food, and sharing the clean-up. It really is not about food; it is about sharing and community!
Please email Anita Murano at
anita_murano@dpsk12.org
to let us know what you can share with the group.
UPark Core Values
Update on Wizard Hats/Owl Tickets:
In an effort to update the UPark Wizard Hats, we are renaming them "Owl Tickets". This better aligns to both our school mascot and our focus on our five core values- Caring, Cooperation, Responsibility, Respect and Joy. Owl Tickets will:
Focus on the school's trait of the month
Be given for going above and beyond in one of the five core values
Give students a chance to participate in the weekly "Owl Tickets" photo shared in the parent newsletter
Be posted on the new "UPARK" letters in our main hallway
UPark is celebrating our core value of "Caring" for the months of November and December:
Definition: Showing kindness and concern for others
This month, classrooms will be discussing the definition of caring, and participating in a read aloud on this topic.
Each classroom will also be participating in an activity on "World Kindness Day" held on Tuesday, November 13th.
2nd Grade Service Learning Project
As part of our community study and service learning, second graders are planning to work with the Child Rescue Foundation and the Teddy Bear Project.
You can be a part of this 2nd grade project by:
Collecting new or "slightly loved" stuffed animals of all kinds, not just teddy bears.

Bring the animals to a second grade classroom during the month of November.
These stuffed animals will be given to children in the Denver Community as well as around the world. Some organizations benefiting are Children's Hospital, Denver Rescue Mission, Denver County Court Day Care and more.
Click
here
to learn more about the Child Rescue Foundation.
Before School Running Results
The wellness committee would like to say great job to all the kiddos who participated in the before school running program! Our top runners were Jaymes Keenan (18 miles!), Jack Billingsley (16 miles), Teddy Rogala (12 miles) and Adia Stoler (5 miles). Younger students ran to earn necklace charms and the upper grade students (who ran the most laps) get a prize. All upper grade students who ran at least a mile will earn a Target gift card. Way to go runners AND a big thanks to all the parent volunteers who helped out each morning. We'll be out jogging the school track again in the Spring the week before Field Day.
UPark Faculty Kitchen Lovin'
Hello UPark families! The UPark Faculty Kitchen needs a little lovin' and supplies are low. Can you help?
Sign up here to choose items to donate to our faculty kitchen.
Supplies can be dropped off in the main office.
Thank you in advance!

Dana O'Connor (Parent volunteer)
KG-2nd Grade Art Show Postponed
The Kindergarten-2nd grade art show originally scheduled for November 7th, will be postponed to a later date. Stay tuned for details.
UPark directories went home last week or will come home today in Thursday folders. If you would like one and do not receive one please stop by the main office.
Winter Enrichment
Registration will go live next Monday, November 5th at 7:00 am.

Winter Enrichment Registration Instructions (not available until 11/5 at 7am)
If you are a current Discovery Link or Enrichment family please visit
this link
to register. Do NOT make a new account.
If you are not a current Discovery Link or Enrichment family, please read these directions first:
Click here to create a new account
Select "University Park" as your location
Scroll down and click "Click to View Offerings" under the 2018-2019 Enrichment Program
Enter in ALL information (child's birthday, contact information, grade, etc.) after selecting the course you'd like
Payment is authorized at the time of registration



*DO NOT MAKE A NEW ACCOUNT for each class, you may log-in and add more classes after your account has been created.

Registration is not very mobile-friendly and we highly recommend using a computer to register for classes or to create a new account if this is your first time registering with School Care Works.
Payment & Additional Reminders
Your card will be charged upon registration. In the event the class does fill before your child's registration is processed, you will be e-mailed the next steps from Austin. There was a glitch last semester allowing registrations over the maximum capacity for a few classes. This glitch has since been fixed.
If a class does not meet required minimums, you will be notified of the class cancellation at least a week before the start date for a refund or to switch classes. The UPark website will be updated to reflect any courses that are cancelled.
Please make sure all things are accurate on your family's account (child's birthday, grade, emergency contacts, etc.)
If you have any gift certificates for enrichment classes, please send them to Austin before registration.
*Please note there was a typo for Lacrosse in the first catalog sent out to some families, the price has been reflected to the correct price of $216.
**P

rices and dates have adjusted for Monday sessions due to no school on Monday, November 26.



We are excited to roll out some new enrichment courses as well as bring back UPark favorites! Contact Austin with any questions and feel free to refer to the catalog, school website, or Discovery Link website for additional assistance.


Austin Hachmeister
austin_hachmeister@dpsk12.org
(720) 424-3417
University Park Elementary Calendar
Click on the calendar icon to the right, look below, or visit the
University Park Website
to access calendar information!
5 Star Wizard Hat Students
(Wizard Hats will change to Owl Tickets starting next week. See the Core Values box above for more details.)
Congratulations to last week's 5 Star Wizard Hat students! They were recognized by their teachers for positive behavior.
Wizard Hats are given throughout UPark to celebrate students' good choices and positive behavior. We use a common vocabulary and teach Critical Thinking skills using the BrainWise curriculum. Each week there is a random drawing of 2 students done by classroom teachers. These children are photographed and receive a token of our appreciation.
*At the end of each month we will be donating all clothing in the lost and found and anything left in the halls (all clothing will go into our little red school house in our parking lot).