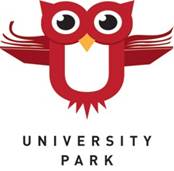 2300 S. St. Paul St., Denver, CO 80210
720-424-3410
Principal
It was great to see everyone at Back to School Night last night. It has been a fantastic start to the school year and I look forward to continuing the conversations that we began at Back to School Night. UPark values input from families and appreciates your ongoing dedication to ensuring that we remain a community of mighty thinkers and doers!
Thank you,
Apple Campaign
Apple is off and running! Thanks to those who were able to donate at back to school night! Remember that we accept checks made payable to "UPark PTA", e-checks or credit cards.
Each $50 donation adds you into a drawing to win:
Also - The grade with the highest number of donations by November 9th will win a party!
Lets make $70,000 in donations happen to help our kids & teachers - We love UPark!
We would like to invite you to the first PTA meeting of 2018-2019, next Tuesday, September 11 at 6pm in the school gym. Child care and pizza will be provided. Please RSVP here so we know how many babysitters are needed. We will be discussing and voting on our budget and will hear the first principal update from Mr. Atonna as well as introduce committee chairs.
All UPark community members are invited! You can join the PTA at our first meeting or

online

here (please note, membership is not required to attend the meetings). Your $10 annual membership allows you to vote on the PTA budget and your participation helps keep our school community strong and vibrant!
Email Verification for the 2018-19 UPark Directory
Be on the lookout for an email from
support@ptapal.com
that contains a link to verify your child's contact information for the UPark directory. This link also contains an option for you to opt-out of the UPark Directory completely. If you do not receive an email by
Friday, September 7th
, email Rachelle Montanaro at
rachelle.montanaro@gmail.com
with your name, your child's name and teacher.
Semantics Team Tryouts!
Does your child love spelling and learning new vocabulary words? Does your child enjoy competitive experiences? If so, Semantics Team tryouts are coming soon!
Please visit the GT website here for more information.
Denver Public Schools is excited to invite DPS families and community members to attend out first FACE (Family and Community Engagement) University event. Choose from a variety of topics to learn important and effective educational information, strategies, and resources to help support your children's academic, social and emotional growth!
UPark Halloween Costume Exchange
Donations are now being accepted for this year's 3rd annual costume exchange, held on Friday, October 5th at 3:45 on the blacktop. Drop those old costumes off in the office anytime before October 5th so they can find new homes at the exchange! Note: you do not have to donate to participate in finding a new costume!
DPS Highly Gifted and Talented (HGT) Magnet Application
Please click
here
for more information or to nominate your child for DPS HGT Magnet testing.
*Applications are due to the DPS GT department (not UPark) by Friday, October 12th*
Please be Neighborly During Pick-Up and Drop-Off
Make sure to abide by all traffic laws and posted parking signs. Do not block driveways or drop students off in the alley. Please check out the image below for additional parking and traffic rules.
To view this image in a larger size please visit the University Park Handbook, found here. The handbook also provides additional important information on school wide policies and procedures to ensure the safety and success of all UPark students and families.
UPark Crossing Guards
To address pedestrian safety during morning drop off, 2 paraprofessionals have been hired and trained as crossing guards for the St. Paul and Iliff and Adams and Iliff intersections. In order to keep our students and community members as safe as possible please make sure to come to a complete stop behind the crosswalk line at all stop signs surrounding campus. At crossing guard intersections, pedestrians must wait for the crossing guard to stop traffic before crossing the street. Traffic must stop in all four directions until the crossing guard exits the intersection when pedestrians are present. We appreciate your help in following all traffic and parking laws to ensure that our students have a safe experience at University Park.
Health Office
If you have a new immunization record for your student please turn it into the main office. If your student requires immunizations options are available. See the information below for details.
Shots for Tots-click here for monthly dates a locations
DPS School Based Clinics-these clinics are free to all DPS students. Insurance status is not required. Students can receive sick visits, immunizations, sports physicals, mental health and dentistry. UPark has two clinics close by.

Place Bridge Academy (7125 Cherry Creek Dr North, 720-424-2050) is open 8-4 every school day with limited hours in the summer.
Thomas Jefferson High School (3950 S. Holly Street, 720-423-7190) is open during school hours during the school year and does not have dentistry.
If your student is in need of dentistry please call 303-602-8964 to schedule an appointment at a DPS based clinic.
Contact Antoinette Schmitz, the UPark school nurse, at
antoinette_schmitz@dpsk12.org
or 720-424-3415 with questions.
Hello, I am Austin Hachmeister (pronounced: hawk-my-stir)! For those of you I haven't met, I am the Program Specialist at University Park, specializing in before & after school activities for both Discovery Link and enrichment. I am taking over for Mr. Jesse Broadfoot! The best way to contact me is by e-mail or phone between 9 am - 3 pm. My contact is austin_hachmeister@dpsk12.org and my office phone number is (720) 424-3417.

If your child is starting enrichment, please help remind them what days they will attend. Teachers will also have rosters and we will have support the first few weeks to help kiddos get to the correct room(s).

If your child is going to be at school but absent from P.M. Discovery Link or any P.M. enrichment classes - please let myself, the office, AND classroom teachers know by 3:30 pm. We also have a new Enrichment Coordinator, Kyle Wiley, joining us at UPark! His e-mail is kyle_wiley@dpsk12.org and you may also notify him of any enrichment absences starting 9/10.
Enrichment Registration Information
If you are a current Discovery Link Family please click
here
to register.
If you are not a current Discovery Link Family please click here to register. Select "University Park" as your location and scroll down the page to click "Click to View Offerings" under the 2018-2019 Enrichment Programs.
Payment is due at the time of registration.
Important Dates
Registration - Went live online 8/28 @ 10am
Enrichment Start Date - Fall Session begins the week of 9/10
Click
here
for the fall Enrichment catalog.
University Park Elementary Calendar
Click on the calendar icon to the right, look below, or visit the
University Park Website
to access calendar information!
5 Star Wizard Hat Students
Congratulations to last week's 5 Star Wizard Hat students! They were recognized by their teachers for positive behavior.
Last week's students include: Elna Kristensson, Noble Stewart, Desmond Slattery, Madeline Gold, Anna Muilenburg, Charlie Gold, Damien Manzanares, Madeleine Blair, Dawensley Hornak, Trevor Welch, Caened Hosselkus-Wolf, Mikey Shand, Rain Mosley, David Bough, Remy MacDonald, Eliot Nail, Max Wagner, Christopher Reaves, Sara Spotts, Andrew Wiggs, Gavin Demers, Valana Thompson, Holly Mugisha, Maria Elgadi, Ella Fairchild, Nina Hingoraney, Hannah Pramita, Ella Sudar, Carter Faulkerson, Salvador Aceves.
Wizard Hats are given throughout UPark to celebrate students' good choices and positive behavior. We use a common vocabulary and teach Critical Thinking skills using the BrainWise curriculum. Each week there is a random drawing of 2 students done by classroom teachers. These children are photographed and receive a token of our appreciation.
*At the end of each month we will be donating all clothing in the lost and found and anything left in the halls (all clothing will go into our little red school house in our parking lot).