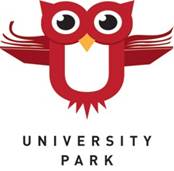 2300 S. St. Paul St., Denver, CO 80210
720-424-3410
REMINDER: There is NO SCHOOL September 23rd for a UPark specific planning day. Please click
here
for the UPark/DPS calendar.
Principal
UPark Fun Run and Carnival
Join us for the 14th annual UPark Fun Run and Carnival! At this fall event, we kick off the morning with a one-mile FUN RUN around Observatory Park, immediately followed by a CARNIVAL on the UPark blacktop. There's a barbecue lunch, carnival games with prizes, bouncy castles, face painting, temporary tattoos, music, and more!
WHEN : Sunday, Sept. 22, 2019, 11:30 a.m. to 2:30 p.m.
WHERE

:

University Park Elementary
TICKETS
:
Register online
HERE
OR
fill out a paper form in the front office
by September 16th
to guarantee your child receives a T-shirt in time to wear it for Spirit Day on Friday, September 20th!
Online registration will close on Monday, Sept 16th, but you can still register using the paper form or in person the day of the event; cost of registration goes up $5 the day of event, so register ahead of time!
VOLUNTEER AT THE EVENT!
: We are still in need of volunteers for the carnival, especially for setup, grill, and volunteering at booths. If you are available to do a shift, please sign up
here
!
Apple is off and running! Let's keep our class sizes small! Thanks to those who were able to donate at back to school night! Remember that we accept checks made payable to "UPark PTA" or you can make a donation by clicking here.
Also - The grade with the highest number of donations, not dollars, by November 15th will win a party!
Let's make $70,000 in donations happen to help our kids & teachers - We love UPark!
UPark Before School Running
Let's get running! The before school running at UPark will start on Monday, September 16
and finish on Friday, September 20.
It's a good way to get some exercise and prepare for the 1-mile Fun Run! Running starts at 8:40am each morning.
New this year - all runners will earn 1 charm per lap. See if your child can fill up their entire necklace over their time at UPark!
Please volunteer for a morning before school to help. Meet us at the school track right behind the garden near the baseball fence. Click here to sign up.
Join us on Monday, September 16th for UPark Restaurant Night at Esthers!
Esters Neighborhood Pub
1950 S. Holly Street
Date: Monday, September 16th
Giveback: 20% on all orders, including to-go
Families should mention UPark to qualify
For the safety of our students and community please adhere to all traffic and parking laws in and around the school. We are working to ensure that violations of traffic laws, incidences and near misses around the school are being reported to 3-1-1 and we need your help. If you see an incident, including speeding, running stop signs, ignoring pedestrians in crosswalks, parking illegally, etc... please report details to Denver's 3-1-1- reporting line by calling 3-1-1 from a land line, calling 720-913-1311 from a mobile phone, or on line via webpage or app at

pocketgov.com. This will ensure that the city understands the safety needs of our area and we can provide the safest environment possible.
Working with kindergarten through fifth grade throughout each week, each day is so unique, different and FUN! This week, third graders were challenged by using their strong conceptual knowledge of multiplication and division in a real world problem solving situation! Students had to tap into their curiosities and background knowledge and reflect on their own thinking and the thinking of others while determining strategies in a problem involving multiplication, division and measurement! They were sucked into the learning - willing to think, try, fail, adjust and apply....it was a great morning!
UPark Semantics Team Tryouts Coming Up!
Did you know that a "logophile" is a person who loves words? Do you have a kiddo like this at home? Does your child enjoy competitive experiences? If so, Semantics Team tryouts are coming soon!
Backpacks for Kids Program at UPark
We are excited to start the Backpacks for Kids Program back up at UPark this year. Each week throughout the school year, our program volunteers send home bags of nutritious food to many UPark students and their families for the weekend. We believe every child should be prepared for an active and healthy lifestyle, full of learning and curiosity. If you are interested in participating in this program please fill out THIS form and return it to the main office or to UPark Psychologist Alicia Vega at alicia_vega@dpsk12.org. Click HERE for more information on the Backpacks for Kids program.
DPS Highly Gifted and Talented (HGT) Magnet Application
Please click the link below for more information.
*Applications are due to the DPS GT department by Friday, November 1st*
Fall Enrichment classes are in full swing! A few things to note: Refunds cannot be issued due to students missing a class. Most providers do not accept refunds for the full class after the first week of class. If you have questions or concerns about a specific class please speak to the providers themselves, then email Kyle if you have further questions.
The Green Team, a

FREE

Friday morning Enrichment is still open to register to the first 45 kids who sign up. Ideally we will be able to have two students from each homeroom class represented. Please see the Enrichment Brochure HERE for registration information and dates, and see Ms. Judy Cardenas in Room 116 with any questions.
The waitlists for both a.m. and p.m. Discovery Link are full and not accepting any new students for the school year. There has not yet been any movement on the waitlist. Thank you for being patient and understanding that we are unable to respond to inquiries about your number on the waitlist. If a spot opens up for you in the program, Amanda Jensen will reach out! Registration for the 2020-2021 school year will begin in May.

Camp Days

Camp Day registration opens about 45 days prior to the day of the camp. Please click HERE for detailed instructions on how to sign up. All families at U Park are welcome to register. Registrations will ONLY be accepted if current vaccination records are uploaded to the registration system at the time of registration.
University Park Elementary Calendar
Click on the calendar icon to the right, look below, or visit the
University Park Website
to access calendar information!
UPark Owl Ticket Students
Congratulations to last week's Owl Ticket students! They were recognized by their teachers for above and beyond positive behavior.
Owl Tickets are given to students for going above and beyond in one of our five core values: caring, cooperation, responsibility, respect and joy. Owl Tickets focus on the school's trait of the month, give students a chance to participate in the weekly "Owl Tickets" photo and will be posted on the new "UPARK" letters in our main hallway.
*At the end of each month we will be donating all clothing in the lost and found and anything left in the halls.