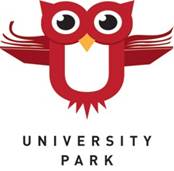 2300 S. St. Paul St., Denver, CO 80210
720-424-3410
Principal
It was great to see such a large turnout for our first PTA meeting this school year! I'd like to send a huge thank you to Candace Kristensson, Angela Rathbun, Traci Samaras, Julia Gold, and the rest of our PTA for continued support of UPark teachers and students. Thanks to the support of UPark families, our PTA, and the Apple Campaign, we continue to be able to offer smaller class sizes than other similar DPS schools. We couldn't do this without your continued support. Thank you for all you do!
We have received just about $20,000 of our $70,000 goal. Please note that this money is directly helping ONLY our school and our teachers! Please consider donating to this worthy cause.
You can donate via cash or check in the main office, or online here by
credit card or e-check. E-checks decrease your donation by only $0.45 per transaction where as credit card costs are 3% of the donation amount.
If you have already donated, thank you! We will post the grade challenge numbers soon and, of course, don't forget our promotions below:
The month of September: Every $50 in donations gets you a ticket to win a prize valued at over $250 with auction tickets, wine and sushi!
Now through November 9th is a grade party. Each child who brings in 1 donation (no matter the amount) gets the the whole grade closer to a popcorn party at the end of November.
Don't forget employer matching and stock transfers too!

Sincerely,
The Apple Campaign
Julia & Traci
Email Verification for the UPark 2018-19 Directory-DUE FRIDAY, SEPTEMBER 14th
Last call for email verification for the UPark 2018-19 Directory. If you haven't verified your information yet, be on the lookout in for a reminder email from
support@ptapal.com
that contains a link to verify your child's contact information for the UPark directory. This link also contains an option for you to opt out of the UPark Directory completely. If you do not receive an email, please contact Rachelle Montanaro at
rachelle.montanaro@gmail.com
with your name, your child's name and teacher.
Fun Run and Carnival
Get ready for a fun fall themed Run and Carnival celebration on October 28th! Own a business and want to sponsor the Fun Run? We'd love your support! To make it a success requires volunteers and planning, including a Grill Master to organize the Dads and Dogs grill. Please join us for the next meeting at 9am Wednesday, September 19th on the blacktop (teachers' lounge if poor weather) or contact Joanna Shear at
joanna_shear@yahoo.com
to volunteer and/or sponsor the event.
Join us for the first Spring Auction meeting Thursday, September 20th at 7pm here at the school. Help brainstorm a theme, propose catering companies, and develop plans for procuring lots of donations! The goal is to bring in greater than $77,000 for the school, and we need your help! Please email auction@uparkelementary.org for information or questions. -Tamara and Rachelle, Auction Chairs
UPark Halloween Costume Exchange
Donations are now being accepted for this year's 3rd annual costume exchange, held on Friday, October 5th at 3:45 on the blacktop. Drop those old costumes off in the office anytime before October 5th so they can find new homes at the exchange! Note: you do not have to donate to participate in finding a new costume!
Food and Nutrition Services
Food and Nutrition Services is hosting "Tasting Events" at schools during September and October. UPark has been selected to host a Tasting Event on September 17th during all lunch periods. The tasting event is intended to educate the DPS community about the changes and improvements in food services and to encourage more students to eat school lunch. UPark is one of (36) schools holding a tasting event to promote healthy, scratch cooked school lunches. We hope you will come by the cafeteria to sample one of our delicious menu items on September 17th.
Geography Club-4th and 5th Graders
UPark is starting a new geography club -The UPark GEOBEE Club! Is your 4th or 5th grader interested in learning more about the world? States versus countries? Countries versus continents? Oceans, rivers, lakes, landmarks and more? Our club will meet once a week on WEDNESDAYS during lunch and recess in Room 107, starting next Wednesday, September 19th! If your child is interested in joining the UPark GEOBEE Club, you can send Heather Wise a quick email at
heather_wise@dpsk12.org
OR she/he can sign up on the sign up sheet outside her/his classroom. If you have any questions, please reach out! Thank you!
Heather Wise, GT Teacher
Restaurant Night - The Pioneer
Skip the kitchen and eat at the Pioneer on Thursday, September 20th from 5:00 - 9:00pm! 20% of all food and non-alcoholic beverage sales will be donated to UPark. Please be sure to mention UPark when you order and bring all your family and friends for a great evening out! Click here for more information.
Denver Public Schools is excited to invite DPS families and community members to attend out first FACE (Family and Community Engagement) University event. Choose from a variety of topics to learn important and effective educational information, strategies, and resources to help support your children's academic, social and emotional growth!
DPS Highly Gifted and Talented (HGT) Magnet Application
Please click
here
for more information or to nominate your child for DPS HGT Magnet testing.
*Applications are due to the DPS GT department (not UPark) by Friday, October 12th*
Please be Neighborly During Pick-Up and Drop-Off
Make sure to abide by all traffic laws and posted parking signs. Do not block driveways or drop students off in the alley. Please check out the image below for additional parking and traffic rules.
To view this image in a larger size please visit the University Park Handbook, found here. The handbook also provides additional important information on school wide policies and procedures to ensure the safety and success of all UPark students and families.
Hello, I am Austin Hachmeister (pronounced: hawk-my-stir)! For those of you I haven't met, I am the Program Specialist at University Park, specializing in before & after school activities for both Discovery Link and enrichment. I am taking over for Mr. Jesse Broadfoot! The best way to contact me is by e-mail or phone between 9 am - 3 pm. My contact is austin_hachmeister@dpsk12.org and my office phone number is (720) 424-3417.

If your child is starting enrichment, please help remind them what days they will attend. Teachers will also have rosters and we will have support the first few weeks to help kiddos get to the correct room(s).

If your child is going to be at school but absent from P.M. Discovery Link or any P.M. enrichment classes - please let myself, the office, AND classroom teachers know by 3:30 pm. We also have a new Enrichment Coordinator, Kyle Wiley, joining us at UPark! His e-mail is kyle_wiley@dpsk12.org and you may also notify him of any enrichment absences starting 9/10.
Enrichment Registration Information
If you are a current Discovery Link Family please click
here
to register.
If you are not a current Discovery Link Family please click here to register. Select "University Park" as your location and scroll down the page to click "Click to View Offerings" under the 2018-2019 Enrichment Programs.
Payment is due at the time of registration.
Important Dates
Registration - Went live online 8/28 @ 10am
Enrichment Start Date - Fall Session begins the week of 9/10
Click
here
for the fall Enrichment catalog.
University Park Elementary Calendar
Click on the calendar icon to the right, look below, or visit the
University Park Website
to access calendar information!
5 Star Wizard Hat Students
Congratulations to last week's 5 Star Wizard Hat students! They were recognized by their teachers for positive behavior.
Last week's students include: Saiya Langefels, Alex Fabela, Ben Snyder, Khalid Aljebreen, Liam Sturgeon, Caeden Hosselkus-Wolf, Ikram Fakhraoui, Chaim-Avraham Mehrenberg, Rachel Garcia-Villatoro, Alejandro Adame, Serenity Aceves, Crosby Stutz, Sasha Arafin, Wyatt Vaughn, Malcolm Schleicher, Andrew Parish, Harley Dembeck, Drea Dickman, Samara Mendez, Reily Doi-Jared, Lyla Quinn, Olivia Stevens, Alexis Urbana, Cooper Morton, Asher Shultz, Owen Brutsch, Clara Johnson, Teddy Rogala, Abel Long-Pearlman, Kate Hauhuth, Damien Manzanares, Trevor Welch, Cooper Stone.
Wizard Hats are given throughout UPark to celebrate students' good choices and positive behavior. We use a common vocabulary and teach Critical Thinking skills using the BrainWise curriculum. Each week there is a random drawing of 2 students done by classroom teachers. These children are photographed and receive a token of our appreciation.
*At the end of each month we will be donating all clothing in the lost and found and anything left in the halls (all clothing will go into our little red school house in our parking lot).