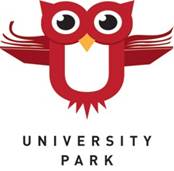 2300 S. St. Paul St., Denver, CO 80210
720-424-3410
Principal
New and returning families, please come to the office and pick up a UPark yard sign to show support for our awesome neighborhood school!
We want to extend a huge thank you to the amazing PTA and families who have supported PTA fundraising! The PTA was able to help us purchase a dozen brand new mac books ensuring that our classrooms have the best technology available to support student learning throughout the day. Each of these new devices has been labeled with a Thank You UPark PTA sticker.
We couldn't do what we do without your support!
PTA MEMBERSHIP & FIRST MEETING
Your PTA Board invites you to join us for the first meeting of the year on Tuesday, September 10th at 6pm. Pizza and babysitting (for preschool and school age children) will be provided. Please
RSVP
, including the number of children, so we can plan accordingly!
In order to vote, you will need to be an active PTA member. Major items of business will include an overview of PTA activities and impact at UPark, an introduction from each committee chair, the principal update, and voting on the PTA Budget. PTA membership is $10/year. You can pay your membership fee online here, or in person with cash or check made out to University Park PTA.
Back to School Night
We have had a fantastic start to the 2019-20 school year and look forward to meeting with all of you at our Back to School Night! Please join us on Wednesday, September 4th from 6-7:30 pm. Please see the schedule below.
This event is for parents and guardians only, allowing teachers to have a rich conversation with adults regarding all the learning your students will be doing this school year!
UPark Fun Run and Carnival
The annual University Park Elementary School Fun Run and Carnival will be on Sunday, September 22nd from 11:30am-2:30pm. Please mark your calendars and register
HERE
!
We'll kick off the morning with a one mile FUN RUN around Observatory Park, immediately followed by the CARNIVAL on the UPark blacktop. There will be a barbeque lunch, carnival games with prizes, bouncy castles, face painting, temporary tattoos, music, and more!

The Fun Run and Carnival committee is looking for volunteers for the day of the event, including parents to grill hotdogs and hamburgers. Please sign up HERE
. Please note that past students who are 6th grade and above can sign up to help with the games.
Each year, University Park Elementary publishes a school

directory

. This valuable parent resource is done outside of DPS by parent volunteers.

Unless you choose to

OPT OUT

, all student/parent information will be listed in the printed school

directory

including:
Parent first and last names

Parent mobile phone numbers

Parent emails

Primary home phone number

Home mailing address

Student first and last names
King Soopers Fundraiser
UPark receives around $10,000 each year by participating in the King Soopers Community Giving Program. This is the easiest way to help UPark simply by shopping for your groceries! NO MORE RELOADABLE GIFT CARDS REQUIRED!

When you connect your King Soopers Reward Card to UPark, King Soopers

will donate a portion of your purchase to UPark each time you swipe your SooperCard.

This is also a great way for grandparents or other family members to support the school by shopping at any King Soopers or City Market!

Please take 2 minutes to connect your King Soopers Reward Card to UPark:
1. Go to

www.kingsoopers.com.
2. Click "Save" on the menu bar.
3. Select "King Soopers Community Rewards."
4. Sign in or create an account to enroll.
If you already have a rewards card
but have not created an online account, you'll need to create one before you can enroll.
If you do not already have a rewards card
, you will be prompted to create an alternate ID in step 3 of the account-creation process. Click the blue "Create Your Alt ID Online" to create your 10-digit code (typically your phone number).
5. Once you've signed in or created an account, click on "Enroll Now."
6. Search for University Park Elementary PTA or use our code, CR174.
7. Click "Enroll"
Paying For Student Fees
MySchoolBucks
Legal guardians with Parent Portal accounts can access MySchoolBucks through the Parent Portal. Follow these steps:
Log in to your Parent Portal account.
You may click on "See All Apps" and then on the blue text titled "MySchoolBucks."
Click the "Existing MySchoolBucks User" button to link your Parent Portal account to your existing MySchoolBucks account. You will be prompted to enter your existing MySchoolBucks username and password.
If you don't have an existing MySchoolBucks account, click the "New MySchoolBucks User" button and follow the prompts to set up a new account.
Choose "Click Here for the School Store"

Click the blue "Browse All Items" or the blue "View All" button

You should see icons for the current payment options relevant to your students (you may have to scroll down below the filter options depending on your screen size to see this)

Click "View Details" below the relevant payment option to make your payment
Note: After linking accounts or setting up a new MySchoolBucks account, you may access MySchoolBucks directly, through Parent Portal, or through the MySchoolBucks app.
Please visit
payonline.dpsk12.org
for detailed information on navigating MySchoolBucks to pay for school fees.
Seeking UPark Auction Venue
The University Park Auction Team is starting to think about our Spring 2020 fundraiser. We are currently looking for a new location to host the event (~230 people).
If any parents have personal or work connection to a venue please reach out to us
. We are also looking for corporate sponsors, so if your business would like to be part of this awesome event you can email us at
auction@uparkelementary.org.
If you are in 4th-5th grade, don't miss the opportunity to join the
UPark Band! No experience or instrument needed. You could play the
flute, oboe, clarinet, saxophone, trumpet, french horn, trombone, tuba
or percussion! Join us for fun and exciting classes, before school on
Mondays and Wednesdays for beginning band and Tuesdays and Thursdays for
Intermediate Band from 7:50-8:40 a.m. Wake up your brain with music!
Scholarships are available, so plan on making music with us all year
long! Our program is thriving with over 50 children who perform music
in the community at Coffee House Night, with the DU Basketball Pep
Band, and perform a Halloween Band Flash Mob. One of our first
generation UPark Band students who started with us in 4th grade, Jack
Bendure, just graduated from DSA (Denver School of the Arts). He
recently performed at Carnegie Hall with his jazz ensemble. Come see
how music can come alive for your child!
Your child will have the opportunity to try all the instruments and
find their perfect match at Band Night tonight, August 29th at 6:00 pm in
the UPark Auditorium. Intermediate (returning band students) are not
required to attend band night if they have registered online, but are
always welcome to attend and leave after the opening
presentation and registration. You can also save time by registering in
advance. Click HERE to register it only takes a minute:) We can't
wait to see you! Feel free to contact Jason Richard-Olney at
208-339-4090 or
jasonolneyBALM@gmail.com
for more information.
University Park Library Guidelines
Student check-out for grades one through five begins the week of August 26. Please take the time to read this letter for an overview of guidelines and expectations.
Health Office Information
The UPark Health Office welcomes all incoming Kindergarteners to the UPark community! We look forward to a fantastic and healthy new year. Please click
here
for a letter from the Department of Health with information on vaccinations and free or low-cost health providers. Click
here
for Important information from the Department of Health regarding measles. You can reach out to our school nurse at
antoinette_schmitz@dpsk12.org
for additional information.
New Enrichment Offering-UPark Green Team!
2019 UPark Student Green Team is open to a minimum of 2 students in each class K- 5 to do projects to send less waste to the landfill and increase the sustainability of our UPark school community. We will have fun, learn and continue projects such as compost, worm bins, Waste Free Wednesday, Zero Waste Party Kits, Straw Free Pledges, an Honest Kids strawless petition and playground Recycling Tubes.
We meet with UPark staff and volunteers in Room 116 at 8:00 AM the 2nd Friday of each Month beginning on Sept. 13, Oct. 11, Nov. 8, Dec. 13, Jan 10, Feb. 7, Mar. 13, Apr. 10, May 8 and extra activities for Earth Week. The Team encourages families to regularly communicate by email, find adult volunteers to support and come monthly.
When you register you must also have your student write, draw or have an adult help write "Why I want to be on the Green Team" and bring the writing to the Office to Ms. Judy Cardenas
Registration is now open for the first 45 kids who sign up. Follow the instructions below.
Enrichment Registration
Registration goes live August 23rd at 6:00am
and ends September 2nd at 6:00pm.
If you registered for Discovery Link or Enrichments last year please visit this
link to register:
https://connect.schoolcareworks.com/login.jsp
I
f you are new to
Discovery Link or enrichments, please visit
this link to register:
https://www.schoolcareworks.com/registration/dps/start_registration.jsp
We apologize that some of you may have received or downloaded an incorrect version of the Enrichment Brochure last week prior to the correction being made. Please ensure that you have the updated version of the brochure by using THIS link or the updated version on the UPark website.
PAYMENT IS DUE AT THE TIME OF REGISTRATION! Registration is first come, first served and they do fill up quickly!
Enrichment classes will begin on September 9.
University Park Elementary Calendar
Click on the calendar icon to the right, look below, or visit the
University Park Website
to access calendar information!
UPark Owl Ticket Students
Congratulations to last week's Owl Ticket students! They were recognized by their teachers for above and beyond positive behavior.
Owl Tickets are given to students for going above and beyond in one of our five core values: caring, cooperation, responsibility, respect and joy. Owl Tickets focus on the school's trait of the month, give students a chance to participate in the weekly "Owl Tickets" photo and will be posted on the new "UPARK" letters in our main hallway.
*At the end of each month we will be donating all clothing in the lost and found and anything left in the halls.