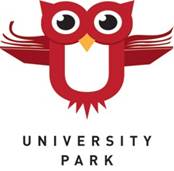 2300 S. St. Paul St., Denver, CO 80210
720-424-3410
REMINDER: There is NO SCHOOL September 23rd for a UPark specific planning day. Please click
here
for the UPark/DPS calendar.
Principal
UPark Fun Run and Carnival
Tell friends, family and neighbors to join us for the 14th annual UPark Fun Run and Carnival THIS SUNDAY! This event is a great way to showcase how wonderful it is to be a part of the UPark school and neighborhood community!
We will kick off the morning with a FUN RUN around Observatory Park at 11:30 am, immediately followed by a CARNIVAL on the UPark blacktop with a barbecue lunch, games with prizes, bouncy castles, face painting, temporary tattoos, music, and more!


Registration
Online registration has closed, but you can still register for the Fun Run in person on Sunday morning (day of registration is $20). You can purchase additional wristbands, meal tickets and T-shirts the day of the event, as well.
Wristbands, Meal Tickets and T-Shirts
If you registered on or before Monday, Sept. 16th, your child's T-shirt, carnival-game wristbands and meal tickets will be sent home with him/her today. Please be sure to
check your child's backpack for these items and bring the wristbands/meal tickets with you on Sunday to the event.
Kids are also encouraged to wear their T-shirts tomorrow. If you would like your child to participate in the APEX obstacle course, click
here
to fill out the waiver.
Help at the event!
We are still in need of additional volunteers to help at the fun run/carnival -- specifically help manning the carnival games and prize tables. Check out volunteer shifts
here
.
Parking Info
Some road-closure and parking info to keep in mind... The race course will be closed to all vehicular traffic on Sunday, Sept. 22nd, from 11 a.m. - 12:30 p.m. This includes: the 2200 blocks of S. Fillmore, S. Milwaukee, S. Saint Paul., and S. Adams St.; as well as Warren Ave. between S. Fillmore and S. Adams St.; and E. Iliff between S. Fillmore and S. Adams St.
UPark Instagram
Get your cameras ready for the UPark Fun Run and Carnival!
UPark has launched a UPark Owls Instagram page.
This Sunday, use the hashtag #UPARKOWLS on your fun run / carnival pictures along with tagging us @ UPARKOWLS.
Be sure to start following us to see all of the wonderful things happening here at UPark.
We have received just about $20,000 of our $70,000 goal. Please note that this money is directly helping ONLY our school and our teachers! This helps us keep class sizes small. Please consider donating to this worthy cause! You can donate via cash or check in the main office, or online
here
by credit card or e-check. E-checks decrease your donation by only $0.45 per transaction whereas credit card costs are 3% of the donation amount. If you have already donated, thank you!
Thank you to Heather Wise who wrote up our first Spotlight last week, showcasing our stellar GT program. Our UPark spotlight next week will be 2nd grade. Each week we will be featuring a different grade level or academic team in our UPark Spotlight. We want to spread the word about the great things going on throughout UPark in all areas and highlight the many things that your student will experience during their six year journey with us at UPark. These features will showcase how we are working towards our vision:
We are a community of mighty thinkers and doers. We value each learner as an active participant on a personal journey toward success. We seek to understand ourselves and work together to impact our families, our community, and the world.
Count Day - Wednesday, October 2nd
The Colorado Department of Education has an official student count day for all Colorado Districts. This day determines the amount of money each district receives from the state. Please do your best to have each student at school on October 2nd as this is the easiest way to get an accurate count of the students attending Denver Public Schools this year.
If you have any questions, please contact the main office at 720-424-3410.
UPark Garden to Cafeteria Program
University Park Elementary is continuing to be a part of the Garden to Cafeteria Program for the 2019-2020 school year! Our parent garden leader will be working with students to harvest produce for the cafeteria and our UPark kitchen manager will be preparing the UPark veggies in our school cafeteria. We are so excited to be a part of this program and to be able to offer healthy, garden fresh food to our students!
UPark Semantics Team Tryouts Coming Up!
Did you know that a "logophile" is a person who loves words? Do you have a kiddo like this at home? Does your child enjoy competitive experiences? If so, Semantics Team tryouts are coming soon!
For the safety of our students and community please adhere to all traffic and parking laws in and around the school. We are working to ensure that violations of traffic laws, incidences and near misses around the school are being reported to 3-1-1 and we need your help. If you see an incident, including speeding, running stop signs, ignoring pedestrians in crosswalks, parking illegally, etc... please report details to Denver's 3-1-1- reporting line by calling 3-1-1 from a land line, calling 720-913-1311 from a mobile phone, or on line via webpage or app at

pocketgov.com. This will ensure that the city understands the safety needs of our area and we can provide the safest environment possible.
DPS Highly Gifted and Talented (HGT) Magnet Application
Please click the link below for more information.
*Applications are due to the DPS GT department by Friday, November 1st*
Fall Enrichment classes are in full swing! A few things to note: Refunds cannot be issued due to students missing a class. Most providers do not accept refunds for the full class after the first week of class. If you have questions or concerns about a specific class please speak to the providers themselves, then email Kyle if you have further questions.
The Green Team, a

FREE

Friday morning Enrichment is still open to register to the first 45 kids who sign up. Ideally we will be able to have two students from each homeroom class represented. Please see the Enrichment Brochure HERE for registration information and dates, and see Ms. Judy Cardenas in Room 116 with any questions.
The waitlists for both a.m. and p.m. Discovery Link are full and not accepting any new students for the school year. There has not yet been any movement on the waitlist. Thank you for being patient and understanding that we are unable to respond to inquiries about your number on the waitlist. If a spot opens up for you in the program, Amanda Jensen will reach out! Registration for the 2020-2021 school year will begin in May.

Camp Days

Camp Day registration opens about 45 days prior to the day of the camp. Please click HERE for detailed instructions on how to sign up. All families at U Park are welcome to register. Registrations will ONLY be accepted if current vaccination records are uploaded to the registration system at the time of registration.
University Park Elementary Calendar
Click on the calendar icon to the right, look below, or visit the
University Park Website
to access calendar information!
UPark Owl Ticket Students
Congratulations to last week's Owl Ticket students! They were recognized by their teachers for above and beyond positive behavior.
Owl Tickets are given to students for going above and beyond in one of our five core values: caring, cooperation, responsibility, respect and joy. Owl Tickets focus on the school's trait of the month, give students a chance to participate in the weekly "Owl Tickets" photo and will be posted on the new "UPARK" letters in our main hallway.
*At the end of each month we will be donating all clothing in the lost and found and anything left in the halls.