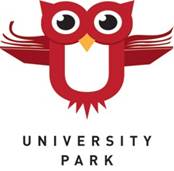 2300 S. St. Paul St., Denver, CO 80210
720-424-3410
Principal
Wednesday, September 5th from 6:00-7:30
It has come to our attention that an Infinite Campus Messenger notification has gone out to some of our families via text and email. This notification is incorrect and appears to be the result of a glitch in the DPS Infinite Campus system. The University Park Back to School Night will be held next Wednesday, September 5th from 6:00-7:30pm. Families will meet on the playground at 6:00 for a school-wide informational session, then will proceed to classrooms to meet with teachers. Please note that the information being presented is geared towards adults, so it is recommended that students stay at home. Since time is limited this will ensure that communication with teachers is uninterrupted. Thank you for your understanding and we look forward to seeing you next week!
Thank you,
Apple Campaign

The Apple Campaign is happy to accept donations at Back to School Night on September 5th. We can accept checks made payable to "UPark PTA" or credit cards.
Each $50 donation adds you into a drawing to win:
Also - The grade with the highest number of donations by November 9th will win a party!
Lets make $70,000 in donations happen to help our kids & teachers - We love UPark!
We would like to invite you to the first PTA meeting on Sept 11th at 6pm in the school gym. Childcare and pizza is provided. RSVP HERE.
Join the PTA online HERE.
Semantics Team Tryouts!
Does your child love spelling and learning new vocabulary words? Does your child enjoy competitive experiences? If so, Semantics Team tryouts are coming soon!
Please visit the GT website here for more information.
Band Information
4th and 5th grade students, don't miss the opportunity to join the UPark Band! Learn more about the program and try out instruments at Band Night, August 30th at 6:00 pm. Click
here
for all the details on becoming a part of beginning or intermediate band. Click
here
for the band flyer. Contact
Ms. Christmas
with questions.
UPark Crossing Guards
To address pedestrian safety during morning drop off, 2 paraprofessionals have been hired and trained as crossing guards for the St. Paul and Iliff and Adams and Iliff intersections. In order to keep our students and community members as safe as possible please make sure to come to a complete stop behind the crosswalk line at all stop signs surrounding campus. At crossing guard intersections, pedestrians must wait for the crossing guard to stop traffic before crossing the street. Traffic must stop in all four directions until the crossing guard exits the intersection when pedestrians are present. We appreciate your help in following all traffic and parking laws to ensure that our students have a safe experience at University Park.
UPark Fun Run and Carnival
Mark your calendar for the UPark Fun Run and Carnival Sunday, Oct 28, 2018! This is a fantastic community event.
The next meeting for this year's Fun Run and Carnival is on Wed, Sept 5th after morning drop off (9am). If weather is nice, we will meet at the picnic tables on the school playground, otherwise plan to meet in the teacher's lounge. If you are interested in being on the committee or want to learn more, please join us. We are also looking for a dad(s) to head up the Dads and Dogs Grill.
School Policies and Procedures
Welcome to a new year at University Park! Please make sure to take a look at the University Park Student and Parent Handbook found here. The handbook provides important information on school wide policies and procedures to ensure the safety and success of all UPark students and families. See below for a few details from the handbook that will help this year start off smoothly.
Playground supervision is from 8:40-8:55 am and at recess. Parents must supervise their children on the playground before and after these hours

A pass is required to go inside to the restroom or the office at all times.

Dogs are not permitted on school grounds at any time.

The east side of St. Paul is a posted Passenger Loading Zone. Cars left unattended for any length of time are subject to ticketing by Denver Police.

The parking lot to the east of the building is for staff only. Please be respectful of our staff and do not displace them by parking your car in their spaces. Parking lots are not a good place to drop off or pick up children.

Use the Kiss 'n' Go location by the metal tree at the playground entrance on St. Paul to drop off children by car (northbound) in the morning when not walking to school. Adults will be present to assist.

Iliff Avenue from St. Paul east to the faculty parking lot is for Bus Passenger Loading (and Handicap Parking by designated signs). Cars parked in the bus loading area or in handicap spots without proper license plates or placards are subject to ticketing by Denver Police.

Please help our community keep everyone safe and use crosswalks to cross intersections with your children.

Students are required to walk or carry their bicycle, scooter or skateboard on school grounds.
My name is Ms. Kathleen and I am the Librarian at UPark. I am looking forward to meeting you and am excited to be working with your child in the library this year!
We are reading and checking out books every two weeks beginning this week. I encourage our students to take books home to share with you so you can have the opportunity to read together. Reading with your child every day is the best way to encourage your child to become a life-long reader. UPark has an excellent collection of fiction/literature and non-fiction for our students.
Books checked out this week (week of August 27) are due the week of September 10. Parents will receive emails alerting them that their student has an overdue book five days after its due date.
Please keep in mind the following guidelines if you student does bring home a UPark library book:
Please ensure that books are kept in a safe place away from pets, young siblings, and crayons.

All library books are due two weeks after checkout. To avoid misplacing books it is always a good idea to put them in the child's backpack after reading.

When returning library books, please make sure they are in the same condition as when checked out so that other children may have a chance to enjoy them.
Health Office
If you have a new immunization record for your student please turn it into the main office. If your student requires immunizations options are available. See the information below for details.
Shots for Tots-click here for monthly dates a locations
DPS School Based Clinics-these clinics are free to all DPS students. Insurance status is not required. Students can receive sick visits, immunizations, sports physicals, mental health and dentistry. UPark has two clinics close by.

Place Bridge Academy (7125 Cherry Creek Dr North, 720-424-2050) is open 8-4 every school day with limited hours in the summer.
Thomas Jefferson High School (3950 S. Holly Street, 720-423-7190) is open during school hours during the school year and does not have dentistry. If you student is in need of dentistry please call 303-602-8964 to schedule an appointment.
If your student is in need of dentistry please call 303-602-8964 to schedule an appointment at a DPS based clinic.
Contact Antoinette Schmitz, the UPark school nurse, at
antoinette_schmitz@dpsk12.org
or 720-424-3415 with questions.
Enrichment Registration Information
If you are a current Discovery Link Family please click
here
to register.
If you are not a current Discovery Link Family please click here to register. Select "University Park" as your location and scroll down the page to click "Click to View Offerings" under the 2018-2019 Enrichment Programs.
Payment is due at the time of registration.
Registration went live online Tuesday, August 28
th
@ 10am.
Important Dates
Registration - Went live online 8/28 @ 10am
Enrichment Start Date - Fall Session begins 9/10
Click
here
for the fall Enrichment catalog.
Please contact
Austin Hachmeister
, our new Neighborhood Center Coordinator with questions.
University Park Elementary Calendar
Click on the calendar icon to the right, look below, or visit the
University Park Website
to access calendar information!
5 Star Wizard Hat Students
Congratulations to last week's 5 Star Wizard Hat students! They were recognized by their teachers for positive behavior.
Last week's students include: Brinley Bourke, Bristol Betts, Charlie Jennings, Noor Malik, Gavin Arnold, Aftan Richardson, Chance Grogan, Brayden Scott, Sam Loerke, Lincoln Barber, Andrew Kristie, Addison Blackwood, Luke Vialpando, Daniella Starks, Ben Mendez, Crosby Dethmers, Wynn Morris, Autumn Trujillo, Kyle Gutierrez Carrasco, Amelia Babbitt, Spencer Posey, Sienna Nove, Chloe Choughari, Mateos Hilario, Owen Reese, Penny Peng, Emily Xue, Amir Williams, Adia Stoler.
Wizard Hats are given throughout UPark to celebrate students' good choices and positive behavior. We use a common vocabulary and teach Critical Thinking skills using the BrainWise curriculum. Each week there is a random drawing of 2 students done by classroom teachers. These children are photographed and receive a token of our appreciation.
*At the end of each month we will be donating all clothing in the lost and found and anything left in the halls (all clothing will go into our little red school house in our parking lot).