The Birthday Wall: Create a Collage to Celebrate Your Child
by Dawn Herring
I'm excited to share with you my new e-book, The Birthday Wall, which is a detailed, step-by-step instructional book I've written that shows how to create a multi-dimensional, colorful visual collage to help celebrate your Child's birthday! As creator of this family tradition, I share how to research, plan, gather, create, and display all the elements of your child's Birthday Wall, which can enable you to validate, affirm and show appreciation for your child with who they are right now. You can buy it
here on Amazon or
here
on Smashwords
for just
$2.99

.
**A BIRTHDAY WALL STORY, FEATURING SARAH JOYCE BRYANT AND HER SON CODY**:
Refresh Your Kids
Sometimes it's helpful when our kids are struggling with an issue to remind them that we are all "under construction," a masterpiece in the making. So we have plenty of room for mistakes and quandaries. It just shows they are growing and learning and becoming who they really are.
Refresh Your Self
Have you found a specific habit in yourself that you would like to tackle and change? Just remember to be gentle with yourself, always acknowledge even the smallest of changes, and forgive yourself when you mess up. When you love yourself from the inside out, creating better habits will come more readily and naturally.
For Your Journal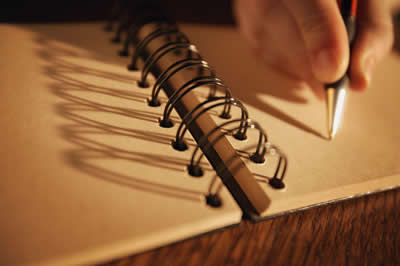 Journaling Tip:
Use your journal to reconstruct your life as you detail your perceptions, choices and actions to align with who you really are.
***
Q: How does journal writing what you're thinking and choosing help you reconstruct your life?
I love detailing my life experiences, especially when I have decisions to make and choices to implement positive life change. It gives me a greater sense of purpose which activates personal empowerment.
You're welcome to join me in a new journaling exercise for your emotional awareness that I published in Outlet E-zine and am actively engaged in with my journaling practice.
You're welcome to share your discoveries by replying to this issue of Refresh Journal!
***
You're welcome to reply to the weekly journaling question; I may share it in a future edition of Refresh Journal.
My Blog Post:
Your Authentic Self
You're welcome to subscribe to my blog Refresh with Dawn Herring so you will always get my latest posts in your email to read at your convenience.
THE ARTIST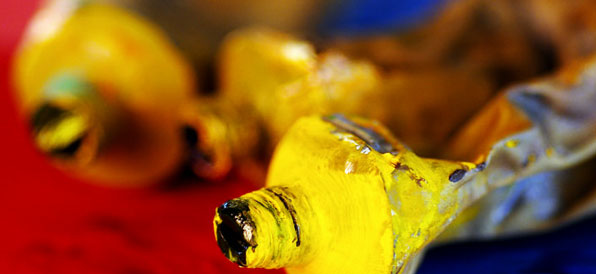 One of my favorite artistic endeavors is creating an art journal page.
I love all the possibilities of layering with papers, stamping, collage and watercolor paints.
The options are endless and So Much Fun!
But trying something new may be a bit daunting at times.
Like doing an image transfer, not knowing if it will turn out the way I want it too.
It really is a matter of trial and error and seeing what works and what doesn't.
But I don't let that stop me.
I just see it as part of the process and encourage myself that I will figure it out!
Take a step in creating artistic layers in your life and see what new thing you discover.
"Begin with where you are, with who you are, at this time, at this place.
"
Journal Keeper and Coach,
and previous
for his tweet:
Have you ever been on a home or business construction site where you were able to see the actual innards before the walls went up?
Since Hubby is an
electrician
, I've had the opportunity to see the inside scoop of what goes on behind those walls.
Talk about complicated! Everything has to be just so in order for the inspector to be satisfied for safety reasons. Between the electrical systems, the plumbing, and other supporting systems, there is a lot to be accomplished before anyone can actually move in and enjoy the space.
Seeing such a system really gives one a new appreciation for all the hard work that goes into buildings and homes in order for us to enjoy the amenities we take for granted most of the time.
The same goes for the innards of our mind and perspective in regards to situations, relationships, and every day occurrences that we all try to make sense of.
How
do
we make sense of it?
Well, one of my favorite ways is to write down what you're thinking and what your perspective is on any life experience you find perplexing or insightful, etc.
Sometimes just shining a light on the journal page through honest inquiry get help us deconstruct what went awry and reconstruct our point of view and the actions we now know to take and the positive change we know to implement right now as a result of our new understanding.
We discussed how we can use our journals to help us determine new thoughts, decisions and actions we can take to align with who we really are during our recent session of #JournalChat Live with special guest, Susan Wilson with our topic Your Journaling: Reconstruct Your Life! Highlights are below.
If you're interested in keeping a custom-designed colorful Refreshment reminder in your next good read, check out the
Dawn Herring Collection Art Gallery
to view samples, then directly email me at journalwriter@sbcglobal.net to order your custom bookmark fresh from my studio!
Also included this week are refreshing tips for your kids and your self and an inspiring song by The Afters titled, "Life is Beautiful."
Next time you meet up with a perplexing situation or a problem to solve that makes you feel like you're "Under Construction," take a moment to jot down what's bothering you, what matters to you, and where you want to go. You may be surprised on your discoveries of what's behind the walls of your mind. It just might reveal a delightful residence of insight and light you need right about now.
And thank for making Refresh Journal part of your life construction.
Your Refreshment Specialist
Host of #JournalChat Live and #JournalChat Links edition
#JournalChat Pick of the Day for week ending 7/19/13:
Tuesday's Pick: 360 Degree Journal Writing Tool by John Robson
Thursday's Pick: Your Journaling: Reconstruct Your Life! #JournalChat Live Transcript
Friday's Pick: #JournalChat Links Edition on Holiday
**This link has been chosen for Pick of the Week; please read about this week's #JournalChat Live topic in the box below.
JournalChat Pick of the Week:
As we go through each daily life experience, do we take note of when something important happens, when something moves us? Some of the best moments go overlooked. They are certainly worth delving into to discern what is really important to us.
Juliet shares a tidbit from Marion Milner about "happy beads," those moment in life that she would choose to detail because of how meaningful they were and the happiness they brought. Juliet encourages us to detail what important thing happened to us today in our journals.
When we take the time to really pay attention to what moves us, what creates those significant shifts in our perspective, we can understand ourselves in a greater depth than before and appreciate who we really are.
For this week's #JournalChat Live, we will discuss how we can use our journals to detail those significant shifts, those "happy bead" moments that reveal what creates the vibrant undercurrent of happiness that helps to make life worthwhile. Our topic will be Your Journaling: What Makes You Happy.
You're welcome to read this post prior to the Live chat on Thursday, and perhaps write an entry about how you could use your journal to record in detail those momentous happy places that create significant shifts in your perspective. You're welcome to share any discoveries you've made during our chat.
So join us on Thursday, July 25, 2013 at 5 p.m. EST (2 p.m. PST) for #JournalChat Live on Twitter. Be sure to use the #JournalChat hashtag in your tweet!
Highlights from #JournalChat Live
Our topic from our most recent session of #JournalChat Live was Your Journaling: Reconstruct Your Life! as we discussed using our journal to look closely at our decisions, our perceptions and our choices in order to reconstruct our life to align with who we really are. Highlights are below.
Here are insights from special guest, Susan Wilson, and her post, Comfort in Journaling:
My last entry

was a complete diatribe on iffy technology... but the one before that was examining different kinds of creative writing I want to explore.

I don't journal every day - usually every other day - though I do write morning pages each day. Journaling, to me, is more deliberate. Morning pages is just a kind of 'system flush' at the start of the day.

It can be flowy and grumbling, but soon it turns into something more focused: what's the reason behind it. We're spinning on hamster wheel days, and it's difficult to slow down and focus on where we're really at. I also think when we sit down to journal makes a difference. I think best at the edges of the day - early morning, or late evening - when the threads between worlds are gossamer thin. My spaces change, too. Sometimes I take my journal for a walk (not on a lead, of course), and stop at the beach. And then we follow the threads to find out what we need to do to reconstruct our lives in its new image. [It's]those new awarenesses that get new connections snapping in your brain. Those are what allow transformation! Because we have to know not just where to steer our ship but also what are the winds that guide our sails. It's about opening your eyes to what is, opening your heart to what could be, and then choosing differently.
Here's my point of view and insight:
Journaling really does help us to slow down time and really observe what we're thinking, doing and changing. You can always get more from a page of meditative thought and come to a clearer understanding. Journaling helps us dissect, contemplate, reflect. We take a closer look at our thoughts, our intentions, our actions, etc in our journaling; that is deconstructing. Journaling helps us determine what thoughts are suiting us, are they authentic to who we really are or just a false agreement?Journaling is intentional; it's how we can deliberately choose to reconstruct the way we do life, one entry at a time.
And Suzanna Stinnett:
Today, after four weeks of travel, I had to journal my way back to comprehension. It wasn't pretty, but it worked. Deep brain journaling [is] about freeing my mind for creativity by eliminating tech. No habit needed when writing is a compulsion. Not that it is. Of course. Just Sayin. :-) Journaling is home. Journaling is the river. Journaling is the journey. Journaling is the memory.
And from Madeline Sharples:
Morning Pages were my stepping stones to regular journaling. I think this kind of close looking is helping me delve deep into my novel as well.
Journaling is intentional; it's how we can deliberately choose to reconstruct the way we do life, one entry at a time.
Deconstruct your thoughts and actions and determine what changes you need to make and reconstruct as the real you!
Check out the transcript for #JournalChat Live on 7/18/13. Special Thanks to Susan Wilson for her fabulous post, Comfort in Journaling, which was our journaling resource for this week's live chat.
Join us on 7/25/13 at 5 EST/2 PST for our next session of JournalChat Live.

SPECIAL FEATURE
YOUR AUTHENTIC REFRESHMENT
Interviews of Engagement
An Authentic Refreshment is one that enables you to
appreciate
yourself for who you really are, validate your emotions and feelings, and nurture your soul.
From my new blog,
Your Authentic Refreshment, I am featuring interviews from folks who have found and engage in their authentic refreshment and how it enhances and adds value to their daily life experience.
If you have an authentic refreshment you would like to share, please reply to this issue of Refresh Journal and I will give you the details!
***
FOR THOSE OF YOU WHO ARE
STILL LOOKING FOR YOUR AUTHENTIC REFRESHMENT, I HAVE GOOD NEWS FOR YOU!
You are now able to purchase a
30 minute Refresh Session, by phone or Skype, to work with me with the goal of discovering
Your Authentic Refreshment!
For $75. you will be able to ask questions, set goals, activate your intuition and give space for your refreshment all under the structure and guidance I will provide as Your Refreshment Specialist.
Life in all of its detail is Beautiful.

The Afters - Life Is Beautiful
Pay close attention to the details of your life experience to determine how to reconstruct where you want to go in life. Encourage a friend to join you and see what kind of insight you can both gain in the process.
Then celebrate life's details--together!
Dawn Herring
Host of #JournalChat Live and #JournalChat Links Edition on Twitter
Author of The Birthday Wall: Create a Collage to Celebrate Your Child