Upcoming Self-Advocacy Trainings
Join peers like YOU as we explore self-advocacy 101, disability history, and planning your future as a leader.
This training is designed for youth and young adults (14+) with intellectual/developmental disabilities (but all self-advocates are welcome)!
Upcoming Training's :
Lower Hudson Region -

November 2nd

Mt. Pleasant Public Library (350 Bedford Road, Pleasantville, NY 10570)




Capital District - November 3rd
Albany Public Library Community Room (161 Washington Ave, Albany NY, 12210)
5:00-7:30 P.M.
Plattsburgh - November 9th
Plattsburgh Public Library (19 Oak St, Plattsburgh, NY 12901)
1:00-3:00 P.M.
Questions? Contact Zack Kilmer, NYISA Coordinator 518-708-3808 or zkilmer@YOUTHPOWERNY.ORG
Youth Peer Advocate
Professional
Credential Applications Live!
The Youth Peer Advocate Professional Credential application has been posted and is available at YOUTHPOWERNY.org/ypa-credential
To apply for the YPA Professional Credential you must:
Have completed steps 1

-5

of the credentialing process. Check out the 6 Steps to Becoming a Credentialed YPA. This includes:

Completing the full training including online components, in-person training and consultation calls
Holding a valid Provisional Credential

Have 600 hours of experience providing Youth Peer Services in a paid or volunteer position
Questions? Contact us at YPACredential@YOUTHPOWERNY.org
Resource Page Now Available on the YP! Website for New Medicaid Services
Looking for more information on the new services available to young people and their families? Check out the new page available on the website!
Stay Tuned to this webpage as we will be updating as more resources become available.
Foster Youth and Parents:
Your Story Has Power
CHAMPS NY is campaign working ensures that when young people must enter foster care, they are placed into family-based settings whenever possible, and that their caregivers are supported.
We know that young people in foster care experience better outcomes when they are cared for by supportive families, especially relatives. However, New York struggles to recruit and retain enough families to adequately support the young people who come into foster care. Are you involved in foster care? If so, please sign our pledge and share your story with us! Together, we can ensure bright futures for young people in New York.
WNYIL hiring for a YPA Position
TITLE: Youth Peer Advocate- Part Time

DESCRIPTION: Provide peer support in person and online. Coordinate independent living skills, evaluations, and training for transition age youth with disabilities within Erie, Niagara, Genesee, Orleans and Wyoming Counties.

QUALIFICATIONS:
Reasonable accommodations will be made for persons with disabilities.
SEND COVER LETTER

AND

RESUME TO

(REQUIRED)

:
Tina Brown, CHRCO
WNY Independent Living, Inc.
3108 Main St. Buffalo, NY 14214
employment@wnyil.org

2019 Annual Staff Development Training Forum
The NYS Coalition for Children's Behavioral Health and the New York State Office of Mental Health are pleased to announce their collaborative 2019 Staff Development Training Forum. Again this year, the NYSOMH and NYSCCBH have combined their resources and expertise into the largest children's behavioral health Staff Development Training Forum in New York State.
*
The registration fee does not include hotel accommodations or meals.*
The Coalition encourages all of its member agencies to send family members to the Training Forum. A limited number of scholarships are available to parents, family and youth to cover the hotel cost for one night (includes registration, one night stay, breakfast and lunch).
Scholarships are awarded on a first-come, first served basis.
*Hotel Accommodations:
The Saratoga Hilton is serving as the convention's Hotel. Rooms are limited and requests will be honored on a first come first served basis. When the room block is full, reservations will be referred to the overflow property.*
504 Accomidations - Everything You Need to Know!
What?
Community Training (Schenectady)
When?
November 7th from 10-12
Registration to start at 9:30-10am.
Where?
Schenectady County Public Library, McChesney Room
99 Clinton St, Schenectady, NY 12305
When utilized correctly, Section 504 of the Rehabilitation Act can serve as an important tool to help
students with disabilities obtain accommodations they need to succeed in school.
At this training the Special Education Task Force will:
demystify the 504 accommodation process by talking in detail about the differences between the Individuals with Disabilities Education Act (IDEA) and Section 504 of the Rehabilitation Act
explain an understanding of the 504 accommodation request process and effective communication standards
share tips for best practices
share resources for students, school personnel, and families
For more information contact Helen Charland at helen.charland@drny.org or
518-512-4927
Campaign for Disability Employment Hosting #RightTalentRight Now Photo-Sharing Campaign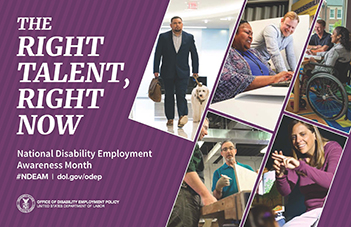 The Campaign for Disability Employment (CDE) invites you to celebrate this year's National Disability Employment Awareness Month (NDEAM) theme by posting images that illustrate why you're "The Right Talent, Right Now."
To participate, post a photo of yourself on social media using the hashtag #RightTalentRightNow. On Facebook, you can use the CDE's customized
profile photo frame
. Or, you can print and hold one of the CDE's
#RightTalentRightNow signs
in your photo (or make your own) and post it to your feeds on all three platforms. Join in to illustrate the many talents of people with disabilities-all across social media and in workplaces far and wide.
Funded by the U.S. Department of Labor's Office of Disability Employment Policy, the CDE is a collaborative of several disability and business organizations committed to changing attitudes about disability and employment. Learn more by visiting
WhatCanYouDoCampaign.org
.
FOR-NY STILL HAS SCHOLARSHIP MONEY AVAILABLE FOR CERTIFIED RECOVERY PEER ADVOCATE TRAINING (CRPA)
For more information and to apply visit their website:
PARTIAL SCHOLARSHIPS

If you've taken the
RCA
and need Ethics training
RENEWAL SCHOLARSHIPS

If you have your CRPA, or it's lapsed and want to renew it,

SPECIAL OPPORTUNITIES available for VETERANS and the Bi-Lingual
Speaking Up About Mental Health! This Is My Story Winners Announced
The National Institutes of Health has announced 10 winners of the "Speaking Up About Mental Health! This Is My Story" national essay challenge, which was designed to spur conversations among youth about mental health and encourage them to seek support for themselves and others.

Resources, Resources, Resources!
The following guidance document outlines best practices for school districts in New York State (NYS), to help protect the health and safety of all students and to guide school districts in developing policies and procedures to prevent, assess the risk of, intervene, and respond to youth suicidal behavior.
- - - - - - - - - - - - - - - - - - - - - - - - - - - - - - - - - - - - - - - - - - - - - - - - - - - - - - - - - - - - - - - - - -
Voting Resources

from Disability Rights NY!
For more information on Disability Rights in NY, please visit:
www.drny.org
- - - - - - - - - - - - - - - - - - - - - - - - - - - - - - - - - - - - - - - - - - - - - - - - - - - - - - - - - - - -
The Trauma Informed Network is available to connect you with other organizations around NYS, bringing you resources and events on a variety of topics that promote trauma-responsive practices.

Their goal is to support champions of trauma responsive practices across the state with improved connection and access to quality resources. Together everyone can increase the collective understanding of trauma, improve practice, and support resilience throughout New York State.

- - - - - - - - - - - - - - - - - - - - - - - - - - - - - - - - - - - - - - - - - - - - - - - - - - - - - - - - - - - -
Active Parenting for Teens Workshop by ACCA - Capital Region
Bringing up teens today can be challenge in our high-tech world. This six week course will help enhance a healthy relationship at home and with their peers. They will discuss the character traits that make teens successful, build self-esteem, increase communication, some basic discipline strategies, and increase prevention strategies to reduce risky behaviors. Parents will learn how to manage crisis calmly and establish family talks on alcohol, tobacco, and other drugs.

- - - - - - - - - - - - - - - - - - - - - - - - - - - - - - - - - - - - - - - - - - - - - - - - - - - - - - - - - - - -
7th Annual New York
REEL Recovery Film Festival & Symposium®
November 1-7, 2019

Village East Cinema
181-189 2nd Ave.
New York, NY 10003


- - - - - - - - - - - - - - - - - - - - - - - - - - - - - - - - - - - - - - - - - - - - - - - - - - - - - - - - - - - -
Operationalizing Family Voice and Leadership in Systems of Care Webinar
Wednesday, Nov. 20, 2:30 - 4 p.m.
This session will focus on how to operationalize family voice and leadership in all aspects of System of Care development and expansion.
- - - - - - - - - - - - - - - - - - - - - - - - - - - - - - - - - - - - - - - - - - - - - - - - - - - - - - - - - - - -
NYS OASAS ANNOUNCES OPENING OF NEW RECOVERY CENTER IN CAPITAL REGION
Second Chance Opportunities Recovery Center Will Offer Free Help and Support for People Impacted by Addiction and their Families
The New York State Office of Alcoholism and Substance Abuse Services (OASAS) announced the opening of a
new Recovery Center in Albany
, operated by Second Chance Opportunities. The center provides
free addiction services and support for people and their families who have been affected by addiction.
OASAS is providing $350,000 to support operation of this facility. This money is part of the federal State Opioid Response Grant funding awarded to New York State.
Recovery centers are designed to promote long-term recovery with professional staff, peers, and volunteers, who provide multiple services to engage and support people in recovery. The Second Chance Opportunities Recovery Center will provide job training and skill development workshops, recovery support sessions, and substance-free recreational activities. Additionally, Second Chance Opportunities operates a cleaning company that offers employment opportunities for their clients.
"We are committed to investing in new recovery centers across the state to help ensure individuals and families struggling with addiction have the care and support they need," said Lieutenant Governor Kathy Hochul, Co-Chair of the NYS Heroin and Opioid Task Force. "The opening of the Second Chance Opportunities Recovery Center in Albany will provide free addiction services and long-term care with dedicated staff, peers, and volunteers. The center will also house job training and workforce development programs, with Second Chance Opportunities providing employment opportunities for individuals. We still have more work to do, but recovery centers like these are helping to save lives and advance our efforts to combat the crisis once and for all."


The Second Chance Opportunities Recovery Center is located at 55 Colvin Ave, Albany NY 12206.

- - - - - - - - - - - - - - - - - - - - - - - - - - - - - - - - - - - - - - - - - - - - - - - - - - - - - - - - - - - -
FIRST EVER
LGBTQ Families Expo in Long Island
Come together and build Long Island's LGBT community of families!
Meet professionals who can support and strengthen your family.
Learn how to become a parents and grow your family through foster care, adoption, assisted reproduction and more, in a safe and supportive environment.
When? November 9th from 12-4pm
Where? LGBT Network - Hauppauge Center
125 Kennedy Dr, Suite 100
Hauppauge, NY 11788
Nominations for the NYS Disability Rights Hall of Fame are LIVE!
Do you know someone who you believe should be inducted to the NYS Disability Rights Hall of Fame? Nominate them!


The NYS Disability Rights Hall of Fame was created to recognize the contributions of people with disabilities whose lifelong work has substantially taken place in New York State. NYSILC will induct peers who have made a positive impact on people with disabilities throughout the state, country, and/or internationally via:

Improving quality of life
Advancing meaningful systems change or blocking adverse actions
Promoting a positive image through media or other communications
Introducing new knowledge or models
Developing new programs or services
Eliminating attitudinal, physical, or communication barriers
Accomplishing other significant achievements
All contributions should support the concepts of consumer control, peer support, self-help, self-determination, equal access, and individual and systems advocacy to maximize the leadership, empowerment, independence, productivity, integration, and full inclusion of individuals with disabilities into the mainstream of American society.


NYSILC has opened up the nomination form at
nysilc.org/nominate
. The form will be available
until December 18th, 2019.
This year they are limiting the class to 3-5 inductees so make your nomination count!
Ask Your Local Leaders to Support Youth Engagement in Policy Making
To create and sustain authentic youth civic engagement, we encourage local leaders to engage youth as active citizens in the policy making process, especially on the issues that affect them most. Here are resources to share with your local leaders to help them partner with you to engage young people
:
The Youth Engagement Resources for Cities Toolkit from the National League of Cities includes resources on authentic youth engagement; hosting a youth summit; starting a youth council; participatory budgeting; lowering the voting age for municipal elections; and a self-perception inventory designed to help cities identify their strengths in this arena.
Interested in Youth Peer Advocacy? JCCA Offering a Youth Peer Advocacy Track!
JCCA's FRC Program is recruiting & enlisting eligible youth - young people currently receiving support from JCCA - to prepare to be Youth Peer Advocates!
This track offers training, mentorship and support to become potentially employed by JCCA at age 21.
In addition to training, the Youth Peer Advocacy Track offers assistance in work readiness, education, benefits, stable housing - anything that will help you become a Youth Peer Advocate. Now offering STIPENDS for training and readiness preparation.
If interested, please email Christopher Jones, jonesc@jccany.org with your name, email address, address, and age.
Join your peers in FOR-DO's safe recovery space every WEDNESDAY from
1-2PM, beginning 10/16/19, to discuss everything LGBTQ+ and Recovery.
Questions? Give them a call at 607-267-4435!
The views and opinions expressed in third party messages and external links included in this eNews are those of the organization or individual mentioned. They do not necessarily reflect the official positions of Families Together in NYS.
YP!

Families Together in New York State hosts YOUTH POWER!, a statewide network led for and by youth and young adults. YOUTH POWER! is a network of young people who have been labeled and are seeking change. Together, we have decided to speak up about our experiences because no one knows what it is like for us better than we do. Through peer-to-peer mentoring, we empower young people to be active citizens who are aware of government operations, their rights and the ability to use their voices to influence policies, practices, regulations and laws. We are young people helping other people, ensuring availability of self-help and peer support while changing systems so that young people get the support they need with the respect and dignity they deserve.

Nothing About Us Without Us!

www.YOUTHPOWERNY.org www.FTNYS.org