Military Appreciation Day

To honor the men and women who have served, or are currently serving in the U.S. Military, Lakeside Chautauqua will celebrate
Military Appreciation Day
on Sunday, June 24. Those who are retired from, or are currently serving in any branch of the military, will be granted a free one-day Daily Chautauqua Pass and Auto Pass to Lakeside upon presenting credentials and/or military ID at the gates.
Lakesiders of all ages are invited to
submit photos
to be featured in the 2019 Calendar of Events brochure, as well as on Lakeside's social media pages,
website
,
The Front Porch
blog,
Lakesider
newspaper, advertisements, etc.
Images should represent people enjoying Lakeside through photos of families, traditions, children, religion, education, cultural arts (special events and programming), recreation, landscape or architecture.
Hoover Auditorium 90th Anniversary

To celebrate 90 years of arts, entertainment and cultural education in Hoover Auditorium, there will be a
multimedia exhibit on display
until June 30, as well as several other celebratory events.
Grow the Mind, Body & Spirit

Dedicated and compassionate Lakesiders, Howard and Joann Strauch, have a long and meaningful history with Lakeside.
Howard was first introduced through his Methodist Youth Fellowship group in 1944, and Joann had known of Lakeside for many years before her first visit during the summer of 1968.
Howard and Joann both came from active Methodist families, and Lakeside, with its unique and educational summer programs, was a natural fit for them.
"In 1990, we began coming to Lakeside every summer and it continues to get better every time," said Howard. "We are most excited about the future of Lakeside."
Read more...
Preacher of the Week: Carl McColman

This week is supported by the Hottenroth Family.

Carl McColman, a contemplative writer, speaker, retreat leader and catechist, will serve as Lakeside's Preacher of the Week from June 24-28. This week is supported by the Hottenroth Family.
He will preach at the 10:30 a.m. Hoover Community Worship Service on Sunday, June 24 in Hoover Auditorium.
Additional Religious Life programs can be viewed
here
or in the
Lakesider newspaper.
Chautauqua Lecture Series

The Opioid Crisis
Featured speaker, Sam Quinones, author of Dreamland: The True Tale of America's Opiate Crisis, and regional experts discuss this national epidemic.

Astronomy & Astrophysics
Patrick Durrell, PhD, Distinguished Professor of Astronomy & Physics and Director of the Ward Beecher Planetarium at Youngstown State University, presents lectures focused on black holes, space telescopes, the Virgo Cluster and exoplanets.

View Chautauqua Lecture Series descriptions here. Additional Community Education programs and special workshops can be viewed here.

All performances start at 8:15 p.m. in Hoover Auditorium, unless otherwise noted.



Saturday, June 23

Little River Band
The Australian rock group,
Little River Band
, returns to Lakeside with their signature sound to perform some of their greatest hits, including "Lonesome Loser," "Cool Change" and "Lady," among other songs that showcase their vocal and instrumental talents. Founded in Melbourne, Australia in 1975, Little River Band grew to become one of the greatest vocal bands of the 1970s and 80s.
Sunday, June 24
7:30 p.m.
Chautauqua Choral Festival "This Land We Love"
Lakeside's
Chautauqua Choral Festival
provides singers an opportunity to study, sing and perform in a choral ensemble. The festival, titled "This Land We Love," includes choral repertoire comprised of great spirituals, hymns and patriotic music, focusing on the themes and stories of faith and freedom. The performance will include renditions of "God Bless America," "Zions Walls," "God of Our Fathers" and more.
Monday, June 25
Hoover Silent Movie Night with Organist Clark Wilson: "Seven Chances" (1925)
For this week's Hoover Silent Movie Night, Clark Wilson, a silent film organist, will accompany the movie
"Seven Chances."
Wilson, one of the most recognized scorers of silent photoplays in America, works exclusively with the organ in developing accurate and historic musical accompaniments as they were performed in major pictures during the heyday of silent film.
Tuesday, June 26
Anna Eleanor Roosevelt "A Meaningful Life"
Anna Eleanor "Anne" Roosevelt is the President/CEO of Goodwill Industries of Northern New England and the granddaughter of President Franklin Delano Roosevelt and First Lady Eleanor Roosevelt. She will share what "A Meaningful Life' is for her. Whether it's through a career, raising a family, creating art or volunteering, Roosevelt believes that having a sense of purpose to work towards can provide a fulfilling life.
Wednesday, June 27
7:30 p.m.
Family Entertainment Series: Magician Mike Super
Lakeside welcomes magician
Mike Super
as part of our new Family Entertainment Series. These special shows, held on select Wednesday nights throughout the summer, are geared especially toward families and begin at 7:30 p.m. As winner of NBC's show "Phenomenon," Super was voted America's Favorite Mystifier and is the only magician to win a magic competition on live U.S. network television. He's performed for many celebrities, including Ellen DeGeneres and Jay Leno.
Thursday, June 28
We Banjo 3
By fusing together the sounds of the banjo, fiddle, guitar and mandolin,
We Banjo 3
has created their signature sound of "Celtgrass," which could be described as the common ground between old world traditional Irish music and authentic Americana music.

Friday, June 29
Black Violin
, composed of classically-trained violist Wil. B and violinist Kev Marcus, combine their classical backgrounds and their hip-hop influences to create a distinctive multi-genre sound that is often described as "classical boom."
Williams Family Doubles Tennis Tournament
Join fellow tennis players for some friendly competition in the
Williams Family Doubles Tennis Tournament
at 9 a.m. Thursday, June 28 at the Williams Tennis Campus. The entry fee is $10 per doubles team. Visit the Williams Tennis Campus to register prior to the event.
WOW Sailing Classes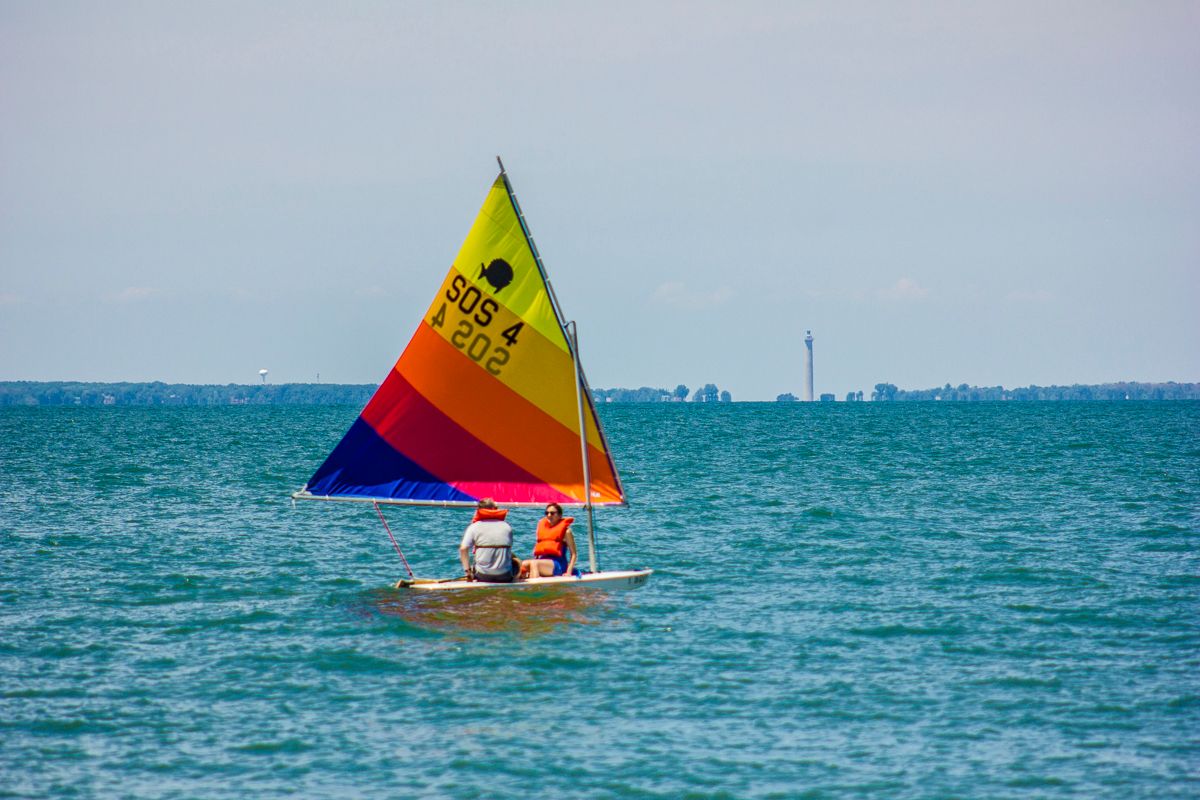 Women on Water (WOW)
will once again offer beginner and intermediate sailing classes for women age 50 & older. Beginner instruction (Level I) will take place Monday, June 25-Friday, June 29, and Intermediate Instruction (Level II) will take place Monday, July 9-Friday, July 13.
Saturday Afternoon Concert: The Music Room
Saturday, June 23
2-4 p.m. Pavilion West Deck
To provide more entertainment in the value of your Chautauqua Pass, Lakeside has planned a series of Saturday Afternoon Concerts throughout the summer.

Art in the Park
Sunday, June 24
1-2:30 p.m. Pavilion
The Rhein Center presents an afternoon activity for Lakesiders. Participation is $1-2 per project, and the activity changes weekly.

Tiffin T-Squares
Sunday, June 24
2-3 p.m. Pavilion East Deck
The Tiffin T-Squares, a modern day western square dancing club, will perform a special demonstration. All are invited to watch and join the square dancing.

Genoa American Legion Band
Sunday, June 24
3-4:30 p.m. Steele Memorial Bandstand/Gazebo


To commemorate Military Appreciation Day, the Genoa American Legion Band will perform patriotic tunes, marches and show tunes.




Monday, June 25-Wednesday, June 27

2-3 p.m. Wellness Center


Carl McColman, serving as Lakeside's Preacher of the Week, will lead a series of religious life workshops.





Wooden Boat Rides & Sunset Cruises
Monday, June 25
6 p.m. & 8 p.m.
Dock/Information Center


These 30-minute rides begin at 6 p.m. with the last ride departing at 7:30 p.m. The cost is $20 for adults and $6 for children (ages 4-12).

Hour-long sunset cruises aboard Amazing Grace start at 8 p.m. The cost is $32 for adults and $10 for children (ages 4-12).


7:30-8 p.m.


Hoover Auditorium Porch

The choir was founded in Arlington, Va. in 1999 when Director of Worship Arts Lisa Gibbs-Smith was hired to start a music program for teens.



Farmers' Market
Tuesday, June 26 &
Friday, June 29
9 a.m.-12 p.m.
Walnut Avenue & Third Street


Farmers' Market vendors will sell fresh produce, honey, herbs and homemade baked goods.


Blessing of the Fleet

Friday, June 29
As part of the Blessing of the Fleet programs, there will be a dinner, wooden boat rides and Blessing of the Fleet.

Deadline for the Art Show
The deadline to enter the
Lakeside Art Show
is 5 p.m. Wednesday, June 27
.
Lakesiders of all ages are encouraged to participate.

Sign up for Rhein Center Classes
Online registration with credit card payment opens at 8 a.m. each Thursday for the following week's classes. This year, the Rhein Center will also be offering Saturday classes.
Kids Needed to Deliver Lakesider Newspaper

At 9 a.m. Fridays, kids (ages 10-15) are invited to the Legacy House, 217 Walnut Ave., to deliver
Lakesider newspapers
.
On Saturday, 12 children (ages 6-10) are needed to hand out the
Lakesider
on the Hoover Auditorium porch from 7:30-8 p.m. Report to the porch at 7:15 p.m.
Volunteers will receive their choice of a free Coffee & Cream soft-serve ice cream coupon or miniature golf coupon.


Rules & Regulations

Lakeside Chautauqua the safety and health & wellness of our guests and residents. View the
Rules & Regulations
.
Trash & Recycling Services
Fourth of July Float Parade Registration

Float Parade participant forms are available
online
. Return the forms to the administration office by 12 p.m. Saturday, June 30.
Walk or Bike to the Pool
To lessen congestion at the Grindley Aquatic & Wellness Campus, we encourage you to walk or bike instead of driving a car or golf cart.

Keeping Lakeside Safe
As an increased measure of safety, the Danbury Police Dept. will have a noticed presence in Hoover and around Lakeside this summer. Keeping Lakeside safe is our priority, and we're thankful to have their support.

Looking for a place to stay this summer? Book a room at the
Fountain Inn
or
Hotel Lakeside
. Lakefront rooms at Hotel Lakeside starting at $135.
Movie Tickets:
$7/adult,
$3/youth (under 12)

Show Times:
3:30 p.m. & 8 p.m., unless otherwise noted.
Review the upcoming
movie schedule
.