Week of February 24:
CDC Collecting Items for the Humane Society in Honor of Pet Week (see their Wish List Below) - Ms. Ali is bringing her dogs to chapel on Tuesday of this week
Friday, February 28:
The Tooth Fairy Visits 2s, 3s, and Pre-K Classes plus a LEAP YEAR celebration at the CDC
March 2-6:
Dr. Seuss Week at the CDC (Special Dress Up Days)
Monday:
Crazy Socks Day
for
Fox in Socks
Tuesday: Wear Your
Favorite Color
for
My Many Colored Days
Wednesday: Dress in a
wacky way
for Wacky Wednesday!
Thursday:
Hat Day
for
500 Hats of Bartholemew Cubbins
Friday: Wear your
pajamas
for
The Sleep Book
Friday, March 13:
Donuts with Dad for Pre-K Classes Only at 9am in Swetenburg Hall
April 6-10
: Pre-K Spring Break (Sign-up for care to begin March 2)
April 14
: Spring Pictures at the CDC for Infants to Threes
April 15
: Spring Pictures at the CDC for Pre-K Classes
Our February menu may be found
here
.
Winter Theme: Color Week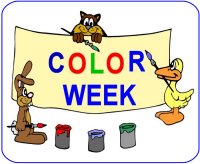 Some of our classes are talking about a variety of colors this week! With these dreary days of overcast weather and rain, it sure is nice to think about all of the beautiful colors God has given us. Talk about your favorite colors with your children and celebrate God's creativity this week.
Color of the Month:
Pink
Shape of the Month: Heart
Summer & August 2020 Enrollment
Our surveys for summer and fall 2020 enrollment are to be returned by Friday, March 6. The information from this survey is very important. Our Pre-K waiting list for the 2020-2021 school year opens to the public on Monday, March 2.
Humane Society Collection Wish List
Please keep your child home if any of the above symptoms have occurred. If your child is sick the night before school, he/she will not be illness free a few hours later to come to school. Remember they must be 24 hours fever/symptom free withOUT medication or they are spreading the illness to everyone they come in contact with. Thank you for your help in keeping us well!
Supervision Needed as You Leave
We want all of our children to make it home safely and your help is needed to make sure your child does not leave the building without you. Please remind your child to walk in the hallway with you as you leave to keep them from getting out the door without you. We try to help make sure everyone stays safe but your child is ultimately your responsibility when you sign them out of their classroom.
Inclement Weather Policy

The CDC will follow Gainesville City Schools for weather closings, delays, and early releases.
For early release: Parents are required to pick-up their children as soon as a decision is made for an early release by Gainesville City Schools.
For delayed openings: we will count the delay from the CDC opening time of 6:30am for all classrooms infant - PreK. (A one hour delay does not delay our Pre-K start time of 7:30am but a 2 hour delay would start Pre-K at 8:30am).
With inclement weather, please use the Swetenburg Hall entrance
(covered entryway at the other end of our building)
as the hill behind the church ices quickly.
CDC Wish List
We are always interested in soft-tissue kleenex (with lotion) for our littlest noses, extra containers of clorox wipes, and AA, C, and D batteries. If you ever want to pick-up a little something extra for us at the CDC, these items are greatly appreciated! You may drop them off in the front office.
Late Fees
Our late pick-up fees are necessary due to the overtime we are paying our teachers for staying late. Please work to be on time in the evenings. Please keep the CDC's phone number (770-532-8188) programmed in your cell phone in case you are running late so that the center can let your child know that you are on your way. If you are late picking up your child, you will be charged according to the chart below. Payment will be added to the following week's tuition bill.
6:00-6:15 $20.00
6:15-6:30 $20.00 + $10.00
6:30-6:45 $20.00 + $10.00 + $10.00
Accountant's Hours
Ms. JoAnn Watson, part-time accountant
Please join us for Worship any Sunday
9:00 Contemporary Service in Swetenburg Hall

10:00 Sunday School

11:00 Traditional Service in the Sanctuary