U.S. foreign aid expected to be slashed in FY 2018 budget

As the administration moves towards prioritizing defense and domestic economic policy, aid organizations are worried that spending on overseas aid will be hit the hardest in President Trump's upcoming budget. With his pledge to increase the defense budget by $54 billion, foreign assistance will take a back seat, at a time when humanitarian crises are on the rise. In relative terms, foreign aid spending was only 0.17% of the U.S. gross national income in 2015, and so savings from cuts in the foreign assistance budget will not be enough to provide any significant offsets to the proposed spending increases in other areas. IHC Global supports a robust foreign assistance budget as a critical component of a secure and stable global community and is working with our members and other partners to advance that view. We believe that the future of cities around the world, including in the US, together with the inequality manifested in many of them, is one of the most critical strategic issues and is of paramount global and domestic importance.
Read the full article
here
.
Pritzker Architecture Prize goes to trio from Spain
This year's coveted Pritzker Architecture Prize, which recognizes "consistent and significant contributions to humanity and the built environment through the art of architecture," has been awarded to three Spanish architects: Rafael Aranda, Carme Pigem, and Ramon Vilalta. Their innovative work can be seen throughout the Catalonia region, and ranges from public and private spaces to cultural venues and educational institutions. The architects, who have worked together since 1988, were praised by the members of this year's jury for "uniting landscape and architecture to create buildings that are intimately connected to place and time."
To see some of their work, click
here
.
The importance of disaggregated data for cities
The United Nations Statistical Commission will be making big moves at their meeting next week when they officially adopt the Cape Town Global Action Plan for Sustainable Development Data. This plan is an important step in the U.N.'s participation in the "data revolution", as it urges the international development community to use game-changing development data tools to further the progress of the Sustainable Development Goals. But in this push for increased use of data, it is important to recognize that the solution is not always creating more data, but rather finding the right data for the right circumstances. Urban development practices have proven that when it comes to cities, one size does not fit all. "Disaggregated data", which breaks down raw data on anything from age and race to income and disability by geographical location, will be key to fine-tuning the SDGs for specific cities. From IHC Global's perspective, data also needs to include all city residents, including those living in informal settlements.
Read the full article
here
.
Event: Getting Started in Urban Field-Based Research
IHC Global, together with the Inter-American Development Bank (IDB), is holding a research-focused roundtable on Monday, March 6, as part of its initiative to encourage young scholars and practitioners to enter the urban space. Each year, the winners of the annual "Reducing Urban Poverty" graduate student paper competition, which IHC global also co-hosts with the Woodrow Wilson Center, USAID, the World Bank, and Cities Alliance, present their research findings in Washington, DC. The roundtable will take place over lunch with the competition winners and finalists prior to this years' presentation at the Wilson Center. Leading urban scholars and experts Dr. Robin Rajack of the Inter-American Development Bank, Dr. Tazreena Sajjad of American University and Dr. Rashmi Sadana of George Mason University will join the competition winners and other young scholars for a conversation-style event to discuss the challenges and opportunities of field-based research and share advice on how to get started with planning and conducting field work.

When: Monday, March 6th
11:45 AM - 1:00 PM
Where: Inter-American Development Bank

Conference Room SW 945
1300 New York Ave NW
Washington, D.C. 20577
Register for the roundtable
here
to reserve a seat. Lunch will be provided.
New Urban Perspectives: Climate Change, Refugees and Planning
Directly following the roundtable will be a discussion on the latest research on innovative urban approaches to climate change, accommodating refugees in urban areas, and inclusive city planning, featuring the winning authors of the 2016 Graduate Student Reducing Urban Poverty Paper Competition. The winners will present their research, with commentary provided by experienced professionals from the urban sector, including IHC Global President and CEO Judith Hermanson.

When: Monday, March 6th
2:00 PM - 4:30 PM
Where: Wilson Center
Ronald Reagan Building
and International Trade Center
One Woodrow Wilson Plaza
1300 Pennsylvania, Ave., NW
Washington, D.C. 20004
Register for the event
here
.
In the news and around the web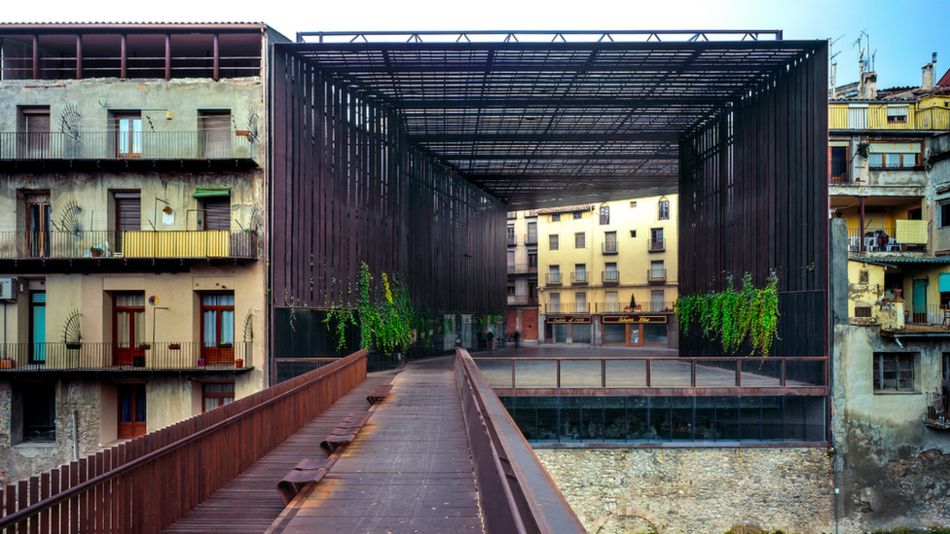 The La Lira Theater in Ripoll is one of the works by this year's Pritzker Architecture Prize winners, designed to connect landscape and open space with infrastructure.
Spread the word!
Help IHC Global spread our message by forwarding our newsletter to organizations and people who want to help create inclusive and sustainable cities. Support IHC Global further by becoming a member of our growing coalition.
Please join us either as an individual or as an organization! With your membership you will provide meaningful help in addressing the worldwide challenges of urban poverty and inequity. Help IHC Global "change cities for good" and secure a better urban future for us all!