Land degradation will cause both mass migration and climate change
A new report written by 100 experts from the Inter-Governmental Science-Policy Platform on Biodiversity and Ecosystem Services (IPBES) warns that hundreds of millions of people will be forced to migrate from deteriorating farmland in the next three decades. A billion people currently live on deteriorating farmland, but that number is expected to rise to four billion by 2050, and the UN-backed study says crop yields could halve in some regions in the same amount of time. This shortage of land and resources could lead to a rise in conflict and a mass exodus from the affected regions. Many of these migrants will flock to urban areas, making proper urban planning in these regions essential. Land degradation also drives climate change, which will only worsen as formerly fertile land is destroyed by deforestation and soil erosion. However, the report notes that land could be restored by planting trees, using salt-tolerant crops, and re-flooding draining wetlands.
Clean indoor air is becoming a luxury in China
A new Shanghai hotel, Cordis Hongqiao, is pulling all the stops to prove it's the place to be, including guaranteeing filtered, clean indoor air, a rare and precious commodity in China these days. It's no hoax either; all the air that enters the hotel goes through "two levels of filtration and is continuously cleansed, while double-glazed windows seal the fresh air inside. This new perk gives the hotel an edge on its competitors in a country where air pollution recently increased by 9% year-on-year (in PM2.5 terms), and indoor air is often even less clean than the outdoor air. This push for clean indoor air is emerging in China's public and private sectors, as well as in local and national government policies. Studies have shown that improving indoor air quality in polluted countries can raise life expectancy, so filtration systems that improve indoor air quality are expected to be on the rise in the coming years. If filtered air is the next green innovation in China, IHC Global hopes that there is a focus on ensuring that the poorest communities are not left behind.
The U.S. Department of Commerce has decided to add a citizenship question to the 2020 census for the first time since 1950. The reason given for this addition is to address concerns about preventing voter discrimination practices. However, it is a move that is drawing concern from a variety of critics, including civil rights groups, former Census Bureau director John Thompson, and California Attorney General Xavier Becerra, who has filed a lawsuit against the Trump Administration over the question. Critics predict that this move may make non-citizens-even those in the country legally-less likely to respond to the census due to fear of deportation, which could result in a large undercount in the 2020 Census. Due to the large population of immigrants in urban areas, this potential population undercount could have enormous consequences for cities, affecting the apportioning of their congressional districts and their allocation of federal funding, and lead to other distortions which potentially will affect everyone in the city.
R
ecap: Approaches to Advancing Property Rights
Last Friday, IHC Global hosted "Action from Every Angle: Approaches to Advancing Property Rights," a panel discussion moderated by IHC Global CEO Judith Hermanson. Five excellent presentations addressed the subject "from every angle," including from IHC Global member organizations. The presentations began with Landesa Chief Program Officer Jolyne Sanjak, who provided a useful framework of the issues and presented Landesa's land rights initiatives, and how critical engagement with the private sector is to the initiatives' success. Global Land Alliance Executive Director Malcolm Childress presented the Global Property Rights Index (the PRindex), an ambitious research project which collects new data on individual perceptions of urban and rural land rights around the world, highlighting recent findings from India, Tanzania and Colombia. Bill Endsley of World Citizen Consulting urged that the global community recognize that property rights are not only important from a human rights perspective, but that they are also fundamental drivers of economic growth. Becky Ochong of Habitat for Humanity International, Asia Pacific, discussed the HFHI campaign Solid Ground's work in advocating for and ensuring secure land tenure around the world. IHC Global Director of Policy and Advocacy Karly Kiefer presented the findings from the IHC Global initiative, "Using Data to Measure Women's Property Rights in Uganda," which highlighted the complexity of the issue and the ways in which there are particular challenges for women to affirm property rights even though there is legislation that should enable that. The event highlighted a diverse array of work being done to advance property rights, and was a good reminder of the importance of driving change through as many means possible.

In the wake of #WorldWaterDay, MHM needs a spotlight
The fight for clean and accessible drinking water has a distinctly female charge to it. Around the world,
1 in 9
people do not have clean water close to home, and every day, the task for collecting that far-away water falls into women's hands, forcing them to walk miles to and from the nearest water source. This task takes
hours
out of women's daily lives, in which they could be building their educations, resumes or families. And it's just more evidence of how water inequality and gender inequality are irrevocably
connected to
each other. But World Water Day is not just about clean
drinking
water, and accessing drinking water is not the only water-based issue that disrupts women's lives; water for sanitation and water for hygiene hold equally important parts of the WASH acronym, and within the "S" and "H" is a critical issue that is often swept under the rug: menstrual health management, or MHM.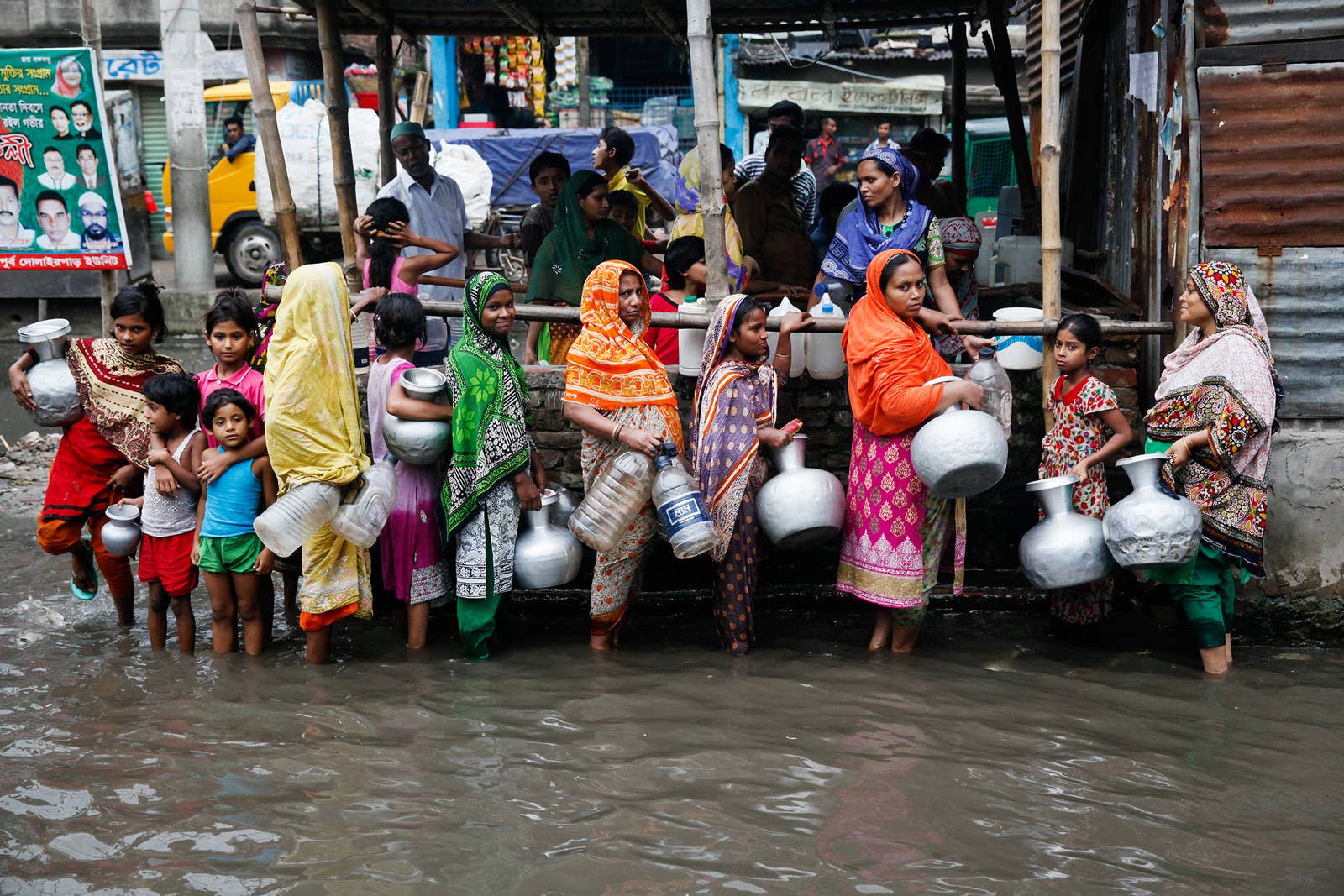 Bangladeshi women and children collect drinking water from a polluted area in Dhaka on June 17, 2017
Spread the word!

Help IHC Global spread our message by forwarding our newsletter to organizations and people who want to help create inclusive and sustainable cities. Support IHC Global further by becoming a member of our growing coalition. Please join us either as an individual or as an organization! With your U.S. tax deductible membership, you will provide meaningful help in addressing the worldwide challenges of rapid urban growth, urban poverty and inequity. Help IHC Global "change cities for good" and secure a better urban future for us all! We need your help and your voice more than ever!
Head Office: 1424 K St. NW, Ste 600, Washington, D.C. 20005
Satellite Office: 430 N. Michigan Ave, Chicago, IL 60611