It's a good week for inclusive development
The World Bank has released it's
first-ever Disability Inclusion and Accountability Framework, which lays out a plan to include disability in the World Bank's policies, operations, and analytical work; and build internal capacity for supporting clients in implementing disability-inclusive development programs. The framework is a win for the campaign for more accessible cities, and for the 15% of the world's population that have a disability, many of whom live in cities. Read
more about the framework
here
.
And if you don't know, now you know (about land rights)
Habitat for Humanity's Solid Ground Campaign, an IHC Global partner, lays out five things you (probably) don't know about land rights. For example, did you know that 1 in 7 people on the planet lives in a slum, often in unhealthy conditions and without tenure security? Learn more facts about land rights
here
.
Why are there are only 17

8 regi

stered architects in Uganda?
Urban infrastructure built on strong foundations is unshakable, so what happens when there's no one to build them? Uganda is simultaneously a country where structure collapses are all too frequent, and one where there are only 178 registered architects. The deficit has reached a critical point, but fixing the issue requires both quantity and quality.
Read more about the issue
here
.
What we learn when we rebuild
Yesterday marked the one-year anniversary of the Grenfell Tower fire, a tragedy that claimed 72 lives. Since then, an "architectural detective agency" called Forensic Architecture has been investigating the faults in the former social housing complex that allowed the fire to occur, collecting everything from witness accounts to raw video footage. Learn
more about their investigation
here
.
Dust to more dust
Toxic dust is blanketing New Delhi right now, leaving many residents struggling to breathe. The city is already grappling with practically unlivable levels of air pollution, but this mega dust cloud has pushed the crisis to new heights, with 8-9 times more pollution in the air than usual.
Read more
here
.
They say there's a market for everything...
The threat of air pollution has permeated worries about our health, the environment around us, and now our beauty routines. Whether there's causation or not, the skincare industry has picked up on anxieties over how pollution affects skin, responding with new urban-focused beauty lines.
Learn more about these new products
here
.
Join the University of Pennsylvania for a special Washington Brief about the upcoming UN Review of Sustainable Development Goals. A group of leading scholars, practitioners, and policymakers from Penn and elsewhere will discuss where things stand with the UN Sustainable Development Goals in advance of the high-level review scheduled for July in New York. The panelists will also present recent research by Penn faculty and fellows on topics related to the Sustainable Development Goals.
When: Monday, June 25, 2018
Where: Penn-Biden Center
101 Constitution Avenue NW, 6th Floor
Lunch will be served. Register for the event
here
.
IHC Global Urban Feature: Urban Tech
Exciting new developments in development!
New technologies, and new applications for existing ones, are redefining the international development space, and could have incredible implications for housing and urban development. In particular, Blockchain, Cryptocurrencies, and other DLTs, (Distributed Ledger Technologies) are posed to present unprecedented opportunities for global societal improvement. If you don't know much about these platforms, you're not alone, but their potential impact on international development has drawn interest from the private sector, government and civil society alike. IHC Global was able to see this first hand last week, when we went to the second bi-annual Blockchain for Social Impact Conference in Washington D.C. During the conference, IHC Global investigated these new ways of using information and technology, and cut through the hype to get a sense of the future of international development and humanitarian aid in the burgeoning Blockchain age. Read our key observations on the IHC Global blog here.
For more on IHC Global's policy priorities, click
here
. Keep an eye out for a new blog in next week's newsletter.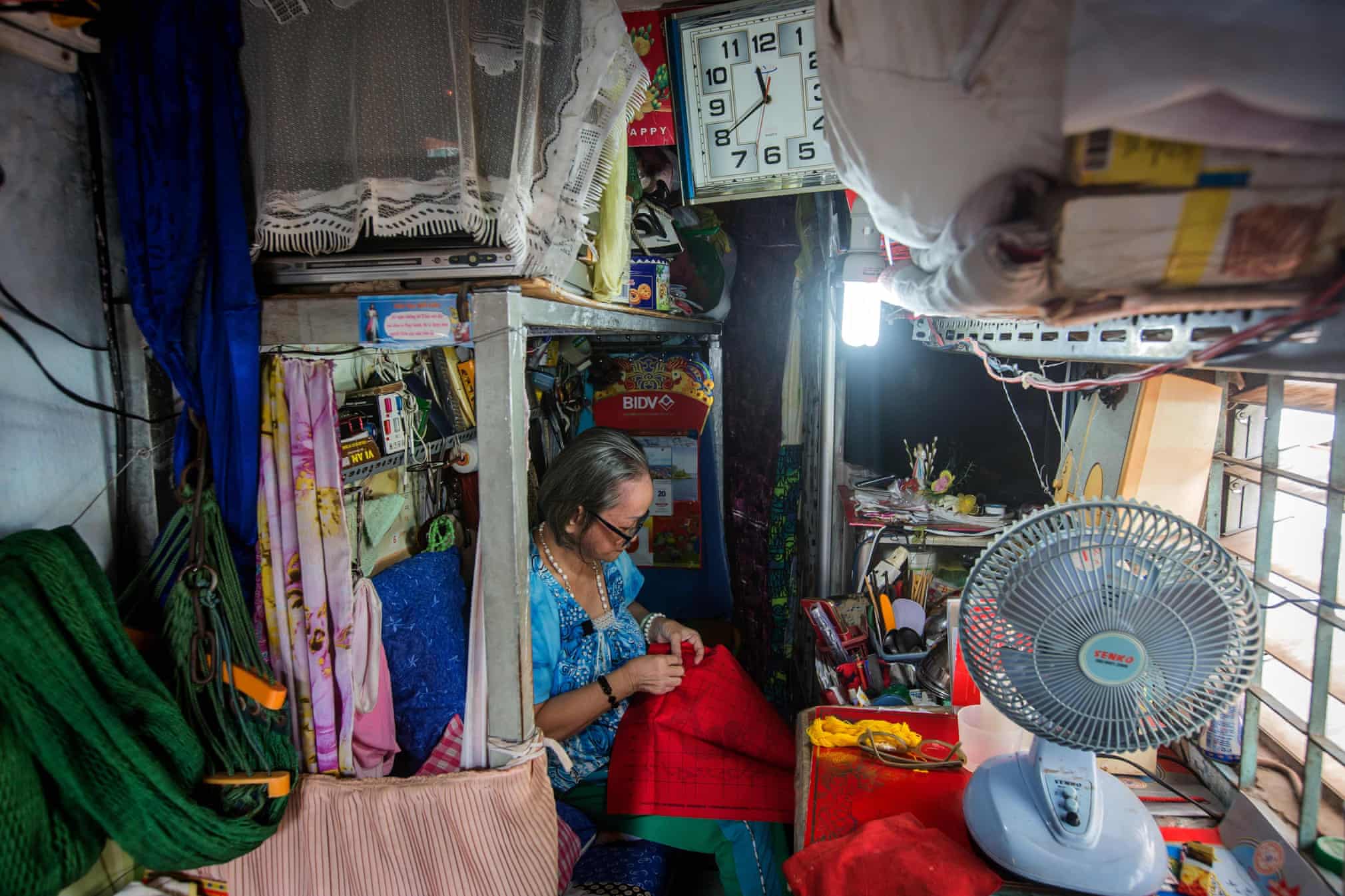 A woman sews in her micro-house in Ho Chi Minh City, Vietnam.
Spread the word! Join us!
Help IHC Global spread our message by forwarding our newsletter to organizations and people who want to help create inclusive and sustainable cities. Support IHC Global further by becoming a member of our growing coalition.
Please join us either as an individual or as an organization.
Your financial support and your voice are vitally important
.
With your U.S. tax deductible membership, you will provide meaningful help in addressing the worldwide challenges of rapid urban growth, urban poverty and inequity. Help IHC Global "change cities for good" and secure a better urban future for us all- we need your help and your voice more than ever.
Head Office: 5425 Wisconsin Ave, Ste 600, Chevy Chase, MD 20815
Satellite Office: 430 N. Michigan Ave, Chicago, IL 60611