Data from Kampala sheds light on informal workers
A report from the World Bank set to be released later this year exposes Kampala, Uganda's massive informal workforce, and recommends solutions for city policymakers to better include this population in their plans. The report is based on a study conducted by the World Bank and the Uganda Bureau of Statistics that collected survey data from informal business owners in the city. According to Citiscope, the findings "paint a picture of an employment sector that is crucial to the local economy yet poorly understood by policy makers." The report echoes what is evident in many other informal urban workforces; that the many shopkeepers, vendors and salespeople are not working informally to evade taxes or cut corners, but because they have no other choice.
Read the full article
here
.
Smart cities are all the rage, but achieving a truly smart urban system is difficult to pull off without glitches along the way. The rise of public urban data can be incredibly versatile and useful, but if not handled correctly, can endanger private identities, leak valuable information, and malfunction disastrously. These dangers are why urban data policies need to be carefully crafted in order to work well and serve well, and the cautious, progressive road that Seattle has taken with public data on the way to becoming a tech metropolis could be the example for other cities to follow. Citylab goes through Seattle's smart ways of handling public data- from its open data program (which approaches civic data as "open by preference" rather than "open by default") to its risk assessment of that very program- and what urban technology policymakers have learned along the way.
Read the full article
here
.
AXA Fund short film series focuses on issues facing the urban world
The AXA Research Fund, a scientific philanthropy initiative of global insurance leader AXA dedicated to boosting scientific discoveries that contribute to societal progress, has released a short film series that aims to examine and raise awareness about the range of issues facing the urban world today. The five short films cover issues and the solutions surrounding air pollution, urban data & spatial planning, flooding, earthquakes, and the role of insurance in the resilience of cities.
In the air pollution video, Dr. Fulvio Amato explains the measures he and AXA are developing to improve urban air quality, by analyzing atmospheric particles in an urban area and identifying both their sources and individual impacts on the city. In narrowing down where the components of air pollution come from, Amato's research can help cities cut down on their most harmful practices. Watch the video below:
Learn more about the fund
here
.
Join the Wilson Center's Women in Public Service Project and Urban Sustainability Laboratory and the Association of Women in International Trade (WIIT) for a conversation with three of the United State's leading mayors to discuss their role fostering urban growth with equity. The discussion will be moderated by Dr. Blair Ruble,Vice President for Programs and Director, Urban Sustainability Laboratory at The Wilson Center and an IHC Global Senior Technical Advisor, with an introduction by Leslie Griffin, President, Association of Women in International Trade (WIIT), and will feature Megan Barry, Mayor of Nashville, Tennessee; Catherine Pugh, Mayor of Baltimore, Maryland; and Libby Schaaf, Mayor of Oakland, California.

When: Wednesday, October 18
11am - 12pm
Where: Ronald Reagan Building and
International Trade Center
Sixth Floor Auditorium
One Woodrow Wilson Plaza
1300 Pennsylvania, Ave., NW
Washington, D.C. 20004
IHC Global Urban Feature: Urban Climate Resilience
City food policies can be a step forward in fighting climate change
The Issue
More than ever, urban policymakers are on a fast track to find the most sustainable solutions for their cities. Urban parks, transportation, housing and more are getting green makeovers, urban areas are working to become more self-sustainable, and cities around the world are collaborating with nations to implement policies that reflect the Sustainable Development Goals, the Paris Climate Agreement and the New Urban Agenda. For the goal of reducing emissions, promoting clean energy alternatives, reducing the amount of cars and adding more greenery to concrete-heavy cities are some of the big-news policies. But other solutions that fly under the radar (due to, according to Curbed, their unsensational, unsexy qualities) are equally if not more effective than the popular ones. One solution that is a sleeper success is altering urban food policies to encourage less meat consumption. From the outside, this seems like it would have a minimal impact on climate change, but "a
ccording to the Center for a Livable Future, the food supply chain contributes roughly a third of global greenhouse gases (of which livestock contributes 70 percent)." Reducing meat consumption has proven to be both effective and
cost
effective; Oakland Unified School district not only cut greenhouse gases by 14 percent and saved 42 million gallons of water by cutting animal products by 30 percent, but they saved $42,000 annually as well. With that much impact on emissions, urban policies that aim to change eating habits could make a huge impact on creating a sustainable future.
What We See
While cutting back on meat in the food supply chain sounds simple, it is a much murkier and complex proposition than it appears. As the article acknowledges, urban policymakers heavily invest in how their cities work, but changes in food policy are tricky, both as part of a larger "ecosystem," and for issues of freedom of choice. Policy makers must balance a number of important variables. Many cities, like Portland and New York City, have been making food policy changes already, largely by implementing sustainable food waste regulations and sourcing food locally. But it would be an altogether different step to attempt to manage the intake of meat at an individual level. Moreover, actively changing diets is not always a choice that people can readily make. It's no secret that eating a sustainable diet can be expensive and a privilege, cheaper food is often highly-processed and environmentally damaging, and poor communities often live in food deserts where healthy, lower-carbon-impact food choices are simply not accessible; ensuring that urban communities rich and poor have equal access to sustainable food options is necessary for these schemes to work.
Radically shifting food policies could also have an intense impact on both the livestock and agricultural industries, and leave farmers that serve urban areas "in the lurch", and so the whole system- from the producer to the consumer- will need to be handled carefully, and incorporate farmers that are willing to shift with the urban policies. On top of these issues, c
utting back on livestock is also not a universally-productive solution. In places ravished by famine, like Nigeria, Somalia, South Sudan and Yemen, farming livestock is considered a key component to reducing poverty and hunger, and has been discussed at high-level UN meetings. To make the reduction of carbon emissions count, there should be global consensus over livestock consumption with respect to need, as cutting livestock in one area in half while doubling it in another area will make no difference at all. Despite the barriers in the way, cities have time and time again proven themselves up to the task. IHC Global sees cutting emissions through food choices as an opportunity with a lot of potential; education, food availability, inclusive and sustainable regulations and enforcement of better food policies will be better for cities- and the global environment- in the long run.
To learn more about IHC Global's Key Policy Topics, which are both barriers and gateways to better, more equitable urban development, click
here
.
In the news and around the web
Now Listen Here
On Wednesday, October 11th, New York Times Bestselling author of A Long Walk to Water Linda Sue Park will be livestreaming a conversation with the book's subject, Water for South Sudan Founder Salva Dut, about his experience as a "Lost Boy" of Sudan. The livestream can be found here.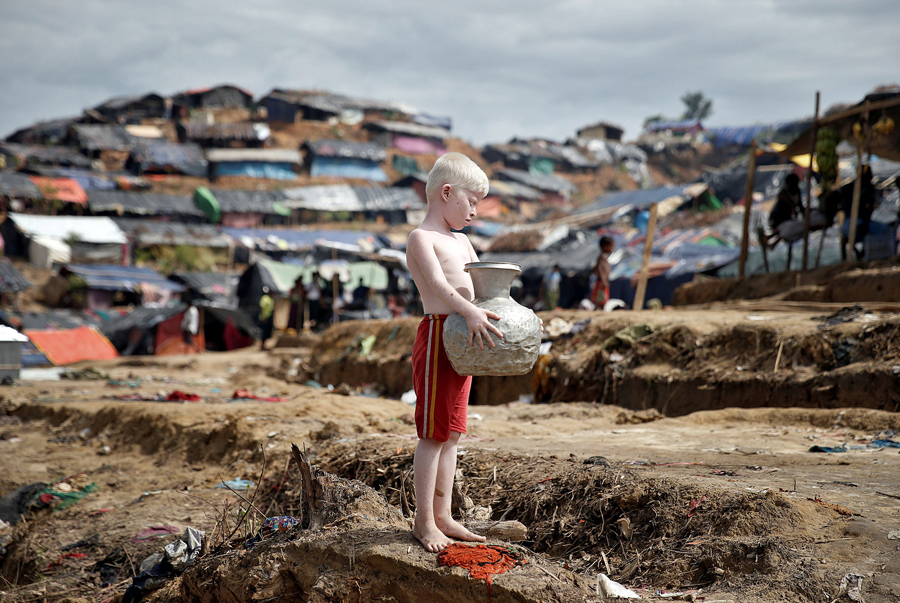 An albino Rohingya refugee poses for a picture in Cox's Bazar, Bangladesh, on September 27, 2017. The Rohingya, an ethnic minority in neighboring Myanmar, have been forced to flee from alleged genocide in their home country into the informal settlements of a disaster-weary Bangladesh. (Cathal McNaughton / Reuters)
Take our Making Cities Safe survey
IHC Global has created a survey to increase understanding and share knowledge around issues of safety in cities-looking specifically at safety in the home, on public transport, in formal and informal workplace settings, and in common spaces such as sanitary facilities. Results from this survey will provide input into a policy report addressing how SDG 11, Target 7, Indicator 2-which focuses specifically on making urban spaces safe--can be met.
Help us gain a better understanding of urban safety; take our survey
here
!
Spread the word!

Help IHC Global spread our message by forwarding our newsletter to organizations and people who want to help create inclusive and sustainable cities. Support IHC Global further by becoming a member of our growing coalition. Please join us either as an individual or as an organization! With your U.S. tax deductible membership, you will provide meaningful help in addressing the worldwide challenges of rapid urban growth, urban poverty and inequity. Help IHC Global "change cities for good" and secure a better urban future for us all! We need your help and your voice more than ever!
Head Office: 1424 K St. NW, Ste 600, Washington, D.C. 20005
Satellite Office: 430 N. Michigan Ave, Chicago, IL 60611