New Report shows how cities are fighting the risks of climate change
A new report from the United Nations, "Initiatives in the Area of Human Settlements and Adaptation", dives into what programs, plans and initiatives cities around the world are implementing to lessen the dangerous affects of climate change, which pose a risk to billions of people worldwide. Cities will be especially vulnerable to climate change, as drastic changes in weather and rising sea levels will negatively impact the fragile and interconnected ecosystems they rely on, which will in turn have a devastating effect on the most vulnerable urban populations. But some cities are ahead of the curve, and the report focuses on what these cities- and the organizations, and businesses that work with them- are doing right, and how their measures can be altered to be implemented in other cities. The report breaks the observed initiatives down into five categories: learn, access technical support, commit, finance and unite, and makes several conclusions, including that megacities are targeted with more initiatives than secondary cities and towns, and that the majority of initiatives appear to provide knowledge and technical support through several avenues, including city-to-city dialogues.
Read the full report
here
.
Confronting the Urban Housing Crisis in the Global South

The WRI Ross Center has released a new working paper, as part of the larger World Resources Report (WRR), that examines whether or not more equitable access to core urban services improves the economy and the environment. The working paper, "Confronting the Urban Housing Crisis in the Global South: Adequate, Secure, and Affordable Housing", notes that there is an acute lack of housing that meets these standards, explaining that the global affordable housing gap is currently estimated at 330 million urban households and is forecast to grow by more than 30 percent to 440 million households, or 1.6 billion people, by 2025. The report also defines three key challenges to providing adequate, secure and affordable housing in the Global South: the growth of informal or substandard settlements, the overemphasis on home ownership, and inappropriate policies or laws that push the poor out of the city. To these issues, the urban experts and authors of the paper recommend three scalable approaches: adopting in situ participatory upgrading of informal settlements, promoting rental housing, and converting under-utilized urban land to affordable housing.
Read the full working paper
here
.
Recap: A Blueprint for Maximizing the Impact of U.S. Foreign Aid
In the wake of the Trump Administration's call for a reorganization of most government agencies, the Modernizing Foreign Assistance Network (MFAN) has released a discussion draft of a proposal for restructuring USAID and other US government foreign aid programs. Their proposal for restructuring centers on the idea that development should be at an equal level to the other two 'D's' of foreign policy: diplomacy and defense. The proposed architecture would see four agencies and multiple programs that exist across the federal government consolidated into two new agencies: the Global Development Agency and the Development Finance Corporation. The director of the Global Development Agency would report directly to the President and be assigned Cabinet rank, both elevating the strategic importance of development assistance to U.S. national interests, and eliminating redundancies and inefficiencies that exist currently with USAID housed under the State Department.

On Tuesday, MFAN and the Brookings Institution hosted an event called 'A Blueprint for Maximizing the Impact of U.S. Foreign Aid' to discuss the newly released proposal. MFAN Co-Chair Connie Veillette moderated a discussion between the Hon. J. Brian Atwood and the Hon. Peter McPherson-both former USAID Administrators-and George Ingram, Senior Fellow at Brookings. While panelists shared different perspectives on the proposed architecture of the restructuring and what the exact relationship between USAID and the State Department should be, all agreed that the status of development needs to be elevated within foreign policy, and that MFAN's proposal serves as a good jumping off point to spur discussion. IHC Global is glad to see the importance of development to foreign policy being raised among the foreign assistance community, and supports efforts to increase efficiency within the U.S. foreign aid system that recognize the key role that development-and specifically urban development--plays in foreign affairs and global security.


The discussion draft of MFAN's proposal can be read
here
.
This week and next week, the United Nations will be holding its annual High-level Political Forum on Sustainable Development, in which urban experts, policymakers and investors have gathered to review the following Sustainable Development Goals:
Goal 1. End poverty in all its forms everywhere
Goal 2. End hunger, achieve food security and improved nutrition and promote sustainable agriculture
Goal 3. Ensure healthy lives and promote well-being for all at all ages
Goal 5. Achieve gender equality and empower all women and girls
Goal 9. Build resilient infrastructure, promote inclusive and sustainable industrialization and foster innovation
Goal 14. Conserve and sustainably use the oceans, seas and marine resources for sustainable development
The forum will feature a Partnership Exchange next Monday, organized by the United Nations Department of Economic and Social Affairs (UN-DESA), in collaboration with the United Nations Office for Partnerships (UNOP). The exhange will serve as an opportunity for forum participants to showcase the exciting and innovative multi-stakeholder partnerships they have created or participated in to further one, many or all of the goals being addressed at the forum. IHC Global was selected to participate at the Partnership Exchange, and will be presenting a new exciting initiative: Using Data to Support Women's Rights: Property Markets and Housing Rights Through a Gender Equity Lens. The initiative will be in collaboration with IHC Global partner AREA-Uganda, an association that works to strengthen the real estate sector in Uganda.
When:
Monday, July 17, 2017
Where: General Assembly Hall
United Nations Headquarters
New York, NY 10017
IHC Global Urban Feature: Foreign Aid
House Panel approves level funding for WASH in FY 2018
The Issue
Yesterday, the House Appropriations Subcommittee on State and Foreign Operations approved $47.4 billion for USAID, the State Department, the Millennium Challenge Corporation and related programs in the 2018 fiscal year, a sharp decline of nearly $10 billion from the 2017 fiscal year. However, the subcommittee also voted to keep funding for Water, Sanitation and Hygiene programs (WASH) at $400 million, the same level it was in 2017. These recommendations will go through evaluation by the full House Appropriations Committee, but they are likely to reach the House of Representatives with little or no amendments. The bill will then go up against a yet-to-be-released different spending bill from the Senate, which will likely advocate for higher development funding than the House bill.
Democrats did not seek to make any amendments to the subcommittee's recommendations, but they have reaffirmed their promise to challenge any bills that cut the foreign aid budget when they are introduced on the House and Senate floors.
What We See
The recommended cuts are surprisingly lenient with regards to foreign development aid, considering the U.S. administration has been passionately advocating for steep and sweeping cuts to development aid since before the 2016 Presidential election. The recommendations are also surprising in their maintenance of WASH funding, but as USAID's work plan for WASH is nearing a close- the
Water and Development Strategy
, which began in 2013, is set to end in 2018- the future of U.S. WASH development programs remains uncertain. IHC Global is pleased with the decision by the subcommittee to maintain the development funding for WASH programs, as adequate access to water, sanitation and hygiene remains one of the most widespread issues around the world, and investment in it enjoys support across party lines, as well as from other developed nations and private investors. However, by reducing overall development funding, this proposal shows a lack of understanding of the interconnections between different sectors of development; maintaining funding for WASH while cutting funding to other for programs in other sectors is likely to reduce the positive and lasting impact development programs could have otherwise. IHC Global believes in addressing every development issue as an equally important part of the whole, and that investment in WASH will not create as concrete or lasting a change as it would if programs in areas such as housing, family planning, food security, climate resilience and other pressing issues were given the same support. It is worth noting that achieving global security-which has become a priority for the U.S. Administration-hinges upon creating an equitable, inclusive, and sustainable world for everyone, as much as it does on investing in security measures. Investing in international development can help build both an inclusive and safe world.
Read the Devex breakdown of the recommendations
here
.
To learn more about IHC Global's Key Policy Topics, which are both barriers and gateways to better, more equitable urban development, click
here
.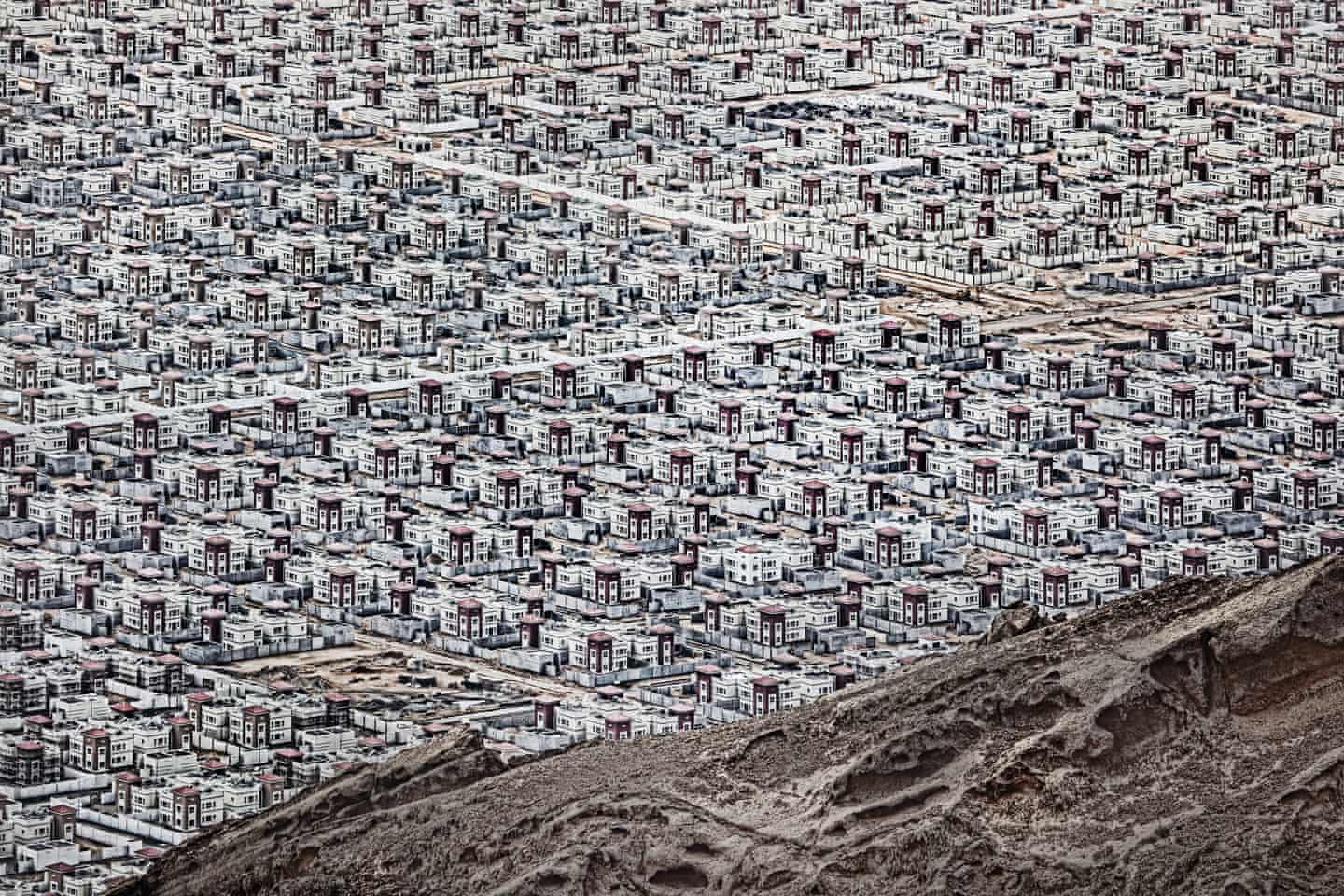 National Geographic's travel photographer of the year competition is now open, and features many breathtaking snapshots of cities, including this recently built desert city in Muhafazat al Buraymi, Oman.
Spread the word!
Help IHC Global spread our message by forwarding our newsletter to organizations and people who want to help create inclusive and sustainable cities. Support IHC Global further by becoming a member of our growing coalition.
Please join us either as an individual or as an organization! With your membership you will provide meaningful help in addressing the worldwide challenges of urban poverty and inequity. Help IHC Global "change cities for good" and secure a better urban future for us all! We need your help and your voice more than ever!
Take our Making Cities Safe survey
IHC Global has created a survey to increase understanding and share knowledge around issues of safety in cities-looking specifically at safety in the home, on public transport, in formal and informal workplace settings, and in common spaces such as sanitary facilities. Results from this survey will be put into a report to help increase understanding of how SDG 11, Target 7, Indicator 2-which focuses specifically on making urban spaces safe--can be met.
Help us gain a better understanding of urban safety; take our survey
here
!
1424 K St. NW, Washington, D.C. 20005 | 430 N. Michigan Ave, Chicago, IL 60611