Happy New Year from IHC Global!
UN issues 'red alert' for the world, calls for global unity.
New year, new goals: as the world entered 2018, UN Secretary-General Antonio Guterres marked the transition by giving a message to every nation. In the video message, Guterres said he wasn't issuing an appeal, but rather 'a red alert,' that in this time of growing global challenges, an increase in global unity is necessary in order to tackle the most pressing issues, notably nationalism, human rights, global security, and climate change. Unplanned, unmanaged, and rapid urban growth exacerbates each of these already complicated challenges, which is why it is crucial that effective urban development policies remain at the top of the global agenda. Guterres urged world leaders to make 2018 a year of rebuilding trust and bridging divides so that our world can be the peaceful one we wish for. The IHC Global team couldn't agree more.
Watch the video below:
After a year of disasters, City Metric grapples with one question
It's been a year of hurricanes, floods, fires and blizzards, and some of the hardest-hit targets have been metropolitan areas with tens of millions of people. As communities have gone through the disasters themselves, the immediate devastation of the aftermaths, and the often-slow recovery periods, there has been a renewed focus into the ways populations continue to live alongside disasters. And City Metric writer Gina Yannitell Reinhardt tackles one of the most frequently asked questions: why do people stay in disaster-prone cities? Through her own research, Reinhardt examines the unique dynamic of these unpredictable homes, and what governments can do to ensure the safety of their immovable residents.
Read the full article here.
Next City: embracing the paradox of planning for informality.
Achieving urban sustainability is not all about out with the old and in with the new. Often, the old is impossible to do away with, due to a myriad of reasons from culture to informality, and the only way forward is compromise. Gehl Company urban designers Jeff Risom and Mayra Madriz got to experience this first hand when they traveled to one of Buenos Aires, Argentina's most sprawling and interesting slums, Villa 31, with a mission to turn it into a modern neighborhood. But despite the density and the lack of clean air, electricity, water and sanitation, Villa 31 is an old, cultural epicenter that has its own unique and irreplaceable rhythm. By examining Villa 31 and other diverse Argentinian neighborhoods for their work, Risom and Madriz compiled research into five valuable design lessons for how to merge preservation and innovation.
Read the full article here.
A Matter of Survival: Learning to Cooperate Over Water

Join the Wilson Center for a discussion with President Danilo Türk, Chair of the Panel on Water and Peace and former President of Slovenia, who will be joined by leaders from the U.S. and around the world to share their insights on water and peace, and bring into focus the new U.S. Global Water Strategy. This high-level, half-day event will provide an opportunity for U.S. water sector leaders to spur actionable partnerships and innovative, integrated solutions to the global water challenge.

When: Tuesday, January 16th, 2018
10:00am - 12:30pm (breakfast will be served at 9:15am)
Where:
Woodrow Wilson Center, 6th floor
Ronald Reagan Building and International Trade Center
One Woodrow Wilson Plaza
1300 Pennsylvania Ave. NW
Washington, DC 20004-3027

Learn more about the event
here
.
IHC Global Urban Feature: Housing
What will the new people-centered housing policy in Canada mean?
The Issue
As housing crises grip both developing and developed nations around the world, some nations are taking actionable steps to bring affordable and decent housing back to their cities and rural communities alike. One of these nations is Canada, where a new
National Housing Strategy
has recently been released. This strategy comes as Canada's housing crisis has deepened over the past few years, with a growing number of citizens living in inadequate housing and a series of negative reviews by the UN's Special Rapporteur on Adequate Housing. The Minister of Families, Children, and Social Development, The Honorable Jean-Yves Duclos, however, has been determined to develop a people-centered housing policy for Canada, one that recognizes housing as more than four walls and a roof, and creates a launch-pad for better socio-economic outcomes for all citizens...
The Urban Feature focuses on news related to key topics in urban development, and appears bi-weekly. Read the rest of the December 22nd feature on our blog
here
. Stay tuned for a brand new Feature next week!
To learn more about IHC Global's Key Policy Topics, which are both barriers and gateways to better, more equitable urban development, click
here
.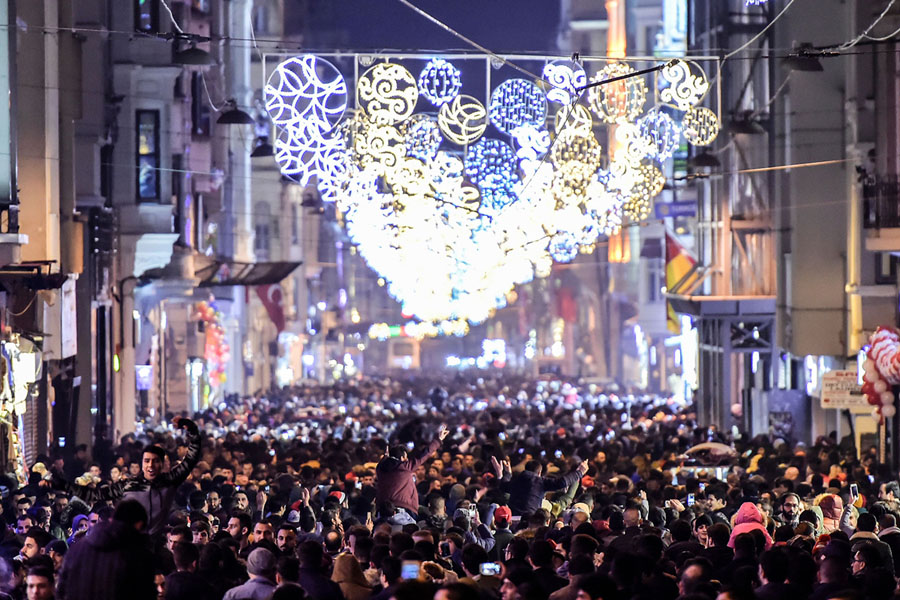 A crowd gathers to ring in the new year in Istanbul, Turkey.
Take our Making Cities Safe survey
IHC Global has created a survey to increase understanding and share knowledge around issues of safety in cities-looking specifically at safety in the home, on public transport, in formal and informal workplace settings, and in common spaces such as sanitary facilities. Results from this survey will provide input into a policy report addressing how SDG 11, Target 7, Indicator 2-which focuses specifically on making urban spaces safe--can be met.
Help us gain a better understanding of urban safety; take our survey
here
!
Spread the word!

Help IHC Global spread our message by forwarding our newsletter to organizations and people who want to help create inclusive and sustainable cities. Support IHC Global further by becoming a member of our growing coalition. Please join us either as an individual or as an organization! With your U.S. tax deductible membership, you will provide meaningful help in addressing the worldwide challenges of rapid urban growth, urban poverty and inequity. Help IHC Global "change cities for good" and secure a better urban future for us all! We need your help and your voice more than ever!
Head Office: 1424 K St. NW, Ste 600, Washington, D.C. 20005
Satellite Office: 430 N. Michigan Ave, Chicago, IL 60611