Focus on city solutions at the Metropolis World Congress
The annual Metropolis World Congress was held in Montreal, Canada, last week, and city leaders from over 140 cities around the world came out in
impressive numbers t
o discuss pressing urban issues, and how to advance the New Urban Agenda at both a local and a national level. Among the issues discussed were
the urban role in the fight against climate change and
the city-level implementation of the Paris Climate Agreement, in the wake of the U.S. administration withdrawing last month; the refugee crisis
;
achieving urban sustainability
;
and gathering urban data. The conference introduced an exciting new initiative called the Urban Sustainability Collaboratory,
a project of several Metropolis member cities to enable exchanges between local authorities and the academic world.
These are to focus
on issues of sustainable urban development corresponding to the goals of the New Urban Agenda, which promises to provide a new energy for development in cities. Leaders like Canadian Prime Minister Justin Trudeau and Parisian mayor Ann Hidalgo
, and many others,
left the conference with a
greater
understanding of how local, state and national governments from around the world are implementing programs to address the issues discussed, and a renewed enthusiasm for the importance of cities on the global stage.
Read the full Citiscope recap
here
.
African urban centers strive to become smart cities

Large, bustling African cities are making a bid to turn their overcrowded urban centers into smart cities, joining the many cities around the world that are integrating technology into every aspect of their urban areas. As Africa is urbanizing rapidly, smart technology has the potential to improve a city's efficiency and can attract investment from the private sector, something that cities desperately need to achieve sustainability by 2020. Some countries, such as Rwanda and Ghana, have fully fleshed out smart city plans that they are eager to implement. However, cities implementing 'smart' visions must ensure that they do so in a manner that includes all residents and does not negatively impact vulnerable groups. This article notes, for instance, that in Kigali, street hawkers have been pushed out of the city and sometimes detained indefinitely to make room for the 'smart' upgrades. IHC Global believes that in the race to become a smart city, members of urban society must strive to create a 'just city' as well, which means ensuring equal rights and opportunity for all urban residents.
Read the full article
here
.
The U.S. and Implementing the New Urban Agenda
General Assembly of Partners (GAP) President Eugenie Birch has written an essay explaining the emergence of the GAP, its role in the Habitat III processes and now post-Habitat III implementation of the New Urban Agenda, giving the US example of a framework for vertical and horizontal integration of initiatives. Birch notes how the implementation process within the country is still evolving, especially with regards to localizing the document at the city level. She maintains that it is still too early to predict where the U.S. will move on the New Urban Agenda, but puts an emphasis on efforts to affect policy, both vertically and horizontally, i.e. from global to local and among entities at various governmental levels respectively. She highlights the work of the New York Habitat III Civil Society Working Group, a group of stakeholders from non-governmental organizations, academia, and professional associations that has been working post-Quito to ensure that local authorities have the knowledge and tools to integrate elements of the New Urban Agenda into policies and programs.

Read the full essay
here
.
Despite recent progress, the United States foreign aid system is still fragmented with varying degrees of inefficiencies across agencies and programs. While some may find the new Administration's call for a reorganization of government agencies well-intended, many observers fear that the international affairs agencies, including the State Department and U.S. Agency for International Development, will be negatively affected. In response, foreign policy, national security, and development experts are debating the future of U.S. foreign aid and the implications of the administration's proposals. Join the Modernizing Foreign Assistance Network (MFAN) and Brookings as they co-host a panel discussion to explore ways in which the U.S. can increase the efficiency and effectiveness of its approach to global development. After the discussion, panelists will take questions from the audience.
When:
Tuesday, July 11, 2017
Where: The Brookings Institution, Saul/Zilkha Room,
1775 Massachusetts Ave NW
Washington, DC 20036
Register and learn more about the event
here
.
IHC Global Urban Feature: Land Rights
How urbanization and land trafficking go hand-in-hand in Peru
The Issue
A sting operation recently undertaken by the Lima, Peru police force resulted in the successful arrest of 61 members of the "Babys of Oquendo", a nefarious criminal group born out of two dismantled criminal organizations. However, despite the successful operation, 24 of the 61 arrested were police officials, a worrying statistic that further exposed the deep-seated corruption within the Lima government infrastructure. And for the "Babys of Oquendo", who use their official connections, firepower and bureaucratic contacts to steal and resell land, a handful of arrests will do very little to slow them down. In the rapidly urbanizing Lima, a lack of local government infrastructure and the unchecked urban sprawl has fostered an easy climate for groups like the "Babys" to seize power, and to keep land rights and security in a chokehold.
What We See
Lima, Peru has
experienced
some of the fastest urban
growth
in South America,
and
its economy has struggled to keep up with it. As a result, the capital has had some chaotic changes and expansions over the years to accommodate the influx of migrants; the population of greater Lima now exceeds 10 million, and the outer municipalities are made up of shantytowns, or as the Peruvians call them, "pueblos jovenes". Just as the economy has struggled to keep up, the ever-expanding outer
areas
have taken their toll on Lima's local government infrastructure,
and have impacted access to
land tenure and security. In areas that are vulnerable to the theft and resale of land, particularly in pueblos jovenes, groups like Babys de Oquendo have the perfect opportunity to take advantage of the lack of government infrastructure, the corruption within the existing authority and the slum populations that often do not have access to land tenure.
According to the article, land trafficking seems to rise with urbanization, and the issue is exacerbated when criminal groups are just as or more sophisticated than the local government, like in Lima. But a sophisticated local government is not the only necessary component to a successful city. IHC Global, as a strong advocate for tenure security and property rights, believes that protecting housing rights in inclusive, sustainable cities is dependent upon not only the stability of their governments, but the strength of their economic and social institutions as well.
Certainly, the land theft and resale phenomenon -- not unique to Lima but exemplified by this example -- impinges on many aspects of city life for its residents, including the key area of safety which is integral to SDG 11.
There is not a single solution to preventing land trafficking, but pre-emptive strategies to prevent organized crime, like investing in education and creating economic opportunities for vulnerable youth, and collaboration between the private sector and the government to create functional property markets are just some of the many ways to build sustainable urban housing systems from the ground up.
Read the full article
here
.
To learn more about IHC Global's Key Policy Topics, which are both barriers and gateways to better, more equitable urban development, click
here
.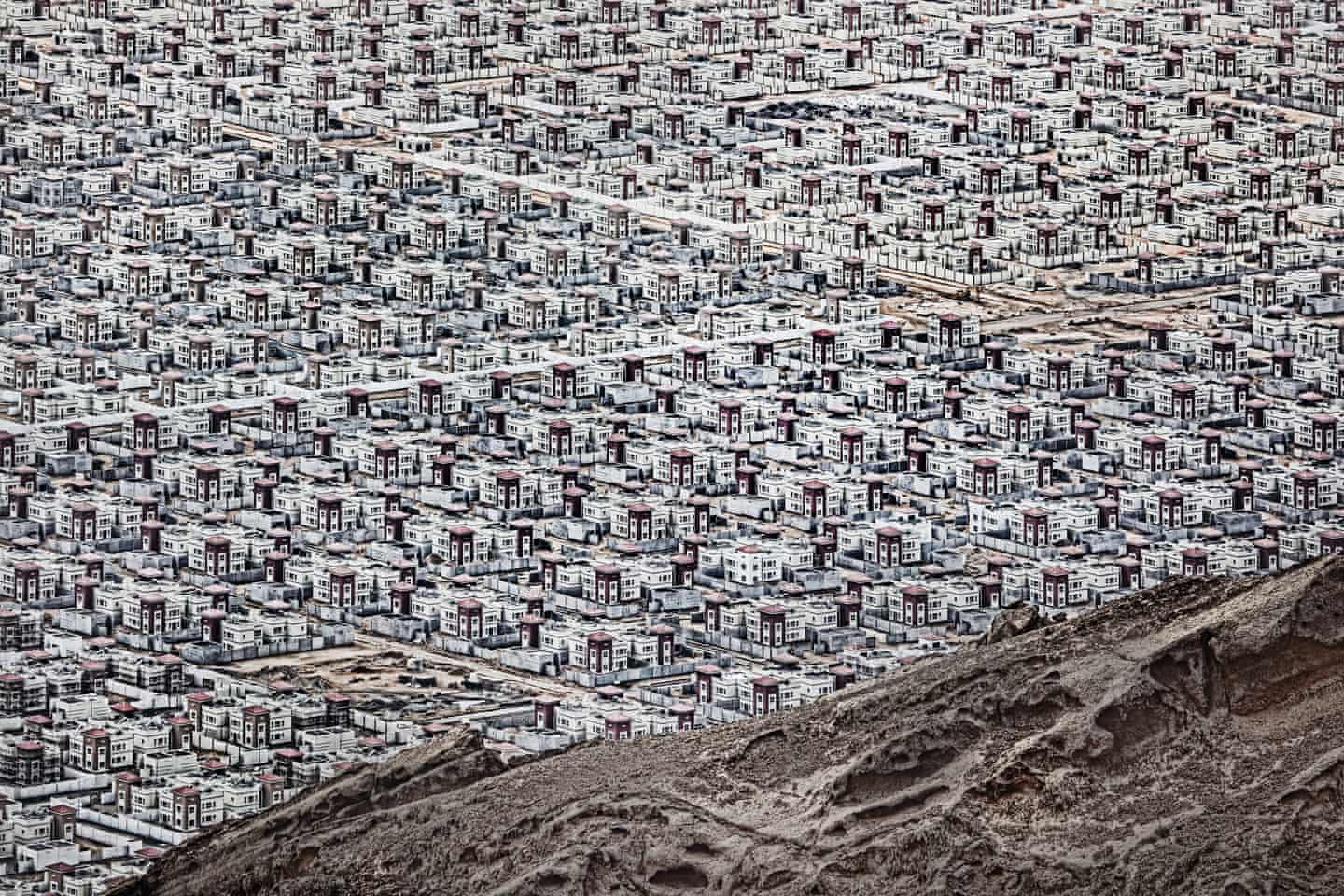 National Geographic's travel photographer of the year competition is now open, and features many breathtaking snapshots of cities, including this recently built desert city in Muhafazat al Buraymi, Oman.
Spread the word!
Help IHC Global spread our message by forwarding our newsletter to organizations and people who want to help create inclusive and sustainable cities. Support IHC Global further by becoming a member of our growing coalition.
Please join us either as an individual or as an organization! With your membership you will provide meaningful help in addressing the worldwide challenges of urban poverty and inequity. Help IHC Global "change cities for good" and secure a better urban future for us all! We need your help and your voice more than ever!
Take our Making Cities Safe survey
IHC Global has created a survey to increase understanding and share knowledge around issues of safety in cities-looking specifically at safety in the home, on public transport, in formal and informal workplace settings, and in common spaces such as sanitary facilities. Results from this survey will be put into a report to help increase understanding of how SDG 11, Target 7, Indicator 2-which focuses specifically on making urban spaces safe--can be met.
Help us gain a better understanding of urban safety; take our survey
here
!
1424 K St. NW, Washington, D.C. 20005 | 430 N. Michigan Ave, Chicago, IL 60611