New York City will publish progress towards SDGs
Mayor Bill de Blasio announced Tuesday that New York City will become the first city in the world to publish its progress towards the Sustainable Development Goals, reporting to the United Nations on its efforts to meet the challenges of climate change, poverty and inequality. The Voluntary Local Review (VLR) will be released at the UN High-level Political Forum that will be taking place in New York City in July. The VLR will highlight the strides New York City has made to foster sustainable and inclusive growth since 2015, the year when both the SDGs and the city's own strategic plan,
OneNYC
, were established. Reporting their progress directly to the United Nations gives New York City a stronger standing in the global urban conversation, and is an illustration of the increasing connection between city governments and international bodies. This decision is a win for advocates of transparency around the adoption of the SDGs and IHC Global hopes will serve as an example of how cities can implement local programs and policies that advance progress towards the Global Goals. With this increased spotlight, New York City will have an outstanding opportunity to be a model for successful inclusive and sustainable urban growth.
UN Climate Change has released a new report, Adaptations in Human Settlements: Key Findings and a Way Forward, which explores the ways that human settlements have addressed and are currently addressing the consequences of climate change, and what new approaches should be adopted moving forward. The report examines human settlements ranging from villages to megacities, but as the world is rapidly urbanizing, the report pays significant attention to the impact climate change will have on cities, and the urgent need for cities to adopt and adapt resilience measures. The key findings in the report are concentrated under three categories: assessing vulnerability and integrating short and long-term climate considerations into adaptation planning; the role of national governments in supporting local adaptation, including through national adaptation plans; and city to-city partnerships on adaptation to climate change.
Read the
full report
here
.
Armed with the knowledge that the United States had a transportation infrastructure deficit, Citymetric collaborated with the Urban Information Lab at the University of Texas to create a website that maps out just how widespread the problem is. Showing areas in U.S. cities that do not have sufficient alternatives to car ownership, the research revealed some worrying statistics; in the worst affected cities, 1 in 8 residents live in these so-called "transit deserts." By systematically analyzing transportation and demand at the neighborhood level, researches concluded that the top five U.S. cities with the worst transportation gaps are San Francisco, Sacramento, Orlando, Colorado Springs, and Detroit. Given the fact that the world is continuing to urbanize, this research sheds light on how much work needs to be done for transit infrastructure to catch up to the demand of the urban population. And simply filling the gap isn't enough; continuing to build more sustainable and accessible transportation infrastructure is critical to reducing pollution and fostering urban equity.
The Mongolian steppes are changing, and the nomads that have called them home for centuries are finding it harder and harder to stay there. The grasslands of the Asian steppes are facing droughts, harsher winters, and overgrazing, leading younger people to flock to the country's capital city, Ulaanbaatar, for better opportunities. According to the city's Deputy Mayor Batbayasgalan Jantsan, 68,000 herders a year have moved to the city since 2001, and the population has doubled in the past 10 years to 1.4 million people. This massive population shift has not only irrevocably changed the traditional nomadic culture of the country, but also drastically impacted the infrastructure and health of Ulaanbaatar. The city is creaking under the added pressure, with not enough housing and infrastructure to meet the needs of its growing population, and the steady rise of air pollution- which causes more than 4,000 deaths a year in Mongolia- has only been made worse as more people have settled into the city.
An afternoon with Executive Director Maimunah Mohd Sharif
The sixth-floor board room of The Woodrow Wilson Center was buzzing with impatient chatter. The crowd pulsed with energy, as people edged past each other on the way to and from the buffet table, exchanging business cards and hopes for the upcoming presentation.


"Is she here? When is she coming?" someone murmured to their neighbor as they enthusiastically munched on hummus and celery sticks.

"Will we get to shake her hand? If I do, can you take a picture for me?" someone else whispered to a friend, holding out his smartphone.

"Sure," the friend replied, then rocked back on their heels in anticipation. "Oh, I hope I get to ask her a question!"

One would think these people were waiting on a movie star or a pop singer. But they were in fact many of Washington's key international urban policy makers and influencers, and the joy bouncing off each grin in the room was for the new Executive Director of UN-Habitat, Ms. Maimunah Mohd Sharif, who would soon be joining IHC Global and the Wilson Center for an exclusive meet and greet. Their reactions reflect the hope that they place for renewed attention to global urban issues. When she arrived, the scene played out accordingly: the urban policy experts that made up the crowd flocked to her side, delightedly shaking her hand and repeating how honored they are to meet her. It was a heartwarming scene, and it was only made better by her responding to each person in kind with a large, infectious smile. Ms. Sharif, an urban planner-turned-city mayor-turned-UN agency director, is a leader committed to working for the people, and during the meet and greet she practiced what she preached, engaging one-on-one with her stakeholders and promoting people-oriented urban policy priorities.

The meet and greet began with welcoming remarks from Allison Garland, program associate for The Wilson Center's Urban Sustainability Laboratory and Judith Hermanson, IHC Global President and CEO, who both pledged their organization's support for UN-Habitat's mission to create inclusive and sustainable cities. The UN-Habitat New York Liaison Office Director, Chris Williams, then introduced Ms. Sharif, who addressed attendees before answering questions. In her opening address, Ms. Sharif vowed to bring a fresh perspective to the United Nations' approach urban issues and declared that she was dedicated to leaving "no mayors behind" in the global mission for sustainable urbanization. Event attendees, who represented organizations such as USAID, the Department of Housing and Urban Development, the State Department, the Inter-American Development Bank, Urban Institute, Habitat for Humanity and more, were then able to ask Ms. Sharif their burning questions.
See her forthright answers to the questions on our blog here.
To learn more about IHC Global's policy priorities, click
here
.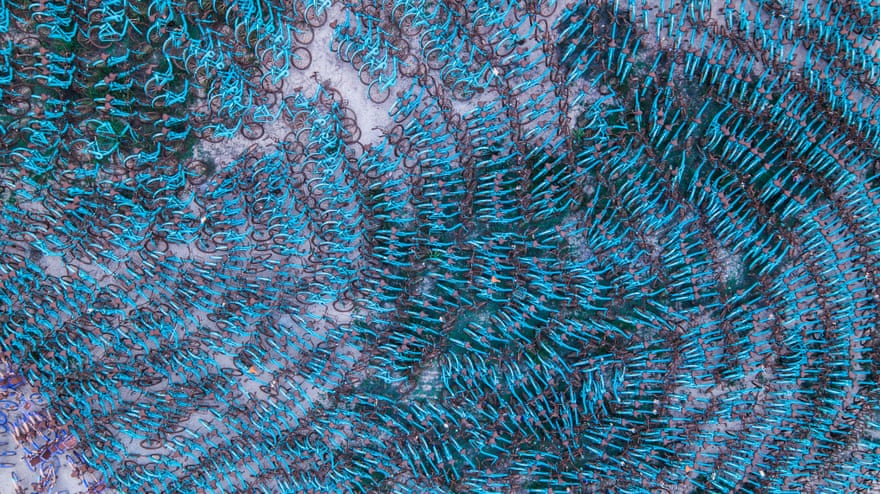 Accidental art: the bikeshare programs in China leave behind strangely beautiful mosaics of abandoned bikes.
Spread the word! Join us!
Help IHC Global spread our message by forwarding our newsletter to organizations and people who want to help create inclusive and sustainable cities. Support IHC Global further by becoming a member of our growing coalition.
Please join us either as an individual or as an organization!
Your financial support and your voice are vitally important
.
With your U.S. tax deductible membership, you will provide meaningful help in addressing the worldwide challenges of rapid urban growth, urban poverty and inequity. Help IHC Global "change cities for good" and secure a better urban future for us all! We need your help and your voice more than ever!
Head Office: 1424 K St. NW, Ste 600, Washington, D.C. 20005
Satellite Office: 430 N. Michigan Ave, Chicago, IL 60611