In Memoriam.
It is with great sadness that IHC Global shares the news that our Board Co-Chair Bob Dubinsky passed away on Wednesday. With a distinguished career in international development, Bob was an ardent champion for housing and better urban living conditions worldwide, particularly for those living in slums and informal settlements. He was a guiding light at IHC Global and will be greatly missed by us all. A memorial service is being planned for July to take place in Washington, DC.
This Wednesday was World Refugee Day, and this year, it made an urban splash. In celebration of the day, more than 50 mayors from around the world, including Amsterdam, Barcelona, Berlin, Los Angeles, Manchester, Mexico City, New York, São Paulo and Sydney, called for more local authorities to stand with refugees and welcome them into their communities. With more than 60 million people displaced around the world, the refugee crisis has been made a critical urban issue, as more refugees than ever are making cities their destinations. Read more here.
Word to the wise
The International Water Association has released 17 principles which cities should follow to become water-wise. The principles are broken into four categories: regenerative water services, water sensitive urban design, basin connected cities, and water-wise communities. Read more here.
A water crisis for the books
India is currently facing the "worst water crisis in its history," and government experts say that nearly 600 million people may be at risk of acute water shortage. The crisis is expected to get worse, and the government think-tank that conducted the research warns that 21 cities may run out of groundwater by 2020.

What we call home
The Harvard Joint Center for Housing Studies, and IHC Global member, has released State of the Nation's Housing 2018 Report. The report offers both good and bad news: while the quality of housing in the U.S. has improved greatly over the passed three decades, skyrocketing housing costs have kept homeownership at a low, and growing income inequality only exacerbates inequitable access to housing. Read more here.

Making it work
Slums contain some of the worst living conditions on earth, but the people who call them home try to make them something more than that. Take the "colorful" city slum of Jalousie in Haiti, where more than 80,000 people make the best of their surroundings, banding together to create a tight-knit community. See a closer look at their daily lives here.
The power of the property
IHC Global Communications Officer Rebekah Revello has penned a blog for our partner, Habitat for Humanity's the Solid Ground Campaign, about IHC Global's project measuring access to property rights in Uganda, and the effect that access has on female empowerment. Read it here. Read the project report, Using Data to Support Women's Rights, Property Markets and Housing Rights through a Gender Equity Lens, here.
IHC Global Urban Feature: Transparent Cities
An exclusive interview with the OGP local program
When the Open Government Partnership was founded in 2011 by nine civil society members and eight national government leaders- including former President Obama- to create more responsive, transparent and accountable governments around the world, the unique collaboration between governments and civil society organizations worked solely at the national level. But the world is rapidly becoming an urban landscape, and encouraging accountability and transparency in cities that are growing in global influence by the day is more important than ever. In 2016 OGP took this indisputable fact and created the OGP subnational pilot program, adding city and regional governments and their civil society partners to the 2000 civil society organizations and 76 countries. IHC Global sat down with Brittany Lane, the Program Manager for the subnational pilot program, to discuss how the program works, and where their cities' work intersects with urban WASH, gender equality, housing and more.
What does the OGP subnational pilot program look like?
Currently, there are 20 subnational entities working to create more transparent practices. The cities and regions are of a diverse range of size, development patterns and economics; there are several big cities, including Paris, Madrid, Seoul, Buenos Aires and Sao Paulo, and some municipal principalities, like Sekondi-Takoradi in Ghana and Kigoma Ujiji in Tanzania. Cities have to be in a country participating in the OGP, but they do not have to ask permission to be in the partnership from their national governments, as policy priorities often differ between the local and national levels.
The OGP local program mimics the national program, where each partnership national action plan on varying topics, such as fiscal transparency, lobby transparency, data, feedback loops and service delivery. However, there are a few key differences: local governments have a competitive process to get in, as opposed to national programs, which are all let in. This is because the partnership is only by 40 people, and right now, Lane is the only representative engaged in the local program. The local partnerships are also only allowed to have 3-5 commitments, while national governments are allowed to have basically however many they want, because ensuring accountability over each commitment takes a lot of money and time, and before growing the local program, OGP needs to encourage the most ambitious commitments.
Read the full interview
here
.
For more on IHC Global's policy priorities, click
here
. Keep an eye out for a new blog in next week's newsletter.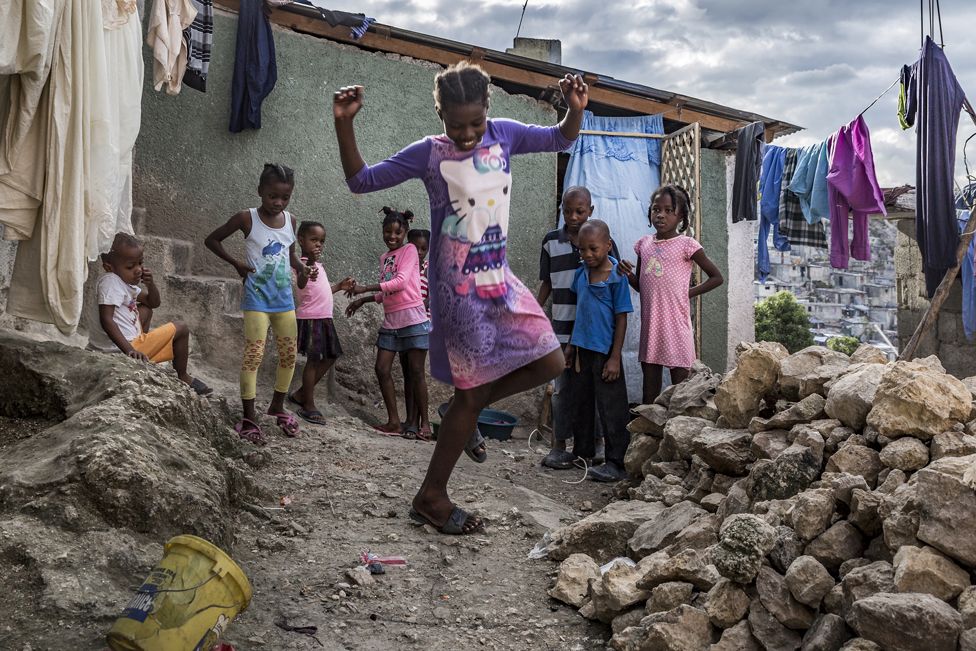 Children play in the Haitian slum city of Jalousi.
Source: BBC
Spread the word! Join us!
Help IHC Global spread our message by forwarding our newsletter to organizations and people who want to help create inclusive and sustainable cities. Support IHC Global further by becoming a member of our growing coalition.
Please join us either as an individual or as an organization.
Your financial support and your voice are vitally important
.
With your U.S. tax deductible membership, you will provide meaningful help in addressing the worldwide challenges of rapid urban growth, urban poverty and inequity. Help IHC Global "change cities for good" and secure a better urban future for us all- we need your help and your voice more than ever.
Head Office: 5425 Wisconsin Ave, Ste 600, Chevy Chase, MD 20815
Satellite Office: 430 N. Michigan Ave, Chicago, IL 60611