New policy brief on financing the urban transition
In a new policy brief, the Coalition for Urban Transitions, the C40 Climate Leaders Group and the WRI Ross Center for Sustainable Cities lay out the necessary steps that cities and national governments will need to follow to shift urban growth into a more economical and environmentally sustainable pattern. According to the policy brief, many cities will need to adopt new urban development models to avoid the market failures that accompany unmanaged urban growth. To adopt a new model, cities need to stick to three pillars: compact urban growth, connected infrastructure, and coordinated governance.
Read the full report
here
.
The 2017 class of MacArthur Fellows, aka the winners of the "Genius Grants", has just been announced, and it is lush with people with
visions in urbanism. More than one third of the grant's honorees were working on projects with urban issues in mind, including climate change, sustainable infrastructure and planning, housing rights, urban poverty, immigration and human rights. And in an urban victory, Kate Orff is the first landscape architect to be named a MacArthur fellow, for her ingenious urban plans that are designed to address the effects of climate change. From Orff's sustainable landscapes to Nikole Hannah-Jones' chronicles of urban segregation to Rami Nashabi's research on poverty in distressed neighborhoods (in this case, Chicago's Muslim community), this year's MacArthur Fellows are inspiring examples of a large, innovative and multifaceted community focused on creating a better urban future for all.
Read the full article
here
.
Why bigger cities thrive while smaller ones get left behind
Eight years since the largest economic recession the United States has seen since the Great Depression, America's biggest cities are leaping forward with strong economies, investing in technology, and attracting more and more bright young and ambitious talent. But on the other side of the coin, smaller cities are struggling to adapt to an economy that is no longer suited to many of their industries, and instead is more data and technology-oriented than ever before. As these cities lose their hold on the industries they rely on, there is fear that many of them will not survive the transition. The disparity is noticeable, and some researchers suggest it runs along the same lines as the urban-rural and political ideology divides that have fractured American society. But even though the problem is fairly straightforward, the solutions to the issue are much more complicated. In a New York Times piece, Eduardo Porter talks to Mark Muro of the Brookings Institution's Metropolitan Policy Program and digs deeper into the shifting dynamics of these smaller cities, and if they can adapt to the new urban landscape.
Read the full article
here
.
Join the Society for International Development (SID)'s Infrastructure and Urban Development Working Group for a timely discussion focusing on urban resilience. In light of the recent natural disasters, participants will consider whether cities are able to withstand the environmental and human disruptions that result and how they might become more resilient. The discussion will feature Judith Hermanson, IHC Global President and CEO and Working Group Co-Chair and Jane Katz, Habitat for Humanity International Director of International Affairs and Programs and Working Group Co-Chair, and will include a special presentation from Dana Omran, Associate Director of City and Practice Management for 100 Resilient Cities, on the lessons learned from the impact of the Rockefeller Foundation-funded program, and its plans to go forward. Participants will have a lively conversation about resilient cities from the points of view of local governance, climate change, resilience and vulnerability.

When: Wednesday, October 18, 2017
12:30 PM - 1:30 PM
Where: 1129 20th Street NW, Suite 500
Washington, DC
Register for and learn more about the event
here
.
IHC Global Urban Feature: Urban Inequality
The worst urban noise pollution is in poor & minority neighborhoods
The Issue
Cities aren't known for peace and quiet. It's not just New Yorkers that find themselves "never sleeping" in their rowdy, lit up urban jungles; residents in nearly every city have to bargain with honking horns, blaring music, and the chatter of millions of voices when they make the urban world their home. But new evidence shows that in the United States, some residents have to make a larger bargain than others. According to a study published in the the Environmental Health Perspectives journal, noise pollution is at its worst in poor and minority neighborhoods in every city, and in more segregated cities in general. "N
eighborhoods with median annual incomes below $25,000 were nearly 2 decibels louder than neighborhoods with incomes above $100,000 per year. And nationwide, communities with 75 percent black residents had median nighttime noise levels of 46.3 decibels - 4 decibels louder than communities with no black residents." Higher noise levels were also detected throughout more racially segregated cities, such as Milwaukee, Chicago, Cleveland, Trenton and Memphis. Segregation is the key difference here, as noise levels in all-white communities in the least segregated metropolitan areas were "nearly five decibels quieter than all-white neighborhoods in the most segregated metropolitan areas." And the negative effects can't be remedied with something as easy as pounding on a neighbor's wall to get them to turn the stereo down. There's a much bigger impact; noise pollution has been linked to a variety of ills such as adverse health outcomes and lower performance rates for students.
What We See
The researchers pinpoint
weak enforcement of regulations in marginalized neighborhoods, lack of capacity to engage in land use decisions and environmental policies that fail to adequately protect vulnerable communities as the core
reasons why noise pollution is so prevalent in minority and poorer neighborhoods. But even without the specifics, the mere implication is easy to understand, as noise pollution fits in well with the other problems that plague neglected urban areas, including crime, food insecurity, eviction and other issues. The noise only adds another layer to the neglect that many poor and minority communities face; similar to how negative environmental exposures such as hazardous waste sites and high air pollution are often worst among vulnerable communities, notoriously loud places like industrial facilities, highways and airports are unevenly distributed in ways that affect vulnerable communities the most. What is less apparent is why more segregated cities are louder across the board, in nearly every ethnic community. Researchers laid the blame on the unequal distribution of power along racial, ethnic and economic lines, but there was not enough evidence to make a strong conclusion. But there is one clear piece of evidence: that segregated cities are worse off as a whole
because
they are segregated, and the issues they face are exasperated by the fact that there is not a focus on improving the entire urban community, just pockets of it.
This research, while beneficial to expanding upon the vast and worrying differences that remain within urban communities, just proves that more research needs to be done into noise pollution, from how it affects the environment it permeates (for instance, noise pollution has an averse reaction on the marine ecosystem) to how it affects communities and the lives of individuals. Knowing how to eradicate it can go hand and hand with the elimination of other urban ills, and mapping out how ingrained in segregation the problem is could help push cities to reconfigure their ethnic landscapes. Since Congress stopped funding the Noise Control Act of 1972 in 1981, this could be a right-place-right-time opportunity for cities to push their data-collecting frenzy in a new direction, and another way to match up with European cities, many of which have noise pollution action plans at work. As U.S. cities have committed themselves to sustainability, eliminating noise pollution should be a part of their plans, at the very least so that the urban soundtrack sounds a little more like
Rhapsody in Blue
and a little less like a hair metal band.
To learn more about IHC Global's Key Policy Topics, which are both barriers and gateways to better, more equitable urban development, click
here
.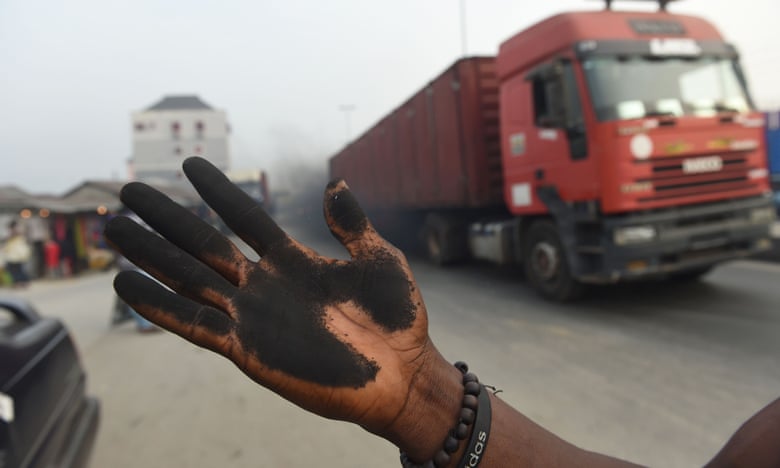 A resident's soot-covered hand from wiping the hood of his car in Port Harcourt, Nigeria. Black soot has been falling from the sky in the city since last November. (
Pius Utomi Ekpei/AFP/Getty Image)
Take our Making Cities Safe survey
IHC Global has created a survey to increase understanding and share knowledge around issues of safety in cities-looking specifically at safety in the home, on public transport, in formal and informal workplace settings, and in common spaces such as sanitary facilities. Results from this survey will provide input into a policy report addressing how SDG 11, Target 7, Indicator 2-which focuses specifically on making urban spaces safe--can be met.
Help us gain a better understanding of urban safety; take our survey
here
!
Spread the word!

Help IHC Global spread our message by forwarding our newsletter to organizations and people who want to help create inclusive and sustainable cities. Support IHC Global further by becoming a member of our growing coalition. Please join us either as an individual or as an organization! With your U.S. tax deductible membership, you will provide meaningful help in addressing the worldwide challenges of rapid urban growth, urban poverty and inequity. Help IHC Global "change cities for good" and secure a better urban future for us all! We need your help and your voice more than ever!
Head Office: 1424 K St. NW, Ste 600, Washington, D.C. 20005
Satellite Office: 430 N. Michigan Ave, Chicago, IL 60611