#WorldEnvironmentDay
Tuesday marked #WorldEnvironmentDay,
a day on which people from around the
| | |
| --- | --- |
| | |
| | A plastic-ridden creek flows through Manila, The Philippines. Source: Noel Celis, AFP |
world heralded the strides made to protect the earth, while reminding us just how much more we have to do. This year, World Environment Day came with the battle cry, "Beat Plastic Pollution," a goal that couldn't have come at a better time (except perhaps 20 years earlier). The plastic pollution of our world has reached a frightening height; according to UN Environment, if current consumption patterns and waste management practices continue, then by 2050 there will be around 12 billion tons of plastic litter in landfills and the environment. Successfully addressing this problem will take a global, collaborative and concentrated effort. It's ambitious, but it's possible. Below are some World Environment Day-themed reads, with an urban twist.
UN Environment releases the first-ever "State of Plastics" report.
The report lays out the scope of the issue, explores potential solutions, and highlights efforts that have already been made, including New York City's nan on Styrofoam products. Read the report here.
Countries celebrate World Water Day with commitments
As the global host of World Environment Day, India went all-out on the celebrations, announcing bold plans to eliminate a single-use plastic in the country by 2022, with an immediate ban starting in urban Delhi. Using the celebrations as momentum, Chile, Botswana and Peru introduced bans on plastic bags; 50 more countries joined the UN's clean seas campaign, and more. Read more here.
The last straw
Straws pose an especially large and volatile threat to the environment, and cities are starting to pick up the fight. New York City is just the latest city to consider banning straws altogether. Read more about the urban straw resistance here, and read a more complicated understanding of the straw crisis here.
Visualize the problem
Quartz compiled photos of a week's worth of plastic trash from families around the world. It's not comforting. See them here.
Elsewhere...
It's not plastic, but it's something. Environmental activism in post-Soviet Georgia has long been slim-to-none. But as concerns rise over the country's pollution mortality rate (300 deaths per 100,000 people!) and the biggest city, Tblisi, steadily loses green cover to development, a green tide may be turning at the urban grassroots level. Read more here.
Join IHC Global and the Affordable Housing Institute for the free webinar, Cuba Facing Forward: Discussing the Past, Present and Future of Cuba's Economy and Built Environment. Together, IHC Global and the Affordable Housing Institute will celebrate the release of AHI's latest publication, Cuba Facing Forward: Balancing Development and Identity in the Twenty-First Century. The webinar will feature a discussion on the book with three of its contributors: Carmelo Mesa-Lago, Ted Henken and Victor Deupi, who will also discuss their work on Cuba's economy and built environment.
When: Thursday, June 21st, 2018
Learn more about the event
here
.
IHC Global Urban Feature: Urban Tech
Exciting new developments in development!
New technologies, and new applications for existing ones, are redefining the international development space, and could have incredible implications for housing and urban development. In particular, Blockchain, Cryptocurrencies, and other DLTs, (Distributed Ledger Technologies) are posed to present unprecedented opportunities for global societal improvement. If you don't know much about these platforms, you're not alone, but their potential impact on international development has drawn interest from the private sector, government and civil society alike. IHC Global was able to see this first hand last week, when we went to the second bi-annual Blockchain for Social Impact Conference in Washington D.C. During the conference, IHC Global investigated these new ways of using information and technology, and cut through the hype to get a sense of the future of international development and humanitarian aid in the burgeoning Blockchain age. Here are our key observations:
Decentralization is the name of the game.

DLTs are getting more attention beyond the growing awareness of their application in blockchain use cases such as cryptocurrency (Bitcoin, Ethereum, and many, many others). In essence, a DLT allows for information to be stored and shared across a network of willing participants, rather than a central location with an administrative role. This allows for unprecedented speed, transparency, and security in peer-to-peer interactions and transactions. As this technological advancement makes a massive impact in finance, its potential for advancing humanitarian agendas is rapidly gaining attention. In the space of international development and humanitarian aid, there are a few applications of Blockchain, and DLTs more generally, that align with IHC Global's policy priorities, as well as the Sustainable Development Goals (SDGs) and the New Urban Agenda. Specifically, Blockchain and DLTs will fundamentally change not only development finance and philanthropy, but identity technologies, supply chains and logistics, and property titling and land registry. As much as decentralization is a reality, and a desired outcome for many boosters of and investors in Blockchain technology, many large international development entities have been the first to recognize the significance and adopt this new wave of technology. For example:

The World Bank Blockchain Lab has already started funding use cases for DLT applications in development theaters, and has recognized the necessity to allow for "decentralized communities within the Bank" in order to fully facilitate the implementation of this new tech.
USAID has published a Primer on Blockchain for International Development, which highlights current use cases, and provides a comprehensive rubric for the appropriate application of DLT in development projects.
A multiplicity of different agencies and projects within the UN system are among the forefront of Blockchain for development and international aid.
What to watch from BSIC 2018
Given the recognition of these new technical capabilities by the big institutions in the development space, there were a few projects at BSIC 18 in Washington D.C. which touch on IHC Global's policy priorities:
ALICE seeks to change philanthropy by providing a way to "tie your money to the results," using DLT to increase speed and accountability for charities and other donation platforms.
HARA provides a way to empower agriculturalists across the world, particularly in developing regions, by providing a platform for unprecedented ease of business, and accountability through a cryptocurrency platform.
Techfugees made a splash at BSIC 2018 in Washington D.C. not only for their human minded and well-rounded sense of Blockchain as a means for social impact, but also for stressing the importance of education for the success of any humanitarian endeavor that bases its claim on the use of a new technology to leap-frog more traditional methodologies.
The international community holds great expectations for what these technologies can do, but as IHC Global emphasizes in our "Smart City. Just City." campaign, with great technological power comes great social responsibility. It may sound like we're quoting Spider-man, but it is critical that when adopting these DLTs, cities, countries and organizations check in with the people that these programs are built to serve every step of the way. As IHC Global continues to advocate for practical and equitable urban development, we will stay tuned for what these unprecedented technologies do, and determine what they can do to change cities for good.
For more on IHC Global's policy priorities, click here.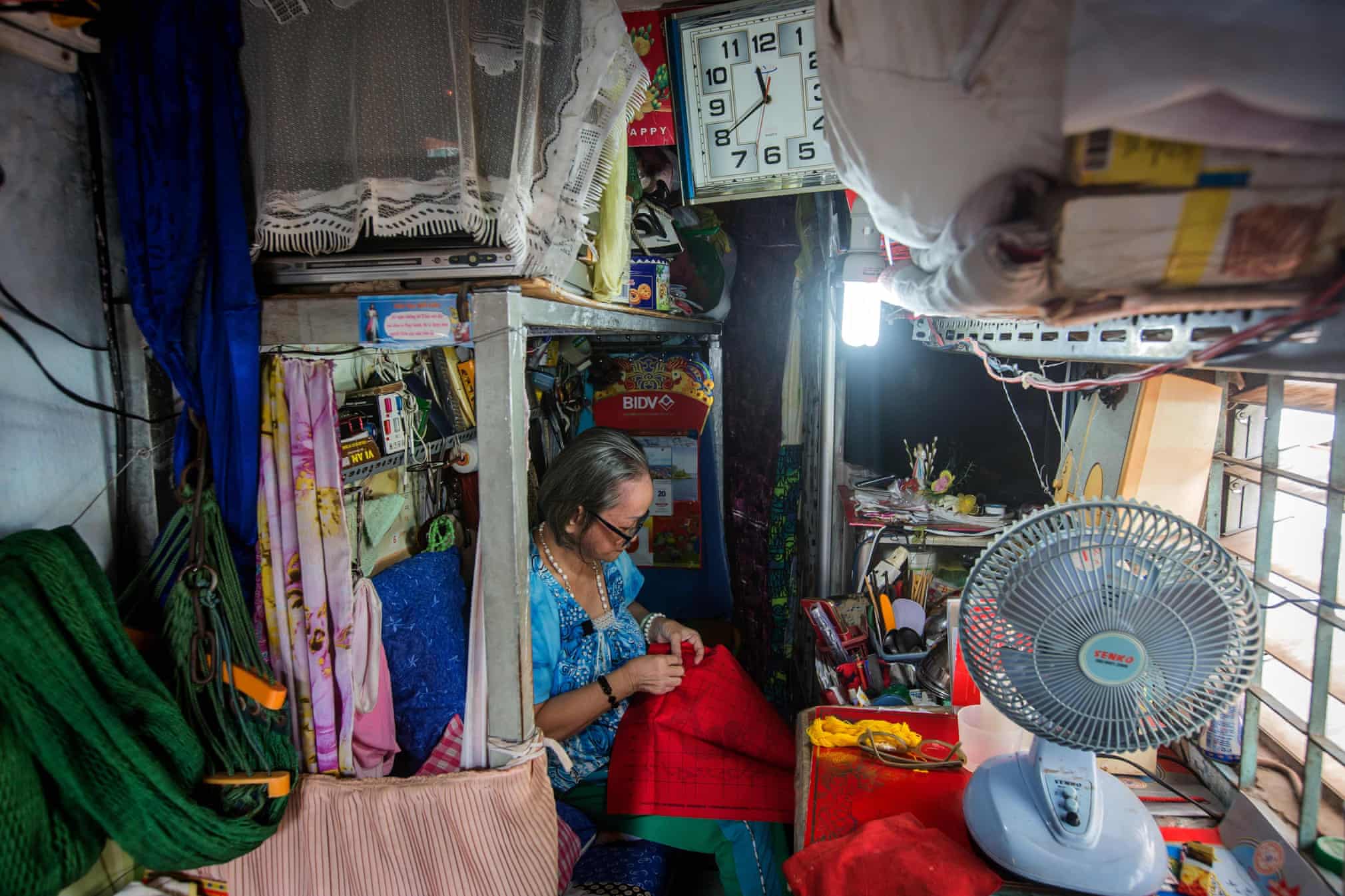 A woman sews in her micro-house in Ho Chi Minh City, Vietnam.
Spread the word! Join us!
Help IHC Global spread our message by forwarding our newsletter to organizations and people who want to help create inclusive and sustainable cities. Support IHC Global further by becoming a member of our growing coalition.
Please join us either as an individual or as an organization.
Your financial support and your voice are vitally important
.
With your U.S. tax deductible membership, you will provide meaningful help in addressing the worldwide challenges of rapid urban growth, urban poverty and inequity. Help IHC Global "change cities for good" and secure a better urban future for us all- we need your help and your voice more than ever.
Head Office: 5425 Wisconsin Ave, Ste 600, Chevy Chase, MD 20815
Satellite Office: 430 N. Michigan Ave, Chicago, IL 60611