To prevent conflict, Liberia's president must address land rights
It has been over a decade since Liberia's bloody civil war came to an end, and since then, the country has made significant strides on the path to peace, culminating in its first peaceful transition of power since 1944 earlier this year. However, it still teeters in a vulnerable position that has only been made worse by the insecure community land rights throughout the country, an echo of disputes over land and resources that were significant factors of the civil war. Place writer Solange Bandiaky-Badji argues why Liberia's new president, George Weah, needs to make land rights and the indigenous and rural people that have historically been forced out of their traditional lands priorities in his administration, in order to ensure that the country stay on the right path.
Many residents of Rio de Janiero, Brazil, are backing away from public information channels warning about the city's violence and turning to crowdsourcing apps instead. Residents have started following the apps or social media pages of crime-watch organizations, such as Basta de Violência (No More Violence) and Realidade do Rio de Janeiro (Reality of Rio de Janeiro), for real time updates on the violence in their neighborhoods. The apps and social media pages, including Onde Tem Tiroteio (OTT, or Where the Shootouts Are) and the Amnesty International-vehicle Fogo Cruzado (Crossfire) often rely on information from the best on-the-ground sources: the residents themselves, then cross-reference and validate reports with official sources. These apps and pages will not eradicate the persistent violence that plagues Rio de Janiero. However, they are innovative- and life-saving- solutions that are an example of how local communities can use smart city technology to make their cities safer.
Event: The Power of Eviction Data
Join IHC Global member Urban Institute for a discussion about a new data source on evictions in the US and its value for community response. A shortage of affordable rental housing leaves millions of US households struggling to pay rent and avoid eviction. Preventing eviction can disrupt risky life trajectories that add costs to communities and impede opportunity. As policymakers, practitioners, researchers, and community leaders search for solutions, newly accessible data can catalyze evidence-based decision-making and advocacy by those on the front lines of the eviction crisis. How can communities use these data to improve residential stability for all households? Matthew Desmond, the Pulitzer Prize-winning author of Evicted: Poverty and Profit in the American City and a recipient of a MacArthur Fellowship, will speak to his latest research on evictions nationwide. A panel of practitioners and researchers will discuss the implications of the data.
When: Thursday, April 12, 2018
3:30 - 5:15 PM
Where: Urban Institute
2100 M Street NW
Washington, DC 20037
With a new Bloomberg survey, American mayors have their say
If there's a lesson the world has been learning through this era of rapid urban development, it is to listen to the mayors. In the last few years, mayors from around the world have become increasingly vocal about the global and local issues that are important to their cities, from climate change to affordable housing to transportation. Conferences like Habitat III and the World Urban Forum have served as moments for mayors to meet and share their cities' innovations and challenges, but reliable and available data on the needs and wants of urban leaders globally is often hard to come by. Until now: the Bloomberg American Cities Initiative has released the
2018 American Mayors Survey
, the largest survey of American mayors ever completed. With data from 156 cities across all regions of the country, the survey offers a deeper look into what American mayors are dealing with in their cities every day, what their policy priorities are, and what they expect, and hope, for the future. The study is unique in its scope, as well as its diversity; it includes mayors from across the political spectrum, and with populations that range from 30,000 to millions, it offers a truly clear picture of the different faces of urban America.
The report breaks down the data into several sections: policy concerns, including climate change, the opioid crisis, and the sharing economy; how cities are generating new ideas, such as reaching out to residents and finding sources to support public programs; the relationships cities have with politics at home and in Washington; and the top issues for cities to focus on for the future. Every data point taken is critical to learning more about U.S. cities, but some stood out:
Most cities agreed that climate change was either an important or somewhat important issue for cities, and when asked, 47% of cities agreed that financing was the main barrier to effective climate action. However, the larger cities surveyed answered that financing and federal policy barriers are as equally challenging (44%). By far the most-used strategy for combating climate change was encouraging sustainable modes of transport. These numbers are not entirely surprising, as hundreds of cities across America have pledged to continue to implement the Paris Climate Agreement.
Engagement with the Private Sector
Private sector engagement is still a newer idea for many cities. The majority of mayors (33%) had no experience engaging in public-private partnerships around local climate adaptation. However, mayors did recognize the importance of engaging the private sector, which came through in other responses. When talking about where they source new ideas, mayors chose the private sector fourth, after city staff, U.S. city leaders, and residents. And 50% of cities said that they had sourced private support for public programs. Meanwhile, many mayors raised concerns about infrastructure, city budget and revenue throughout the survey. Given these concerns, public-private partnerships in areas such as affordable housing and urban programming could be beneficial solutions.
The Difference Between Small and Large Cities
In terms of urban growth, responses from mayors that populations were growing rapidly, and that affordability was becoming a problem, came from small, medium and large cities in very similar numbers. However, geographically, the rapidly-growing cities were mostly concentrated in the South and West, while the mayors that said their cities were struggling to attract business and their populations were dwindling were largely concentrated in the Northeast and Midwest. Large and medium cities chose crime, affordable housing and traffic as the top three issues they are faced with, while smaller cities nixed crime for drug abuse, a symbol of how the opioid epidemic has affected smaller communities across the U.S. There is often talk of the urban-rural divide within the United States, but if cities as small as 30,000 people are growing just as fast as large and medium cities, perhaps the divide is shrinking.
Federal-Local Relationship
The survey asked mayors what they thought the most significant problem for the country would be in 10 years from now. Political dysfunction led with 20%, while inequality and infrastructure were right behind it at 15% each. When discussing their relationships with other political offices, the majority of mayors said they had constructive relationships with their city councils, state legislative representatives, and congressional representatives, while they had less than constructive relationships with their governors and state and federal senators. Democratic, large and medium cities said their relationship with the federal government had gotten worse over the past year, while the majority of Republican and small cities said their relationships with the federal goverment were the same. This information shouldn't be used as a call-out for either cities or the federal government, but rather as a platform for improvement.
This survey will be an important tool for cities, urban experts, and city-focused NGOs to use in the future, and is yet another representation of just how important data collection is to understanding cities. Luckily, 89% of large cities and 68% of medium cities already have significant portions of their staff dedicated to collecting data, so IHC Global hopes this kind of in-depth survey is the first of many to come.
To learn more about IHC Global's policy priorities, click here.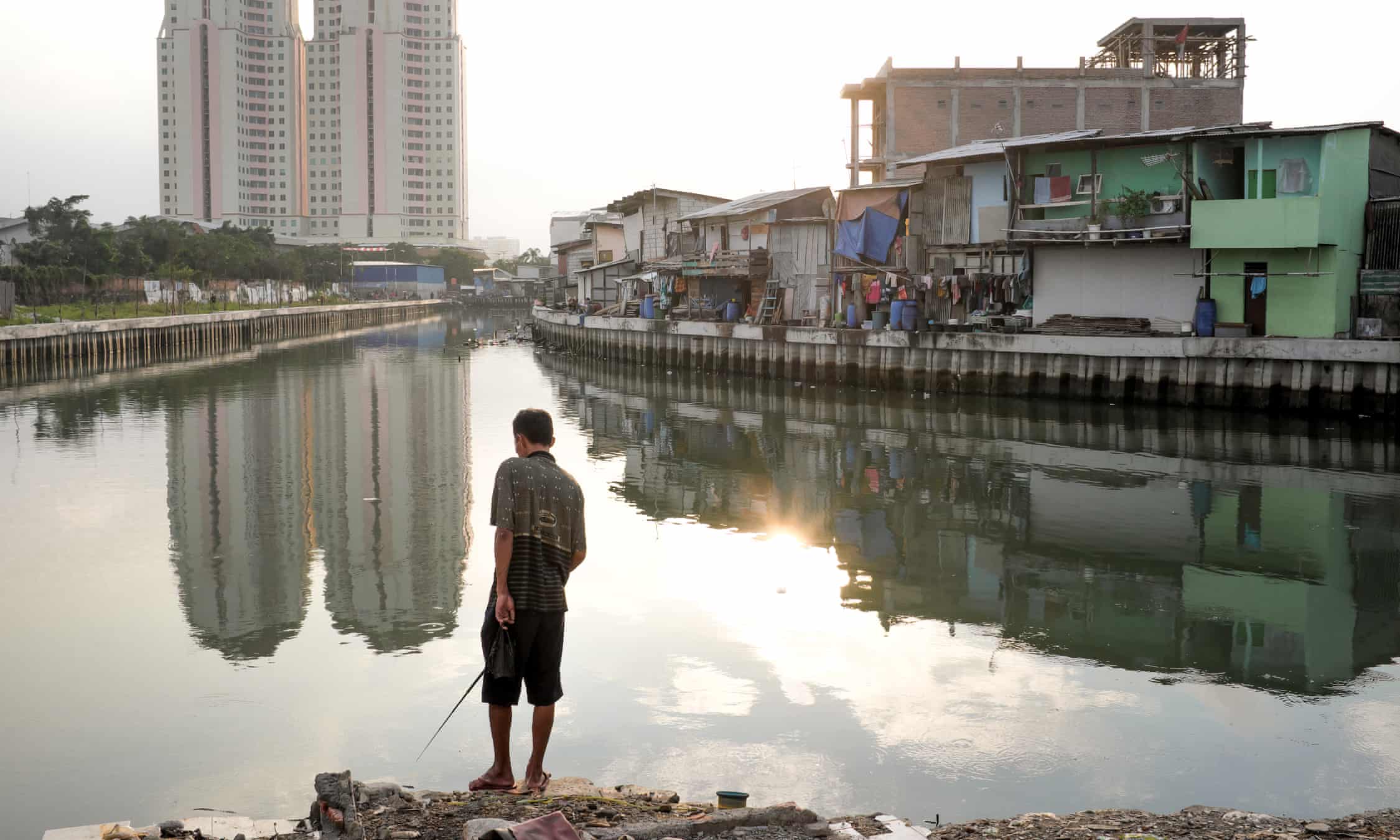 A resident fishes in a river near Kampung Akuarium in Jakarta, Indonesia. Residents of informal settlements are taking a stand to save their homes from demolition, seeking out lawyers, architects and journalists to take their cases to city hall.
Spread the word!

Help IHC Global spread our message by forwarding our newsletter to organizations and people who want to help create inclusive and sustainable cities. Support IHC Global further by becoming a member of our growing coalition. Please join us either as an individual or as an organization! With your U.S. tax deductible membership, you will provide meaningful help in addressing the worldwide challenges of rapid urban growth, urban poverty and inequity. Help IHC Global "change cities for good" and secure a better urban future for us all! We need your help and your voice more than ever!
Head Office: 1424 K St. NW, Ste 600, Washington, D.C. 20005
Satellite Office: 430 N. Michigan Ave, Chicago, IL 60611