Good practices of the Integrated Monitoring Initiative for SDG 6
UN-Water and the custodian agencies for the eleven SDG 6 global indicators have joined forces to gather country data to report on the global baseline situation for water and sanitation in the 2030 Agenda, in time for next year's High-level Political Forum.
A
new report, 'Integrated Monitoring Guide for Sustainable Development Goal 6 - Good practices for country monitoring systems
,
'
has been developed to share principles for monitoring SDG 6 at the country level
.
As part of the SDG Monitoring Framework,
each country
is asked to provide
one national value for each SDG 6 global indicator. However,
t
his
report emphasizes the importance of
also collecting
spatially disaggregated data, stating "for policy- and decision-making and planning at national and sub-national levels - for example, deciding where to build a new drinking water supply or which ecosystem to protect - more detailed information is needed to prioritize and optimize interventions. The global indicators are still useful but the data need to be disaggregated spatially and temporarily, by sector, sub-components and different socioeconomic strata." IHC Global is pleased to see this focus on disaggregated data, because the more specific the data is, the easier it will be to
understand the issues and complexities that are specific to urban areas and those that relate to the urban-rural continuum, as well as ensure that equity is a driver for urban water investments
.
Lessons in building towards affordable housing
Alan Durning, the founder of
Sightline Institute
, an independent, nonprofit sustainability think tank in the Pacific Northwest, has written an essay considering the great urban myth: can cities build their way to affordable housing? Many urban experts would say no, that building and constructing new housing will do nothing but exacerbate affordability issues. Through research from his institute and elsewhere, Durning has come to the conclusion that, in fact, building may be the
only
way to ensure that affordable housing is available, and that many cities have been following this idea for years. He looks at eight cases: Houston, Tokyo, Chicago, Montreal, Vienna, Singapore, Germany and San Francisco, and each of their treks to achieve affordable housing. While each case has a different urban housing landscape and approaches its issues differently, the strides that each city has made towards affordable housing all have to do with investing in construction and expanding infrastructure, and the lessons from each project can and should be applied to other cities.
In the wake of the Flint water crisis, the cracks in the U.S. water system have been laid bare, and they have never been more clear than in another Michigan city, Detroit. The largest city in the state is in the midst of a water crisis built on urban inequality; nearly 40% of Detroit lives in poverty, and still, the price of water has risen a whopping 109% in the past decade. With the city in bankruptcy and residents unable to pay their bills, water shutoffs have become common practice in Detroit, and 18,000 households may be at risk of losing water this year. The video below explains the roots of the crisis, and why Detroit's story may be just a chapter in a greater nationwide water crisis to come.
Watch the full video below:
WRI Book Discussion: 'Faster, Smarter, Greener'
Venkat Sumantran, co-author of
"Faster, Smarter, Greener: The Future of the Car and Urban Mobility," will be presenting the book's prediction of a fundamental transformation of urban mobility that will emerge from urbanization, sustainability and consumer attitudes, as well as the role of policy, technology and business innovators in re-shaping the future of mobility. The presentation will be followed by a panel discussion moderated by Ani Dasgupta, Global Director of WRI Ross Center for Sustainable Cities. The panel, featuring Venkat Sumantran, Cuneyt Oge, Shomik Mehndiratta and Dario Hidalgo, will discuss alternate visions on how we can transform our current urban mobility architecture into one that is more sustainable, smarter and inclusive.
When: Thursday, October 5, 2017
10:00 AM - 12:00 PM EDT
Where:
World Resources Institute
James A. Harmon Conference Center
10 G Street NE, Suite 800
Washington, DC 20002
Register and learn more about the event
here
.
IHC Global Urban Feature: Urban Resilience
What would an entirely flood-proof city look like?
The Issue
The devastation caused by hurricane Irma rounds out a summer in which natural disasters have been constantly on the front of our newspapers- and at the front of our minds. As IHC Global featured a few weeks ago, floods, whether the product of heavy rainfall or extreme storms, have recently swept through countries around the world, causing severe damage and transforming both urban and rural landscapes forever. Their lasting impact on cities has revealed a dangerous flaw in the urban system; unchecked urbanization has neglected to incorporate flood risks and other disaster-prevention parameters into its plans, leaving cities open and vulnerable to catastrophic flooding as climate change continues to raise sea levels and natural disasters become more severe. But some cities- particularly many that are the most vulnerable- are already working on solutions to problems they anticipate, with urbanists implementing innovative ways for cities to prevent flooding, easily meet the challenges, and/or put floodwaters to better use. The Guardian surveyed five projects: green alleys in Chicago that filter and absorb polluted water; carved urban canals in the Yangming Archipelago, China that act as a sponge for the urban area; a new development plan in New York City that will elevate homes in flood-prone areas, and increase housing density in dry areas; a combination of marshes and parallel raised banks for the swamps and wetlands of New Jersey; and floating city structures like schools and toilets piloted in a slum in Dhaka, Bangladesh. These projects are potential game changers, and could help soothe the worries of an anxious urban world.
What We See
According to a recent survey of global authorities done by CDP, an environmental nonprofit, 103 cities around the world are at serious risk of flooding. And as climate change continues to raise both temperatures and sea levels and disasters become more severe and frequent, that number is likely to rise. So it's gratifying to see cities- the same entities that are actively implementing the Sustainable Development Goals, the New Urban Agenda and the Paris Climate Agreement- taking these warning signs seriously, and putting projects to counter their fears into action. These projects are not the first urban projects breaking onto the scene in the past few years, but they may be the most successful. What makes them unique is their combination of smart and green technology, but what makes them promising is that they think green first, which gives them a leg up in longevity and sustainability. Other projects, like the Bhendi Bazar project in Mumbai, are designed to impress with high tech solutions and glamorous before-and-after photos, but fall short when it comes to focusing primarily on what specifically needs to be addressed for flood mitigation. By thinking green, the projects listed above have been designed with a specific urban area in mind, and their sustainability focus allows them to incorporate solutions for food security, water and sanitation, and urban inclusivity as well (from IHC Global's point of view reflecting an understanding of their interdependence). Cities with similar problems can adopt and adapt these solutions to fit their issues, as demonstrated by the China project, which applied lessons learned from the project in Chicago. These projects present a chance for civil society, the private sector, and government to collaborate on something that is a solid investment in the future of cities. They are symbols of cities as they are today; places that are realistic about the oncoming storms, but are determined to weather those storms with the best overall solutions.
To learn more about IHC Global's Key Policy Topics, which are both barriers and gateways to better, more equitable urban development, click
here
.
In the news and around the web
In honor of Transportation Week, Curbed goes through 101 ways to improve your city's transportation systems.
London has banned Uber from the city. What does this mean for the company's urban future?
Atlanta is taking on urban inequality with an idea from MLK.
Monday is #WorldHabitatDay. Celebrate with us by supporting equal access to shelter worldwide.
Now Listen Here
On Wednesday, October 11th, New York Times Bestselling author of A Long Walk to Water Linda Sue Park will be livestreaming a conversation with the book's subject, Water for South Sudan Founder Salva Dut, about his experience as a "Lost Boy" of Sudan. The livestream can be found here.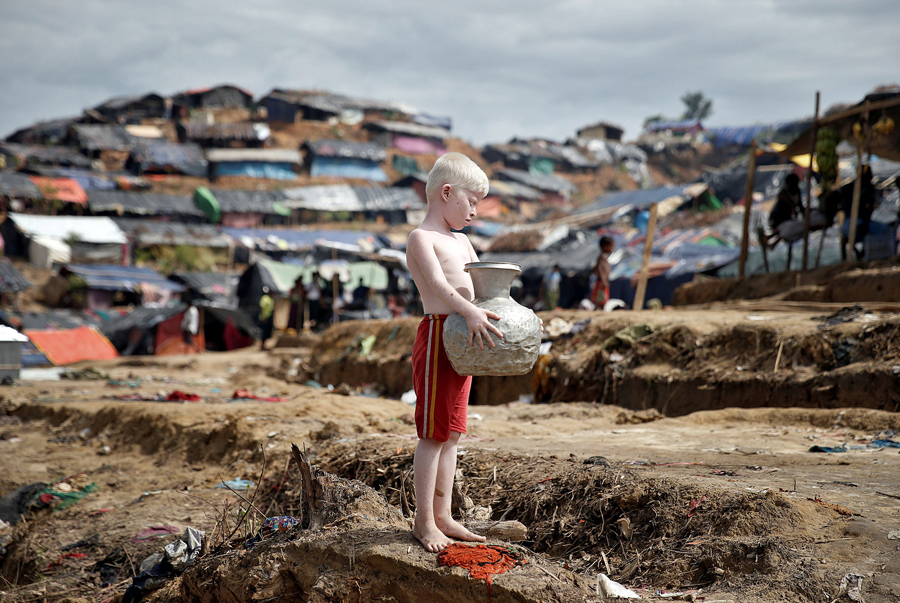 An albino Rohingya refugee poses for a picture in Cox's Bazar, Bangladesh, on September 27, 2017. The Rohingya, an ethnic minority in neighboring Myanmar, have been forced to flee from alleged genocide in their home country into a disaster-weary Bangladesh. (Cathal McNaughton / Reuters)
Take our Making Cities Safe survey
IHC Global has created a survey to increase understanding and share knowledge around issues of safety in cities-looking specifically at safety in the home, on public transport, in formal and informal workplace settings, and in common spaces such as sanitary facilities. Results from this survey will provide input into a policy report addressing how SDG 11, Target 7, Indicator 2-which focuses specifically on making urban spaces safe--can be met.
Help us gain a better understanding of urban safety; take our survey
here
!
Spread the word!

Help IHC Global spread our message by forwarding our newsletter to organizations and people who want to help create inclusive and sustainable cities. Support IHC Global further by becoming a member of our growing coalition. Please join us either as an individual or as an organization! With your U.S. tax deductible membership, you will provide meaningful help in addressing the worldwide challenges of rapid urban growth, urban poverty and inequity. Help IHC Global "change cities for good" and secure a better urban future for us all! We need your help and your voice more than ever!
Head Office: 1424 K St. NW, Ste 600, Washington, D.C. 20005
Satellite Office: 430 N. Michigan Ave, Chicago, IL 60611