"UN Urban", urbanization international body proposed
As discussions continue about the future role of UN-Habitat, an interesting new idea has been proposed: an international body whose entire focus would be urban sustainability. This idea was presented in the final report of the High Level Independent Panel to Assess and Enhance Effectiveness of UN-Habitat. This 8-member panel was formed at the request of UN Secretary General Antonio Guterres to undertake an independent and evidence-based assessment of UN Habitat and provide recommendations for its future. In recent years, UN-Habitat has suffered from decreased funding and has received criticism from some for what is perceived as a lack of cohesion between its operational work and its normative mission. This new proposal laid out in the Independent Panel's report recommends that UN-Habitat reframe its mission to specifically focus on addressing inclusion in cities and providing guidance on national urban planning and policies. In addition, the Panel recommends the creation of a new UN-entity, UN Urban, that would serve as a coordinating mechanism, similar to UN-Water and UN-Energy, to bring together projects across UN agencies that have urban implications and impacts. As an organization dedicated to furthering inclusion in cities and advocating for comprehensive urban policies to guide these efforts, IHC Global looks forward to participating in the deliberative process and in seeing where the report's recommendations go to ensure that there is a robust voice at a global level for inclusive and equitable urban development. A high level meeting of the UN General Assembly will convene from September 5-6th in New York City to discuss the report's recommendations and decide on a path forward.
Cities continue to lead on climate action

In the aftermath of the Trump Administration's decision to pull out of the Paris Climate Agreement, cities in the United States decided to forge their own path to sustainability, and are now the de facto leaders of the charge to address climate change in the U.S. But cities aren't only standing at the front lines in the U.S. The SDG Knowledge Hub outlined how numerous cities around the world are doing their part in the fight against climate change, and the steps being taken by them to commit to environmentally friendly policies that will be an enormous leap towards the goal of global sustainability. Recent developments include the more than 40 U.S. cities, including Orlando and Nevada City, committing to transitioning to 100% renewable energy, and several Asian cities, including Seoul, South Korea and Beijing, China, committing to climate campaigns like "BreatheLife," a global campaign on air pollution led by WHO, UN Environment and the Climate and Clean Air Coalition (CCAC), in order to combat the region's increasingly dire air quality issue. As the former UN Secretary General Ban Ki Moon said, "our struggle for global sustainability will be won or lost in cities." As long as cities continue to go in this direction, we are on the winning path.
Read the full article
here
.
Enhancing public spaces in Karachi
The World Bank has approved a loan for the Karachi Neighborhood Improvement Project (KNIP), "to finance improvements in public spaces in the city's selected neighborhoods and to strengthen the city government's capacity to provide certain administrative services such as business registration and construction permits", a desperately needed initiative for the public spaces in Karachi, which have suffered greatly on the city's trek through urbanization. In the densely populated Pakistani city, public spaces are especially important for recreation, social and cultural development, and business, especially for the urban poor. But because of rapid urban growth, Karachi's public spaces have been set back: green space has been diminished, vacant lots have been blocked off and neglected, many aspects of public infrastructure are underdeveloped, public spaces like sidewalks are being overrun by cars or waste, and women have reported less and less safe recreational spaces for their children. These issues are detrimental to the health and wellbeing of the city as a whole. This loan will work to address each and every one of these issues, and will prove timely, as the city plans to introduce a new Bus Rapid Transit system to improve access to public transit.
Learn more about the project
here
.
New blog series on affordable housing

Each month, the Practitioner Hub for Inclusive Business focuses on different aspects and perspectives of inclusive businesses, to expand the conversation on what is happening in the sector worldwide. This month, in partnership with Business Call to Action, they explore businesses that are finding solutions to the affordable housing challenge. From Costa Rica to the Philippines, the blog series explores how businesses are building multi-stakeholder partnerships to operate in what is predominantly an informal sector, and how they are measuring not just the units built, but the wider social impact of improved housing at the Base of the Pyramid (BoP).


Read the blog series
here
.
4th Urbanization and Poverty Reduction Research Conference
What national policies strengthen and weaken developing world cities, and what infrastructure investments deliver the largest growth benefits? The World Bank, the George Washington University Institute for International Economic Policy and the International Growth Centre Cities Program will try to answer this question together during their hosting of the 4th Urbanization and Poverty Reduction Research Conference, which will bring together academics and development practitioners to present and discuss the challenges of sustainable urban development in developing countries.
The aim of this conference will be to reflect upon how cities in developing countries should focus their efforts to improve their land and housing sector, their transportation networks and their sanitation infrastructure. This all day event will feature a range of urban experts, from policy makers to local government officials to university professors.
When: September 8th, 2017
Where: Preston Auditorium, The World Bank
1818 H Street, NW,
Washington, D.C. 20433
IHC Global Urban Feature: Urban Climate Resilience
Was Freetown a disaster waiting to happen?
The Issue
Sierra Leone has the highest annual rainfall in Africa. It's capital city, Freetown, is situated at the bottom of a mountain range, before the land hits the sea. The picture is idyllic, but it also has the perfect conditions for flooding, an issue that became dire and devastating this week when excessive rainfall led to floods and mudslides, leaving hundreds dead and hundreds more displaced. As with all disasters, victims and observers immediately began looking for a culprit, and came up with an easy answer: everything was to blame. From unrelenting climate change to poor disaster planning to urbanization, the disaster in Freetown seems like it was unavoidable. But was it?
What We See
There is a laundry list of things that led the flooding on Monday to becoming disastrous, and an even longer one of what could have been done in prevention. Some issues are more permanent than others: the placement of Freetown leaves something to be desired; founded more for the sea port than the land, the city cuts into heavily forested mountains, a terrain that cannot compete with urbanization or the ever-increasing population. Climate change is also making the area more vulnerable to storms that will only grow more erratic and volatile. But many of the issues are related to urban growth: residents, both rich and poor, are building and expanding out on precarious land that is at high risk of flooding; urbanization has diminished natural barriers to flooding like trees; inadequate waste management has led to drain blockages; and the government, which has long been aware of the variety of issues, seems to have had little motivation to tackle them head on.

And as these problems grow worse, the poorest residents of Freetown, many of whom live in the city's 60 informal settlements, are hit the hardest. What Freetown needs is a new operation, one that amends the failures of the previous plans, and addresses the urban issues at hand as parts of a whole. A holistic approach to urban sustainability has grown more and more popular with cities and urban experts around the world, but it has never been more clear than here that issues like sanitation, housing, climate change and adequate local government are interdependent and interconnected. The challenges are great and there are no easy solutions given the status quo in Freetown and its surrounding areas. In fact, Freetown and this disaster is a red flag to which other cities, especially those growing rapidly, should pay attention. For Freetown, adopting lessons learned from other cities in similar situations and the government working with communities and the private sector should create incentives for people to resettle and for businesses to build on more stable ground, with attention paid to transportation infrastructure and other investment that might provide for economic opportunity. In parallel, devising more disaster mitigation and disaster-response plans that take into account the particular issues that Freetown has- especially the dense population- are two critical actions that local officials can take to improve the city's quality of life and prevent future tragedies such as the recent one.
Read more about the situation in Sierra Leone
here
.
To learn more about IHC Global's Key Policy Topics, which are both barriers and gateways to better, more equitable urban development, click
here
.
In the news and around the web
Does stripping roads of lights and barriers and encouraging shared space make roads safer?
The Trump administration wants to speed up their infrastructure plan and eliminate climate change roadblocks.
Cities in the U.S. are preparing to take on tensions over Confederate statues.
Tomorrow is #worldhumanitarianday. Show your support by tweeting for a cause.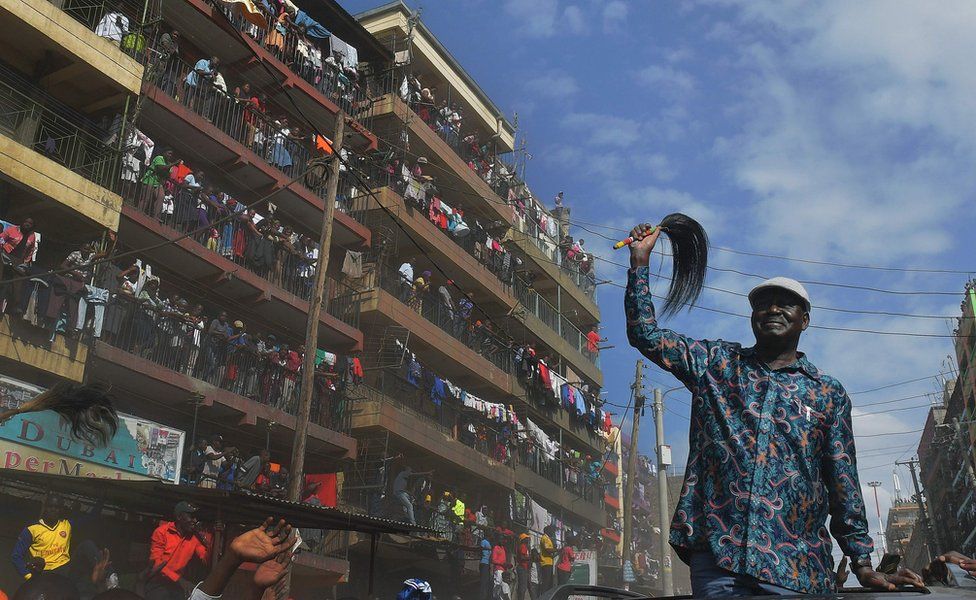 This week in cities: after a week of post-election chaos, Kenyan opposition leader Raila Odinga walks through the streets of the opposition-stronghold Methare slum in Nairobi. Raila was defeated by incumbent president Uhuru Kenyatta in the presidential elections last week, but will challenge the results in court.
Take our Making Cities Safe survey
IHC Global has created a survey to increase understanding and share knowledge around issues of safety in cities-looking specifically at safety in the home, on public transport, in formal and informal workplace settings, and in common spaces such as sanitary facilities. Results from this survey will provide input into a policy report addressing how SDG 11, Target 7, Indicator 2-which focuses specifically on making urban spaces safe--can be met.
Help us gain a better understanding of urban safety; take our survey
here
!
Spread the word!

Help IHC Global spread our message by forwarding our newsletter to organizations and people who want to help create inclusive and sustainable cities. Support IHC Global further by becoming a member of our growing coalition. Please join us either as an individual or as an organization! With your membership you will provide meaningful help in addressing the worldwide challenges of rapid urban growth, urban poverty and inequity. Help IHC Global "change cities for good" and secure a better urban future for us all! We need your help and your voice more than ever!
Head Office: 1424 K St. NW, Ste 600, Washington, D.C. 20005
Satellite Office: 430 N. Michigan Ave, Chicago, IL 60611