Cities and local policies key to overcoming hunger
The significant role that cities will play in reducing food insecurity has been garnering more and more attention. And at the third mayor's meeting of the Milan Urban Food Policy Pact (which is a commitment to combat hunger and food waste and improve nutrition), The Director General of the Food and Agriculture Organization (FAO), José Graziano da Silva, reaffirmed just how important that role will be in meeting the challenge of food waste and hunger around the world. Graziano da Silva urged that dialogue between local governments, mutual learning programs and South-South and Triangular Cooperation with respect to urban and rural farmers, and innovative partnerships between urban governments, national governments, civil society and the private sector are necessary elements for sustainable food programs to be successful.
Read the full briefing
here
.
Hong Kong has some creative approaches to water issues
Hong Kong has a bit of a conundrum when it comes to water issues. Though it is one of the wettest cities in Asia, where relentless tropical rainfall leads to frequent flooding in the many low-lying areas, Hong Kong has no reliable source of drinking water, and so it is left to depend on imports from China. But this catch-22 of sorts has allowed urban water experts in the city to cook up some very interesting solutions, from using seawater for toilets in order to reduce freshwater consumption to using giant spaces under places such as sporting fields as tanks for the rainwater that often threatens to fill the city. Though these solutions are very specific to the issues that Hong Kong faces, they are new, original, and changing the game, and therefore should be used as inspirations for urban planners around the world.
Read the full article
here
.
While big U.S. city economies have grown at an impressive rate since the economic turnaround after the 2008 recession, the same cannot be said for their poorest and most neglected neighborhoods, and the inequality gap is only becoming larger. But many U.S. mayors are trying to turn this trend around, and are looking into potential ways to funnel their city's economic growth into these disenfranchised communities. Two examples in particular are Charlotte, North Carolina, and Chicago, where both cities' mayors have focused on a tried-and-true solution to reducing inequality: investing in early education. Additionally, in Chicago, Mayor Rahm Emanuel has spearheaded initiatives to make urban resources like public transportation more accessible as well. Though these plans are innovative and a step in the right direction, they are just that: a step. Much more needs to be done to meet all of the intricate challenges that make up urban inequality, but if more mayors are committed to leveling the playing field, and more emphasis is put on creating partnerships between government, civil society and the private sector to meet these challenges, it may prove to be a manageable task.
Read the full article
here
.
Join USAID LandLinks, along with Agrilinks, Microlinks, and a panel of experts, for an interactive online discussion on the Business Case for Land Rights: Private Sector Perspectives on Responsible Land-Based Investment. Hershey's and ECOM are partnering with USAID to mitigate land tenure risks for their suppliers and increase cocoa yields in Ghana and will be sharing their perspectives in this webinar. Secure, clear land rights are critical for sustainable land-based investments, but in the developing world, where an estimated 70 percent of land is unregistered, it can be challenging to understand who has legitimate land and resource rights, and land grabs and land rights abuses are often associated with commercial investments. What does that mean for an investor's bottom line?

Hear investor perspectives on these important #landmatters from Olga Gormalova from ECOM and Jeff King from Hershey's, with USAID's Sarah Lowery moderating the discussion.

When: Thursday, November 2nd, 2017
2:00 - 3:00 pm EDT
Register for the webinar here.
IHC Global Urban Feature: Urban Resilience
100 Resilient Cities' Dana Omran on facilitating urban resilience
The Issue
With rapid urbanization and mass migration, climate change, and an increasing prevalence of disasters, the needs and issues of cities at the individual level often get caught up in the push for global solutions to urban crises. But as cities become power-players in their own right, it has become more apparent that they are searching for the best urban practices and policies that would work for their specific contexts. The Rockefeller Foundation's 100 Resilient Cities initiative has recognized this need, and is working with cities across the globe to implement resilience strategies needed to face the physical, social, and economic challenges that lie ahead. Their intriguing approach in each city involves hiring a Chief Resilience Officer (CRO) that will work directly with local government, developing a resilience strategy, connecting the urban policymakers to a global network and facilitating global partnerships. Dana Omran, 100 Resilient Cities' Associate Director of City and Practice Management, discussed what the initiative is doing with their cities with IHC Global President and CEO Judith Hermanson at the Society for International Development. Omran explained the initiative's work in response to the wide range of issues in each city, from migration in Athens, to disaster resilience in Addis Ababa and Mexico, to counter-terrorism in Paris. But even if cities face very different issues, 100 Resilient Cities has one overarching goal; to break the vicious cycle of crisis after crisis after crisis by creating viable resilience strategies that allow cities to be prepared for anything and everything.
What We See
The presentation was filled with fascinating information- did you know that the Dutch are some of the best water and sanitation experts out there? Did you know that the CRO of San Juan was integral in evacuating civilians ahead of Hurricane Maria?- but even more intriguing were the questions asked during the dialogue. Many attendees came from urban-focused and development organizations and publications, and their questions reflected the general mood towards urban issues, and centered around the dynamics within and between cities. The majority of the questions concerned the political nature of the initiative's work: how urban resilience strategies will continue to be implemented under changing political regimes, how the strategies will enable informal communities to access local and national political power and services, how 100 Resilient Cities' approach fosters regional cooperation between cities, and how 100 Resilient Cities is going to help nudge urban issues onto national and global agendas. Others focused on the increasingly important issue of data: if there was any data on how the 100 Resilient Cities program has influenced urban policies such as zoning and building regulations, and if data gathered by the initiative is accessible to cities outside of their network. And, given the uncertainty of the future of sustainable urban development, some questioned what the future of the CRO position would look like, and what the main roadblocks were for the 35 (as of yesterday) cities in the network that have rolled out resilience strategies (the answer to this question: finance, finance, finance. Find the answers to all the other questions on our
blog
). But even if some of the questions had complicated or yet-to-be-determined answers, the fact that the queries were so sharp-eyed, and the fact that Omran had an informed response to each one, is a reminder of just how many assiduous urban experts are out there in the world that are committed to finding answers to every urban question, and to making resilience strategies work.
To learn more about IHC Global's Key Policy Topics, which are both barriers and gateways to better, more equitable urban development, click
here
.
In the news and around the web
The day after Diwali, insane pollution levels were recorded in Indian cities.
The biggest global cities may be heading towards a real estate bubble.
Some sanctuary cities may not be living up to the name.
Why is affordable housing sometimes seen as expensive to build?
October 24th is #UnitedNationsDay. Join us in celebrating UN-Habitat's commitment to sustainable urban development.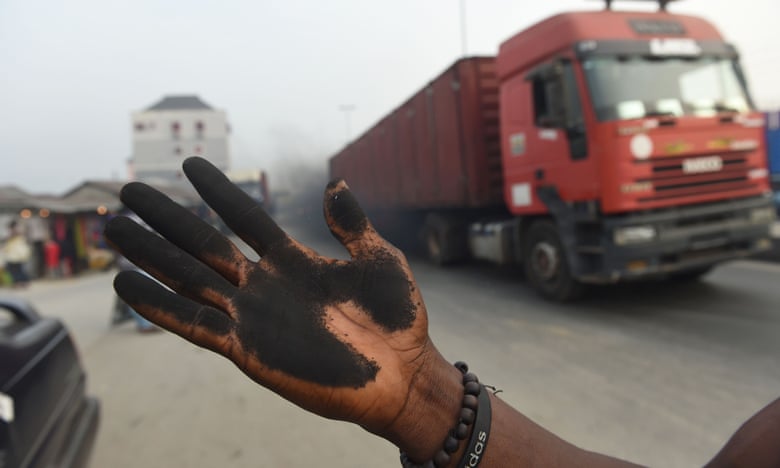 A resident's soot-covered hand from wiping the hood of his car in Port Harcourt, Nigeria. Black soot has been falling from the sky in the city since last November. (
Pius Utomi Ekpei/AFP/Getty Image)
Take our Making Cities Safe survey
IHC Global has created a survey to increase understanding and share knowledge around issues of safety in cities-looking specifically at safety in the home, on public transport, in formal and informal workplace settings, and in common spaces such as sanitary facilities. Results from this survey will provide input into a policy report addressing how SDG 11, Target 7, Indicator 2-which focuses specifically on making urban spaces safe--can be met.
Help us gain a better understanding of urban safety; take our survey
here
!
Spread the word!

Help IHC Global spread our message by forwarding our newsletter to organizations and people who want to help create inclusive and sustainable cities. Support IHC Global further by becoming a member of our growing coalition. Please join us either as an individual or as an organization! With your U.S. tax deductible membership, you will provide meaningful help in addressing the worldwide challenges of rapid urban growth, urban poverty and inequity. Help IHC Global "change cities for good" and secure a better urban future for us all! We need your help and your voice more than ever!
Head Office: 1424 K St. NW, Ste 600, Washington, D.C. 20005
Satellite Office: 430 N. Michigan Ave, Chicago, IL 60611