An urban #WorldWaterDay



Yesterday was #WorldWaterDay, and the 2018 celebration marked the tremendous strides that the U.S. and world at large have made in improving access to clean water, and the challenges that lie ahead. Here are the ways World Water Day commemorated successes, launched initiatives and started discussions in 2018.




20 Disturbing Pictures Of The World's Most Polluted Waters

Buzzfeed takes a trip through the most polluted bodies of water around the world, in a visceral reminder of what the human footprint has done to the

environment

.




World Water Day 2018: Nearly 6 Billion Will Face Water Shortages by 2050, UN Report Says


That means that 60% of the world's population in 2050 will be facing water shortage issues. The UN World Water Development Report 2018 also warns that by 2050, 1.6 billion people will face flooding dangers (up from 1.2 billion today), and that "day zero" situations like the one now in Cape Town will be much more frequent in the

future

.




Bangalore has lost 79% of its water bodies in past four decades

Speaking of Cape Town- earlier this month, the

BBC

investigated whether or not Bangalore- a city in which the population went from 9 million to 11 million in 5 years- will become the next city with a ticking clock on their water supply. The verdict was no, but murky at best. Now, a more

recent assessmen

t

from the Centre for Science and Environment paints a grimmer picture, estimating that Bangalore has lost 79% of its water bodies in the past 40 years, due to unplanned urbanization, and that the city could run out of water without better urban planning.

Wateraid: The State of the World's Water 2018

Just in time for World Water Day, Wateraid has released the 2018 edition of the Water Gap, which measures global water disparity. This year, the three nations with the lowest access to clean water are Uganda, Papua New Guinea and (at the bottom)

Eritrea

.




Urban Water Governance in the Developing World: Accountability and Affordability Are Keys to Water Access

To commemorate World Water Day, the World Resources Institute takes a frank stance on the failures that the international community has faced in improving water resources, and how moving forward with with particular attention paid to economics and governance is the

only way to go

.




On World Water Day, New Campaign Kicks Off to Bring Clean Water to the Oil-Contaminated Upper Amazon


A polluted water crisis has unfolded in a very unexpected place: the Amazon Rain forest. Oil takes the blame, but an indigenous organization called Ceibo Alliance is fighting back. Together with the NGO Amazon Frontlines, Ceibo Alliance recently celebrated the construction of the 1000th clean water system in the region, and pledges to provide every community in need in the area with fresh water by the

end of 2018

.




Five Social Enterprises Team Up To Create A Subscription Box For World Water Day


Forbes highlights a collaboration between five social enterprises in honor of World Water Day. The enterprises- Sevenly, Cause Roast, The Created Co., Numi Tea, and Generosity Water- have created a new subscription box called "the water box," which offers products that in turn fund clean water initiatives.
Recap: IHC Global at the World Bank Land and Poverty Conference
This week was the World Bank's annual Land and Poverty Conference, which provided an opportunity for over 1,800 global policymakers and practitioners to come together to talk about the latest trends in land governance in an interconnected world. IHC Global was excited to have an active role in the conference, attending many sessions and presenting our own work on advancing women's property rights in Uganda in a session titled "Creating Momentum for Land Policy Change." Important points that came up during the conference included using geospatial data to strengthen land governance and planning; utilizing Sustainable Development Goals 1.4 (ensure men and women have equal access to ownership and control over land) and 5a (give women equal access to land ownership) as driving forces to institutionalize gender-disaggregated data and bring about change; and exploring alternative, integrated systems for land registration, taxation, and marketing. On Wednesday, coinciding with the conference was the first Global Surveyor's Day, which provided a platform for surveyors from around the world to reflect on the importance of adequate and transparent property valuations and share best practices. Altogether the conference was a great success, and participants gleaned knowledge from stakeholders around the world on innovative ways to advance effective and inclusive land governance.
IHC Global member The Urban Institute, in collaboration with the International Development Research Centre, will host a discussion on the barriers to and enablers of women's economic empowerment. The event will consider how evidence is used for policymaking in the Global South and ways stakeholders can support women's economic empowerment. The event will be moderated by Charles Cadwell, Vice President of the Urban Institute. Speakers will include Francisco H. G. Ferreira, Senior Adviser of the Development Research Group at The World Bank; Arjan de Haan, Program Leader of Employment and Growth at the International Development Research Centre, Canada; H. Elizabeth Peters, Institute Fellow at the Urban Institute; and Fauzia Viqar, Chairperson of the Punjab Commission on the Status of Women, Pakistan.
When: Tuesday, March 27, 2018
11:00 AM to 12:30 PM
Where: Urban Institute, 5th Floor
2100 M Street NW
Washington, DC 20037
RSVP for and learn more about the event
here
.
In order to achieve gender equality, take a look at WASH
The fight for clean and accessible drinking water has a distinctly female charge to it. Around the world, 1 in 9 people do not have clean water close to home, and every day, the task for collecting that far-away water falls into women's hands, forcing them to walk miles to and from the nearest water source. This task takes hours out of women's daily lives, in which they could be building their educations, resumes or families. And it's just more evidence of how water inequality and gender inequality are irrevocably
connected to
each other. But World Water Day is not just about clean
drinking
water, and accessing drinking water is not the only water-based issue that disrupts women's lives; water for sanitation and water for hygiene hold equally important parts of the WASH acronym, and within the "S" and "H" is a critical issue that is often swept under the rug: menstrual health management, or MHM.
Inadequate handling of MHM is a global phenomenon, and can have a variety of devastating impacts on women's health and well-being. Lack of adequate sanitation can lead to a higher risk of infection for everyone impacted, but when women do not have access to clean water for both sanitation and hygienic aspects of managing their menstrual periods, they are susceptible to an additional risk of infection on top of the general risks every month

. Lack of available sanitary MHM products further
perpetuates
health risks. In addition to the effects on women's health, research shows inadequate MHM has a negative impact on women's dignity, education, work and psychological well-being. According to Path

, "Insufficient attention to menstrual care within gender and reproductive health education, a lack of access to affordable and appropriate menstrual care products, and an absence of appropriate sanitation and waste disposal systems limit women's potential and perpetuate gender inequalities." Lack of toilets in schools and safe public toilets in general mean that women and girls are often forced to stay at home when they have their periods, which significantly reduces their time in school and therefore greatly affects their education. Pulling all of these issues together is the unyielding stigma that women continue to face in society regarding menstruation, a
stigma
so ingrained in many cultures that it often prevents girls from learning about menstruation until the onset of first periods. A view of these issue on the ground can be seen in India where, according to the Indian newspaper The Hindu,
cultural beliefs, hygiene practices, and social attitudes have limited girls from using washroom facilities, more so during menstruation.
With these incapacitating challenges, the road to gender equality is rough and bumpy, and can only be smoothed with improvements to global water and sanitation.
The solutions to these issues are evident, but they are ambitious. The Global Water Forum recommends both hardware and software solutions to MHM;

among the chief recommendations is

access to water within latrines or in private spaces to clean the body and absorbents effectively.

But

this and other recommendations

need funding, legislation, and on the ground implementation.

Global initiatives need to be localized, and involve collaborations between government, civil society and the private sector- a notable example this year is Beyonce's BeyGOOD organization, which is working with Gucci to bring clean water to Burundi by 2020, and specifically mentions MHM in the

announcement

. But most importantly, more attention needs to be brought to the importance of MHM; though MHM is often included under WASH, it is not mentioned directly in the Sustainable Development Goals, the New Urban Agenda, or the new U.S. Global Water Strategy. Until global stigma is exchanged for global action, true water equality and gender equality will not be reached.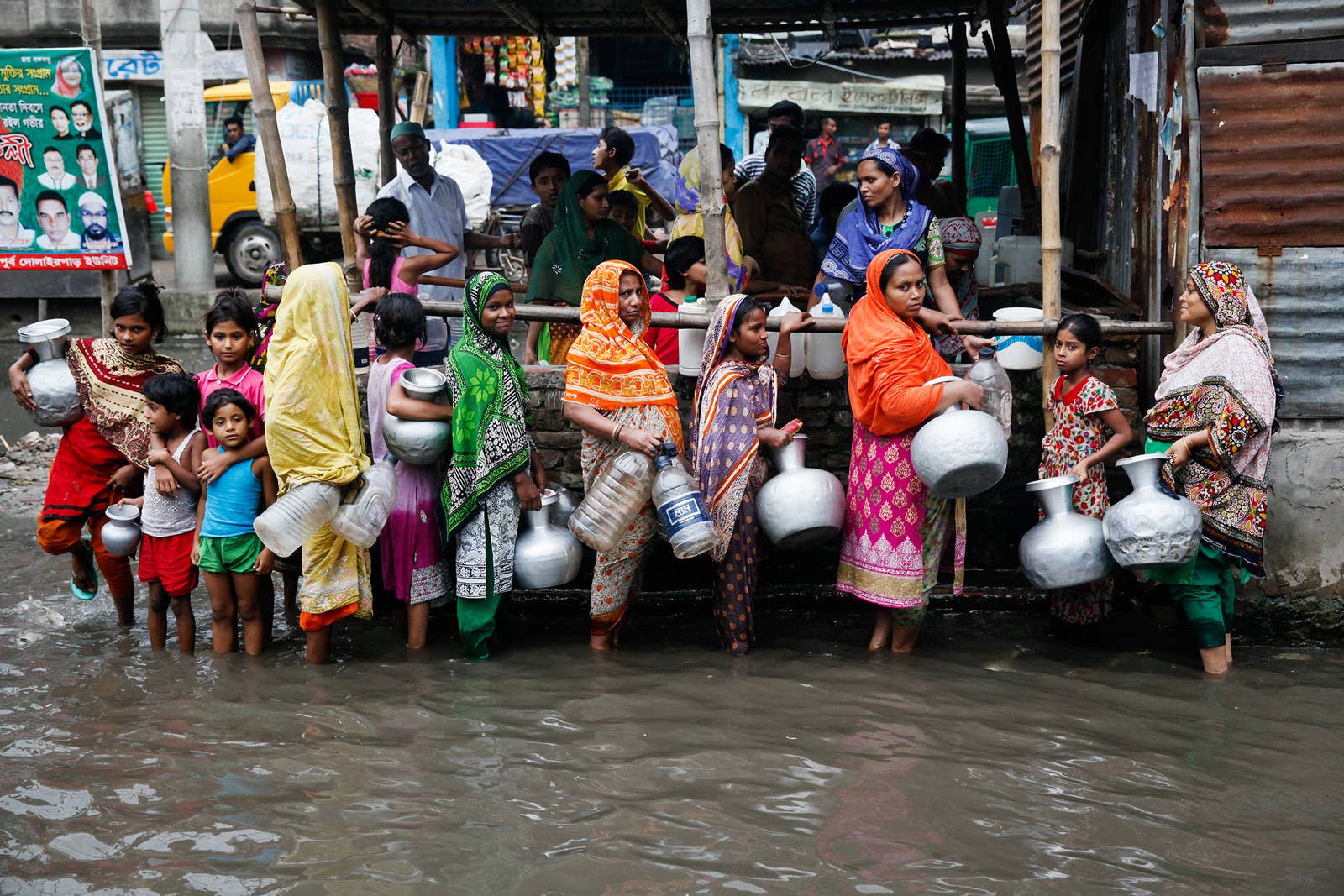 Bangladeshi women and children collect drinking water from a polluted area in Dhaka on June 17, 2017
Spread the word!

Help IHC Global spread our message by forwarding our newsletter to organizations and people who want to help create inclusive and sustainable cities. Support IHC Global further by becoming a member of our growing coalition. Please join us either as an individual or as an organization! With your U.S. tax deductible membership, you will provide meaningful help in addressing the worldwide challenges of rapid urban growth, urban poverty and inequity. Help IHC Global "change cities for good" and secure a better urban future for us all! We need your help and your voice more than ever!
Head Office: 1424 K St. NW, Ste 600, Washington, D.C. 20005
Satellite Office: 430 N. Michigan Ave, Chicago, IL 60611