Episcopal Church
Blue Springs, Missouri 64015
Wednesday, March 25, 2020
Friends, know that I pray for you daily and I encourage us all to follow the safety guidelines in place to protect ourselves and others during this pandemic.
I want to commend all of us, while being forced to separate from physical interaction, to communicate with each other in all possible ways, including Facetime, ZOOM, Skype, handwritten cards/letters and phone calls. This will keep people connected as well as show our love for each other.
My thanks to everyone who has volunteered to call our parish members (including
Janeece Buckner, Jeff Chapman, Nancy Linthicum, Debbie Lynch, Elaine Marshall and Diane Gerlach)
. It's my hope our callers can contact everyone on a regular basis and help fulfill any needs our parish members may request. These calls are also an opportunity to pray together and share what the church is doing.
Rather than mail directories, I will be bringing them to those who have not yet picked them up at church.
NO IN-PERSON MEETINGS.
NO live, in-person worship services until further notice.
VIEW SERVICES ON FACEBOOK LIVE.
STAY INVOLVED.
Committees and working ministries are encouraged to use ZOOM to meet on-line. Contact Fr. David to set-up a meeting.
Virtual Vestry Meeting
scheduled for Wednesday. April 14 at 7:00 pm via ZOOM. Look for an invite from Fr. David in your email. Please check your spam e-mail periodically to make sure you are receiving all messages.
SOLES 4 SOULS
collection continues. Place your shoes in the bins with lids by the front door of the church.
Please contact Fr. David if you are interested in participating in an on-line (ZOOM) Bible Study class. He will set-up a meeting to discuss plans. Current thinking is a 1-hour evening session every Tuesday at 7:00 pm, but the final time and day are not final.
Please support us financially
PAY YOUR PLEDGE.
Church expenses still go on during the time we have suspended in-person church services due to the coronavirus pandemic. Your continued financial support of the parish is vital to support our ministries and serve our members and community.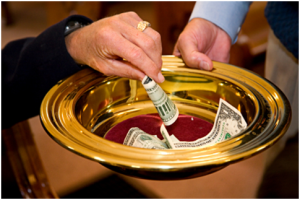 Please review different ways to
send your contribution
to the Church under the "give" tab on our church website. You can mail a check to the church, use Zelle, or use your bank's Bill Pay service.
We will soon have a dropbox for payments affixed to the
wall just outside the ground level parking lot door for folks to leave payments as well.
PRAY FOR OTHERS.
Let us pray for
Gene and Norma, Jodi, Christian, Henkie, Sally, Ruth and Lucky, Billie, Joe, Owen and family, Chris and the Henson family, Lynne, Ed and Audry, Rene, Sydney and Reese, Bev, Fiona, Ben, all people affected by the COVID-19 virus, our caregivers, as well as the homeless and those caring for them.
Pray for our nation and all the nations of the world, that goodness prevail and that our differences may cease especially as we all come together to cure the sick and eradicate the COVID-19 disease.
I ask your prayers for the departed
, especially Rev. Cynthia Johnston-Hallis, who died suddenly from an aneurysm. Cynthia was the bridesmaid at Fr. David's wedding and an Episcopal priest.
Prayers for the whole family and especially for Gary Chub's family for the death of his mother. May her soul and all the departed rest in God's peace.
O God, you made us in your own image and redeemed us

through Jesus your Son: Look with compassion on the whole

human family; take away the arrogance and hatred which

infect our hearts; break down the walls that separate us;

unite us in bonds of love; and work through our struggle and

confusion to accomplish your purposes on earth; that, in

your good time, all nations and races may serve you in

harmony around your heavenly throne; through Jesus Christ

our Lord. Amen.
LAUGHTER IS GOOD FOR THE SOUL.