Episcopal Church
Blue Springs, Missouri 64015
ADULT FORUM WITH DR. BILL STANCIL
Tomorrow, Sunday, March 18 at 9:15 am
D
r. Bill Stancil, Professor of Theology & Religious Studies at Rockhurst University in Kansas City, will be with us again tomorrow, Sunday, March 18 and also Sunday, March 25 to lead a discussion on
The Great Sacraments of the Church
at the Adult Forum, beginning at 9:15 am in the Undercroft.
March 18: Baptism: "Initiated into Christ"
March 25: Eucharist: "Nurtured by Christ"
NECESSITY PANTRY IN-GATHERING TOMORROW
Monetary Gifts also Appreciated
Tomorrow, Sunday, March 18, is our monthly in-gathering for the Necessity Pantry. The Pantry is a joint outreach ministry of the Episcopal churches in Eastern Jackson County and managed by St. MIchael's in Independence. Canned fruit, soups, bar soap, deodorant, toothbrushes, toothpaste, feminine pads,and Depends in all sizes are always needed. THANK YOU for your generosity!
SPRING CLEAN-UP WORK-DAY
Next Saturday, March 24, 9 am to Noon
Please help us clean-up the Church (inside and out) next
Saturday, March 24,
from 9 am to Noon. Many hands make for quick work!
A MESSAGE FROM FR. DAVID
Lenten Question
Q:
Aside from Ash Wednesday, which begins Lent, what are its principal events?
A: There are a variety of saints' days which fall during Lent, and some of these change from year to year since the dates of Lent itself change based on when Easter falls. However, the Sundays during the Lenten season commemorate special events in the life of Our Lord, such as his Transfiguration and his Triumphal Entrance into Jerusalem on Palm Sunday, which begins Holy Week. Holy week climaxes with Holy Thursday, on which Christ celebrated the first Mass, Good Friday, on which he was Crucified, and Holy Saturday -- the last day of Lent -- during which Our Lord lay in the Tomb before his Resurrection on Easter Sunday, the first day after Lent.
Reflection
There is a general rule concerning all special graces granted to any human being. Whenever the divine favor chooses someone to receive a special grace, or to accept a lofty vocation, God adorns the person chosen with all the gifts of the Spirit needed to fulfill the task at hand.
This general rule is especially verified in the case of Saint Joseph, the foster-father of our Lord, and the husband of the Queen of our world, enthroned above the angels. He was chosen by the eternal Father as the trustworthy guardian and protector of his greatest treasures, namely, his divine Son and Mary, Joseph's wife. He carried out this vocation with complete fidelity until at last God called him, saying "Good and faithful servant, enter into the joy of your Lord."
Remember us, Saint Joseph, and plead for us to your foster child. Ask your most holy bride, the Virgin Mary, to look kindly upon us, since she is the mother of Him who with the Father and the Holy Spirit lives and reigns eternally. ....Saint Bernardine of Siena
Lenten Fact
Since Lent is a penitential season of preparation for Easter, the Stations of the Cross, which follow the path of Christ from Pontius Pilate's praetorium to Christ's tomb have been a popular devotion in parishes. In the 16th century, this pathway was officially entitled the "Via Dolorosa" (Sorrowful Way) or simply Way of the Cross or Stations of the Cross. Remember all are welcome at 12:15 on Fridays in Lent to experience the service of Stations of the Cross.
LENTEN ECUMENICAL DINNER AND SERVICE
Wednesday, March 21 at Chapel Hill Presbyterian
The final 2018 Blue Springs Lenten Ecumenical dinner and service will be on Wednesday, March 21 at Chapel Hill Presbyterian Church located at 3108 SW US Hwy 40 in Blue Springs. The event begins with a simple common meal at 6 pm, followed by a short worship service at 6:40 pm.
All offerings are donated to the Community Services League.
UNITED THANK OFFERING (UTO)
Lenten Discipline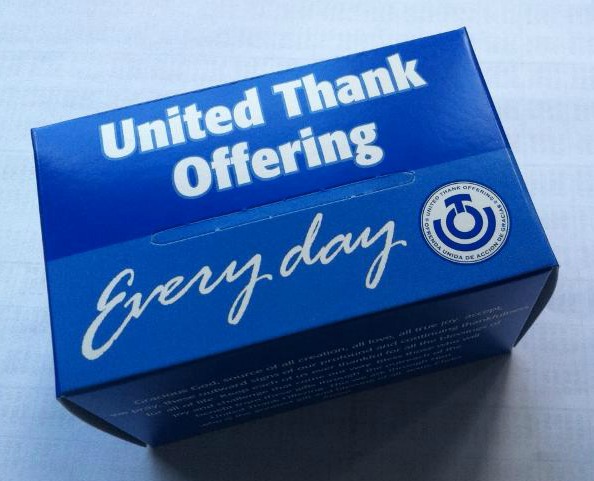 The Outreach Committee is sponsoring a
United Thank Offering
during Lent. Please consider taking a UTO box and prayer from the narthex. The UTO box is intended to hel
p us recognize our many daily blessings. As you become aware of a simple or great blessing God has provided, you are encouraged t
o say a prayer of thanksgiving and recognize God's grace with an offering placed in your family's UTO box.
The boxes should all be returned to church on Easter or the following Sunday. Funds collected will be used by the Diocese to support ministries at home and overseas.
Services every night
Holy Monday (3/26): Service at 7:00 pm
Holy Tuesday (3/27):

Service at 7:00 pm

Holy Wednesday-Tenebrae (3/28): Service at 7:00 pm
Maundy Thursday (3/29): Agape meal at 6:00 pm followed by 7:00 pm service
Holy Friday (3/30): Stations of the Cross at 12:15 pm and 5:30 pm; Good Friday service at 7:00 pm
Holy Saturday (Great Vigil) (3/31): rehearsal 10:00 am; service at 7:00 pm
Easter Sunday (4/1): one service only at 10:30 am followed by Easter Egg Hunt
Please bring small wrapped candy for the upcoming Easter Egg Hunt this Sunday! Your contribution is appreciated and can be left in the Children's Chapel or in the Narthex.
Please remember to wear your name tag at Church!

COMING UP
Important events and dates
Sunday, March 18:
Necessity Pantry In-gathering; Adult Forum with Bill Stancil
Monday, March 19: Nourish KC at 10:00 am
Wednesday, March 21: Bible Study at 1:00 pm
Thursday, March 22: Men's Group meets at Fr. Lynch's House
Friday, March 23: Stations of the Cross at 12:15 pm
Saturday, March 24: Church Clean-Up Day from 9 am to Noon
Sunday, March 25: Palm Sunday, Adult Forum with Bill Stancil
Monday, March 26: Uplift Van Meal Delivery at 4:45 pm; Holy Week Services begin
Tuesday, April 3: Inquirer's Class Make-Up at 6:30 pm
Saturday, April 7:
Area Confirmation at 2:00 pm at Grace and Holy Trinity Cathedral