Episcopal Church
Blue Springs, Missouri 64015
ADULT FORUM THIS SUNDAY
Between Services at 9:15 am
Join us this Sunday between services beginning at 9:15 am in the Undercroft for a special Adult Forum. Our speaker is Karen Woods, a teacher of Buddhism and a Buddhist monk.
NECESSITY PANTRY NEEDS
In-gathering this Sunday, February 18
February needs for the Pantry include winter clothing, disposable razors, toothpaste, toothbrushes, women and men's deodorant, cereal, soup and canned vegetables. Monetary donations are also gratefully accepted.
Can you help? Please bring your contributions to the Church and leave them in the narthex.
A MESSAGE FROM FR. DAVID
Lenten Practices and Traditions
What do ashes, no meat on Fridays, 40 days and Mardi Gras have in common? They're all symbols associated with the Church season known as Lent-the 40 days preceding the Holy Triduum: Holy Thursday, Good Friday and Easter.
Why 40 days? Well, throughout the Bible there are references to events taking place over 40 days or years, such as the Israelites' 40 years in the desert or Jesus' 40 days of fasting and prayer in the desert. In the biblical sense, "Forty days is another way of saying 'long enough' or 'enough time,'" according to The Lent, Triduum and Easter Answer Book, by Paul J. Niemann.

We begin those 40 days on Ash Wednesday when we receive ashes on our foreheads as a sign of mourning and penitence. The importance of this tradition is to remind us that we are entering a period of prayer and spiritual renewal, fasting and almsgiving.
One Last Celebration
The day before Ash Wednesday, many people will celebrate the "feast before the fast" with Mardi Gras. Mardi Gras (French for "Fat Tuesday"), as we know it today, actually comes from the tradition called Shrovetide. Shrovetide was the final celebration before Lent. During Lent, people would typically wear dark clothing, abstain from meat and rich foods, and avoid celebrations. Therefore, Shrove Tuesday-the day before Lent-provided people with an opportunity to engage in one last celebration, wear colorful costumes and decorations, and use up the rich foods in their homes. Mardi Gras celebrations have become rather popular and family-oriented in places such as New Orleans, where schoolchildren even get the day off. Some of the events associated with Mardi Gras may be rather raucous, but the basic meaning of the celebration remains.

According to Programs for Lent and Easter, by Elizabeth Wright Gale, the name Shrove comes from the word shrive, which means to confess.
In many parts of the world, Shrove Tuesday is still referred to as Pancake Day. In an attempt to use up rich foods, people feast on items such as pancakes, sausages, bacon or other scraps of meat.
Another tradition of Mardi Gras is the King Cake, a circular-shaped pastry decorated with icing and colored sugar. The colors of the sugar-which are also the colors of Mardi Gras-are purple, green and gold. The colors, in order, signify justice, faith and power.

A small plastic baby is inserted inside the cake. Whoever gets the baby in his or her piece is said to have good luck for the next year-and must also supply next year's cake!
Celebrating the Symbols of Lent
With its wonderful traditions and symbols, Lent provides a perfect opportunity for your family to celebrate together. Here are some suggestions for making the most of Lent: As a family, observe the practice of not eating meat on Friday. Remember that the purpose of this tradition is to make a sacrifice. If one of your family's favorite meals is meatless, you might consider an additional sacrifice. Meatless Fridays are now also seen as a sign of solidarity with the hungry multitudes worldwide. Attend a penance service and go to Confession. Lent is the Church's primary penitential season. Most parishes offer penance services during the Lenten season. Check with your parish for times.

In addition to abstaining from meat on Fridays, do some abstaining from the television or other types of media, such as the computer or video-game system. Use the time to do activities together as a family, such as taking a walk or playing a game.
Put some extra effort into your decision as to what your Lenten sacrifice will be this year. And remember that doing something can be just as good as giving something up. Last year my focus for Lent was to contact people-by phone, mail or in person-whom I had meant to stay in contact with but hadn't. Each week I focused on a different person.
Make your family a King Cake for Mardi Gras
The Internet has lots of different recipes for King Cakes ranging from the official New Orleans King Cake recipe to the less time-consuming and labor-intensive versions. Make sure to take the time to read the story of the history and symbolism of the tradition. To locate this information, type "King Cake" into your favorite search engine. You can also order premade King Cakes at many bakeries or on the Internet.

For Teens: Cooking Up a Good Time
Offer to cook your family dinner. You can also incorporate some of the more current Mardi Gras customs by decorating the table with beads and other colorful items. P

erhaps after dinner you can ask family members to share their plan for Lenten sacrifice. Letting each other know what your sacrifice will be offers an opportunity for encouragement to stay true to that sacrifice throughout the next 40 days. Respect the fact, however, that some family members-yourself included-may not be comfortable sharing their sacrifice.
For Kids: Finding Signs of Life
When I was growing up, my strongest connection with Lent was that it was the time of year that I had to give something up. As I grew older, however, I realized that, while sacrificing something you enjoy is one option, it's not the only one. For instance, one year I decided that, instead of giving something up, I would do what my parents asked of me without complaining or arguing. Believe me, that was much harder than giving up candy!
This year, take some time to think about your Lenten sacrifice. Talk with your parents or other adults about why we practice this custom-as a reminder of God's great sacrifice for us.
Whatever you decide will be your Lenten sacrifice, draw a picture and post it on the refrigerator where everyone can see-and help you honor your commitment. For instance, if you're giving up watching a certain television program, draw a picture of one of the characters. Or, if you're going to make an effort to play more with your brother or sister, draw a picture of the two of you playing together.


Wednesday, February 21 at Resurrection
Resurrection again joins other Blue Springs churches this year in the sharing of food, fellowship and worship during Lent. For five Wednesdays during Lent, one church will host a 6 pm gathering for a common meal, followed by a Lenten worship service at 6:40 pm. This year's theme is "Who are we as a church and what does the future hold?" All offerings are donated to the Blue Springs Community Services League.
February 21: Church of the Resurrection, 1433 NW R.D. Mize Road
February 28: Good Shepherd Christian, 111 SW Woods Chapel
March 7: First Christian Church, 701 NW 15th Street
March 14: All Saints Lutheran Church, 421 SW 19th Street
March 21: Chapel Hill Presbyterian Church; 3108 SW US Hwy 40
Resurrection members are asked to bring a finger food dessert to share February 21.
THE SACRAMENTAL LIFE: CONFESSION
Reconciliation of a Penitent
"Reconciliation of a Penitent, or Penance, is the rite in which those who repent of their sins may confess them to God in the presence of a priest, and receive the assurance of pardon and the grace of absolution."
The Book of Common Prayer, pg. 859
Known both as Confession or as Reconciliation, this sacrament is perhaps the least understood. Why tell God something that God already knows ... in the presence of another person? Because there are times in our lives when things we do (or don't do) block us from growing spiritually. They stand between us and God and we can't get around them. Penance is a way of removing the barriers that our bad behaviors create.


God already knows our sins even before we speak them, but it is a helpful practice for our spiritual journey to spend time contemplating our sins and confessing them in the presence of others as it helps us to be clear-eyed about the realities of our behavior. To share a confession with a person who is obligated to confidentiality -- and then hear that God loves and forgives us in spite of what we've done -- can be a very healing experience. It is meant to be a regular part of a Christian's spiritual development.
In the Episcopal Church, penance is not mandatory before receiving Eucharist as it is in some churches. However, a corporate confession of sin is part of the service of the Holy Eucharist before receiving Communion, with an absolution of sins following. Regardless of one's Sunday attendance, individual confession with a priest on a regular basis is highly advised, particularly during the seasons of Lent and Advent.

The Sacrament of Confession is a matter of strictest confidentiality.


Tuesdays beginning February 20 at 6:30 pm
A new Inquirers Class will begin on Tuesday, February 20. Classes will be held from 6:30 to 8:00 pm for five weeks. This class is a prerequisite for anyone wishing to be confirmed (ages 11 and up). Area Confirmation will be held on Saturday, April 7, at 2 pm at Grace & Holy Trinity Cathedral.
Everyone is welcome to come to the class to learn about the Episcopal Church!
February 20: Introductions and Church History
February 27: Holy Scriptures and Holy Sacraments
March 6: Book of Common Prayer and Episcopal Tradition
March 13: Liturgy, Worship and Music
March 20: Prayer and Meditation
UNITED THANK OFFERING (UTO)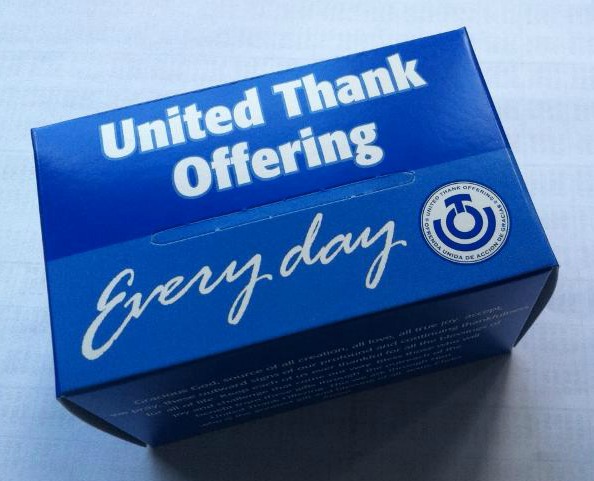 Lenten Discipline
The Outreach Committee is sponsoring a
United Thank Offering
during Lent (February 14 through March 29). Please consider taking a UTO box and prayer from the narthex. The UTO box is intended to help us recognize our many daily blessings. As you become aware of a simple or great blessing God has provided, you are encouraged to say a prayer of thanksgiving and recognize God's grace with an offering placed in your family's UTO box.
The boxes should all be returned to church on Easter or the following Sunday. Funds collected will be used by the Diocese to support ministries at home and overseas.

COMING UP
Important events and dates
Sunday, February 18:
Adult Forum featuring Karen Woods; Necessity Panry in-gathering
Monday, February 19: Daughters of the King at 7 pm
Tuesday, February 20: Inquirers Class
Wednesday, February 21: Ecumenical Lenten Dinner at Resurrection at 7 pm (please bring a finger food dessert)
Thursday, February 22: Bridge Club meets at 7 pm
Friday, February 23: Stations of the Cross at 12:15 pm
Saturday, February 24: Strategic Planning Meeting at 9 am
Sunday, February 25: Healing Services
Monday, February 26: Uplift Meal Delivery at 4:30 pm
Tuesday, February 27: Inquirers Class
Wednesday, February 28: Ecumenical Lenten Dinner
Friday, March 2: Stations of the Cross at 12:15 pm; Family Bingo Night at 6:30 pm
Saturday, March 3: Diocese of West Missouri Bishop's Day