Episcopal Church
Blue Springs, Missouri 64015
A MESSAGE FROM FR. DAVID
Humbled by the goodness of so many people... I can only begin to express my sincerest appreciation for how loving, hard working and generous the people of Resurrection parish are.
You all have shown me that you truly know how to live out Christ's gospel in the world by being his hands, feet and body. I am reminded of this especially when I see people come together to love and care for others who are grieving and experiencing great loss and for the outpouring of work and preparation and hospitality for other church members from our evangelical church groups, as demonstrated this last week with our Lenten dinner and service. But it is not just these outward and big events that I see our parish doing the hard work of the gospel. It is also in the daily and weekly work to care for the less fortunate in the several outreach endeavors we as a parish have undertaken. Whether it is an answered prayer request, a visit to a shut-in or one in hospital, or it is a phone call or receiving a card, the people of Resurrection parish continually and spiritually rise to the occasions for which they are called to be Christ. Bringing food for the pantry, contributing to other material drives for clothing and money, are all outward actions of fulfilling the gospel. Many may think that such actions and considerations are routine things that come as directives from the church office, but be it known, there is no church office, and the actions and work that happen, happen because people are informed and act as representatives of the church and the Body of Christ.
As your pastor, priest, teacher and fellow Christian, I can only instill the interest, serve as a coordinator, facilitator and cheerleader to help those who really do the work and have identified the needs that focus the actions. In all my days of serving people, either from an ambulance, in a hospital or classroom, and now as an ordained minister, I am continually humbled by those who live out their spirituality in the practice of doing Christ's work. I could feel guilty for not personally doing more myself, but I am reassured by seeing the initiative and motivation by many individuals to suggest and put into motion what needs to be done, and then get it done. Why am I saying all this? I am saying all this because we need to be reminded that the work we are doing is making a difference. It is making a difference for those who receive what we do, and it is making a difference for those who do what they do. As we continue in our Lenten season, I will be asking all of us, ...How are we making a difference in our own lives? ...How are we making a difference in the lives of others? To answer these questions I ask us to look around and just see what is being done. Are you serving in a parish ministry? If not, why not? ...and if so, invite others to help you and help them get involved. Lent is as much an active time physically as it is spiritually. Do you have kids? ...please bring them to church to learn about their faith and get involved in what church has to offer them. Our children need spiritual nourishment as much as other daily education. Are you interested in teaching our children about their faith, consider assisting Gabriella in Sunday School. We come to church not only to experience great worship and fellowship, but most importantly to learn about our faith and spirituality.
So I write this week specifically to express my humble gratitude to the wonderful work of this parish and to invite and encourage all of us to push our potential for doing even more to be the hands, feet and body of Christ, through learning, worshiping, being in fellowship and spreading the good news of Jesus. May God sincerely continue to bless you in all you do as faithful servants of the gospel!
_________________
Many thanks also to those who prepared for and assisted in the celebration of life for June Short on Friday 2/16. The church was full, wonderful music was heard and a great celebration for June was had for all who attended. Our prayers continue for Joan and her whole family as we continue to mourn June in his transition in life.
________________
Please join me at Church this Sunday when I will be inducted into the Holy Order of Worker Sisters and Brothers at the 10:30 service . A reception will follow!
LENTEN ECUMENICAL DINNER AND SERVICE
Wednesday, Feb. 28 at Good Shepherd Christian Church
Resurrection annually joins other Blue Springs churches in the sharing of food, fellowship and worship during Lent.
Many thanks for all the hard work by Resurrection members who prepared the first Lenten Ecumenical Dinner this year, which was held at Resurrection last night. Over 75 people attended! The church was dressed so nicely with adorned tables, polished floors and a very welcoming environment. Many people praised the food and thanked us for holding the program despite the weather.
Your attendance and participation helps make these ecumenical events enjoyable for all. All offerings are donated to the Community Services League,serving Eastern Jackson County needs for the homeless and less fortunate.
Following are the locations of the remaining Lenten services, beginning a 6 pm with a simple common meal followed by a short worship service at 6:40 pm. This year's theme is
"Who are we as a church and what does the futur
e hold?"
February 28:
Good Shepherd Christian, 111 SW Woods Chapel
March 7: First Christian Church, 701 NW 15th Street
March 14: All Saints Lutheran Church, 421 SW 19th Street
March 21: Chapel Hill Presbyterian Church; 3108 SW US Hwy 40
THE SACRAMENTAL LIFE: CONFESSION
Reconciliation of a Penitent
"Reconciliation of a Penitent, or Penance, is the rite in which those who repent of their sins may confess them to God in the presence of a priest, and receive the assurance of pardon and the grace of absolution."
The Book of Common Prayer, pg. 859
Known both as Confession or as Reconciliation, this sacrament is perhaps the least understood. Why tell God something that God already knows ... in the presence of another person? Because there are times in our lives when things we do (or don't do) block us from growing spiritually. They stand between us and God and we can't get around them. Penance is a way of removing the barriers that our bad behaviors create.


God already knows our sins even before we speak them, but it is a helpful practice for our spiritual journey to spend time contemplating our sins and confessing them in the presence of others as it helps us to be clear-eyed about the realities of our behavior. To share a confession with a person who is obligated to confidentiality -- and then hear that God loves and forgives us in spite of what we've done -- can be a very healing experience. It is meant to be a regular part of a Christian's spiritual development.
In the Episcopal Church, penance is not mandatory before receiving Eucharist as it is in some churches. However, a corporate confession of sin is part of the service of the Holy Eucharist before receiving Communion, with an absolution of sins following. Regardless of one's Sunday attendance, individual confession with a priest on a regular basis is highly advised, particularly during the seasons of Lent and Advent.

The Sacrament of Confession is a matter of strictest confidentiality.


INQUIRERS CLASS CONTINUES
Tuesdays at 6:30 pm
Our current Inquirers Class will continue every
Tuesday
from
6:30 to 8:00 pm
until March 20. This class is a prerequisite for anyone wishing to be confirmed (ages 11 and up).
Area Confirmation will be held on Saturday, April 7, at 2 pm at Grace & Holy Trinity Cathedral.
Everyone is welcome to come to the class to learn about the Episcopal Church! Remaining classes are:
February 27:
Holy Scriptures and Holy Sacraments
March 6: Book of Common Prayer and Episcopal Tradition
March 13: Liturgy, Worship and Music
March 20: Prayer and Meditation
BINGO ON FRIDAY, MARCH 2
Beginning at 6:30 pm
Join us for Bingo on Friday, March 2, in the Undercroft beginning at 6:30 pm. We promise prizes for EVERYONE! Bring your friends!

Please bring a snack to share.
UNITED THANK OFFERING (UTO)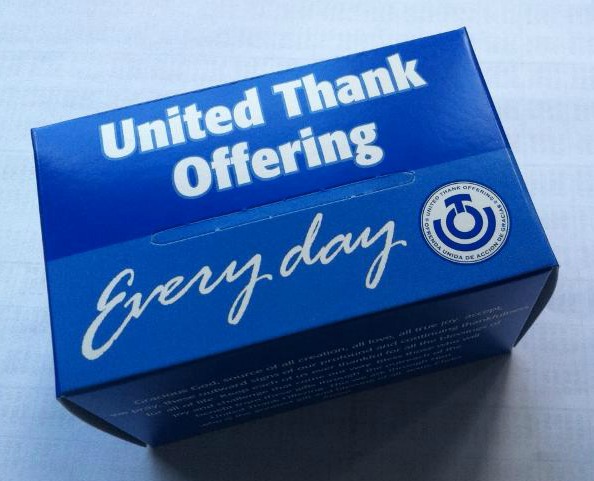 Lenten Discipline
The Outreach Committee is sponsoring a
United Thank Offering
during Lent (February 14 through March 29). Please consider taking a UTO box and prayer from the narthex. The UTO box is intended to help us recognize our many daily blessings. As you become aware of a simple or great blessing God has provided, you are encouraged to say a prayer of thanksgiving and recognize God's grace with an offering placed in your family's UTO box.
The boxes should all be returned to church on Easter or the following Sunday. Funds collected will be used by the Diocese to support ministries at home and overseas.

COMING UP
Important events and dates
Friday, February 23:
Stations of the Cross at 12:15 pm is CANCELLED
Saturday, February 24: Strategic Planning Meeting at 9 am
Sunday, February 25: Healing Services
Monday, February 26: Uplift Meal Delivery at 4:30 pm
Tuesday, February 27: Inquirers Class
Wednesday, February 28: Bible Study at 1 pm; Ecumenical Lenten Dinner at Good Shepherd Christian Church
Friday, March 2: Stations of the Cross at 12:15 pm; Family Bingo Night at 6:30 pm
Saturday, March 3: Diocese of West Missouri Bishop's Day