Episcopal Church
Blue Springs, Missouri 64015
Weekly E-mail
Thursday, October 29, 2020
Turn clocks back at bedtime Saturday
DAYLIGHT SAVINGS TIME ENDS.
Don't forget to set your clocks back one hour when you go to bed this Saturday.
Daylight Saving Time ends this Sunday, November 1 at 2
:00 am when we will revert to 1:00 am local standard time.
Sunrise and sunset will be about 1 hour earlier on
Nov 1, 2020
than the day before. There will be more light in the morning. And t
he best news is you get an extra hour of sleep Sunday morning!
SUNDAY, NOVEMBER 1, 2020
All Saints Sunday
Holy Eucharist Rite I at 8:00 am
Holy Eucharist Rite II at 10:30 am
- Service in-person and also broadcast
Social distancing and masks required
Virtual Coffee Hour at Noon on Zoom
THIS SATURDAY.
Join us in the church parking lot with your trunk decorated for Halloween this Saturday, October 31, from 4:00 - 6:00 pm.
Feel free to dress for the occasion and please bring a few bags of candy to hand out to the kids. There will be a gift card giveaway for the BEST decorated trunk. Let's grow our church community with this FUN outreach event! Invite children from your family and neighborhood.
Contact Sarah States with any questions 816-787-8214. Let Sarah know you will participate with a decorated trunk. Please click here to RSVP.
Last chance to remember your Saints
SUBMIT NAMES FOR ALL SAINTS TODAY.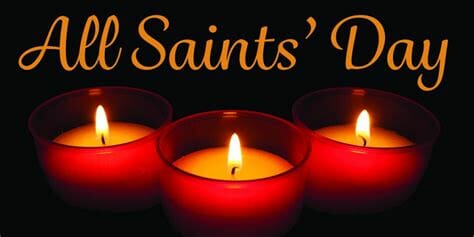 Because of our COVID limitations, collecting names for the acknowledgement of loved ones on All Saints Sunday, November 1, is more difficult this year.
Annual giving campaign begins soon
FAITH-FILLED GENEROSITY.
We will be hearing messages of Faith-Filled Generosity as we move through the weeks of this year's stewardship season.
The Gospel is rich with examples of how our faith kindles our love for each other and our Christian responsibility to share our love with the world. We invite you and your household to pray and learn, taking these weeks to consider how your generous response to God's call has been shaped by this community and the friends who gather with you.
Thank you for being a part of the Church of the Resurrection and for your faithful, faith-filled gift to our annual campaign.
Like good stewards of the manifold grace of God, serve one another with whatever gift each of you has received.
- 1 Peter 4:10
Nominations for Vestry open
THREE TO BE ELECTED IN JANUARY.
Vestry members exercise leadership by example and participation both in the business and spiritual life of the parish. Persons
standing for election to Vestry should regularly attend worship services and demonstrate faithful stewardship. Vestry members must be committed to attend
monthly Vestry meetings, participate in a Vestry retreat during the year and complete the Safeguarding God's Church training course on-line.
Please see Fr. David or Senior Warden John Biggs for information or to express your willingness to serve.
Monday Matters - RenewalWorks
FROM REV. JAY SIDEBOTHAM +.

I appeal to you therefore, brothers and sisters, by the mercies of God, to present your bodies as a living sacrifice, holy and acceptable to God, which is your spiritual worship.
Do not be conformed to this world, but be transformed by the renewing of your minds, so that you may discern what is the will of God-what is good and acceptable and perfect.

Romans 12:1,2

I pray that, according to the riches of his glory, he may grant that you may be strengthened in your inner being with power through his Spirit, and that Christ may dwell in your hearts through faith, as you are being rooted and grounded in love.

Ephesians 3:16, 17

We must no longer be children, tossed to and fro and blown about by every wind of doctrine, by people's trickery, by their craftiness in deceitful scheming. But speaking the truth in love, we must grow up in every way into him who is the head, into Christ, from whom the whole body, joined and knit together by every ligament with which it is equipped, as each part is working properly.

Ephesians 4:14-16

But grow in the grace and knowledge of our Lord and Savior Jesus Christ. To him be the glory both now and to the day of eternity. Amen.

II Peter 3:18



Wise Guides
As I think about what it means to put faith to work in the world (the theme of these Monday messages), I'm grateful for the wisdom of several guides in my life.
Richard Rohr, in his book, The Wisdom Pattern, makes the point that "education is not the same as transformation." Too often mainline churches have thought that the answer to going deeper in the spiritual life is to learn more stuff. Rohr suggests that while education matters, the goal of the spiritual life is not simply consumption of educational resources but the experience of soulful transformation. How will we be changed? How has transformation been part of your spiritual experience?
Dwight Zscheile, an Episcopal priest who teaches at Luther Seminary, wrote a book called "People of the Way." In the introduction he asks about the difference between being a church member and being a disciple. Are they the same thing? What do you think? It can be tempting to think about membership as arrival. "I'm in and close the door behind me."A disciple is by definition a work in progress, someone on the move, open to learning, open to others, open to transformation.
A related thought from Brian McLaren, a question to which I often return: "Is the church a club for the spiritually elite who pretend to have arrived, or a school for disciples who are still on the way?" Don't get me wrong. Clubs are great. But there is more.
Dawn Davis, a priest in the church of Canada and creator of the
Revive
program, speaks about the need to explore the difference between knowing about God and knowing God. She says it's like the difference between reading a recipe and enjoying a meal.
Soren Kierkegaard framed the question in terms of worship, describing worship as a drama. He said that in the liturgy, the congregation are the actors and God is the audience. For too long, I have thought of gatherings for worship as being performances, a spectator sport. As clergy, I better be at the top of my game or the congregation (the audience) won't clap. I love a good drama, but the spiritual life is one in which we all play a part.
These related thoughts from wise guides have been on my mind, as I think about my own spiritual journey and wonder about recent reports of decline in the church in our culture. For me, the hope is the promise of transformation. These thoughts are especially brought to mind as we navigate a season of considerable coincident crises (health, economic, environmental, racial), exacerbated by the anxiety of an impending election. I've seen plenty of news. I know a gracious plenty about issues and candidates. What I now need is the experience of trust that will make a difference, that will offer equanimity and hope, peace and tranquility, grace and loving kindness in choppy waters.
That frame of mind comes not simply with knowing stuff about God, as important as that is. It comes in a relationship with God, known to us in Christ who stood up in the stern of the boat, in the midst of the storm and said "peace be still." In my work with congregations, I'm grateful for so many wise guides with whom I've spoken, asking about their own spiritual experience. When I ask what has been transformative for them, what has helped them grow spiritually, the most common answer I get is crisis, challenge, difficulty, choppy waters. In those moments, we come to know our need of God. We're in choppy waters right now. That's precisely where God in Christ likes to go to work.
In-person worship guidelines
SOCIAL DISTANCING REQUIRED.
Ushers will ask if you have any symptoms or recent history of illness. Please do not attend church if you feel ill or know you have been exposed to COVID or any other serious illness.

Newcomers and visitors will be asked to provide their names and phone numbers upon entry for possible contact tracing.

There will be no guest book or prayer sheet

Masks will be required while in the church

Seating will be in every other pew with required social distancing

No congregational singing allowed.

Prayer books will be provided in the back pews for pick-up and use. After the service, return the prayer books in the basket located in the Narthex.

Bulletins will not be reused

Communion will be available in individual chalices distributed by the priest. Please discard these used packets in the trash when leaving.