Episcopal Church
Blue Springs, Missouri 64015
Tuesday, April 2, 2019

Ecumenical Lenten Program Series
Wednesday, April 3, 2019
hosted by Church of the Resurrection
Share a common meal beginning at
6:00 pm
Lenten worship service at 6:40 pm
Message by the Rev. Andrew Florio
OUTDOOR CLEAN-UP THIS SATURDAY AT 9:00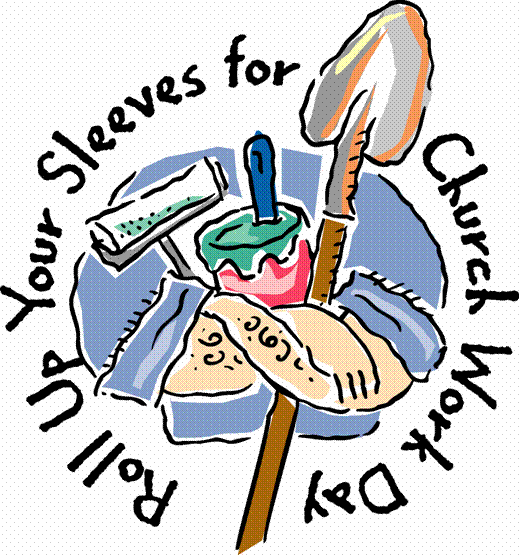 Please join us this
Saturday, April 6
, beginning at
9:00 am to clean-up the outside of the Church. Many hands make quick work!
CONFIRMATION/RECEPTION
Please contact Fr. David +
Adults who are new members of Resurrection are invited to receive the blessing of Confirmation or Reception. Please contact Fr. David + for information if you have been attending church and are interested in becoming an Episcopalian. Educational sessions to explain and prepare for this blessing and sacramental action will be offered in May for a service to be presented on June 1 with others in the Diocese being confirmed or received.
A MESSAGE FROM FR. DAVID +
As a Lenten perspective this Lent, I have chosen to provide blog publications from Fr. Jay Sidebothom with Renewal Works. His perspective gives us an interesting take on a specific journey through Lent that most of us can understand and from which can be enlightened. Please enjoy his perspective from Sunday's scriptures and his world view. Fr. David +
_________________________________
My Lenten journey this year took me to Hawaii. Tough assignment but I was willing to answer the call. That's the kind of guy I am. On a cloudless day we flew for hours over the Pacific to get to the islands, tiny specks of land in a vast expanse. As I looked out the window of the plane, I wondered what was going on below all that blue surface. It was a mystery, another world, and it led me to think of other other-worlds.
I'm a news hound, with my own political perspective, reinforced by 24/7 news sources that ratify my opinions. I recognize in our partisan culture that there are other news sources supporting other points of view marked by equal intensity. There is another world out there, one that views the world from a wholly different point of view than mine.
I grew up in a tight church community, part of a denomination that represented about .0001% of Christians in the world. It was all consuming, in some respects inspiring, in some respects toxic. (I suspect that's true of many religious traditions.) In that culture, we believed we had the answers. Nobody else really did, bless their hearts. My own faith journey has been a matter of discovering other worlds found in other expressions of Christianity and other faith traditions. As I reflect on the intensity of the religious culture of my youth, I wonder about other intense religious cultures. I may never know what it is like to swim in those streams. They may never know what it is like to swim in mine.
As I reflect on my privileged life, I know there are billions of people who live in communities that have been denied the kind of privilege I take for granted. I can't pretend to know what that is like. I think of the older woman we saw several times in Hawaii, pushing a stroller with all her earthly possessions held in garbage bags, moving along the shoulder of the highway in the hot sun. Appearances indicated she had no home except maybe the woods. I wondered about her story, as daughter, as sibling, perhaps as parent, perhaps as spouse, not to mention, as beloved child of God. I wondered what it was like to live in her world. It was hard to imagine.
Did I mention Hawaii? I was honored to offer a presentation at the annual diocesan convention. Honored with just one hitch; I gave a talk at 11 am on a Saturday morning. I looked at the schedule and realized that at 10 am, a certain Michael Curry was speaking. I wondered if I was having an anxiety dream, like taking a test for a course I never attended. I felt like changing the title of my talk to this: "And now for something completely different."
But it was a grand gift to hear him. A part of his gift: he always speaks of love. I've heard him talk a few times, but this question was new for me. He asked: Do you know what the opposite of love is? I've heard that the opposite of love is hate. That the opposite is fear. He said that the opposite of love was self-centeredness. It's exemplified, when someone shows me a group photo, one in which I am included. Guess who I look for first?
As I pondered that big blue ocean, its surface hinting at another world, I thought of Jesus as one who entered another world. I thought of Jesus as one who listened to the Samaritan woman at the well, who invited himself to lunch with scoundrel Zacchaeus, who called Matthew, the hated tax collector to be one of his followers, who ate with Pharisees and prostitutes. I thought of Jesus who calls us to go into the world, not to make everyone just like us, but to serve, to share, to show grace, which may well begin with wondering, listening and learning.
The sin of self-centeredness refuses that adventure. (After all, ego is an acronym. It stands for edging God out.) It's the pride that claims a corner on the truth, that claims with complacency that there is nothing more to learn. It's the hubris of refusing conversation. It fails to admit we don't know what we don't know.
Jesus points to another way, and in the end, to another world. The entry point? Love, compassion, listening, learning. Step into that other world this week. It may be a small step, just putting your toe in. Or you might want to jump right in, taking the plunge.
- Jay Sidebotham
BIBLE STUDY DURING LENT
Every Wednesday at 1:00 pm
Join us in the undercroft for Bible Study every Wednesday at 1 pm. We are currently studying Paul's letter to the Romans.
Please note there is NO Wednesday evening bible study until after Easter.

LENTEN AND EASTER SCHEDULE
LENT Schedule:
Stations of the Cross and Praying the Rosary every Friday in Lent at 12:15 pm in the Nave
HOLY WEEK Schedule:
All Holy Week services start at 7:00 pm
Monday, April 15, Rite I spoken Eucharist with hymns

Tuesday, April 16, Rite I spoken Eucharist with hymns

Wednesday, April 17, Tenebrae
Thursday, April 18, Maundy Thursday and all night Vigil preceded by Agape meal at 6:00 pm in the Undercroft

Friday, April 19,

Holy Friday -

Veneration of the Cross and Holy Eucharist

Saturday, April 20,

The Great Vigil of Easter

followed by a reception
Easter Sunday. April 21, 2019, one Service only at 10:30 am
Easter Egg hunt following the service
Ecumenical Lenten Program Series hosted by Resurrection tomorrow night
Five churches in Blue Springs, including Resurrection, share every Wednesday during Lent a common meal beginning at 6:00 pm followed by a 6:40 pm Lenten worship service. This year's theme is "Becoming". Offerings will support the Blue Springs Community Services League.
Wednesday, April 3:
Host - Episcopal Church of the Resurrection, 1433 NW R.D. Mize Road. Message by the Rev. Andrew Florio
Wednesday, April 10: Host - All Saints Lutheran Church, 421 SW 19th Street. Message by the Rev. Cliff Caton
Outdoor Church Cleanup, Saturday, April 6 at 9:00 am
Mark your calendar and plan to join in on the fellowship, fresh air and helping hands to clean-up the outside of the Church on Saturday, April 6, beginning at 9:00 am.
LunchBunch, Tuesday, April 9 at 11:30 am
The LunchBunch will meet at Cafe Verona, 206 West Lexington, Independence to enjoy fellowship and lunch together. Everyone is welcome!
Altar Guild Meet and Clean, Saturday, April 13 at 9:00 am
The Altar Guild will gather on Saturday morning, April 13 to clean.
Save Best Choice labels and Boxtops for Education
Please clip and save Best Choice brand UPC labels and the Boxtops for Education for Resurrection. Collection containers are located in the narthex.
Save items for our Summer Garage Sale
We are planning a large Church Garage Sale on June 14-15.. Please save your items now for donation later this year!
SUNDAY EVENING SERVICE
Please join us for our Sunday evening service
at 5:30 pm. Worship consists of liturgy of the word with music and Eucharist following the
Enriching Our Worship
settings. Candlelight, icons, occasional incense and a casual setting are highlights of this new service. A light reception follows with relevant scripture discussions.