Episcopal Church
Blue Springs, Missouri 64015
PARISH EVANGELISM WORKSHOP TOMORROW!
This Sunday, April 30, at 9:15 am
Hear the Presiding Bishop's message on the Jesus Movement and how you can be a part of it. Learn how to create your own "elevator speech" in preparation for our own Guest Sunday on June 4 (new date!)
We need YOUR HELP to make Resurrection grow...

grow

...

grow

!
SECOND WEEK OF EASTER 2017
ALLELUIA! CHRIST IS RISEN.... THE LORD IS RISEN INDEED !!
Dear People of Resurrection, ....our parish name says it all. We are Easter people. We are people of Christ's resurrection. But what called us to be a Christian? What called us to the Episcopal Church? What brought us to the Church of the Resurrection?
This coming Sunday between the services we will hear more about how we can be "evangelism" people, being prepared to tell our story, and being like the disciples, ready and prepared to spread the message of Christ. Please join me and others to this workshop of Evangelism beginning after the 8:00 am service.
CALLING ALL MEN: FUN AHEAD
Beer and Brats, Wednesday, May 3, 6:30 pm
Join in the fellowship and planning for an adult men's ministry at Resurrection.
We'll meet at Fr. Lynch's home. Bring your favorite beer to share and Fr. David will provide all the brats and sides.
PRESIDING BISHOP MICHAEL CURRY WILL BRING THE JESUS MOVEMENT TO KANSAS CITY NEXT SATURDAY
3 pm at the Power & Light District Stage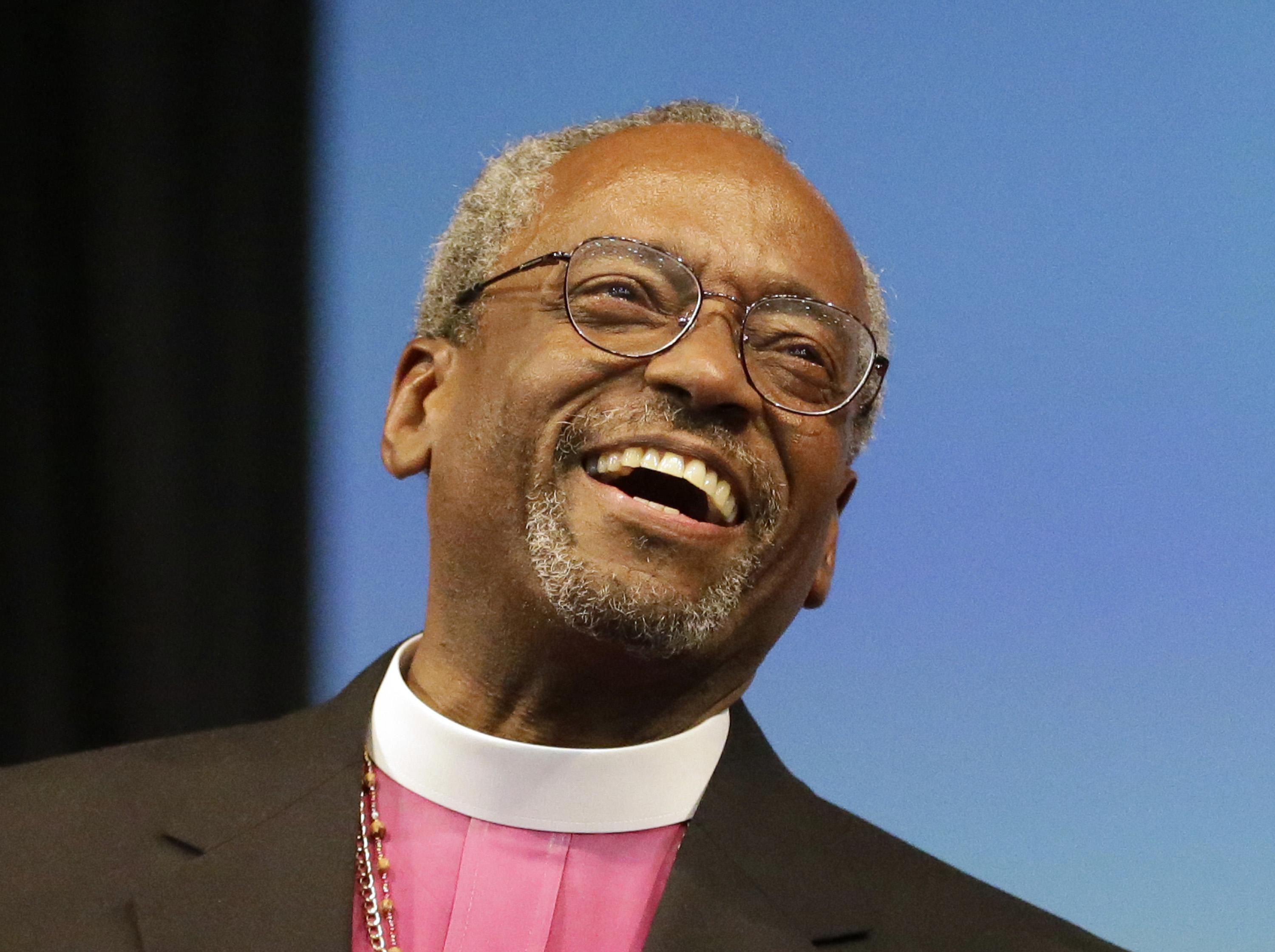 Join others from Missouri, Kansas, Nebraska and Iowa next

Saturday, May 6 from Noon to 3:00 pm at the Power & Light District stage in downtown Kansas City to see and hear our Presiding Bishop Michael Curry bring the Jesus Movement to Kansas City!
The program includes a community choir, local musicians, prayer stations and an ecumenical service. Additional speakers: Canon Stephanie Spellers, Canon to the Presiding Bishop for Evangelism and Reconciliation; Carrie Boren Headington, Consulting Evangelist; and Bishop Martin Field, Bp. of The Diocese of West Missouri.
The Episcopal Churches in Eastern Jackson County will meet at

St. Michael's at I-70 and Lee's Summit Road at 11:00 am on Saturday May 6th and carpool to downtown KC. We will also have a bus that will seat up to 45 people.
GUEST SUNDAY JUNE 4
Bring Someone to Church with You
Attend our parish Evangelism Workshop tomorrow and the Jesus Movement celebration with Presiding Bishop Michael Curry downtown next Saturday and be ready for
Guest Sunday at Resurrection on S
unday, June 4.

(Note: this is a date change from May 21.)
Bring someone to Church with you!
Help Resurrection grow...

grow

...

grow!
PARISH EVENTS THIS WEEK
Monday, May 1: KC Kitchen at 10:00 am and Book Club at 7:00 pm
Tuesday, May 2: Pastoral Care Committee meeting at 6:30 pm
Wednesday, May 3: Bible Study at 1:00 pm and Men's Beer and Brats at 6:30 pm (at Fr. Lynch's home.)
Be sure to check the calendar on our web site for all events! CLICK HERE