Episcopal Church
Blue Springs, Missouri 64015
More than ever we need to heed the guidelines for safety. Please take all the precautions you
can to protect yourself from the covid virus. This is an uncanny way of experiencing Lent, and in
a way, we are in a great position to focus on our faith, our prayers and thanksgivings, as well as
to reach out to others using virtual technologies, our phones and mailed letters.
Remember, there
is no place we can go where God is not, and during this time of unchartered experiences, God
and our faith remain our constants in living day-to-day. As Moses struggled to get to the Holy
Land, as Noah waited and waited for new dry land, and as we wait for this period of time to
end, and especially as we look to the resurrection, our faith is here to guide us and keep our
journey with God on point.
I want to thank everyone who is reaching out to others in our parish, to CSL as we continue to provide
an outreach ministry, to the schools as we still participate in BackSnack, to
our prayer warriors and phone callers, to the Daughters of the King and everyone who
remembers others in their prayers, phone calls, cards, notes and virtual communication.
I miss you
all! I am longing for the time when we will once again worship together in person in our
beautiful church. I am praying for all of us each day. Please know my phone line is always
open, along with messaging, texting and e-mailing. If you have ideas for great things
to do to keep us all enlightened, please, please share them with me and we will do whatever is
possible to connect with as many as possible in fellowship.
Look for an invite to an on-line bible
study and hopefully some other fun fellowship programs! I commend to you to go on-line and downl
oad the ZOOM app to your computer (with a camera) and/or phone. You will find great ways to
connect in person with others who have similar technology.
FACEBOOK LIVE WITH VIRTUAL EUCHARIST AND PALMS.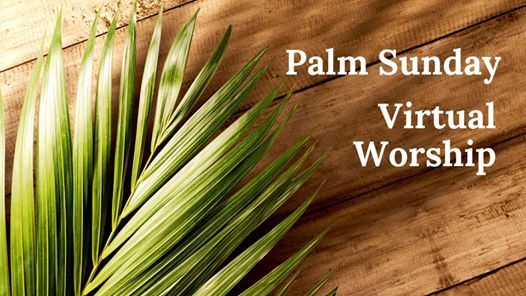 As medical professionals and our government continue to emphasize us to shelter in place, Fr. David can no
longer in good conscience continue our "drive-through" Eucharist on Sunday. T
herefore, this Sunday we will celebrate Palm Sunday virtually and ask you to
consider following these suggestions:
Prepare and make some unleavened bread

(Rich Conn shares his recipe below or you may go to the

internet to find a simple recipe or you may use an

ordinary piece of bread.)
Have your favorite choice of wine ready.
Bring in a green branch cutting from your bush or tree to serve as a palm. There will be a ceremonial blessing of palms before the Liturgy of the Word.
When the service begins and you hear the opening hymn (All Glory Laud and Honor),waive your branches and sing.
During the Eucharistic Prayer, hold up your bread and wine as the bread and wine from

the altar is consecrated. After Fr. David partakes, he will bless you virtually and

please receive the body and blood of Christ. After communion, please consume all the

bread and wine that was consecrated, or pour the wine in the garden along with the

bread that remains.
Rich Conn's unleavened bread recipe:
6 T of butter,
1 T honey,
¼ t of salt,
1 T brown sugar,
2 C flour,
¼ C water,
3 T milk
Mix the wet with dry ingredients until a ball forms. Knead to proper feel. Roll to ¼" thick. Form into a
circle. Bake in a preheated oven of 275 degrees for 10-20 min.
WEEKLY SERVICES ON FACEBOOK LIVE.
Sylvia Way Reynolds rest in peace
MEMORIAL SERVICE TO BE HELD AT LATER DATE.
Sylvia "Sally" (Way) Reynolds, age 84, a resident of Blue Springs, passed away on
Sunday, March 29, 2020, at Benton House of Blue Springs Missouri.
Sally was born the daughter of Harold F. and Lola Irene (Porter) Way on September 4, 1935, in Chillicothe, Missouri. She was a 1953 graduate of Chillicothe High School. After graduation, she attended Westminster College in Fulton, Missouri. She was united in marriage to James "Jim" Reynolds, Jr., on August 13, 1955, in Chillicothe, Missouri. He preceded her in death on March 19, 2002. Sally worked as the Director of Career Placement Planning for Westminster College in Fulton, Missouri, for 30 years. She was a member of the Grace Episcopal Church, Chillicothe, Missouri. She attended the Episcopal Church of the Resurrection, Blue Springs, Missouri. Sally was also a member of the Midwest College Placement Association, the College Placement Council, the Omicron Delta Kappa Sorority, and was an honorary ΟΔΚ.
Survivors include three sons, Gregory James Reynolds and wife Marla of Fulton, Missouri, Jeffrey Way Reynolds of Fulton, Missouri, and David Porter Reynolds and wife Marie of Lewisville, Texas; one daughter, Leslie Louise Spaw and husband Steve of Blue Springs, Missouri; eight grandchildren; three great grandchildren; and several nieces and nephews. She was preceded in death by her parents; husband, Jim; one sister, Shirley Bryant; three brothers, Frank, John, and Jack Way; one sister-in-law, Delores Way; and one daughter-in-law, Tamara Reynolds.
A memorial service will be held at a later date. Inurnment will be held at a later date at Edgewood Cemetery, Chillicothe, Missouri. Memorial contributions may be made to the Sally Reynolds Scholarship Fund at Westminster College and/or the Episcopal Church of the Resurrection of Blue Springs and may be mailed to Lindley Funeral Home, P.O. Box 47, Chillicothe, Missouri 64601.
Online condolences may be made at
www.lindleyfuneralhomes.com
.
Arrangements are under the direction of Lindley Funeral Home, Chillicothe, Missouri.
KEEP IN TOUCH.
Committees and working ministries are encouraged to use ZOOM to meet on-line. Contact Fr. David to set-up a meeting.
Clean-up Day originally scheduled for this Saturday has been postponed.



Virtual Vestry Meeting
scheduled for Wednesday. April 14 at 7:00 pm via ZOOM. Look for an invite from Fr. David in your email. Please check your spam e-mail periodically to make sure you are receiving all messages.
Easter Sunday service via Facebook Live at 10:30 am with virtual Eucharist. The "A's" will return. Find a bell to ring!
Last call for

SOLES 4 SOULS
collection. Place your shoes in the bins with lids by the front door of the church no later than April 6.
Please contact Fr. David if you are interested in participating in an on-line (ZOOM) Bible Study class. He will set-up a meeting to discuss plans. Current thinking is a 1-hour evening session every Tuesday at 7:00 pm, but the final time and day are not final.
Please support us financially
CREDIT/DEBIT CARD OPTION NOW AVAILABLE.
Church expenses still go on during the time we have suspended in-person church services due to the coronavirus pandemic. Your continued financial support of the parish is vital to support our ministries and serve our members and community.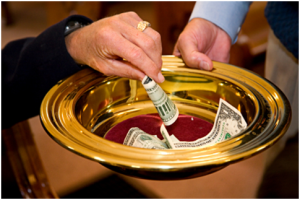 Please review different ways to
send your contribution
to the Church under the "give" tab on our church website. You can mail a check to the church, use Zelle, use your bank's Bill Pay service or now pay us by credit/debit card.
We also have a dropbox for payments affixed to the
wall just outside the ground level parking lot door for folks to leave payments.
LET US PRAY.
Let us pray for:
Gene and Norma, Jodi, Christian, Henkie, Sally, Ruth and Lucky, Billie, Joe,
Owen and family, Chris and the Henson family, Lynne, Ed and Audry, Rene, Sydney and Reese,
Bev, Fiona, Ben, all people affected by COVID-19 and especially our care givers, the homeless
and all caring for them. Pray for our nation and all the nations of the world, that goodness
prevails and our differences may cease, especially as we all come together to cure the sick and
eradicate this disease.
God of healing, God of hope, our souls are hungry for health and happiness. You are the Maker
and Keeper of billions of galaxies of stars and planets seething in their violence. You are the
delicate fashioner of the hummingbird's wings and the infant's lungs. You are the architect and
creator of our fragile bodies. We know you are the caring Abba of us all. Be with all suffering
from the Covid illness and drive far from them all sickness and all anxiety in body, mind, spirit
and relationships. Deliver them from her suffering and may goodness and mercy follow them all
the days of their life. We pray in the name of the Great Physician, the Way, the Truth and the
Life.
Amen.
Prayer in Time of Isolation:
Almighty God: Our times are in your hand. We call upon you in this hour of our need, when we
are lonely and must stand apart. Be our strength, O Sovereign Lord, our calm in the midst of
raging seas, our refuge and our dwelling place. Sanctify to us this time drawn away from others,
even as your Son, O Father, drew away to a lonely place for prayer. Deepen our need of you, O
Lord, that every breath may be a whisper of the Spirit's prompting, a renewed searching of the
deep things of God. Stir up in us the great act of intercession,that we may spend our time apart in
prayer for the world you created and sustain. Bless us in our turning toward you, and make us a
blessing to those who stand in need of you, the whole fragile earth. All this we ask in the name of the
great Physician, Jesus Christ our Lord. Amen.
A Prayer in Time of Pandemic:
This hour we turn to you, O Lord, in full knowledge of our frailty, our vulnerability, and our
great need as your mortal creatures. We cry to you, as one human family, unsure of the path
ahead, unequal to the unseen forces around us, frightened by the sickness and death that seem all
too real to us now. Stir up your strength and visit us, O Lord; be our shield and rock and hiding
place! Guide our leaders, our scientists, our nurses and doctors. Give them wisdom and fill their
hearts with courage and determination. Make even this hour, O Lord, a season of blessing for us,
that in fear we find you mighty to save, and in illness or death, we find the cross to be none other
than the way of life. All this we ask in the name of the One who bore all our infirmities, even
Jesus Christ our Risen and Victorious Lord. Amen.
I ask your prayers for the departed:
especially Rev. Cynthia Johnston-Hallis, I also ask for
your prayers for Gary Chubb's family for the death of his mother. We also raise up our prayers for
the souls of Sally Reynolds, Wille Eitel, Trudy, Truman and Jan. May their souls and all the
departed rest in God's peace.
O God, you made us in your own image and redeemed us through Jesus your Son: Look with compassion on the whole human family; take away the arrogance and hatred which infect our hearts; break down the walls that separate us; unite us in bonds of love; and work through our struggle and confusion to accomplish your purposes on earth; that, in your good time, all nations and races may serve you in harmony around your heavenly throne; through Jesus Christ our Lord. Amen
OBSERVE SOCIAL DISTANCING.
NO live, in-person worship services until further notice.