Episcopal Church of the Resurrection
1433 NW R.D. Mize Rd.; Blue Springs, MO 816-228-4220
Christ the King Sunday tomorrow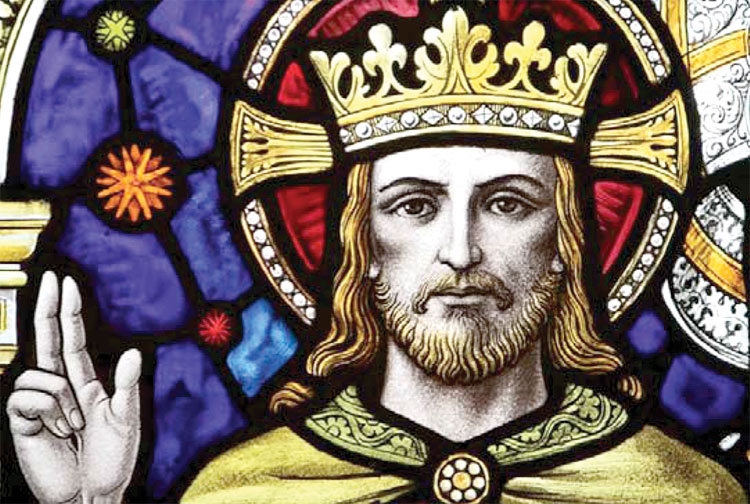 Tomorrow is
Christ the King Sunday
, the final Sunday of the Liturgical Year in the Church.
Christians have long celebrated Jesus as Christ, and his reign as King is celebrated to some degree in
Advent
,
Christmas
,
Holy Week
,
Easter
and the
Ascension
. However, Pius XI wanted to specifically commemorate Christ as king, and instituted the feast in the Western calendar in 1925. Now many Western Christians celebrate Christ the King Sunday, including Anglicans, where the loving and merciful - and just - king of the universe is praised and glorified.
Almighty and everlasting God, whose will it is to restore all things in your well-beloved Son, the King of kings and Lord of lords: Mercifully grant that the peoples of the earth, divided and enslaved by sin, may be freed and brought together under his most gracious rule; who lives and reigns with you and the Holy Spirit, one God, now and for ever. Amen.

Please return your Pledge Card !
If you haven't turned in your pledge card for 2017 there's still time! Several pledge cards are still outstanding. Please bring your pledge card to Church and place it in the offering plate, mail it to the Church, or simply use our on-line pledge form to make your pledge.
Prayerfully consider how you might live your life more generously. Please consider how your standard of living aligns with your standard of giving. Think about the impact Resurrection has on your life and the wider community. Pray about God's generosity in your life and then make a pledge that reflects that generosity.
Thanksgiving Day Eucharist followed by Dinner at Resurrection
A Eucharist celebrating our "Days of Thanks" will be held at 10:30 am Thursday, November 24th followed by a Thanksgiving feast!
Even if you are having family and friends over for food and festivities later in the day, come celebrate the Eucharist with us to help set the mood for the day. All are welcome to stay after the service to share together in a meal of turkey, ham, dressing and all the "fixins." We will gather as a parish family and friends to share together.
Please sign-up in the narthex on the bulletin board.
Finding Faith Through Fiction Book Club meets Monday, Dec 5
The Finding Faith Through Fiction Book Club will hold its next discussion on Monday, December 5 at 7 pm in the Undercroft.
The book this month is The Language of Flowers by Vanessa Deffenbaugh
(The January 2, 2017 discussion will be The Light Between the Oceans by M.L. Stedman.) Contact Jan Brill for more information.
Pill Bottle Ministry on hold
Thanks to all who have undertaken the cleaning and preparing of medicine bottles for Haiti. However, due to greater priorities for rebuilding ravaged areas in Haiti hit by the recent hurricane, the pill bottles are currently not being received.
Our stateside representatives are now focusing on tools for rebuilding. The Maison de Naissance birthing center was almost leveled and efforts are underway to rebuild and get services back into operation.
This ministry will continue once more time can be focused on the pill bottles. We will announce when this can start back up again in the next few months. Many, many thanks!
Diocesan Convention Recap
Many thanks to Jim Gilligan and John Biggs, our parish delegates to convention and representatives for our parish in diocesan issues. This year's convention had a lot to do about creating a diocesan budget that was accountable for spending the monies that come from all the parishes in apportionments. A resolution sponsored by the Central Deanery and supported by Resurrection that proposed a decrease in apportionment did not pass, but had significant support from other parishes.
Resurrection has always paid its apportionment and it is a significant burden; therefore, we believe it's important there is accountability by the Diocese for achieving the intended outcomes of funded programs & activities.
Special thanks also to Buzz Atkinson who fulfilled his tour as

a delegate serving our parish. Read about the Convention Here