Episcopal Church
Blue Springs, Missouri 64015
FAMILY BINGO NIGHT THIS FRIDAY
6:30 pm in the Undercroft
Please join us for some family fun this Friday, January 5, at 6:30 pm in the Undercroft. We'll provide some crazy prizes and food and you provide the fellowship.
Don't miss out. Bring some friends!
Donations to offset food expense will be accepted..
** Make plans to join us on Friday, January 12, for Family Movie Night, when we'll be showing "Lion King" beginning at 6:30 pm. **
FREEZIN' FOR A REASON THIS WEEKEND
Please bring blankets, coats, hats and gloves
Freezin' for a Reason is this weekend when members of First Christian Church of Blue Springs (located across the street from Resurrection) sleep outside in a make-shift homeless shelter on the front lawn of the church to raise awareness for homelessness in Kansas City. There is no electricity and the only heat source is from fire barrels.
Please help by donating blankets, warm hats and gloves all weekend. The event will take place beginning F

riday Jan. 5 at 7:00 am to Sunday Jan. 7 at 11:00 am.
Financial contributions will also be gratefully accepted through a GoFundMe account.
Between services beginning at 9:15 am
Celebrate the New Year by joining your fellow parishioners for our monthly First Sunday Breakfast
-- this Sunday between services in the Undercroft. The Resurrection Men will be fixing fresh pancakes, scrambled eggs, bacon and sausage for your nourishment and enjoyment!
A MESSAGE FROM FR. DAVID
This Sunday we celebrate, among several things, Epiphany and the arrival of the Magi, Christ's
manifestation at the Temple, and most notably, Christ's baptism by John.
I encourage you to
read this article from the present day theologian, N. T. Wright. It should be enlightening and
compelling as we contemplate the Sacrament of Baptism.
"One way of appropriating the meaning of baptism is to go back through the Scripture narrative.
The Jews, ancient and modern, tell the Passover story each year with graphic detail and with
great celebration. It's all about coming through the water to freedom. But they know perfectly
well that the water also looks back to creation in Genesis 1, when the primal waters are parted as
God brings creation into being. Through the waters to life, to new life-that's what we're saying
in baptism.
So we shouldn't be surprised when we find John the Baptist down by the Jordan River bringing
people through the Jordan, symbolically reenacting the Exodus. In baptism, we go through the
water and enter into God's new covenant. God has promised that he would do a new thing-and
this is how he's doing it.
Baptized into New Life
The New Testament affirms the importance of John's baptism as the beginning of Jesus' own
ministry, of Jesus himself submitting to John's baptism. But then Jesus picks up the language of
baptism, and in that famous passage in Mark 10:39 and elsewhere he speaks about the disciples
being baptized with the baptism he is baptized with-meaning something more than water;
meaning his own death. And as we saw earlier, he chose the Passover, the great Jewish exodus
festival, as the moment to act symbolically, to challenge the authorities by saying what would
come next.
In Jesus' own baptism, death and resurrection were already present. And all the multiple layers of
meaning that were already present in baptism were to be recentered on the event of Jesus' death
and resurrection.
Through the water into God's new world.
I once heard a funeral sermon in which the preacher said, "As we trust that Jesus died and was
raised to heaven, so we trust that our beloved friend has now died and has been raised to
heaven." That's not the point. Easter is not Jesus getting to heaven when he died. Easter is Jesus'
newly embodied life launching God's new creation through the water of death. And that's why,
from the very earliest Christian sources that we possess, Christian baptism is linked not just to
Jesus' own baptism, not just to the Exodus and to the first creation, but to Jesus' own death and
resurrection." Click here to read more.
BOOK CLUB WILL MEET JANUARY 8 (new date)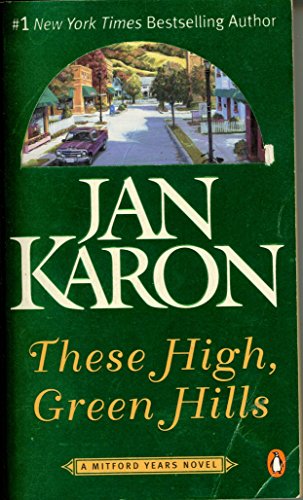 7:00 pm in the Undercroft
The Finding Faith through Fiction Book Club will meet next at 7 pm in the undercroft on Monday, January 8.
This month's book is These High, Green Hills by Jan Karon. We're once again in Mitford, a southern village of local characters so heartwarming and hilarious you'll wish you lived right next door. At last, Mitford's rector and lifelong bachelor, Father Tim, has married his talented and vivacious neighbor, Cynthia. Now, of course, they must face some new challenges - like sleeping arrangements for Father Tim's sofa-sized dog, Cynthia's urge to decorate the rectory and the growing pains of the thrown-away boy who's become like a son to the rector. Add a life-changing camping trip, the arrival of the town's first policewoman, and a new computer that requires the patience of a saint, and you know you're in for another engrossing visit to Mitford -- the little town that readers everywhere love to call home.
ANNUAL MEETING SUNDAY, JANUARY 21
One service only at 10:30 am
We will have one service only at 10:30 am on Sunday, January 21, followed by our annual meeting and a potluck dinner.
Please make plans to attend this very important all-parish meeting. Hear a recap of the
2017 year, vote-in new vestry members, learn about plans for the future and help celebrate
important parish ministries.

COMING UP
Important events and dates
Friday, January 5: Family Bingo Night at 6:30 pm
Monday, January 8: Uplift Meal Preparation (sign-up in Narthex); Book Club at 7 pm
Tuesday, January 9: Pastoral Care Meeting at 6:30 pm
Wednesday, January 10: Vestry Meeting at 7 pm
Thursday, January 11: Bridge Club at 7 pm (newcomers welcome)
Friday, January 12: Family Movie Night in the Undercroft - "Lion King" at 6:30 pm
Monday, January 15: Serve KC Community Kitchen (sign-up in Narthex); DOK meeting
Friday, January 19: Family Game Night at 6:30 pm (bring a board game)
Sunday, January 21: One service only at 10:30 am followed by Annual Meeting & pot-luck lunch
Monday, January 22: Deliver Uplift Meals
Friday, January 26:
Family Movie Night in the Undercroft - "Moana" at 6:30 pm
Sunday, January 28: Adult Forum between services featuring Dr. Arthur Rennels on "Judism"
Sunday, February 4: "Souper Sunday" - watch the Super Bowl and bring a can of soup
2018 DINNER-GO-ROUND GROUPS FORMING
Last chance to sign-up
A favorite winter tradition returns to Resurrection in January! Singles and couples are invited to participate in Dinner-Go-Round groups that will choose to either rotate dinner among the homes of those in each group or dine in a restaurant. Each group makes their own rules and chooses their own times to meet. Sign-up on the Narthex bulletin board and you will be placed in a group of six. Each participant or couple will host only once. Last chance to sign-up is this Sunday, January 7.