Episcopal Church
Blue Springs, Missouri 64015
FEAST OF THE ASCENSION SERVICE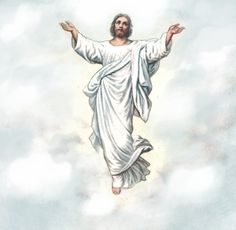 Tomorrow, Thursday, May 10 at 12:15 pm
Join us tomorrow, Thursday, May 10 at 12:15 pm to celebrate the Feast of the Ascension of Christ. This will be a quiet spoken mass in the nave.

FROM FR. DAVID+
History of the Ascension of Our Lord
The reality of Christ's Ascension is so important that the creeds (the basic statements of belief) of Christianity all affirm, in the words of the Apostles' Creed, that "He ascended into heaven, sits at the right hand of
God the Father
almighty; from thence He shall come to judge the living and the dead." The denial of the Ascension is as grave a departure from Christian teaching as is the denial of Christ's Resurrection.
Christ's bodily Ascension foreshadows our own entrance into Heaven not simply as souls, after our death, but as glorified bodies, after the resurrection of the dead at the Final Judgment. In redeeming mankind, Christ not only offered salvation to our souls but began the restoration of the material world itself to the glory that God intended before Adam's fall.
The Feast of the Ascension marks the beginning of the first
novena
or nine days of prayer. Before His Ascension, Christ promised to send the Holy Spirit to His apostles. Their prayer for the coming of the Holy Spirit, which began on Ascension Thursday, ended with the descent of the Holy Spirit on
Pentecost Sunday
, ten days later.
Almighty and eternal God, Who hast vouchsafed to regenerate us by water and the Holy Ghost, and hast given us forgiveness of all sins, vouchsafe to send forth from heaven upon us your sevenfold Spirit, the Spirit of Wisdom and Understanding, the Spirit of Counsel and Fortitude, the Spirit of Knowledge and Piety, and fill us with the Spirit of Holy Fear. Amen.
EUCHARISTIC MINISTER TRAINING
This Saturday, May 12, 9:30 am
Please consider being trained as a Eucharistic Minister, i
f you are 18 years and older and have a desire to serve in our church service . This ministry is very fulfilling to those you serve as well as yourself.
Eucharistic Visitor training will also be included in the training f
or members interested in taking communion to shut ins, hospital patients and people in nursing care facilities.

The Rev. Deacon Donna Stanford

will conduct the training at the Church of the Resurrection.on Saturday, May 12 beginning at 9:30 am.
RSVP
by calling Episcopal Church of the Resurrection at

816-228-4220 or sign-up in the Narthex.
For more information or questions please feel free to call the parish phone number, e-mail Rev. David Lynch at
drlynch2012@gmail.com
or click here.
MOTHER'S DAY THIS SUNDAY
Sunday, May 13
In recognition of Mother's Day
, we celebrate all women who care for children and families. This is a day to acknowledge the gift of motherhood in all who nourish and care for children through the many ways of parenting and supporting love in parent child relationships. As we remember our own mothers, let us also celebrate the lives of those who perform the duties of motherhood in all stations of life, as grandmothers, surrogates, adoption and God-parents. We are all blessed by the women who serve as mothers in every role that qualifies them for the lives they have committed to the nourishing and loving children and family. May God bless you as you so bless us!!
GOODBYE STUDENT CHOIR MEMBERS
This Sunday is the last day for our Student Choir Members
MANY, MANY THANKS to our Choir and Choir Master-Organist,
Vaughn Scarcliff
for the wonderful music throughout our church program year! This Sunday, May 13 will be the last Sunday our choir will sing for us and lead us until fall.
We are truly thankful for our incredible singers and especially those college students who will be graduating and leaving us. May you all be blessed in all you do and especially through the music you share with others. May God continue to richly bless you!
Please take the time to thank our musicians as we celebrate them with a reception between and at the end our morning services.
Plan ahead for In-gathering
Needs for May include men's deodorant, disposable razors, Depends (sizes L & XL), canned soup, summer clothing and monetary gifts.
CPR/AED TRAINING
Saturday, June 2, 9:30 am -1:30 pm
Resurrection will offer a CPR/AED and "What to do before help arrives" class on June 2, 2018, from 9:30 am to 1:30 pm in the Undercroft. Refreshments will be provided.
This training will fulfill all requirements for initial Heartsaver certification and Heartsaver renewal certification. A sign up sheet is in the Narthex.
Middle school age groups and above are welcome to sign-up. Cost for the course will be $50.00 which covers cost of books and certification with the American Hear Association. Class size will be limited to 16 participants. Even if you cannot kneel or get down on the floor to practice, you can learn from this class. The life you learn to save may be your own!
BOOK CLUB
Monday, June 4, 2018 at 7:00 pm
The Finding Faith Through Fiction Book Club will meet at 7:00 pm on Monday, June 4 in the undercroft.
This month's selection is
"Can't Wait to Get to Heaven"
by Fannie Flagg.
Combining southern warmth with unabashed emotion and side-splitting hilarity, Fannie Flagg takes readers back to Elmwood Springs, Missouri, where the most unlikely and surprising experiences of a high-spirited octogenarian inspire a town to ponder the age-old question: Why are we here?

COMING UP
Important events and dates
Thursday, May 10: Bridge Club at 7:00 pm
Saturday, May 12:
Eucharistic Minister/Eucharistic Visitor training at 9:30 am
Saturday, May 19: Parish Life Committee meeting at 9:30 am
Saturday, June 2:
CPR/AED class at 9:30 am
Monday, June 4: Finding Faith Trough Fiction Book Club at 7:00 pm
Saturday, June 10: Church in the Park with All Saints Lutheran at Blue Springs Park 10:30 am