Episcopal Church
Blue Springs, Missouri 64015
WEEKLY SERVICES ON FACEBOOK LIVE.
Tuesday: Morning Prayer at 10:00 am
Wednesday: Noonday Prayer at 12:00 noon
Thursday: Evening Prayer at 7:00 pm
Saturday: Compline at 9:00 pm
Sunday: Holy Eucharist at 10:30 am
Virtual Coffee Hour on Zoom at Noon following Sunday service
Adult Ed w/Bill Stancil this Sunday at 9:30
A SPIRITUAL JOURNEY WITH ST. IGNATIUS.
St. Ignatius of Loyola, the founder of the Society of Jesus (Jesuits), lived in the 16th century. He developed a type of spirituality based on his meditations known as the Spiritual Exercises. Still widely used today, the exercises teach us how to hear the voice of God in our daily lives. Though written centuries ago, the Spiritual Exercises offer timeless truth for the Christian journey.
Join us on Zoom for a spiritual journey with St. Ignatius on the following Sundays. Each session is from 9:30-10:15 AM and will be led by Bill Stancil.
April 19:
Discovering God in All Things
(completed)
April 26: Hearing the Call to Ongoing Conversion (completed)
May 3: Praying with Imagination
March 10: Finding a Balance in Life
Messages from Fr. Lynch +
A TIME OF EUCHARIST FAST.
From Fr. David and Debbie
Debbie and I would like to extend our heartfelt thanks to all of you for your prayers, kind words and best wishes during this time of loss for Debbie's mom, Margaret (Peggy) Long. On top of the already different and stressful time dealing with our current "pandemic" reality, this was a blow that was unexpected. We felt your prayers and thoughts in our travel to and from Michigan and especially as we watched and waited for the covid to take its course. Your cards, calls, emails and texts have been comforting and reassuring through this time. Debbie and I are so blessed with such a caring parish of friends and family. We continue to mourn the loss of Peggy, but not without knowing that she is now with her husband Norman and living within God's embrace. My prayers of thanksgiving for all of you with the utmost prayers for you health and safety.
Preparing for the re-opening of our Parish
The Bishop along with all the clergy and staff are in discussion about when and how our parishes may reopen in the foreseeable future. As the states and counties begin to slowly, and with calculated planning, reopen businesses, we will be trying to identify how our parishes can open while maintaining the health guidelines for continued protection against contracting this covid virus. The strategic planning team along with the Vestry will begin the process of how to prepare our building, manage our operations, and protect our parish family and friends as we contemplate, based on diocesan direction, opening our doors to resume live services in person. This will not be a simple task as we address social distancing, restricting numbers of congregants, cleaning and re-cleaning the church, and how to use our tools for worship (prayer books, hymnals, etc...). We will also consider how to provide communion with all the above as parameters. I am excited as we anticipate how to make all of this happen. So please stay tuned for more information on when and how we will be ready for this glorious day, when we can all be back together in celebration and fellowship.
Renewal Works
After numerous discussions and presentations, we will begin the spiritual renewal process of Renewal Works offered through the Episcopal Church Foundation. This process will begin with a parish survey conducted by Renewal Works in an online format and also from other mediums for those not able to work with an online setting. This is very important for all of us as our parish continues to search and learn from our spirituality in worship, education and fellowship. This is not "just another survey", but a process for us to engage on how we can be the "spiritual" body of Christ in addition to the "working body" of Christ. This means looking at how well the parish and its leadership focuses and promotes spirituality and learning for the presence and celebration of Christ in our lives. I am so very grateful and proud of how our parish does the physical work of Christ and in how we care for each other and our community. This survey will help us to grow in how to celebrate and more deeply work to experience who Christ is for us and how we can be recipients and givers of Christ life with our parish, families and community. I encourage all of us to review the basic information of Renewal Works on line:
https://renewalworks.org/
More Masks in the Making
Your requests for more masks finds Joyce Biggs busy trying to keep up. I encourage others to join in to help Joyce. I would ask for folks interested in helping to email Joyce and see how this can become a "team ministry" effort. All of the masks folks have made have gone to family and parish family. As we think of re-opening our church, masks will most likely be a staple tool to help keep us all safe. Many, many thanks to Joyce for her efforts and arduous labor in making masks. BLESS YOU JOYCE BIGGS!!!
Thoughts from Fr David
As we seemingly continue in this time of "Eucharistic Desert", not being able to come to church, visit with friends, celebrate both Word and Sacraments together, we must be faithful in remembering that Christ is in all of our worship, whether in person, or virtually.
Christ is as present in the Words of scripture, as He is in the Sacraments of the Table. Our virtual spiritual communion is no less valid. Below is yet another take on how our spirituality is fluid and contiguous during this pandemic time. I do not see the comments written below to suggest celebrating with bread and wine at home as not a valid communion. Quite the opposite, we are celebrating this feast together, even in memoriam of Christ's sacrifice for us.
On this Eucharistic Fast
Dr. Eileen Scully, Director
Faith, Worship and Ministry Anglican Church of Canada
The present pandemic has, rather swiftly, thrust us into what seems to be the
unknown. Clergy and lay leaders across the country are responding in deeply caring and meaningful ways in support of their communities. Cessation of the celebration of the Holy Eucharist is a shock, and pastoral response to this new reality is challenging. The tools of social media and online connection are pastorally helpful in many ways. And we need to ask ourselves what it is that we are using them for. Pastoral care and connection, nurturing community, responding to needs and crises, and offering prayer are to be encouraged. What about the eucharist? Can it be done through the medium of the internet? To answer that we need to ask what is the eucharist and what are we trying to do online? A full theology of sacramentality urges us to enter a time of eucharistic fast, which both honours the eucharist as the celebration of a particular
community gathered, and helps to refocus our attentions on the sorts of discipleship we need to live and encourage in others. This - the suspension of eucharistic worship - is not an unknown thing to our ancestors in the faith and to churches even today in situations of war and other distress. We have a treasure trove of liturgical practices that we can and should bring to the fore in order to care for our communities and to nurture discipleship even now. Especially now. The present pandemic has, rather swiftly, thrust us into what seems to be the unknown. We know we need to do many, if not most, things in new ways, distancing physically and, for those with access to the technology, doing more connecting through digital platforms. Clergy and lay leaders are checking in on parishioners, meeting and holding bible studies by videoconference, and in other ways tending to the local communities in the Body of Christ. Many are offering spiritual leadership in the live-streaming of prayers and worship. As people are at home in isolation, the offering of audio-video prayers, especially when done from the home of the clergy or lay leader, has a way of helping to hallow those homes, which can for some start to feel like a prison. We are reminded that home is, can be, and ought to be, a place of prayer.
One of the most difficult realities that we face as worshipping communities is that suspension of gatherings for worship means the suspension of celebrations of the Holy Eucharist. Whereas musical and theatrical performances can be moved online, the Eucharist is not about performance by one for the many and cannot move into that mode. The sacrament is made such in and through the gathering of people with a presider, in a place and time, in the physical presence of what we can touch and taste, together, as well as hear and see. And since the 1980s, we have become healthily attached to the celebration of the Lord's Day, weekly, being about the Eucharistic paschal mystery. For several generations, this has become the norm, and it is good that it is so. We have been blessed to be living in a time when celebration of the Holy Eucharist is not an 'occasional celebration' as it was for several centuries before us.
God is with us. Christ is truly, really, present with us, and the Holy Spirit
surrounds us. Even when we cannot gather to make eucharist together we are not without the real presence of Christ in our very real, isolated, midst.
Efforts to try to replace the community's physical-and-spiritual gathering with practices that try to offer a eucharistic communion online, though well-intentioned, do not reflect our sacramental theology, which is deeply about the physical-and-spiritual together.
Consonant with the most ancient Christian traditions is the practice of a
eucharistic fast.
In some contexts, a fast from receiving communion is a choice - the very early church instructed catechumens (those undergoing formation in the faith prior to baptism) to fast from partaking of the eucharist. Many communities of disciples today know this experience of fast because they do not have weekly presence of a priest. This is a time of context-necessary eucharistic fasting, in which we join with the whole communion of saints in longing for the bread of new life and the wine of the age to come.
From our baptismal and eucharistic identities shaped over time, we are equipped
and challenged to be the real presence of Christ to each other. The world needs that presence always. We are reminded that sacramentality itself - the awareness of the reality of Christ's true presence with us here and now and at all times - is broader than the specific celebrations of baptism and eucharist in which we have shared and will share. We are reminded that the Body of Christ - we disciples - is the sacrament to the world.
Times like these call us to reach, with gratitude, into what has already been given to us, what is known from Scripture and Tradition, and to bring old-new things into light. A treasure-trove of liturgical resources is coming to light as we share online our liturgical
texts, our music, and our offerings of prayer through audio-visual recording and live streaming. Words and music and visual connection through the internet are the same in many ways as the tools as Paul used when he wrote his letters to Corinth, Ephesus and Rome. That was the high technology of his day. He reminded those early Christian communities to pray without ceasing, to remember all the saints, to help the poor - in other words to be the disciples Jesus called them to be. The rhythms of daily prayer and devotion nurture our souls. One essential element of pastoral leadership right now is to support these soothing rhythms. Here are some suggestions of what we can do, liturgically:
Encourage people to pray at home, whether they are persons alone or domestic communities. Point them to resources (see www.anglican.ca). Invite them to

email or text particular prayer intentions. Gather them, through the internet or phone, to pray together.

Those who have the charisms for audio-visual presence can lead Daily Office

and other forms of prayer, providing the digital texts for parishioners to join in those prayers.

Clergy can look to their lay leaders who have the charisms well suited for leading these online prayers, and further nurture their baptismal ministries in prayer leadership.

Model home-praying when you do audio-visual recording or streaming. We're in

our homes, together.

Our eucharistic fast will continue past Lent. The glory of resurrection will for some feel unreal in very real ways. To what beauty, new life, and joy can you point people, in real ways?

Now is a time to reflect deeply on what it is to be praying community in the time of "here but not yet"
Though we didn't choose this, it is a time to embrace an intentional eucharistic fast in order to become catechumens again and through that process reflect on and deepen our faith.
"The Eucharistic table is a table like no other table. AND the Eucharistic table is
like every other table. The Eucharistic elements are special and singular in that there above all other places and times, we see what God is doing in ALL places and times. Here's the question, then: do you think if we do not gather at the Eucharistic table like no other table that God is no longer at present at all other tables, i.e., at all other places and times? Is it not the case that God's presence to all places and times is the nonbinary anchor of this non-binary relationship between the Eucharistic table and every other table, actual and metaphorical?... Think on these things. May we gather again around the Holy Table very soon. In the meantime, look for the Tables around you and among you. God is still at the Table that is spread among us in our hearts, in our prayers, in our service."
Save Best Choice labels and Boxtops for Ed
HELP US RAISE FUNDS.
While you are home and maybe cooking
more.....PLEASE take the time to clip the Best Choice UPC labels and the Boxtops for Education and save them for when we are together again.
You can also mail them to the church or deposit in the black locked box by the side door of the church. Thank you!
Soles for Souls drive concludes
We have concluded our collection of shoes for 2020.
THANK YOU for your contribution of over 250 pairs!
That's a lot of people getting shoes!
FOR THE MOST SUSCEPTIBLE

.
Please pray daily for our nurses, physicians, First Responders, and all care givers who by the nature of their vocation are on the "front lines" of this disaster. Reach out to those you know who serve in these capacities, thank them and let them know how much you care for their commitments and safety.
We also raise up in prayer all who continue to work to keep our lives normal, especially grocery store personnel, truck drivers, sanitary-trash collection personnel, postal workers and all the service people who keep the stores filled with the necessities we need every day.
We are finding new and unconventional ways to reach out to those in need and those who are doing the work are our modern day saints and heroes. May God bless them with safety, courage and fortitude that they may know they are appreciated, loved and needed.
In Christ we lift up our prayers...
Please support us financially
CREDIT/DEBIT CARD OPTION NOW AVAILABLE.
Church expenses still go on during the time we have suspended in-person church services due to the coronavirus pandemic. Your continued financial support of the parish is vital to support our ministries and serve our members and community.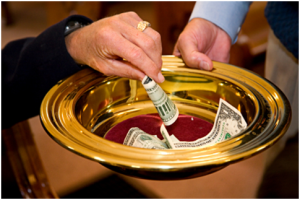 Please review different ways to
send your contribution
to the Church under the "give" tab on our church website. You can mail a check to the church, use Zelle, use your bank's Bill Pay service or now pay us by credit/debit card.
We also have a dropbox for payments affixed to the
wall just outside the ground level parking lot door for folks to leave payments.